A guide to the stunning Vietnam landscape. Featuring some of the most popular and best-loved natural attractions in the country, these are places where you can also enjoy panoramic views of scenery that are a cut above the rest.
The stunning scenery of Vietnam offers plenty of opportunities to capture some incredible landscape photos. Whether you're a professional photographer or just looking to take the first steps in learning more about the craft, it's essential to have a grasp on the basics and understand what makes a good landscape photograph.
For inspiration and information on some of the best locations in Vietnam for photography, see this article. Whether you're a photographer, a travel blogger, or just an admirer of beautiful landscape photography, you'll find this article helpful. For inspiration, check out this list of the very best Vietnam landscape.
Is Vietnam a beautiful country?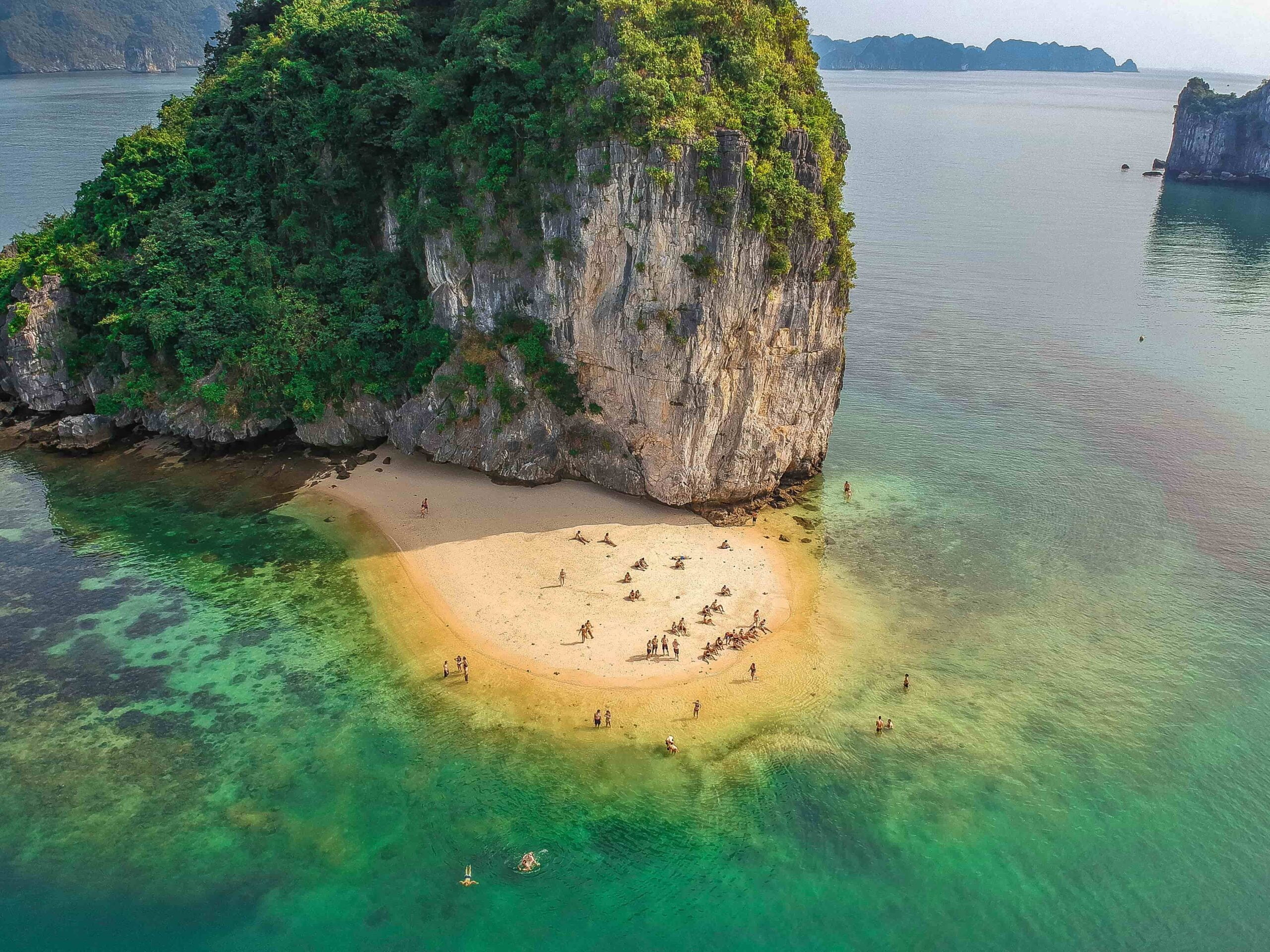 Travel guide publishers Rough Guides have chosen Vietnam as one of the 20 most beautiful destinations for a trip.
With some of the most stunning natural wonders of the world, Vietnam is renowned for its breathtaking beauty. From the misty mountains sparkling rice fields, and stunning waterfalls in the northern part of Vietnam as well as the powdery white sands and the clear turquoise waters of the beaches in southern Vietnam, Vietnam is a scenic paradise.
It is also famous for the widespread appeal of rice noodles (Pho) as well as the ritual-like experience of making an iced drink of Vietnamese coffee along with its gorgeous national costume known as that of the Ao Dai. Vietnam is also known for its participation in the Vietnam War, historical cities, and French colonial architecture.
Vietnam is an arid nation that has lowland, mountainous, and highland forests and a total of just 20 percent. From the magnificent Ban Gioc waterfall 272 km north of Hanoi and with very few visitors, to Ha Long Bay, a world heritage site, or the peaceful Old Town in Hoi An and the Mekong Delta, a region in Vietnam is a collection of natural scenery.
Geography of Vietnam
Vietnam, a nation characterized by tropical lowlands, hilly terrains, and densely forested highlands, encompasses less than 20% of level land. Situated on the eastern fringe of the Indochinese peninsula in Southeast Asia, Vietnam currently boasts a population of 99,000,241 individuals as of Wednesday, September 20, 2023, as per the meticulous assessment conducted by Worldometer, using the latest United Nations data.
In terms of climatic conditions, Vietnam encompasses both a tropical and temperate climate zone, with the entire country being subjected to the influences of the annual monsoon. The monsoon circulations engender rainy seasons, which bring copious rainfall to the northern and southern regions from May to October, and to the central areas from September to January.
The five fundamental themes of geography, namely Location, Place, Human-Environment Interaction, Movement, and Region, are universally applicable and can be effectively employed to comprehend the nuances of any location across the globe, including Vietnam.
Vietnam, with a land area of approximately 331,211.6 square kilometers, is positioned on the eastern margin of the Indochinese peninsula. Roughly 25% of this land was under cultivation in 1987. Additionally, Vietnam boasts a coastline spanning 3,260 miles, flanked by the Gulf of Thailand, Gulf of Tonkin, and East Vietnam Sea, while sharing borders with China, Laos, and Cambodia.
Vietnam encompasses numerous distinctive places that contribute to its unique character. Among them, the Thien Mu Pagoda, which stands as the tallest pagoda in Vietnam, holds unofficial recognition as a symbol of the erstwhile imperial capital.
Beautiful Vietnam Landscape
The main geographical characteristics of Vietnam comprise its Annamese Cordillera which extends mostly from the northwest to southeast of central Vietnam and is dominant in the interior. Two massive alluvial deltas were formed from the Red (Hong) River to the north and the Mekong Delta to the south.
The northern part of Vietnam's terrain is primarily hilly or mountainous in some areas, but also that is covered with a lush forest blanket (about 50% of the territory). The Red River Delta and coastal plains in the lowland portion of the North are affluent and heavily cultivated (almost all rice fields).
The stunning landscape features of Vietnam include:
Mountains
Lakes
Waterfalls
Plantlife
Wildlife
Nature Attractions
City Parks
National Parks
Large Caves
For a visual feast to the eye, the Vietnamese landscape offers a diverse collection of fascinating and stunning natural beauty. Here are some of the most cherished Vietnamese landscapes I have documented as a photographer on the road. You can arrange customized trips to your private tours to Ninh Binh, Halong Bay, Phu Quoc Island, and other destinations in Vietnam.
Here is some stunning scenery in Vietnam worth visiting in order to appreciate the beauty we have been blessed by nature. The list is organized by region, from northern to southern regions of Vietnam
List of 16 best places with amazing photography of Vietnam landscapes:
Ban Gioc waterfalls is a collective name for two waterfalls on the Quây Sơn River that straddle the international border between China and Vietnam; more specifically located between the Karst hills of Daxin County, Guangxi, and Trùng Khánh District, Cao Bằng Province.
Ban Gioc Waterfall is one of Vietnam's most stunning natural attractions. Ban Gioc has also gained the reputation of being one of the four largest waterfalls that cross borders in the world and is one of the most popular in Vietnam.
It is comprised of 3 main waterfalls, the highest one is 30m high. The total height is greater than 70 meters, and the width during the rainy season, between May and September is approximately 200 meters.
It's a less well-known spot located in North Vietnam compared to Sapa and Ha Long Bay, making it a hidden treasure for those who love nature and are keen to explore. It is located in the northeastern region of Vietnam, Cao Bang Province is the highest point in the province and has a height of 30m and a length of 300m, Ban Gioc is the widest waterfall in Vietnam and is a breathtaking natural beauty.
Ha Long Bay: Land of Descending Dragon
According to the title, Halong is a land that dragons came down into. It's a pretty poetic description of thousands of limestone islets and islands scattered across the area of 434 square kilometers and reflecting off the green bay waters.
The geographical landscape of Halong Bay was the result of complicated geomorphological processes that lasted for more than 500 million years.
Halong is the home of beautiful unique caves in karst like Dau Go Cave, Sung Sot Cave as well as Thien Cung Cave. Bai Tu Long Bay and Lan Ha Bay are the two bays worth visiting due to their beauty as well as the rusticity of floating villages.
Bai Tu Long Bay is the name given to an area that lies in the eastern part area of Halong Bay Vietnam. The area covers around 158 sq km, and spreading out further across an extensive buffer zone Bai Tu Long Bay houses an array of ecosystems. It is comprised of hundreds of islets and islands.
It is situated on the southern side to the south of Halong Bay off the north-eastern coast of Vietnam The 300-plus limestone outcrops and karst islands in Lan Ha are just as gorgeous as its famous neighbor, but they feel less secluded and undiscovered. Lan Ha also has the addition of a variety of white-sand beaches that aren't in Halong.
Ha Giang Province
In the northeast of Sapa is the unexplored region in The Ha Giang Province. It is arguably one of the most beautiful routes in the world the highway towards Ha Giang province darts in and out of mountains, rock crevices, and then through valleys and mountains.
The stunning scenery along the drive, paired with smooth roads makes for the ideal motorbike trip. Children dressed in traditional tribal attire shout 'hello' from the top and bottom when they carry the double amount of bamboo baskets. The men wear black high-necked tunics and berets that match, and the women wear the electric pink scarfs in their hair.
Within Ha Giang, you can also visit the Dong Van Karst Plateau Geopark. It is located at an altitude between 1,000m and 1,600m in the four districts: Quan Ba, Yen Minh, Meo Vac, and Dong Van, this is one of the most unique limestone zones, which contain important imprints which depict the evolution of earth's crust.
Sapa, Lao Cai
Sapa is one of the most bustling markets in the world, however, visitors frequently praise the rice terraces surrounding it as well as conical mountains that have mist rushing into them, and not Sapa itself.
The terraces of mountain rice were created by the Hmong Tribe several years ago, and they are still well-maintained and used today. Many use Sapa as an entry point to trek through the villages around it that remain rooted in the traditional lifestyle of the tribe.
Sapa is also located close to Fansipan which is the highest point in Vietnam and a popular trekking spot.
Bac Son Valley, Lang Son
There is a chance that you've not known about Bac Son Valley, however, this is an absolutely beautiful location to appreciate the beauty of nature and to take photos worthy of an Instagram post. The landscape that surrounds Bac Son is truly unique and pleasing to the eye with the rice fields nestled perfectly between two cone-shaped cliffs, dotted with Tay ethnic villages, and embellished with the river that runs through. If you visit Bac Son during harvest season and you'll be able to be amazed by the beauty of nature and especially at sunrise or sunset.
Rice fields in North Vietnam
A lot of stunning fields of rice in Vietnam are situated in the Northwest and the stunning beauty of the terraced fields in this region is what makes them one of the most stunning landscapes in Vietnam.
The most famous fields are located in Sapa, Mu Cang Chai as well as Hoang Su Phi. The trek to view the stunning landscape can be very demanding because of the absence of suitable transportation and professional assistance, however, the reward will be great and the effort assured of a return.
Tam Coc – Bich Dong, Ninh Binh
It's not often for a place is designated a world heritage site because of its cultural and natural values. Ninh Binh, located just 90 km to the south of Hanoi is one.
There is Ninh Binh a harmonious complex of natural splendor that encircles the mysterious and sacred pagodas and temples. Take a hike up over the Lying Dragon Mount from Mua Cave (Hang Mua) to take on the amazing lookout point.
Hire a boat to be to the center of the waters and cliffs within Van Long Nature Reserve. Go to Tam Coc in harvest season to see the beautiful floating rice fields that line the Ngo Dong riversides. Also, visit Trang An, for the breathtaking views of "Ha Long on the land' as it's referred to.
Da Lat
Da Lat is popularly known as Vietnam's top honeymoon spot. The winter months are when the roads leading to Da Lat are filled with flowers of yellow Da Quy Flowers and pink and peach hues of Mimosa which create an amazing view.
In the mountains of Dalat located on the shores of Lake Xuan Huong and lined with pine trees, Da Lat is lined with French Colonial Architecture and blessed with a mild climate which adds to the romantic beauty of the region.
Hoi An Ancient town
The Bridge Pagoda in Hoi An is a famous landscape printed on Vietnamese banknotes
Hoi An might seem like a bizarre alternative, but there's something romantically appealing about Hoi An's Central Vietnamese Port Town. Hoi An appears to be in a time-lapse, with its merchant houses with wooden fronts elegant bridges, beautiful bridges, and intricate temples.
In the evening, bright lanterns are strung from each storefront and illuminate the streets of the quaint old town, creating a romantic glimmer on the Thu Bon River. The town also boasts excellent galleries as well as an impressive Japanese Style bridge which makes it an amazing Vietnamese place to visit.
Nha Trang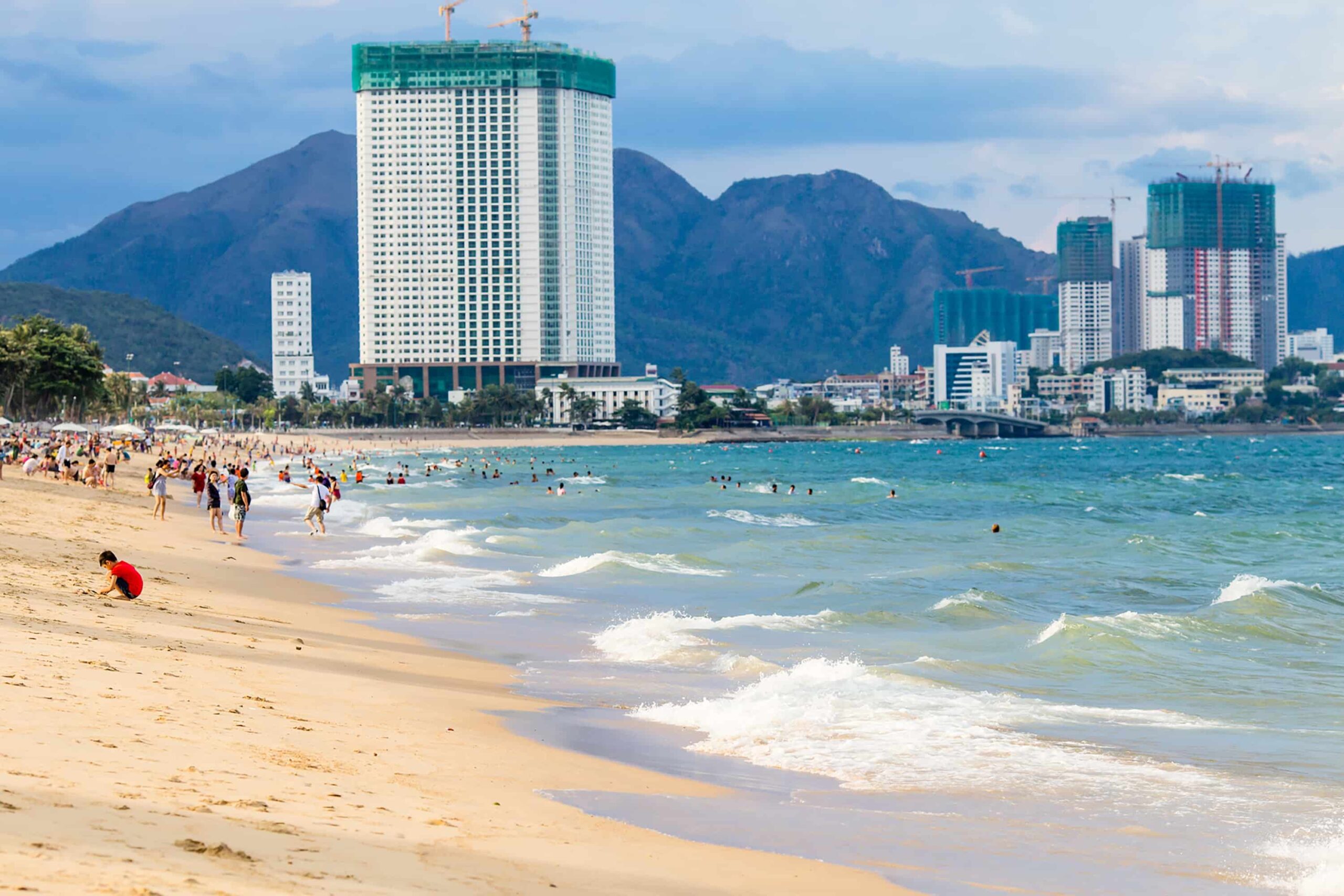 Nha Trang can be described as the Miami of Southeast Asia. Nha Trang is Vietnam's biggest beach resort and can be described as boat excursions throughout the day, and an all-night party.
Offshore islands provide ideal spots for snorkeling and diving, with clear visibility, high-quality coral, and a multitude of fish with different colors swarming around. Nha Trang is also home to Hon Chong the settlement consisting of two clusters of massive rock formations.
Son Doong Cave
The limestone is home to mammoth caves, stalagmites, and stalactites in Son Doong Caves in Phong Nha Ke Bang. Phong Nha Ke Bang is one of the largest caves of its kind on the planet. Son Doong Cave is the largest cave in the world.
Son Doong Cave spans about 9 km in length and includes sections that reach as high as 200 meters. It is also home to a variety of species of wildlife, including bats, monkeys, and Flying Foxes.
This cave is a must-see for anyone who is interested in caving. It requires a very advanced level of fitness as well as some level of expertise.
Hang Rai (Cave of Otters ), Ninh Thuan
Hang Rai or Cave of Otters in Ninh Thuan is a place where only local photographers and travelers are allowed to visit, completely unaffected by mass tourists. Hang Rai has a breathtaking and mysterious appearance that cannot be adequately described with words.
Cave of Otters actually is an entire complex made up of reefs beaches, rocks, and a cave. The highlight of the cave is a plate-like formation of rock that divides the beach.
As the tide rises the seawater fills the rock plate and forms a tiny water drop right onto the sea. The rocks on the beach are covered in green moss. It contrasts beautifully with the colors of the sky and sea.
Go to Hang Rai at sunset to take in the splendor of the landscape. Don't forget to bring your finest camera.
In Phan Rang, drive east and then north for approximately 40 km along the road that leads to Chua Mountain National Park Centre. Turn left and after about 500m you'll arrive at Hang Rai. If you have time, why not go hiking to Chua Mount – one of the parks that are the least developed in Vietnam?
Cai Rang Floating Market – One of the highlights of Can Tho
Floating markets are among the more common business models within the Mekong Delta due to its extensive river system. Particularly, Cai Rang Floating Market is among the top 10 most beautiful markets in the world as chosen to be the best by Britain's Rough Guide magazine, and is an intangible national cultural heritage, which was declared in the year 2016.
Cai Rang Floating Market in Can Tho is very busy and bustling with shoppers and sellers who are on boats. The bustling atmosphere, along with the bustling vessels and boats throughout the river create an amazing natural setting.
The shop sells a wide assortment of agricultural products as well as fruits that are grown by the locals themselves. If you are looking to market something, you can hang it on the pole just in front of the vessel. The best time to go to the market is from 5 am until 8 am.
Visit Cai Rang Floating Market predominantly by boat. You can taste the sweet coconuts as well as the yellow early pineapples. Vermicelli noodles, vermicelli, or noodle soup at the market floating are foods that you must try while visiting this spot. The warm people and the beautiful landscapes will make your visit for a while and you will always remember the beautiful land in Can Tho.
Mui Ne
The most unlikely thing to see in a country that has tropical rainforests is sand dunes however, Vietnam is full of surprising things. Mui Ne houses two kinds of sand dunes with the appearance of Sahara, white dunes and red dunes.
They are the White Dunes are the larger dunes that are best explored during the mornings and evenings. They are also the most popular. Red Dunes offer a better spot for photography and Sand snow sledding.
If you slide, jump, or simply walk through the dunes, it's impossible to avoid letting their stunning beauty overpower you.
Mekong Delta
It is believed that the Mekong River makes its way to the South China Sea in the Southern Region of Vietnam. Before it dries into the ocean it irrigates an enormous delta, as a result of the fact that this is a fertile area with mangrove trees that sprawl across the landscape and stunning grassy rice fields.
The vast delta of 15,000 square meters is home to a variety of riverside villages as well as floating markets. A great way to discover this is to go on an excursion for a day along with one of the canals narrowly carved out by the Mekong River, and then explore floating markets as well as fish farms.
Buddhist temples and colonial structures. You can also taste local coconut and fruits and learn about the handicrafts of the locals.
Phu Quoc Island
The southern part of the country near the west coast of Vietnam is the remote and unexplored Phu Quoc Island. It is a relatively undeveloped island and is dotted with sandstone mountain ranges and picture-perfect white beaches, and stunning sunsets over the ocean that will leave you in a state of constant rage.
The interior of these islands can be just as breathtaking and is filled with narrow paths of red soil pepper plantations, as well as a national park full of an array of fauna and flora.
For many people, what comes to mind when they think about Vietnam is Vietnam War. If you're looking for a beautiful and luxurious travel destination, you can't go wrong with Vietnam. The country boasts some of the most stunning landscapes in the world, including many of the famous places we've listed above.
In addition, there are many places that have not really developed in terms of tourism, but it is an ideal place for many people to explore because of the wildness of nature and people such as Ma Thien Lanh Valley – A beautiful backpacking spot in Tay Ninh, Nam O Reef – Da Nang, Cat Ba Island, Mui Ne Sand Dunes – Phan Thiet, Pu Luong – Thanh Hoa…
Vietnam Landscape Paintings
Whatever your goals are, these will still be ideas for your Vietnam landscape painting. We gather and show you a range of Vietnamese landscape paintings of natural beauty and perhaps a source to purchase those paintings.
It could be an art print or a lacquer drawing or a traditional painting that depicts Vietnamese landscapes, they are all wonderful present ideas. This is why it's not a surprise that a lot of tourists have picked the beautiful paintings of the Vietnam landscape to keep as Vietnamese souvenirs for themselves or loved relatives.
Don't wait too long, below are stunning artworks from Vietnam:
Painting of Vietnamese countryside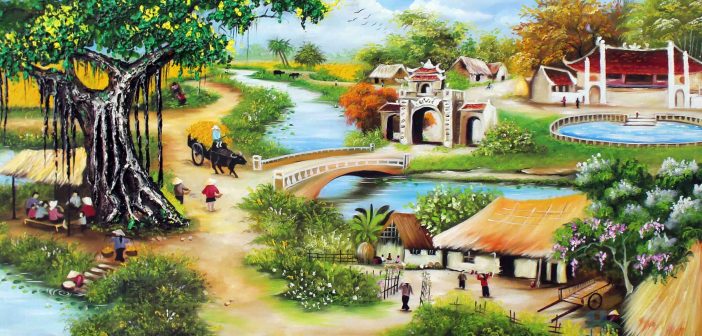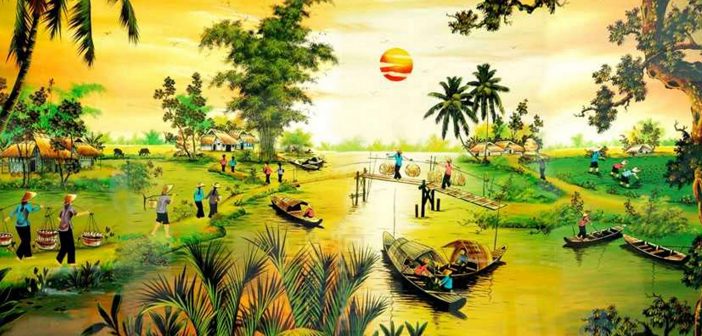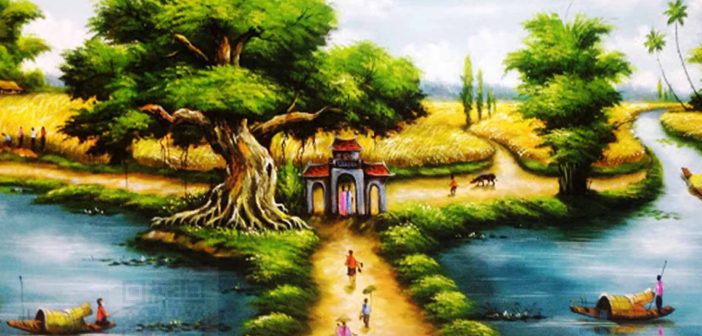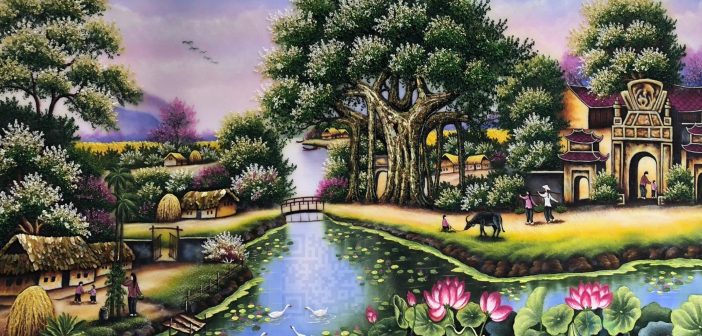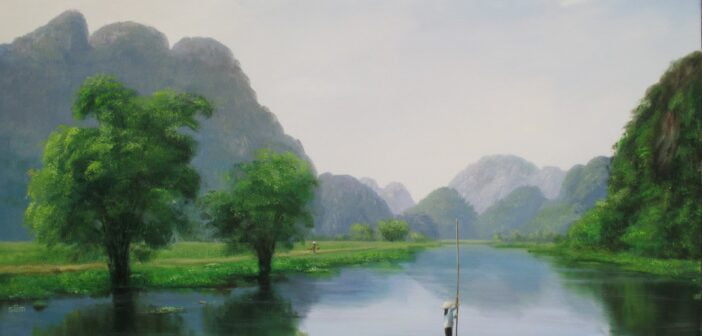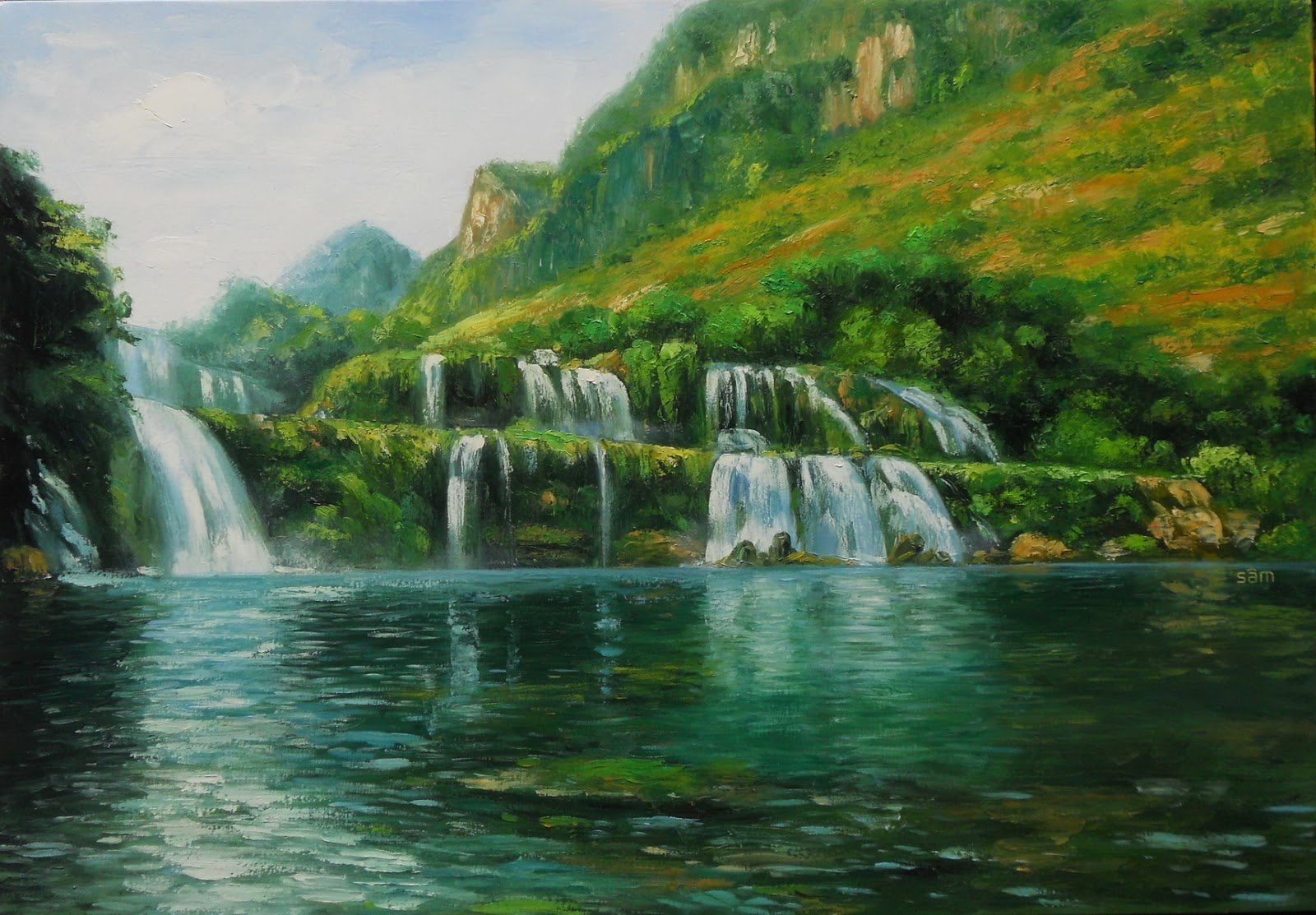 This is a video recording of a young person drawing and finishing a Vietnamese landscape picture. Did you see anything special? Yes, he doesn't paint on paper, doesn't paint on wood, he paints the picture directly on the wall. Pretty good right?
Vietnam Landscape Facts
To end the article, I would like to introduce to you some interesting information about the landscape of Vietnam.
Son Doong – The world's largest cave
Binh Chau Hot Spring – one of the World Travel Organisation's 65 sustainable eco-tourism developments
Tam Coc – Bich Dong: The most majestic natural scenic spot in Vietnam. Karst cliffs tower over lush green rice fields, with the Ngo Dong River flowing through another part of this world.
Dong Van Karst Plateau Geopark – an UNESCO Global Geopark
Cai Rang Floating Market – top 10 beautiful markets in the world voted by UK's Rough Guide magazine
No matter what kind of traveler you are, you'll find something for yourself in Vietnam. Famed for its mountains, beaches, whisky, and even coffee; there's no shortage of unique things to see and do here. And that includes exploring the lesser-known backwaters. So this is your call to explore them soon!