Had you ever noticed the back of the Vietnamese banknote to know about the special famous cultural landmarks printed on it?  Here are 5 Famous Landmarks in Vietnam Dong (Vietnamese Currency)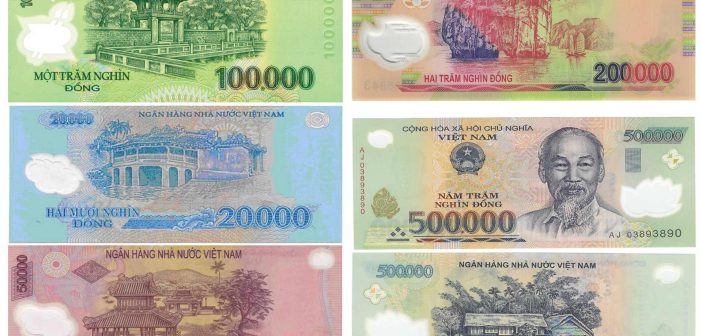 Hoi An Cau pagoda (Bridge pagoda) on 20,000 VND
World Cultural Heritage Hoi An iconic image Bridge pagoda was known throughout the country and abroad. Ancient bridge in Hoi An introduction to the period till now, there has not been clearly defined.
However, in the bibliography of Vietnam, the name of the bridge that Japanese expatriates was found in 1617, which means players can predate that year.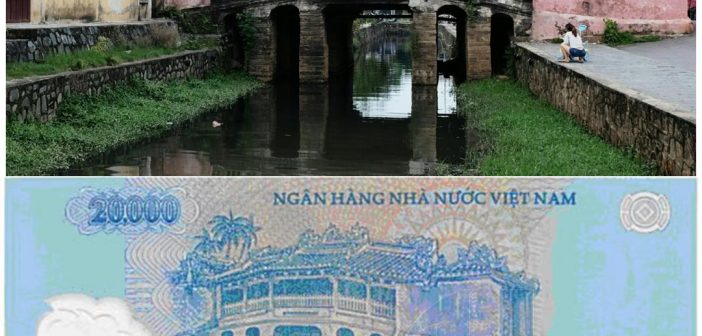 According to legend, in the ocean, there is a species of the Japanese monster called Mamazu, head in Japan, tail in India, and back squeezed through a gap in Hoi An that bridge across Japan. Every time his monster thrashed, the Japan earthquake and Hoi An were not uneventful.
To control the Mamazu, Japanese people worship the god Dog and Monkey of the bridge that " enchanted" monster. Minh Huong people established a small temple on the bridge to worship Bac De Chan Vo's purpose of controlling earthquakes.
The pagoda, therefore, is considered as a sword to stab the back of Mamazu monter, making it not turn tail, causing earthquakes anymore. 1653, people up part of the temple, connecting railing on the north, protruding between the bridge, from which the locals called the Bridge pagoda.
Nghenh Luong Dinh, Phu Van Lau on 50,000 VND
Located on the banks of the Perfume River of Hue,  Nghinh Luong Dinh ( or Nghenh Luong Ta ) is where the king used to sightsee. Nghinh Luong Dinh architecture structured the Phuong Dinh, front and rear are extended to the crab shell. Wooden frame at the top, especially for inter-system shell crab with three elaborately carved. The main roof tile pipe lapis gold, two crab shell yellow enamel tile paralysis. The riverbank has 13 stairs leading down a hallway built close to the Perfume river water. The landscape around my house is airy and very lyrical.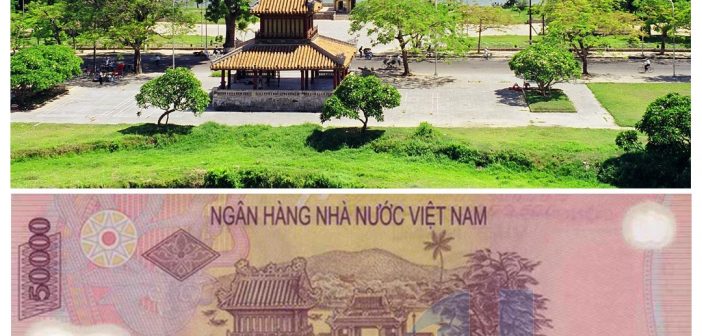 Not far away, Phu Van Lau was built in 1819 under King Gia Long and used as a place for listing the important edict of the king and the court or the results of the examinations held by the court. Phu Van Lau is a two-story house, facing south. Under the reign of King Minh Mang, built-in two imperial the two tablets of stone carved 4 words " Khuynh, Cai, Ha, Ma" meaning that one must go through to take off hats and horses. King Thieu Tri see Phu Van Lau and  Perfume river are one of 20 scenic places of Citadel.
Van Mieu – Quoc Tu Giam on 100,000 VND
The image represents the entire region of Van Mieu – Quoc Tu Giam, Khue Van Cac is a square eight-floor roof, that consists of four roofs above and four roofs down, high nearly nine feet, was built in 1805. To step up the background this square must go through three stone steps. The architectural designs of Khue Van Cac are very harmonious and unique. Downstairs is 4 square brick pillars, with each side of length, a meter based on the cylinder, and carved motifs that are very sophisticated and edgy. Upstairs is a wooden structure except for gilded roofs and roof decoration corners or on the top edge of terracotta material or sand-lime durability.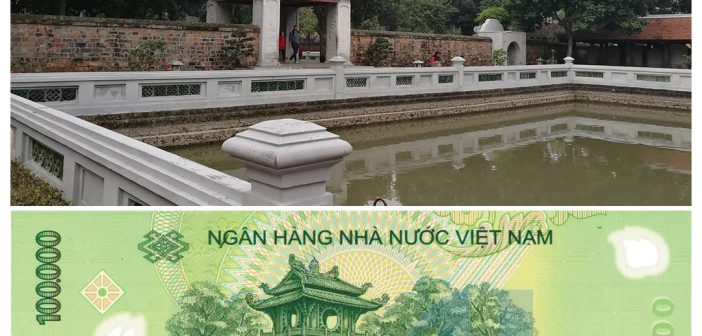 Van Mieu – Quoc Tu Giam is one of 23 national monuments special. The architectural ensemble with the subject is Van Mieu – places of worship of Confucius and Quoc Tu Giam – the first university of Vietnam.
Halong Bay on 200,000 VND
Ha Long Bay in Quang Ninh has been repeatedly recognized as a UNESCO natural heritage of the world with thousands of islands made ​​up by the creation of spectacular and vivid. Halong Bay has magnificent views up here and is a very attractive tourist destination for domestic tourists and international.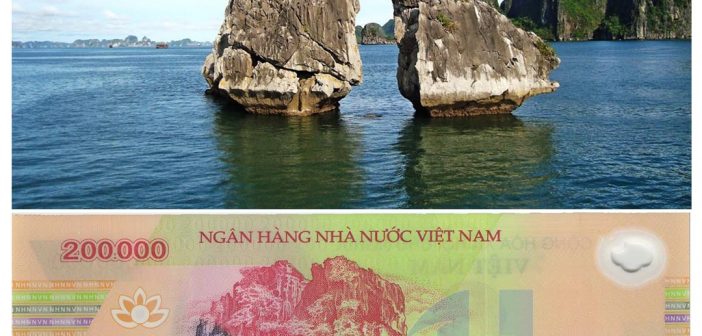 Halong Bay is a unique heritage these sites contain traces important in the formation and development of Earth's history, the cradle of the ancient Vietnamese residents. Bay is also the art of shaping natural greatness with the presence of thousands of islands, with many interesting caves clustered into a vivid world has just mysterious.
Besides, Ha Long Bay is also home to high biodiversity with typical eco-systems along with thousands of animal and plant species richness. It was also associated with cultural values ​​- the heroic history of the nation.
Cottage in the Sen Village of President Ho Chi Minh Countryside on 500,000 VND
Anyone recognize the simple picture house childhood by president Ho Chi Minh. Sen house in the village of Kim Lien commune, Nam Dan district, Nghe An province, central land of sunshine wind. From the city of Vinh go along Highway 46 about 15 km's to come.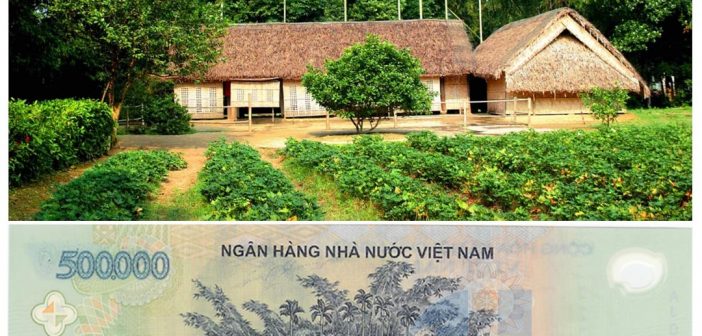 The entire monument consists of 4 main clusters: motherland areas (Hoang Tru village known as Chua village), fatherland areas (Sen villages), Chung mount (Kim Lien), and Mrs. Hoang Thi Loan tomb (President Ho Chi Minh's mother) of Nam Giang commune.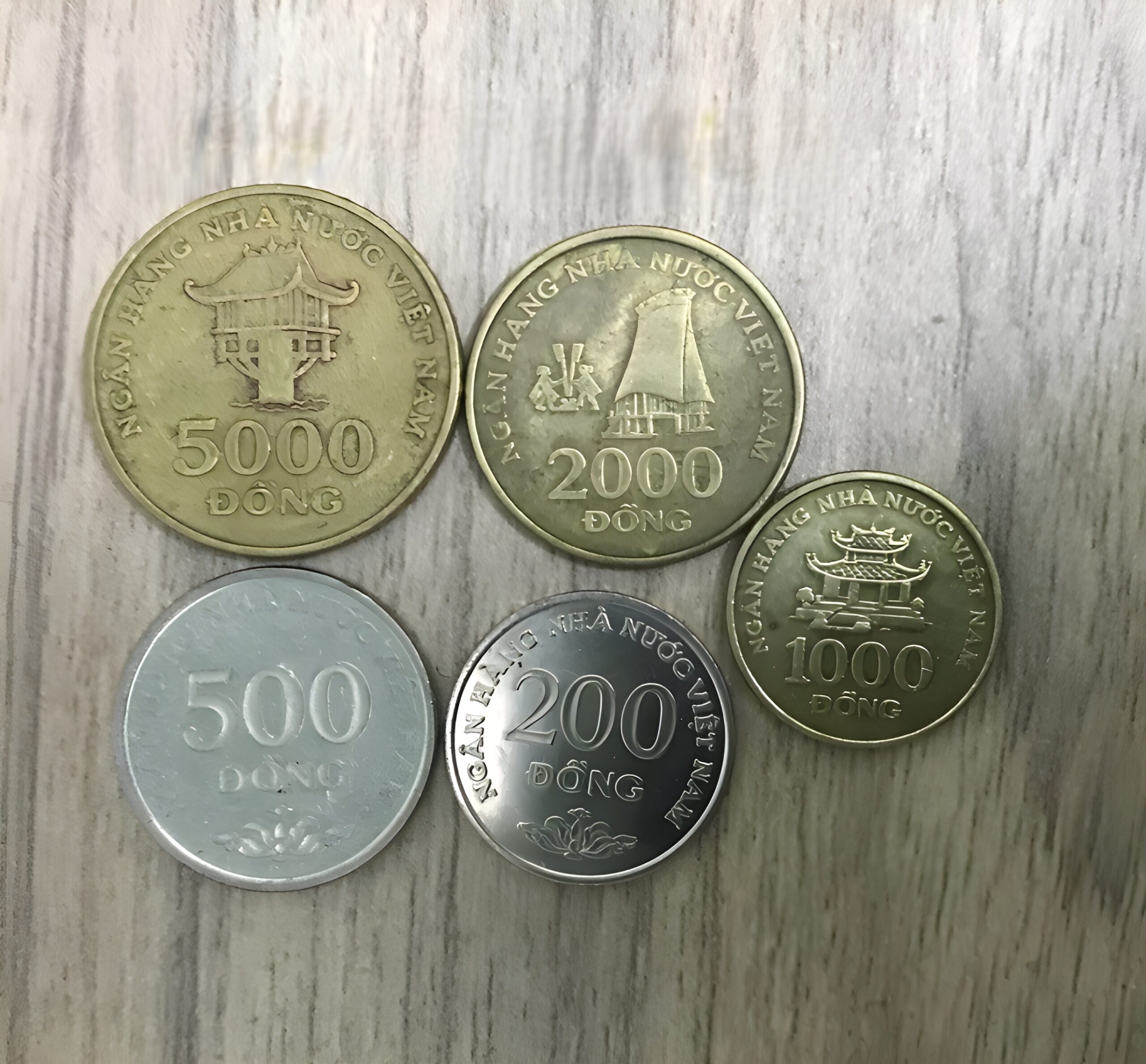 We will have articles about some landmarks or images on the background of Vietnamese coins. Subscribe to receive new articles and useful information from Huy Hoa Team.