The Vietnamese zodiac is a fascinating, complex, and important part of Vietnamese culture and tradition. Just like the Chinese zodiac, it is based on a twelve-year cycle, each year corresponding to one of the twelve zodiac signs. But the Vietnamese zodiac is also very unique in many ways, with its own personality traits, strengths, and weaknesses associated with each zodiac sign. Each animal sign is said to have its own characteristics and personality traits that can affect a person's life and relationships.
Whether you are a believer in astrology or just curious about the world around you, the Vietnamese zodiac is a fascinating subject that is sure to captivate and intrigue you. So, join us on this journey of discovery as we will provide you with a lot of interesting knowledge about the zodiac signs as well as many secrets about the Vietnamese zodiac.
In this article, we will delve into the world of the Vietnamese zodiac and discover the mysteries and secrets behind each of the 12 zodiac animals. We will discuss the history and origin of the Vietnamese animal zodiac, its cultural significance, and how it is celebrated in Vietnam and around the world. We will also look at the compatibility between different zodiac signs and how the Vietnamese zodiac can affect romantic relationships and friendships.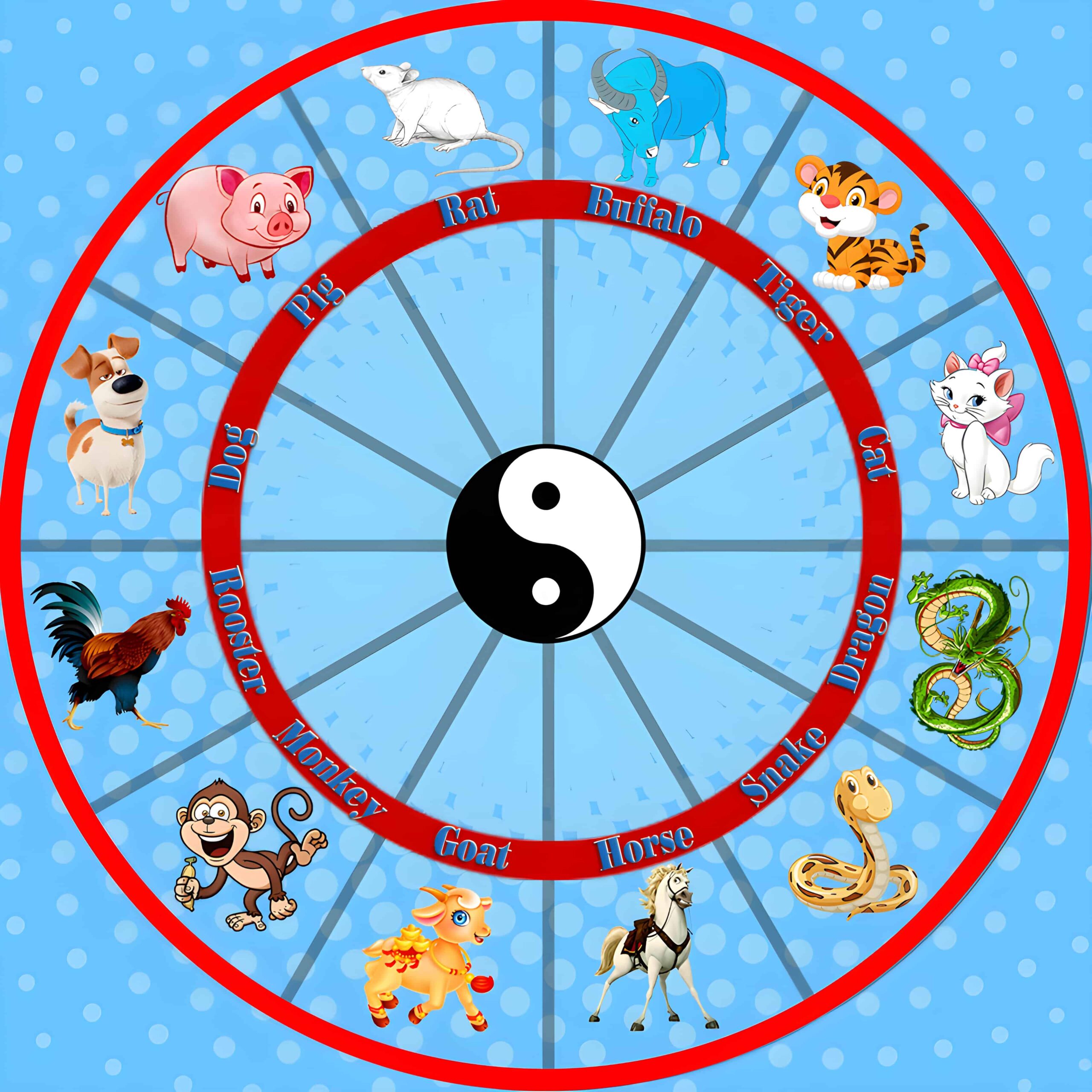 What is the Vietnamese Zodiac?
The Vietnamese zodiac is a classic classification system that follows the lunar calendar and assigns a unique animal and its associated attributes to each year, which repeats in a 12-year cycle. The Vietnamese lunar calendar is further divided into 60-year cycles, known as "Hồi," with each cycle consisting of five 12-year periods, each represented by a distinct animal sign. The 12 animal signs include Rat, Buffalo, Tiger, Cat, Dragon, Snake, Horse, Goat, Monkey, Rooster, Dog, and Pig.
The Viet zodiac has a long and rich history that dates back to ancient times. According to legend, the Jade Emperor invited all the animals in the world to participate in a race, with the first 12 animals to cross the finish line being awarded a place in the zodiac. The order of the animals was determined by their arrival time, with the rat being the first animal and the pig being the last.
While similar to the Chinese zodiac, there are some key differences between the two systems. For example, in the Vietnamese zodiac, the cat is included instead of the rabbit. Additionally, each animal sign is associated with one of five elements (wood, fire, earth, metal, and water), which can further influence a person's personality and destiny.
The Vietnamese zodiac has deep cultural significance in Vietnam and is celebrated in a variety of ways throughout the country. For example, during Tet (Vietnamese New Year), it is customary to clean one's house and decorate it with flowers and other decorations that are associated with each animal sign. People also often wear clothes that are specific to their animal sign during this time.
The Vietnamese zodiac is an important part of Vietnamese astrology, as it assigns an animal sign and its associated attributes to each year in a repeating 12-year cycle. This system is widely used to predict and analyze personality traits, relationships, and future events.
Vietnamese astrology is a complex and sophisticated system of astrological beliefs and practices that have evolved over thousands of years in Vietnam. It encompasses a wide range of disciplines, including astronomy, divination, and fortune-telling, and is deeply rooted in Vietnamese culture and tradition.
The Vietnamese zodiac and astrology are deeply intertwined with Vietnamese culture and customs and are widely celebrated during important holidays and festivals.
For example, the Vietnamese New Year, or Tet, is a time when families gather together to honor their ancestors, exchange gifts, and enjoy traditional foods and customs, many of which are based on the Vietnamese zodiac and astrological beliefs.
The 12 Animal Signs
In Vietnam, the zodiac has a great influence on cultural beliefs and is closely linked with the lunar calendar. Like other Asian countries, the zodiac of Vietnam includes 12 animals representing the 12-year cycle of the lunar calendar.
According to astrology and horoscopes in Vietnam, knowing someone's zodiac sign can predict their personality as well as important milestones in their life.
For example, when Vietnamese is asked about their age, they may answer with their zodiac sign rather than their actual age. For example, if someone was born in the year of the pig, they would say they are Yin Water Pig instead of saying their age is 28.
The Rat – a symbol of intelligence and cunning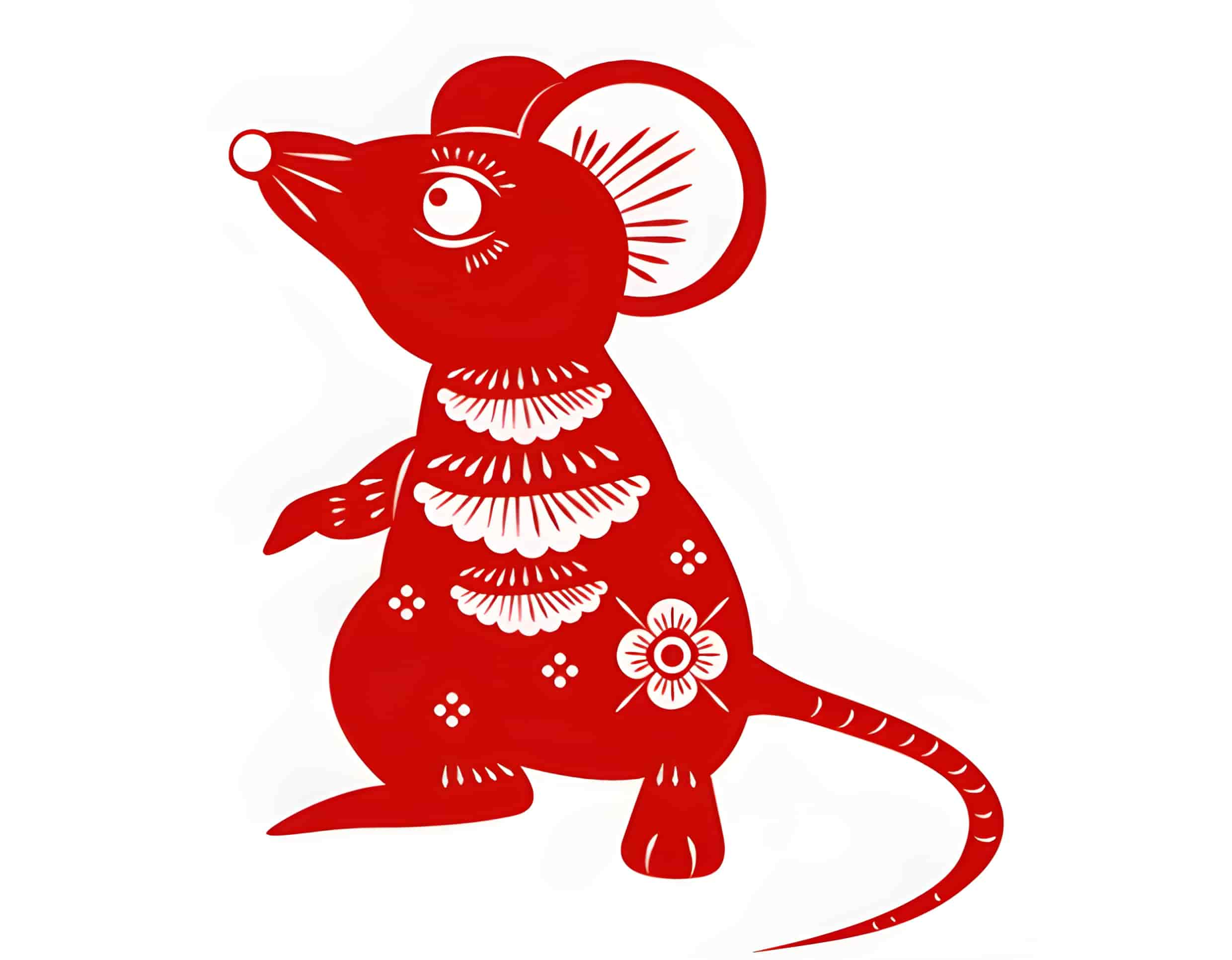 The first place in the Vietnamese zodiac is the rat, respected for its intelligence and quick wits. People born under the sign of the rat are considered to be imaginative and generous, especially with those who are in the same boat as them.
Do not underestimate the "people of the year of the Rat" at work, because they have a harmless appearance but carefully calculate each move to achieve their goals and conquer their opponents. Although rats are often considered a pest worldwide, in Vietnam they are more than just animals; they have cultural significance.
Zodiac Buffalo – Leadership Sign In Astrology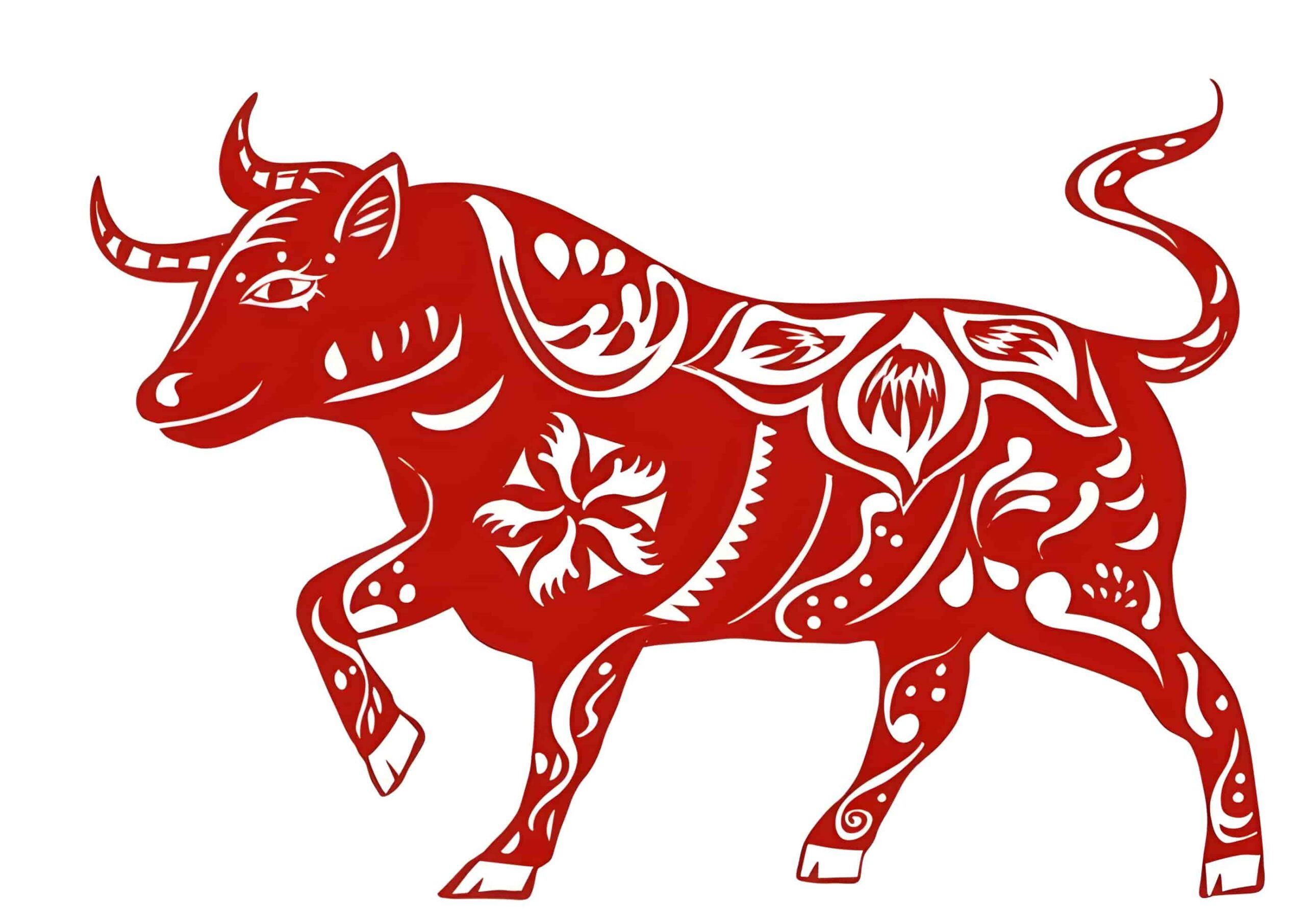 People born in the year Buffalo are those born in 1913, 1925, 1937, 1949, 1961, 1973, 1985, 1997, 2009, 2021, 2033, and 2045…
One of the key differences between the Chinese and Vietnamese zodiac cultures is their respective attitudes toward the cow/buffalo. In Chinese culture, the cow has great significance in agriculture, as it is more suited to the climate and is considered extremely valuable.
In Vietnam, the buffalo is considered the most important asset of the people, even though it is so important that when it comes to career or property, people used to talk about the buffalo in the past. There are a number of proverbs about the importance of the buffalo to the Vietnamese people such as:
"The buffalo is the head of the business"
"Buy a buffalo, get married, build a house"
Of those three things, it's hard to change."
This cultural difference can be traced back to ancient times when the concept of happiness in Vietnamese culture was closely associated with rice plants and rice fields. Given Vietnam's small-scale agricultural economy, it's not surprising that the buffalo holds a prominent place as a cultural icon, as it not only helps grow rice but also provides a sense of security.
People born under the buffalo sign are said to possess strong and natural leadership qualities, but their lives are often fraught with obstacles before achieving success. If your buffalo partner seems overly serious, don't be discouraged; behind their appearance is a warm heart that can be fully opened by a passionate lover.
Zodiac of Tiger – People with leadership qualities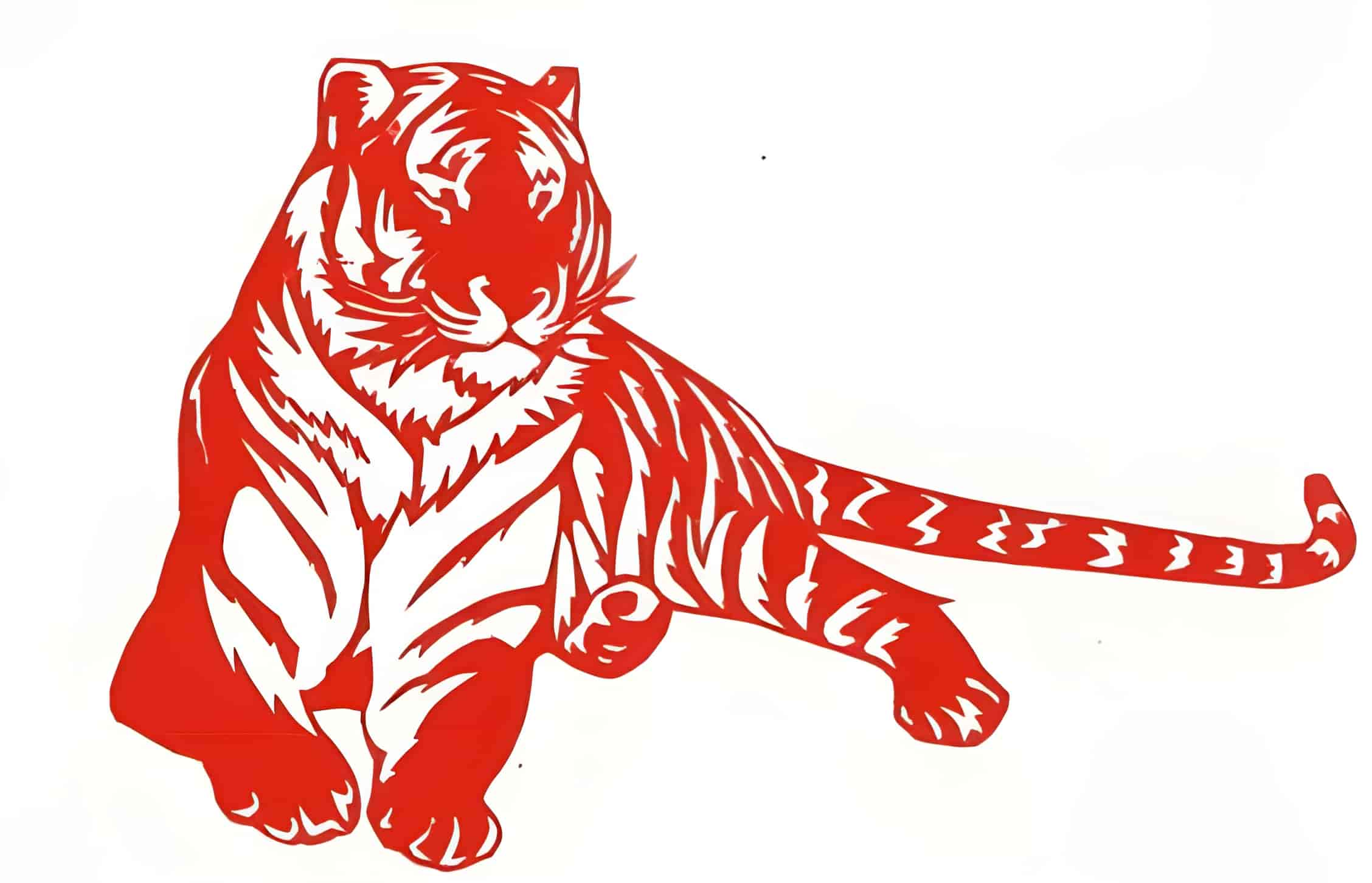 The Tiger zodiac sign, which includes those born in 1938, 1950, 1962, 1974, 1986, 1998, 2010, 2022, 2034, and 2046, holds a special place in Vietnamese culture as the king of the forest. Due to Vietnam's mountainous and forested terrain, tigers are revered and even incorporated into the architecture of pagodas and temples.
Those born under the Tiger sign are often seen as brave, intelligent, and willing to take risks, with the potential for extraordinary success. However, their strong personalities can also lead to challenges and social biases, particularly for Tiger women who may struggle with marriage but prioritize raising their children with overwhelming dedication.
Individuals born under the Tiger zodiac sign are often characterized as passionate, adventurous, and occasionally short-tempered. They possess lively and magnetic personalities and are known for their strong will.
In feng shui, the tiger represents determination and embodies strength and majesty. Many leaders opt to display a tiger statue in their office to enhance their personal power and influence.
Zodiac of Cat – People with a sociable, flexible personality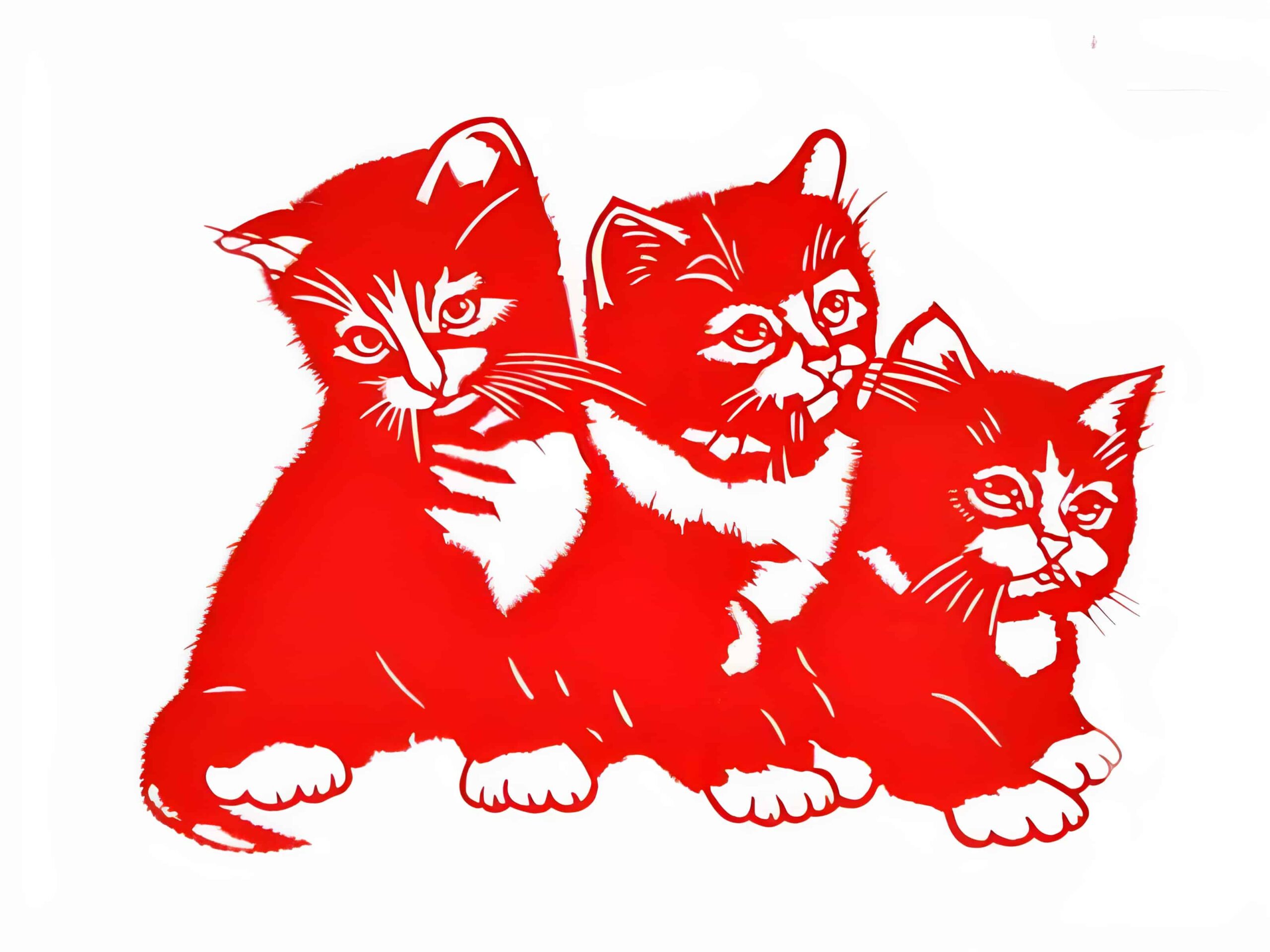 On the other hand, the Cat zodiac sign, which includes those born in 1939, 1951, 1963, 1975, 1987, 1999, 2011, and 2023, is a popular domestic pet in both Eastern and Western cultures, but particularly in Vietnam where cats are valued for their ability to protect rice crops from pests.
Cat people are known for their courteous and sociable nature, while also possessing a secretive quality that adds to their charm. It is difficult to predict their overall happiness in life, as it depends on various factors, but their minds are said to be of great depth.
The cat is known for embodying traits such as patience, gentleness, intelligence, and alertness, and is considered a symbol of prosperity, affluence, and career success in feng shui. Additionally, cats are believed to be effective in warding off bad luck and evil spirits, serving as a protective mascot for homeowners.
In comparison, rabbits are often viewed as being cunning, alert, and farsighted like cats, but with a greater ability to adapt quickly to new environments and a willingness to assist those in need.
Individuals born in the Year of the Rabbit are often described as living with finesse and delicacy, yet may also be less attuned to the sadness of others and prone to irrational fears.
Due to their careful and discreet nature, rabbits are often well-suited for political work and are likely to enjoy peaceful and uneventful lives without major disasters.
Zodiac of Dragon – The symbol of the noble bar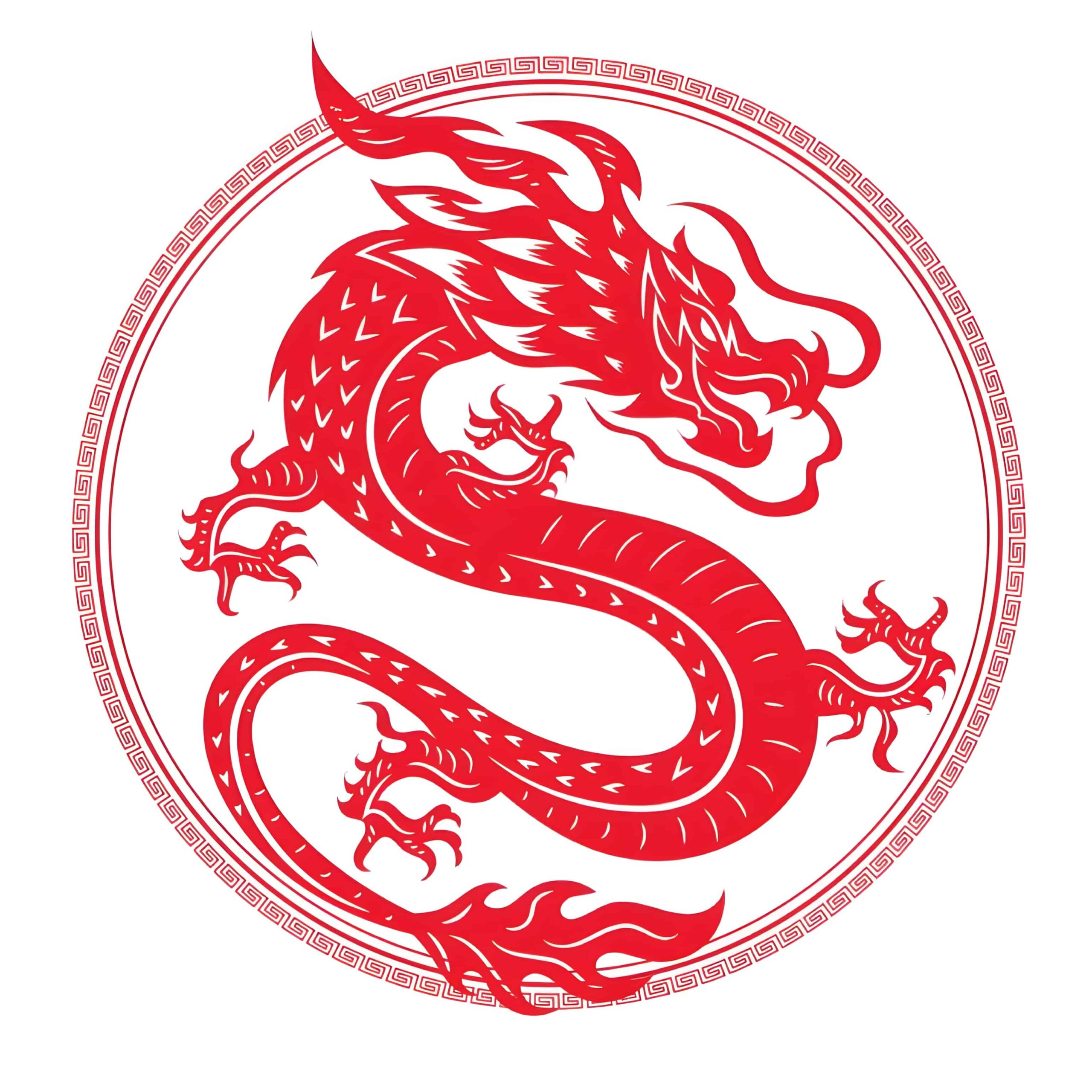 (1928, 1940, 1952, 1964, 1976, 1988, 2000, 2012, 2024, 2036, 2048)
The Dragon is a mythical creature that symbolizes power, holiness, and respect. Those born in the year of the Dragon are believed to be destined for great success and to hold a prominent place in society.
While Dragons may exhibit impatience and stubbornness at times, they are known for their quick adaptability and versatility. They have a natural talent for excelling in various fields, regardless of their specialty.
In matters of love, both male and female Dragons tend to be less passionate and may not readily reciprocate affection, resulting in many remaining single until later in life.
Contrary to popular belief, the Dragon was originally thought to be a real animal by the Mường minority group in Vietnam, who believed it lived underwater and fed on carrion. Over time, the Dragon became deified and became the most revered animal in Oriental culture, often associated with royalty and depicted on the robes of kings.
Those born under the Dragon sign are thought to possess natural talent, but can also come across as arrogant and tactless. While they are believed to enjoy financial success, a balanced approach to both large and small matters is said to lead to a perfect life, according to the teachings of Wang Xu.
Zodiac of Snake – The symbol of the lucky one
(1941, 1953, 1965, 1977, 1989, 2001, 2013, 2025, 2037, 2049)
Vietnam's humid climate provides an ideal habitat for snakes, which have become a significant part of the country's cultural identity due to their interactions with humans and their use in medicine.
Despite their reputation for danger, snakes' venom and skin have valuable medicinal properties. In fact, those born under the Snake zodiac sign are often considered lucky. Additionally, Snake individuals are known for their charm and captivating personality, making it easy for others to fall in love with them.
Snakes are characterized as wise, resilient, and agile creatures. Those born under the Snake sign tend to live emotionally and deeply, attracting others with their creativity and beauty.
According to horoscopes, the year of the Snake is associated with intelligence, quietness, and discretion. They are hard workers who carefully weigh their decisions, leading to success in their endeavors.
In matters of love, Snake individuals are devoted to their partners but can be prone to jealousy and suspicion. To maintain a strong relationship, they must learn to control their temper.
Those born under the Snake sign during the day and in the summer tend to have a calm and peaceful life. However, those born at night and in the winter may face difficulties and uncertainty throughout their lives.
Zodiac of Horse – Symbol of floating – nomadic one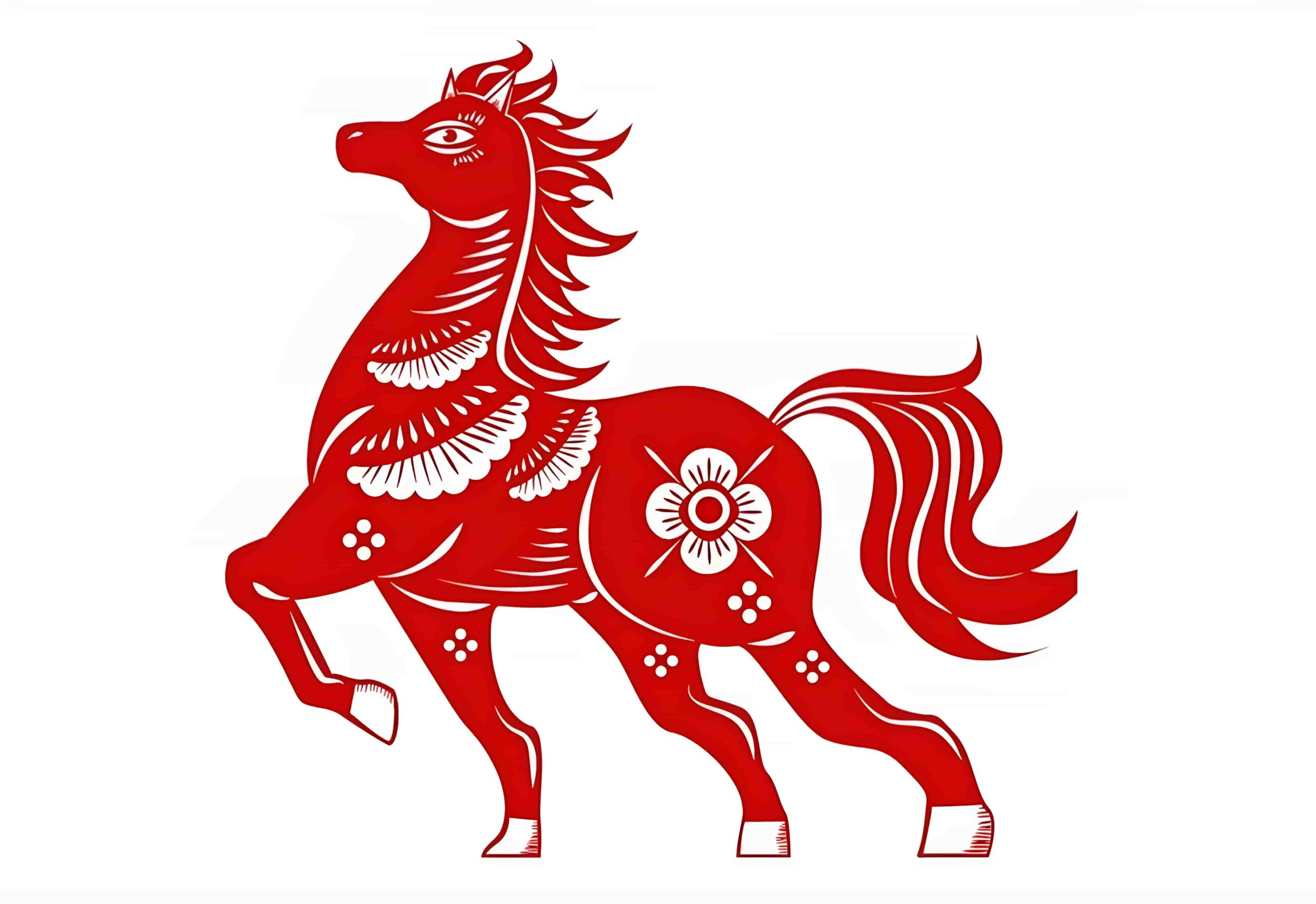 (1942, 1954, 1966, 1978, 1990, 2002, 2014, 2026, 2038, 2050,…)
Horses are creatures of the savannah who value freedom and dislike confinement. Those born in the Year of the Horse share these traits and are known for their energetic and enthusiastic nature, as well as their love for exploring the world and avoiding staying in one place for too long.
Horse people are cheerful, lively individuals who tend to attract others and enjoy outdoor activities and social gatherings. However, they can be prone to selfishness and a strong desire for ambition, often leading to them getting caught up in endless pursuits that distance them from their families.
In Vietnamese society, horses have played a crucial role in transportation, particularly in the past when roads were not as well-developed. With 75% of the country being mountainous and forested, horses were respected for their ability to trek through forests, climb mountains, and transport passengers when other modes of transportation were limited by technology.
Individuals born under the Horse sign are fated to lead a life of movement and restlessness, with staying in one place being intolerable. They tend to be very generous and have many friends whom they treat like siblings.
The independence and confidence of Horse people are also prominent characteristics that contribute to their success in life.
Zodiac of Goat – Symbol of dream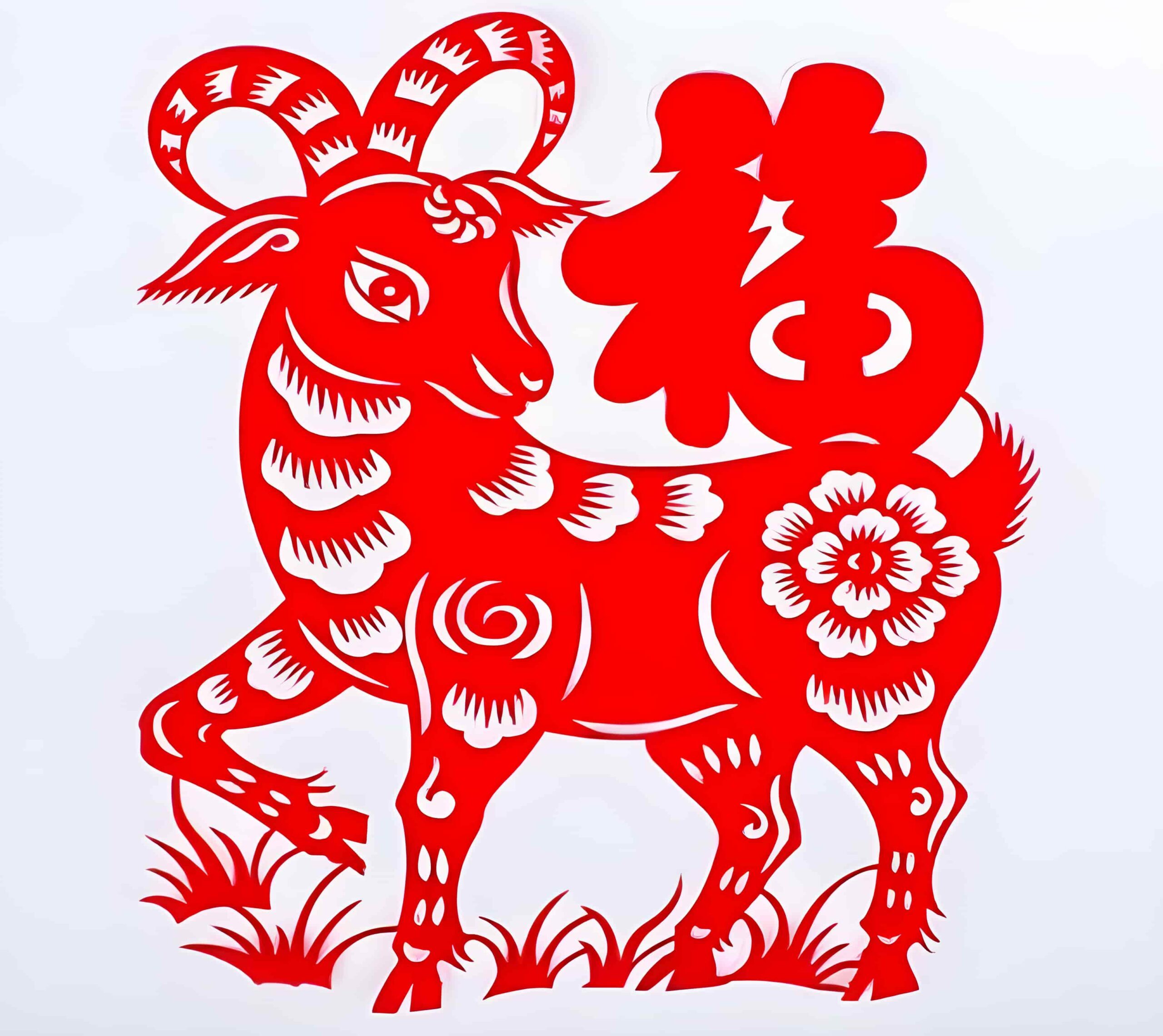 (1943, 1955, 1967, 1979, 1991, 2003, 2015, 2027, 2039, 2051)
Those born under the Goat zodiac sign are known for their emotional and kind nature, always willing to lend a helping hand to those in need. They are intelligent, shrewd, and possess great vision, while also being sensitive to a variety of issues.
However, Goat individuals are often plagued by bad habits such as a tendency to be dissatisfied with life, a love for fluffiness, and indecisiveness in all matters. They may also be prone to wandering and lateness, only devoting time to activities that benefit them.
Goats are typically mountain-loving creatures, drawn to the fresh air and grassy landscapes, often spending hours daydreaming and sleeping. Many Goat individuals have a penchant for poetry, as they are believed to be the most dreamy of the twelve zodiac signs. When faced with the harsh realities of life, they may feel overwhelmed and despairing.
Nevertheless, if a Goat person recognizes that their dream is both a strength and a weakness, they can apply it effectively and achieve success in areas such as painting or performance arts. Goats tend to value the opinions of others over their own and may hesitate when making decisions, waiting for luck to intervene.
Zodiac of Monkey – Symbolizes intelligence, alertness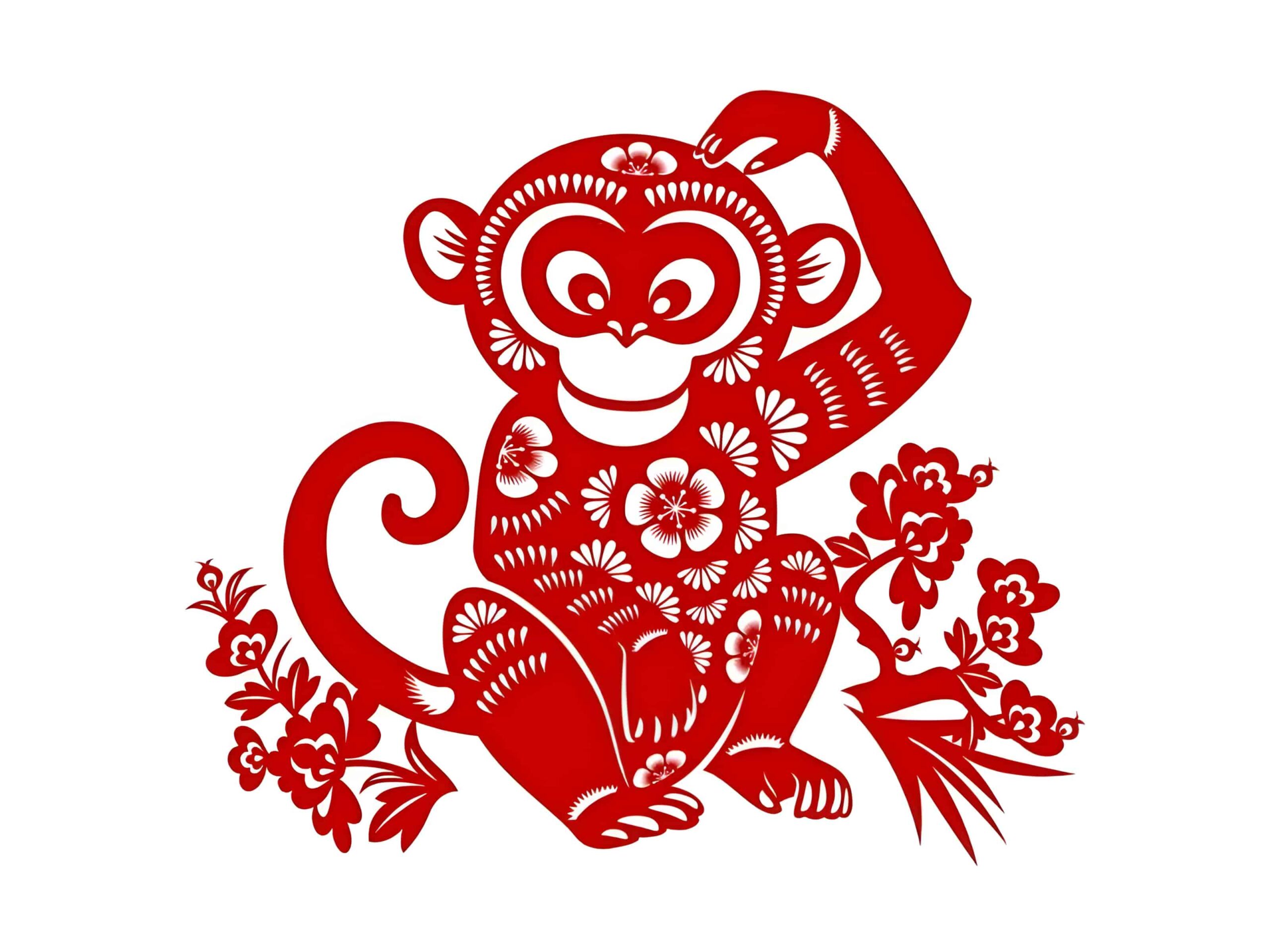 (1944, 1956, 1968, 1980, 1992, 2004, 2016, 2028, 2040,…)
The Monkey zodiac sign is considered one of the fastest, smartest, and wisest animals in the forest, with a highly developed brain. Those born under this sign are believed to be talented, clever, and nimble, with a strong desire to learn and extensive knowledge that makes them effective problem solvers in both work and life.
Monkey people prefer free and flexible work environments that allow them to use their creativity and intelligence, and they excel in political, diplomatic, and business roles. However, they are also known for their negative qualities, such as trickery, conceit, and the tendency to take advantage of others in their helpfulness. In romantic relationships, they can be both fickle and insatiable.
Despite their flaws, Monkey people are known for their cheerful and lively personalities and their desire for new experiences and challenges. They are not content with a stagnant life, and constantly seek to achieve more in various fields. However, they are also satisfied with what they have achieved and rarely compare themselves to others, which makes them truly happy.
Zodiac of Rooster – Enthusiastic and energetic people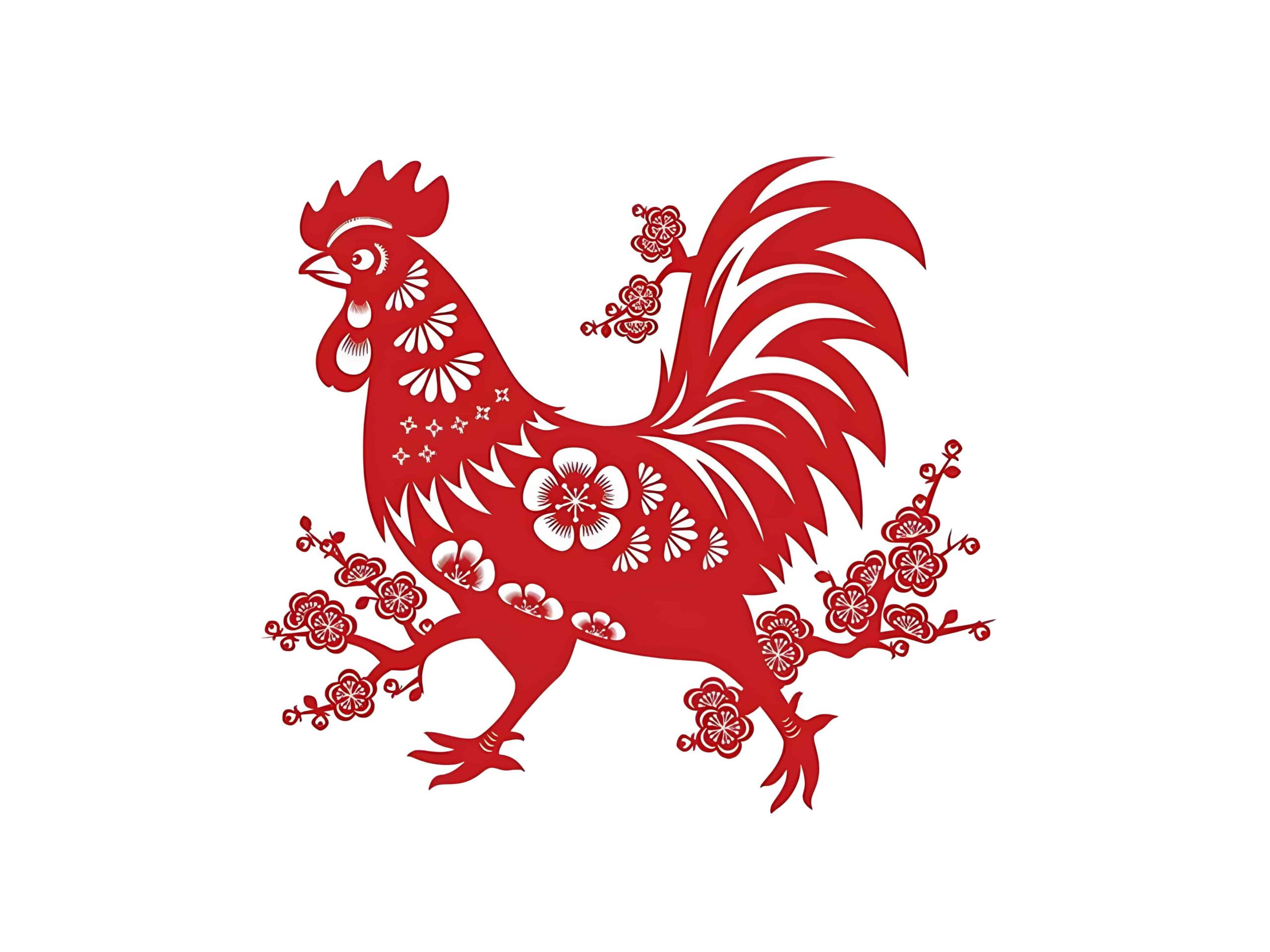 (1921, 1933, 1945, 1957, 1969, 1981, 1993, 2005, 2017, 2029, 2041,…)
Individuals born under the Rooster zodiac sign are known for their enthusiasm, energy, and positive outlook on life. They possess a kind and responsible nature and take pride in their actions.
Roosters are a valuable source of protein and serve as a natural alarm clock in Vietnamese culture, as their crowing every two hours during the night reminds people when to sleep and wake up for work.
They are revered and considered important in Vietnamese religious offerings, as well as being present at festivals, funeral repasts, and other occasions of worship.
However, Rooster individuals can also be outspoken and lacking in tact, with an eccentric and conservative temperament. They have a tendency to believe they are always right and may reject the opinions of others.
Rooster men are sometimes viewed as cheeky and may encounter difficulties in their lives. They can also become easily provoked and may react in unpredictable ways.
Despite these challenges, Roosters have the potential for great success, as they are naturally talented in many areas and value their stylish appearance.
In the workplace, Roosters are known for their planning, organization, and faith in their abilities. They are active and enthusiastic, driven by a desire to succeed and be noticed.
Zodiac of Dog – Loyal, kind people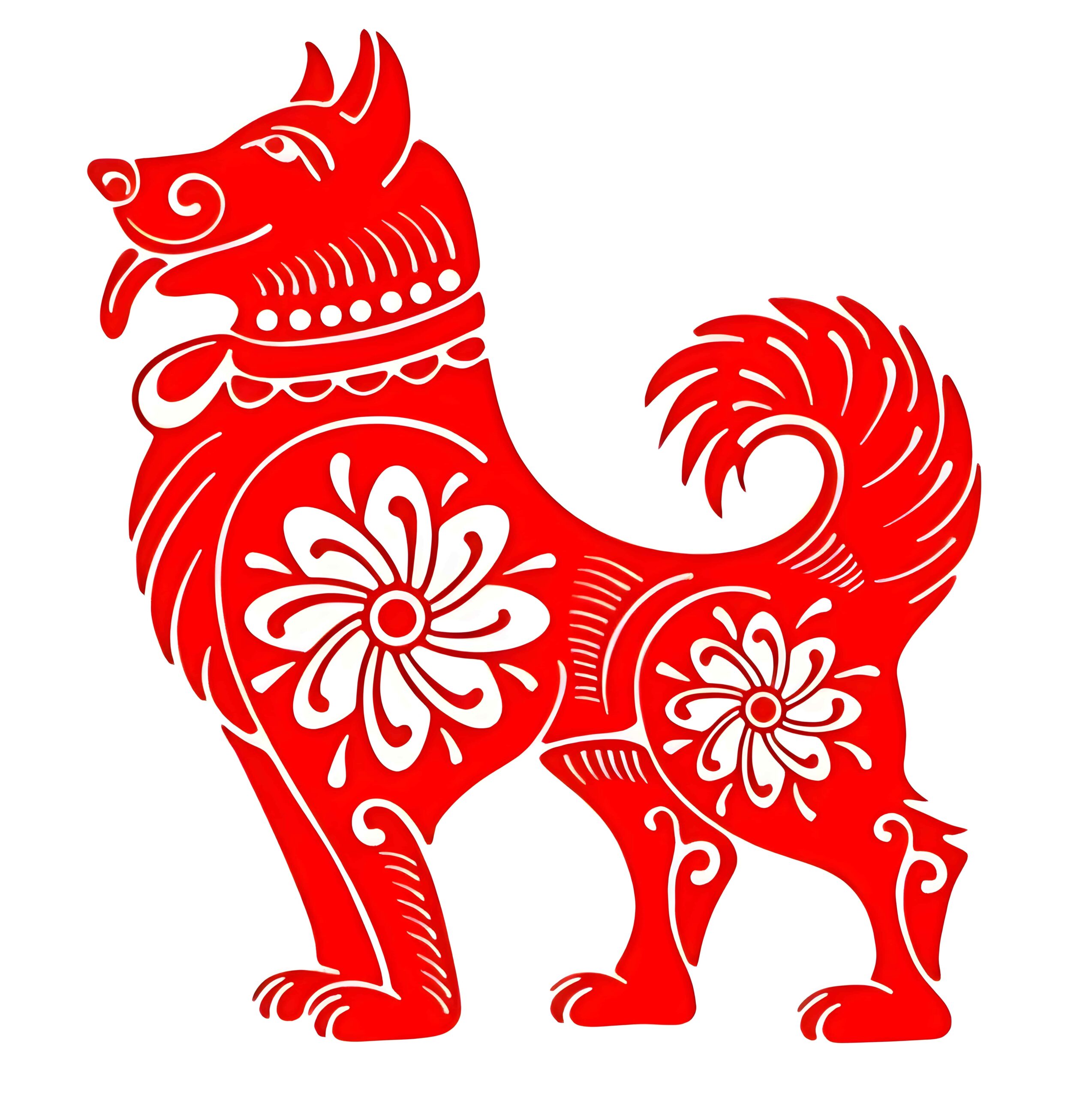 (1934, 1946, 1958, 1970, 1982, 1994, 2006, 2018, 2030, 2042, …)
Dogs are known for their reliability, kindness, and loyalty, often willing to put themselves in danger to protect their owners. Similarly, those born under the Dog zodiac sign are known for their benevolence, always eager to help others and keep their promises.
In Vietnam, dogs are highly respected and regarded as close friends. A person born under the Dog sign is typically secretive, making them a trustworthy confidant to share your secrets with.
However, they also have a tendency to worry excessively, which can make them nervous and irritable. If you are in a relationship with a Dog sign holder, it's important to be patient and earn their trust over time, as trust is of utmost importance to them.
In Vietnamese culture, it's common for Dog zodiacs to meet their future partner twice before marriage to prevent any future issues.
People born under the Dog sign are known for their selflessness and generosity, making them well-suited for religious work, teaching, healthcare, law enforcement, engineering, and law, among other professions.
These individuals typically have high moral standards and are unlikely to engage in illegal activities.
Zodiac of Pig – Kind, compassionate, non-competitive people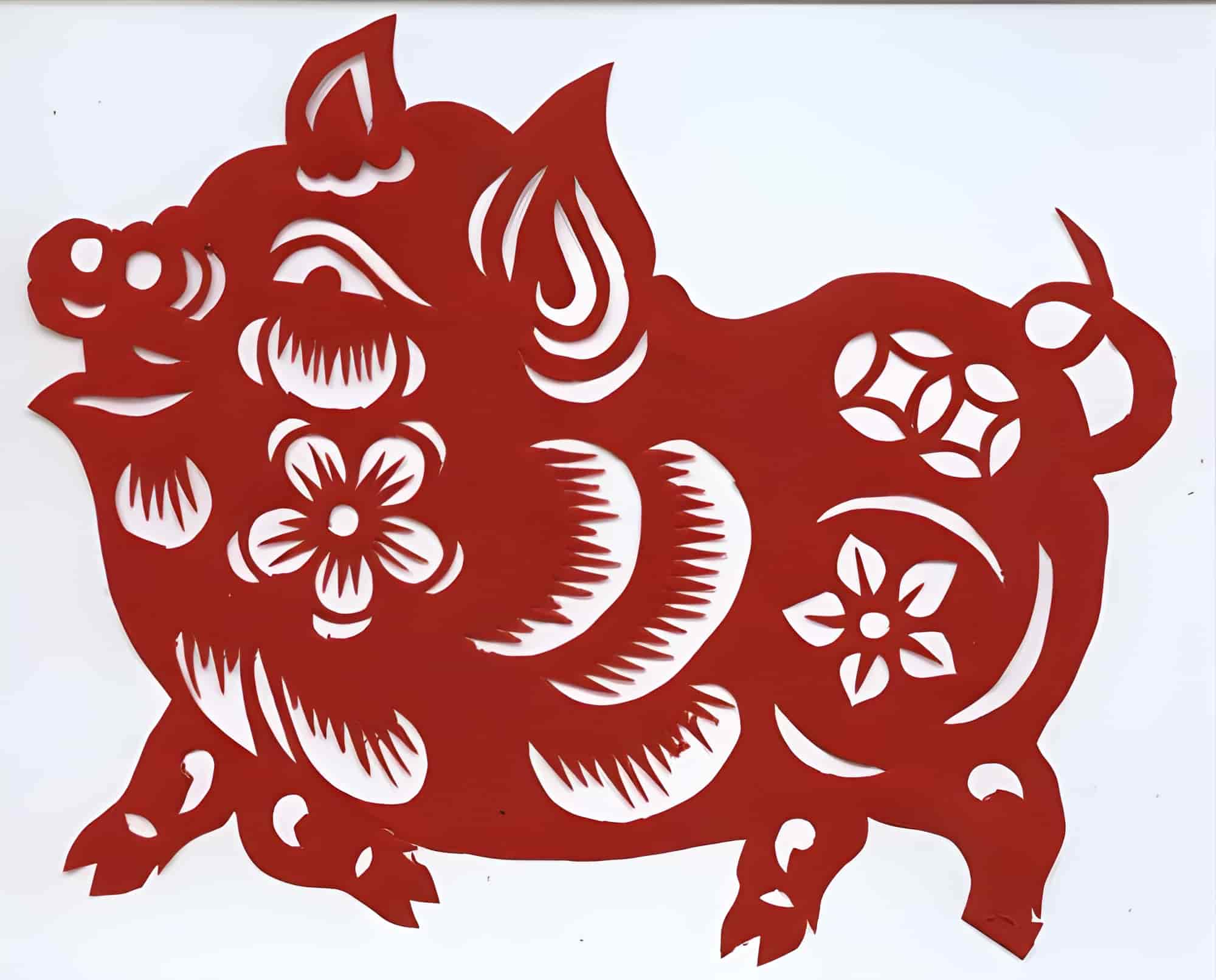 (1935, 1947, 1959, 1971, 1983, 1995, 2007, 2019, 2031, 2043, …)
Individuals born in the Year of the Pig are known for their kind, compassionate, hardworking, and non-competitive nature, leading to a calm and steady career and life.
However, their lack of ingenuity, sensitivity, and observation can sometimes make others feel guilty and sorry for them. Despite this, their efforts allow them to build a stable and solid career, although their knowledge may not be very deep.
In Vietnam, the Pig is highly valued and ranks second in importance after the Buffalo in everyday life. Pork remains the most commonly consumed meat type in the country, highlighting the economic significance of the Pig. Due to this importance, those born under the Pig zodiac sign are typically optimistic in any situation.
Pig people are generally not worriers and tend to view life through rose-colored glasses. They have a strong affinity for food and are known for their selflessness and ability to forgive quickly.
While they may not be as successful as other zodiac signs due to their natural honesty and occasional over-optimism, this does not faze them as they tend to live in a pink world of positivity.
Origin and Meaning of the Vietnamese Zodiac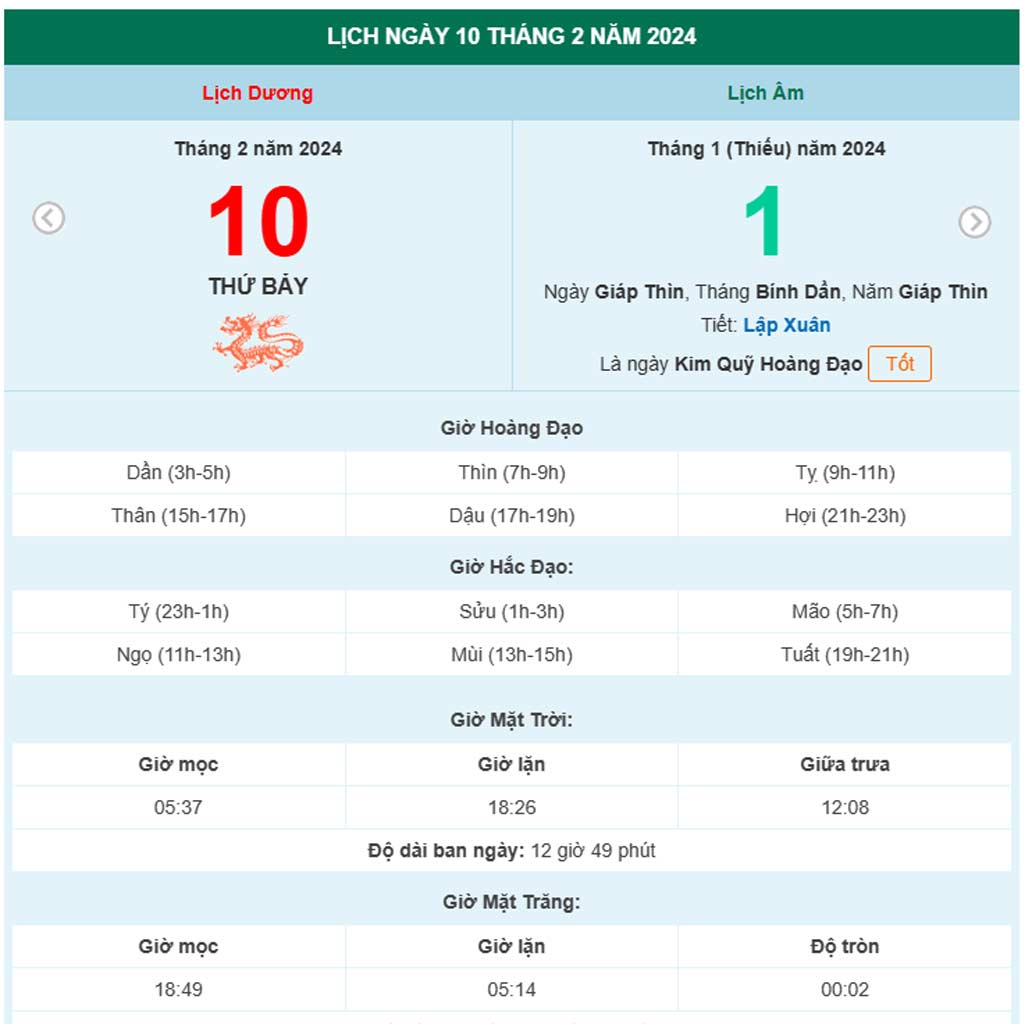 The Vietnamese zodiac consists of 12 animals, each corresponding with 12 hours in a day and 12 months in a year. Additionally, the concept of "Giáp" a cycle of 12 years, is used in the lunar calendar, with each year being represented by an animal in the zodiac.
The order of the animals in the Vietnamese zodiac is Rat, Ox (Buffalo), Tiger, Cat, Dragon, Snake, Horse, Goat, Monkey, Rooster, Dog, and Pig. Notably, some animals in the Vietnamese zodiac, such as the Cat and Goat, differ from those in other Asian zodiacs.
This is due to their familiarity with the climate and habitat in Vietnam. The lunar calendar is used in many other Asian countries and is based on the phases of the Moon, while the solar calendar is based on the phases of the Sun.
Origin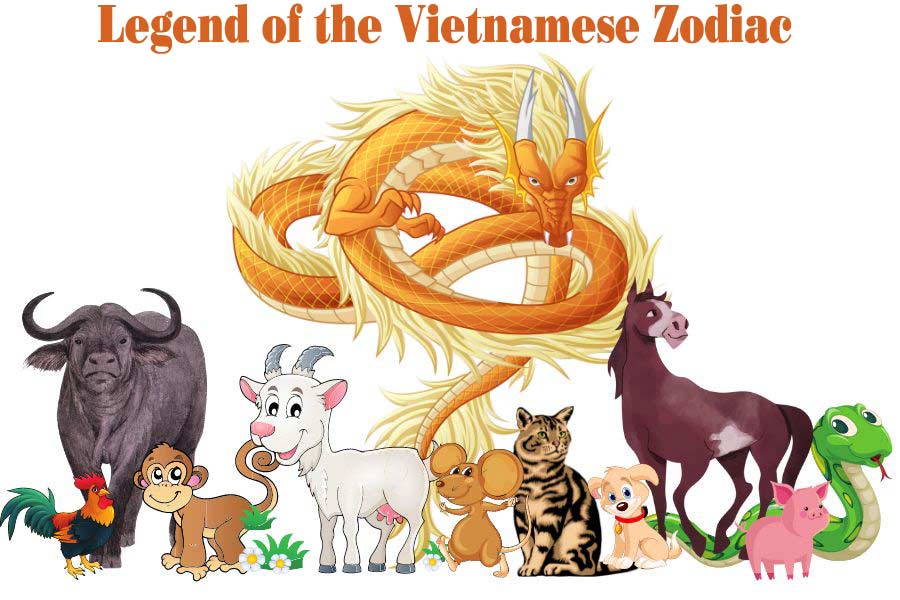 The arrangement of the animals in the zodiac has a fascinating origin story. According to legend, the Goddess King held a race among the animals to determine how time would be measured, and the order in which the animals crossed the river would determine their place in the zodiac.
The Rat, who woke up early and set off at sunrise, crossed the finish line first, followed by the Buffalo and the Tiger. The Cat, unable to swim, jumped from boulder to boulder and came in fourth.
The Dragon, although able to fly across the river, stopped to help other animals, ultimately finishing fifth. The Horse was in sixth place, but the Snake startled it and took its spot, causing the Horse to come in seventh.
The Goat, Monkey, and Rooster, who had crossed the river on a raft, decided to give up the eighth spot to the gentle Goat.
The Monkey and Rooster took the ninth and tenth spots, respectively. The Dog, who was playing in the water, came in eleventh, and the Pig, who had stopped to eat and sleep, came in last.
Zodiac Meanings
According to Vietnamese belief, each zodiac animal has its own unique characteristics and meaning that reflect a person's personality and qualities.
The Rat symbolizes straightforwardness, creativity, and generosity toward family and friends. They are also ambitious and able to remain calm and intuitive in difficult situations.
The Buffalo represents diligence and patience, and those born in this year are known for their steady progress and persistent strength. However, they can also be stubborn.
Tigers are quick to anger but are adaptable and flexible.
Cats symbolize gentleness, talent, and ambition, and are patient in waiting for opportunities before taking action.
Dragons represent honesty, energy, and power, but can also be stubborn. They are associated with wealth, prosperity, and royalty.
Snakes are wise, calm, deep, and sympathetic, but can be easily angered. They are also determined and persistent.
Horses are pure, noble, and wise, appreciated for their intelligence, strength, and generosity.
Goats are calm, kind, and humble, but can be reserved and shy.
Monkeys are known for their talent and skill, especially in money transactions. They are also cheerful, smart, curious, and innovative, but can be talkative.
Roosters symbolize industriousness and deep thinking and are persistent and constant.
Dogs represent fidelity, and those born this year are known for their reliability, kindness, and faithfulness.
Pigs are strong, courageous, patient, and trustworthy. They are honest, altruistic, humble, and friendly, and often have strong social relationships.
Compatibility and Relationships
Compatibility between animals and ages is a significant aspect of Vietnamese Zodiac beliefs. Age compatibility is utilized to understand the dynamics of relationships and to determine whether pursuing a romantic relationship, business partnership, or friendship is worthwhile.
When getting married, people often look at the ages of both husband and wife to see if this couple is "suitable" for each other. However, considering important things such as age to build a house, or get married, get married, … people not only consider age but also consider many other factors such as time of birth, date of birth, brothers, and sisters. children, parents in the family…The zodiac signs in Vietnam's horoscope system are used quite flexibly and widely.
The Vietnamese zodiac is also used to analyze friendships and work relationships. People are thought to get along best with those whose animal signs share certain traits, such as the same element or yin and yang balance. For example, the Goat and the Pig are both Yin signs and are said to have a natural affinity for each other.
Refer to the table below to see the compatibility of different ages:
| Zodiac Animals (Ages) | Best Match | Worst Match |
| --- | --- | --- |
| Rat | Buffalo, Dragon, Monkey | Cat, Horse, Goat, Rooster |
| Ox | Rat, Snake, Rooster | Cat, Dragon, Goat, Dog |
| Tiger | Horse, Dog, Pig | Snake, Monkey |
| Cat | Goat, Dog, Pig | Rat, Ox, Horse, Dragon, Rooster |
| Dragon | Rat, Monkey, Rooster | Ox, Dog, Goat, Cat, Dragon |
| Snake | Ox, Monkey, Rooster | Tiger, Pig |
| Horse | Tiger, Goat, Dog | Rat, Ox, Cat, Horse |
| Goat | Cat, Horse, Pig | Rat, Ox, Dragon |
| Monkey | Rat, Dragon, Snake | Tiger, Pig |
| Rooster | Ox, Dragon, Snake | Rat, Cat, Rooster, Dog |
| Dog | Tiger, Cat, Horse | Ox, Dragon, Goat, Rooster |
| Pig | Goat, Cat, Tiger | Snake, Monkey, Pig |
Calculating Your Zodiac Age
The first step in calculating your age according to the Vietnamese zodiac is to determine your lunar birth year, which can be one year earlier than your solar birth year if you were born in January or February.
The second step is to consider the element that precedes your zodiac animal. For example, if you and your nephew were both born in the Year of the Dragon (1988 and 2000, respectively), your complete zodiac ages would be different due to the preceding elements: "Mậu" for 1988 and "Canh" for 2000.
In traditional Vietnamese society, years were named using the Can-Chi system, which combines Heavenly Stems and Earthly Branches. For example, 1988 was known as the "Mậu Thìn – " year, with "Mậu" as one of the 10 elements of the Heavenly Stems and "Thìn" representing the zodiac animal of the dragon.
The Heavenly Stems include 10 elements: Canh, Tân, Nhâm, Quý, Giáp, Ất, Bính, Đinh, Mậu, and Kỷ. The Earthly Branches consist of the 12 zodiac animals: Rat, Buffalo, Tiger, Cat, Dragon, Snake, Horse, Goat, Monkey, Rooster, Dog, and Pig. Together, they form a 60-year cycle known as the sexagenary cycle.
The Vietnamese zodiac is based on the lunar calendar, which is a traditional system used throughout Asia to mark time based on the cycles of the moon.
In Vietnam, the lunar calendar has been used for thousands of years to plan agricultural activities, religious festivals, and other important events.
The lunar calendar consists of 12 months, each of which is named after an animal sign in the Vietnamese zodiac. Each month begins with the new moon and ends with the full moon, and the lunar calendar is adjusted periodically to align with the solar calendar.
In addition to the lunar calendar, there are many other important traditions and customs associated with the lunar animal signs. For example, many Vietnamese families have altars in their homes dedicated to their ancestors and the gods, where they offer incense, food, and other offerings.
During important holidays and festivals, such as Tet, these altars are often adorned with flowers, fruit, and other decorations based on the Vietnamese zodiac.
Another important tradition associated with the Viet zodiac is the practice of giving lucky money in red envelopes to children and young adults during the Lunar New Year.
The amount of money given is usually an even number and is based on the age of the recipient and their relationship to the giver. This tradition is meant to bring good luck and prosperity to the recipient in the coming year.