Tool to convert normal text to upside down
This is a completely free tool to help you turn normal text into upside down text. Type upside down, or type backwards, and flip text, letters, and words using this Upside Down Text converter.
Flip Text for Facebook, Twitter, Blogs, Forums, Google Docs, and More!
Mirrored Text Generator, Flip Text
Turn your text upside down, inside out so you can copy and paste into Facebook status updates, tweets, YouTube comments, copy and paste into Google docs and more.
Write letters upside down. Free tool allows you to write upside down online, supporting languages that use unicode (UTF-8). Write and copy to Microsoft word, Google Docs or Social status.
Examples upside down text maker
Some examples upside down text word to copy and paste
reddit upside down text will be ʇıppǝɹ
I love you convert to upside down will be noʎ ǝʌoʃ I
I miss you convert to upside down will be noʎ ssıɯ I
Frequently Asked Questions
How do you text upside down on iPhone?
iPhone does not have a default app to convert text upside down, but you can use Huy Hoa's free tool to convert text upside down online, then copy it to SMS or any other message app, social status, or anywhere. This is a step by step guide:
Go to a website like https://huyhoa.net/en/upside-down-text/ that will convert the text for you.
Enter the text you want to upside down into the "Type text wants to convert to upside down:" box.
Highlight the text upside-down in the box "Generated Text" and copy it.
Navigate to your SMS, Twitter, Facebook, or email. ...
Send your upside-down text.
How do i get upside down text?
This free Upside Down Generator is a tool that can flip your text upside down by utilizing special letters, symbols, and characters.
How to make text upside down in google docs?
Huy Hoa's upside-down text converter is a great option if you need to do it quickly. Simply type the text you want to turn upside-down into the box and then copy the results in "Generated Text".
You can also flip the text by selecting the vertical flip option. Right-click the screen and hover above the "Rotate" option from the drop-down menu. Choose the "Flip vertically" option from this menu. You can also choose 'Flip horizontally', but this will not change your text box.
You can do the same by clicking on "Actions" and selecting "Flip vertically."
You can also click the Rotate clockwise 90o and Rotate counterclockwise 90o buttons from the Rotate menu twice. Google Docs has many options to perform the same action.
How to make text upside down in word?
In Microsoft Word, you can flip text in the following ways:
Create a text box, and write the text to be reversed into this text box.
Click outside then click on the text box to select. There will now be a swirling circle icon right above the text box, rotate this circle 180 degrees and you will get the text upside down.
If you want to remove the border of the text box, you can adjust the textbox so that the border is white and the size of the border is 0px.
Check this article to know more about how to remove a border on a text box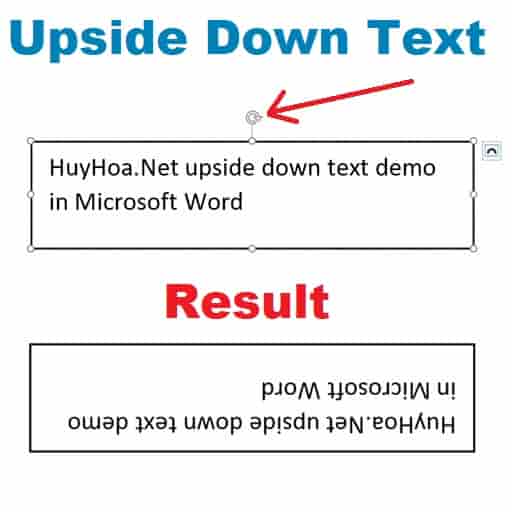 Image credits: Internet

---