Vietnamese Tet is a three-day festival in Vietnam that begins on the first day of the lunar calendar and lasts for three days. Before the Tet holidays, people began taking days off on December 26th to clean and decorate their homes. The work schedule is usually restored on January 5th of the Lunar Calendar.
The Vietnamese Tet is a celebration of deep humanistic significance; it is a day for all people to reconnect with their family, return to their country, and commemorate their forefathers and mothers.
The Lunar New Year, the most important of Vietnam's traditional celebrations, marks the confluence of the old and new years, of a cycle of activity of heaven and earth, of all things and plants.
The Vietnamese Lunar New Year has a deep human connotation, symbolizing the duration of life and people's desire for Heaven-Earth-Human peace.
The 2024 Vietnamese Lunar New Year falls on February 10, 2024 of the solar calendar
History of Tet
The Tet is an expression of the interaction between people and environment in the spirit of agricultural culture, with ethnic clans and communities, and with divine and lofty confidence in spiritual life…
Although the origins of Tet are unknown, there is evidence that the Vietnamese New Year began in China and was introduced to Vietnam during 1000 years of Northern dominance. However, according to the legend of "Banh Chung and Banh Day," Vietnamese people have been celebrating Tet since before the Hung Kings. And a growing number of historians and experts are discovering new evidence that the Vietnamese Tet predates the Chinese New Year.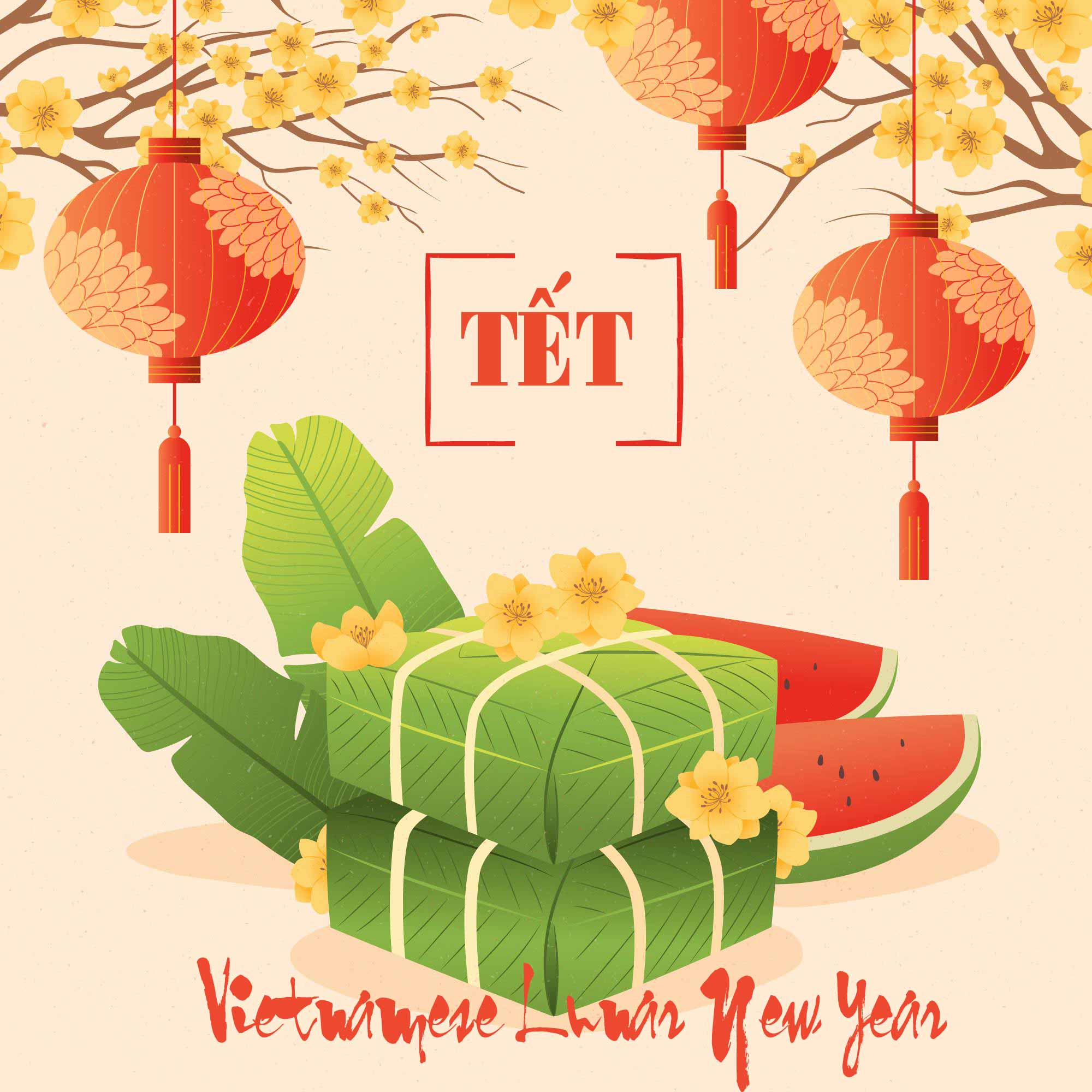 Local Customs
In Vietnamese culture, the Lunar New Year is the biggest event. Tet marks the start of a new year with the greatest wishes for a peaceful, prosperous, and prosperous year ahead. After a long year away from home, the Lunar New Year is also a time when people return home to meet and see each other.
This is a highly significant holiday for Vietnamese people, thus there are rituals and habits in this traditional New Year that have been passed down from ancient times to the present day and have gradually become a beauty in Tet culture. These traditions can also be used to express wishes for a joyful and peaceful new year.
Vietnamese people's traditional Tet holiday customs
The most important holiday for Vietnamese people is the Lunar New Year, which is observed on the first day of the first lunar month. Tet is a time for family members to get together, exchange New Year's greetings, pay one other visits, and wish each other a good and prosperous year ahead. In addition to the beauty of the Vietnamese New Year tradition, there are many intriguing and distinctive rituals to celebrate Tet in Vietnam.
So, how do Vietnamese families spend their Tet days? There are some lovely aspects to the Vietnamese people's Tet celebrations.
Making offerings and praying for Kitchen Gods.
Buns of Banh Chung
Presentation of a Five fruit tray
Visiting the graves of ancestors
New Year's Eve celebrations
Be the first new year's caller – Xong Dat
Express New Year's Day wishes
Furthermore, depending on the ethnic group and region, each location may have its own set of customs. Vietnamese people, on the other hand, have begun to prepare for Tet around a month before the new year.
Decorate the house and clean the altar
Shopping to prepare for Tet
Complete the necessary work
Pay off old debts
Make up for yourself
Prepare gifts and money for New Year's Eve (Li Xi)
Do and Don't During the Tet holiday in Vietnam
10 taboo things not to do on New Year's Day
Do not cry sad, say unhappy things
Do not sweep the house, and take out the trash for 3 days of Tet
Cavalier for water, for fire
Do not borrow or repay on the first day of the year
Do not wear black and white clothes
Don't go to New Year's greetings on the first morning
Do not break furniture in the house
Not released on the 5th
Do not eat unlucky foods such as black dishes or eat sacred animals such as dogs, cats, …
Do not wish Tet to those who are sleeping
Things to do during Tet to have a healthy and lucky new year
Going to the temple to pray for peace
Say and do nice things
Vegetarian
Giving and receiving red envelopes (li xi)
Buy salt
Happy, smiling on Tet days
Choose a beautiful date and time to depart
Choose the right person to "xông đất"
Going to Tet market, flower market
Wear new clothes, red clothes
Listen to fun, exciting music
Choose to buy plants and flowers
Write a New Year's Wish
Choose a good time to begin new-year writing
Buy gold on the god of fortune
Buy lighters
Eat lucky food
Vietnamese Traditional Calligraphy During Tet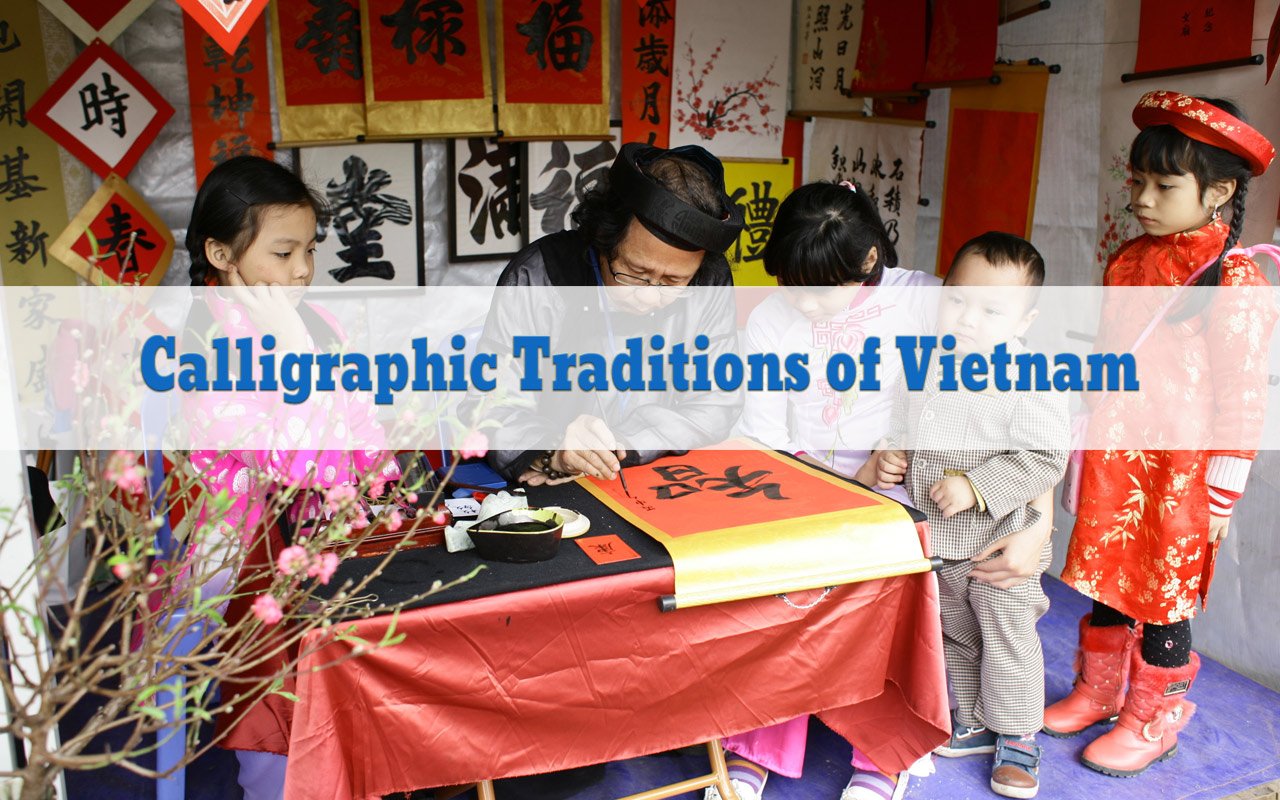 In Vietnam, the Tet celebration is without a doubt the most important and anticipated event of the year. Several ancient significant practices are observed throughout Tet, with calligraphy hanging as one of the most beautiful.
The tradition not only reflects the Vietnamese people's reverence for knowledge but also serves to preserve a time-honored pastime. For thousands of years in Vietnam, significant characters printed on special sheets have been worshiped as symbols of good luck.
When those connotative letters are used to generate new meanings, Vietnamese calligraphy becomes even more complex and intricate. To provide an example, "Phuc" is frequently combined with "Duc" to produce the phrase "Phuc Duc," since Phuc in Vietnamese refers to enjoyment derived through acts of generosity or compassion. Those activities are known as one person's "Duc," while "Phuc" is the effect of "Duc."
Ong Do Street at the Temple of Literature, which is open on New Year's Day, is the place to ask for the first letter of the year for many families. Asking for the first letter of the year to wish the best for your family and yourself, marking a new year has come, but this activity also shows the traditional beauty inherent in the Vietnamese people from the past.
According to legend, even though a person has no interest in calligraphy, if she is recognized and presented with a piece of calligraphy by a calligrapher, she is a virtuous person with something exceptional. The receiver's family and she would enjoy an exclusive godsend for the entire year, as well as all of their desires being fulfilled during that time.
"Li xi" – Lucky Money for Tet
When visitors visit Vietnam during the opening days of the Lunar New Year, they may be surprised to witness toddlers who are overjoyed and thrilled to receive little red envelopes from adults. Is there anything inside those envelopes and what are they? The solution is straightforward. It's "li xi" (in the south) or "lucky money" (in the north) – or fortunate money, a traditional ritual that's popular not just in Vietnam but also in other Asian civilizations.
"Li xi" is an essential aspect of Tet Festival rituals in Vietnam, especially among youngsters, who will remember Tet as the start of a good year. According to the Vietnamese Institution of Linguistics' definition, "li xi" means "giving money to youngsters to welcome the new age on the first day of Lunar New Year."
It is a tiny sum of money that might bring good fortune in the following year. However, "li xi" is not confined to the first day of the Tet Holiday, but may extend until the 9th or 10th day, and is given when the adults first meet the youngsters. Furthermore, descendants have the habit of presenting fortunate money to parents or grandparents to demonstrate filial devotion.
Aside from the money, the small red envelope has its own significance. It depicts the secrecy and seclusion to avoid comparison; as adults want the children to see the money as a New Year's gift, rather than being envious of getting less than other youngsters.
According to Asian traditions, the color red, which is commonly seen at Vietnamese festivities, represents prosperity and good fortune. "Li xi" is also a sign of flukes, because the more "li xi" a person offers or receives, the more flukes he will acquire.
Folk Games During Tet Holidays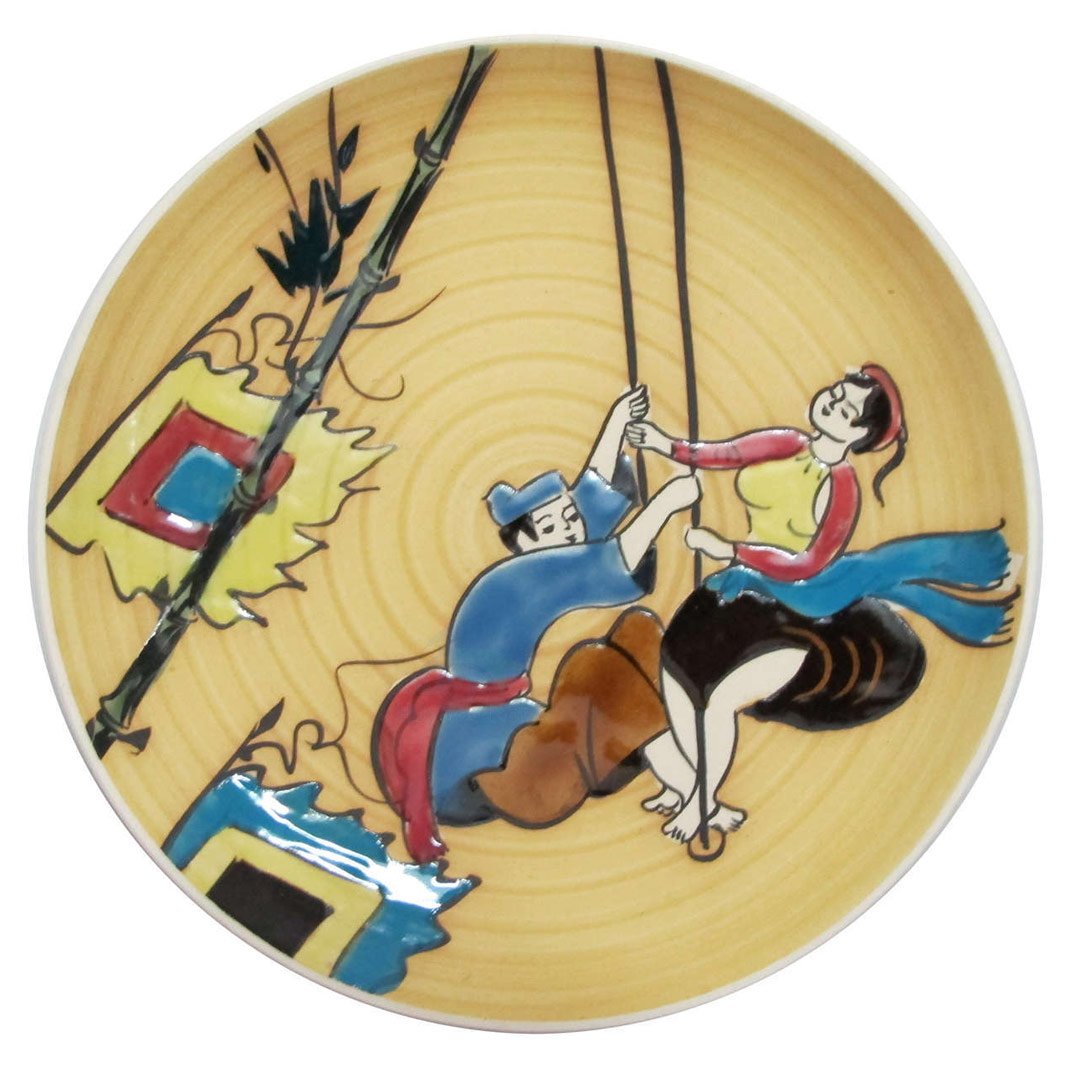 The atmosphere is jubilant and bustling everywhere in the early days of spring. This day is also a time for fun and entertainment activities to commemorate the arrival of spring, which takes place throughout the country, from rural to metropolitan locations. Tet, in particular, provides an opportunity for individuals to participate in long-established traditional games.
These folk games are incredibly rich, evoking the distinct personality of each region. Folk games are essential during Tet and festivals because people need games to be happier, more integrated, and closer to one another. Adults engage in tug of war and wrestling, while youngsters jump rope and play volleyball…
Swinging is a very popular folk game in Vietnam. Swinging usually takes place on traditional New Year days or in early spring festivals at village festivals. According to many studies, this game has existed since before the Han Dynasty.
Folk games are more than just pleasures; they also include cultural treasures and traditional national values. In comparison to other occasions, the folk game on the Tet holiday is a little more exceptional, with an incredibly energetic environment, bursting with a competitive spirit, and lots of laughing.
Traditional New Year in Vietnam includes a number of traditional games, such as:
Play swing (Đánh đu)
Wrestling game (Đấu Vật)
Tug of war
Play Dao (Đánh đáo)
Go on stilts (Đi cà kheo)
Crush the clay pot
Cockfighting game
Play human chess
Throw a ball (Ném còn)
Frequently Asked Questions About Traditional Vietnamese Games
What traditional games am I able to play in Vietnam?
With the exception of human chess, almost all classic games are fairly simple to learn and play, therefore you can play with the majority of the games included in the article. It is due to the fact that the human-chess game requires knowledge of Chinese chess and the art of movement, and martial arts may be necessary.
How can I take part in traditional Vietnamese games?
To play traditional Vietnamese games, as well as others, you must first learn the rules of the game. As a result, if you are a foreigner, you should join with a buddy so that he or she can show you how to play the game.
Are traditional games held on regular days?
Traditional Vietnamese games frequently need a large number of participants. As a result, they are frequently observed around the cultural Lunar New Year – Tet holidays, or at large village festivities. There are many individuals that engage in the games at that time.
However, in order to provide tourists with an authentic Vietnamese cultural experience, the game of crushing clay pots is frequently practiced every night in the historic town of Hoi An. If you wish to participate, come to Hoi An's old town in the evening. You can also participate in daily Vietnamese folk games at the Vietnam Museum of Ethnology on Nguyen Van Huyen Street, Cau Giay, Hanoi.
Origin Of Vietnam Tradition Xông đất
Tet festival has been the most significant and greatest celebration of the year for Vietnamese, from Kinh people to ethnic communities, year after year. One of the important rituals on this crucial occasion appears to be Xong Dat (the first visit to a residence in a year). People in Vietnam are becoming more conscious of the importance of this culture. It has been extensively modified, with a myriad of norms and requirements that both preserve the essence of Xong Dat heritage while adapting to modern Vietnamese living.
Choosing the first guest to come to the family might be influenced by a variety of different variables. Some people may not have the most compatible astrological with the home head, but they are considered to be affable and "luck-generators," which the host prefers. The converse is also true. The Xong Dat tradition has risen in prominence over time as people place a larger priority on spiritual and religious life, and picking the proper one to Xong Dat has become more difficult.
Tet Foods
Tet is the greatest time to try Vietnamese food. The Tet tray includes traditional Vietnamese cuisine as well as food acquired from other countries.
Want to try some traditional Vietnamese dishes in the US? See the list of restaurants with Vietnamese food in all 50 states of the US
Most Common Seeds & Nuts For New Year in Vietnam
Many families enjoy wonderful seeds & dry nuts as a snack at New Year's Eve festivities, in addition to a range of jams, sweets, and fruits. On Tet holidays, popular seeds such as melon seeds, pumpkin seeds, sunflower seeds, and so on are an essential element of the tray of cakes and jams.
Here is a list of some Delicious Nuts For New Year's Day
Melon Seeds
Pumpkin Seeds
Sunflower Seeds
Dried Soybeans
Peas
Chestnuts
Laughing Chestnuts
Cashews
Almonds
Macadamia Nuts
Essential Vietnamese New Year's Food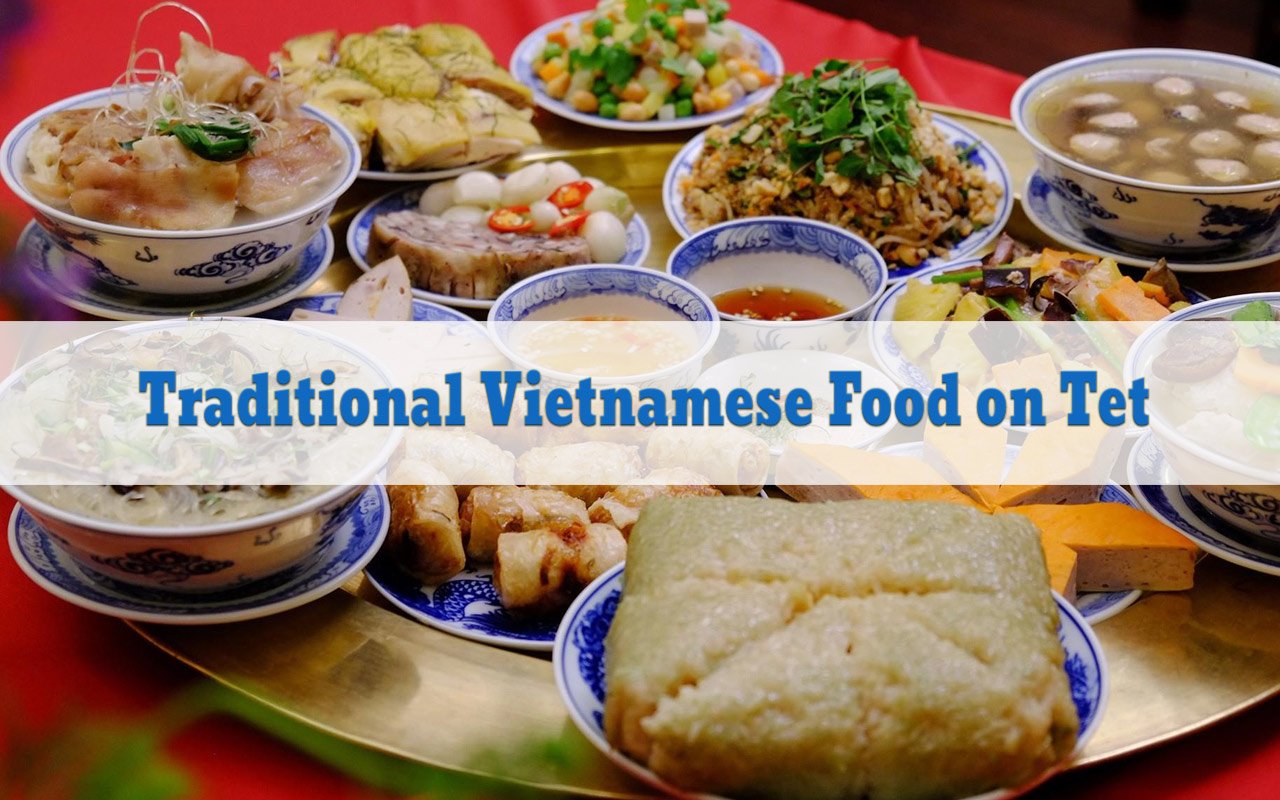 In Vietnam, each region has a Tet tray with different characteristics. Therefore, it has created a rich and diverse culinary culture only in Vietnam.
Tet comes to every family, whether rich or poor, they are busy preparing the most complete and hearty meal to worship their ancestors. Grandparents hope that ancestors will bless their children and grandchildren for a happy and prosperous new year, and let the whole family have a happy reunion on the first day of the year. The traditional dishes on the Tet holiday are not only diverse in dishes but also focus on the presentation form and color of the dish.
Let's find out the indispensable dishes on the Tet tray of Vietnamese families. You can learn more about these dishes in the article traditional Vietnamese food on Tet
Bánh chưng
Bánh tét
Canh măng khô
Canh bóng bì lợn
Củ kiệu
Chè kho
Dưa hành
Lạp xưởng
Nem chua
Nem rán
Gà luộc
Giò lụa
Giò xào hay giò thủ
Gỏi cuốn
Miến xào thập cẩm
Thịt nấu đông
Thịt heo ngâm mắm
Thịt kho Tàu
Tôm chua
Xôi gấc
Tet Essentials
Tet Flowers & Plants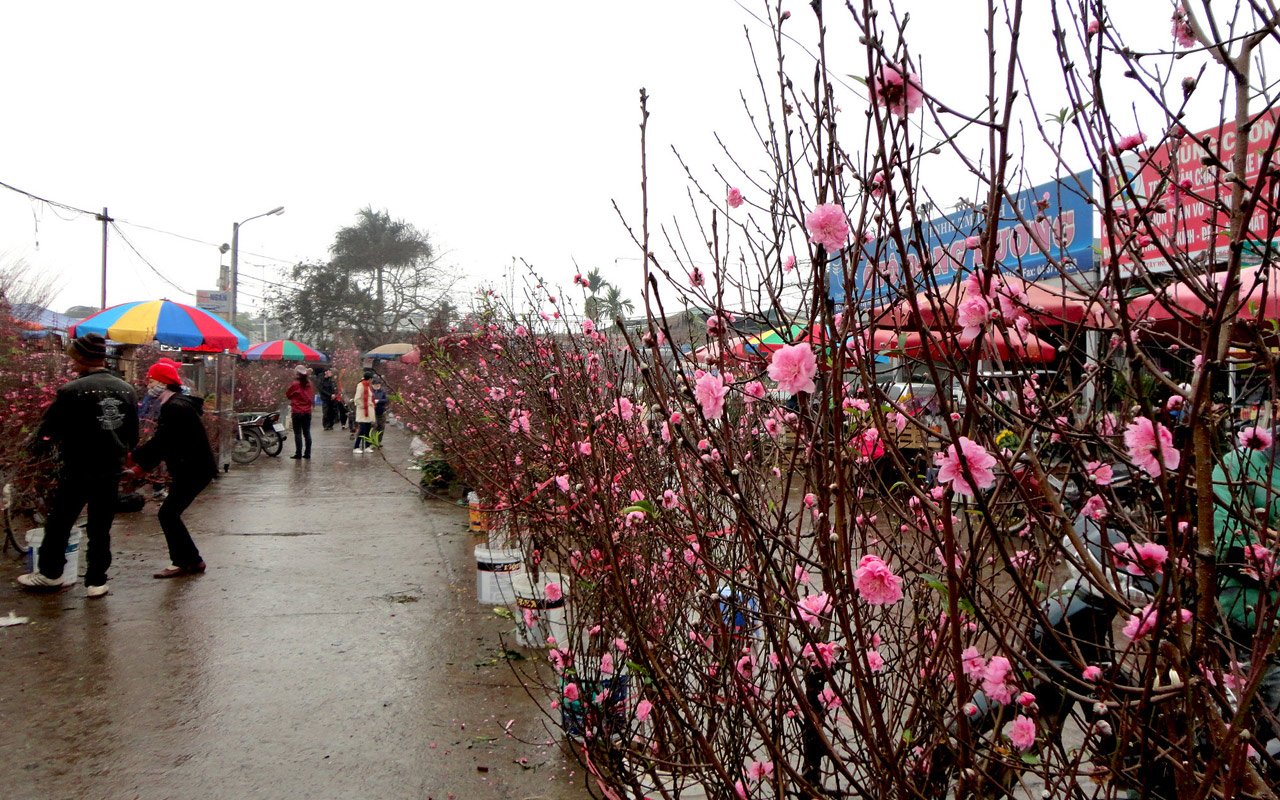 Flower pots and ornamental plants are not only decorative objects in the house but also have feng shui meanings. On the Tet holiday, flower branches or plant pots are decorated and beautified to bring a fresh and happy atmosphere for Tet. They not only help bring the warm atmosphere of spring and Tet holiday but also bring luck, fortune, and money to the owner in the new year. Not all flowers or trees are used to decorate Tet. Here are some of the most popular flowers and ornamental plants commonly found in Vietnamese homes during Tet.
Gladiolus flower
Peach blossom
Kumquat
Yellow apricot flower
Auspicious flowers
Lily flower
FIG tree
Spring Bud
Orchids
Chrysanthemum flower
New Year Wishes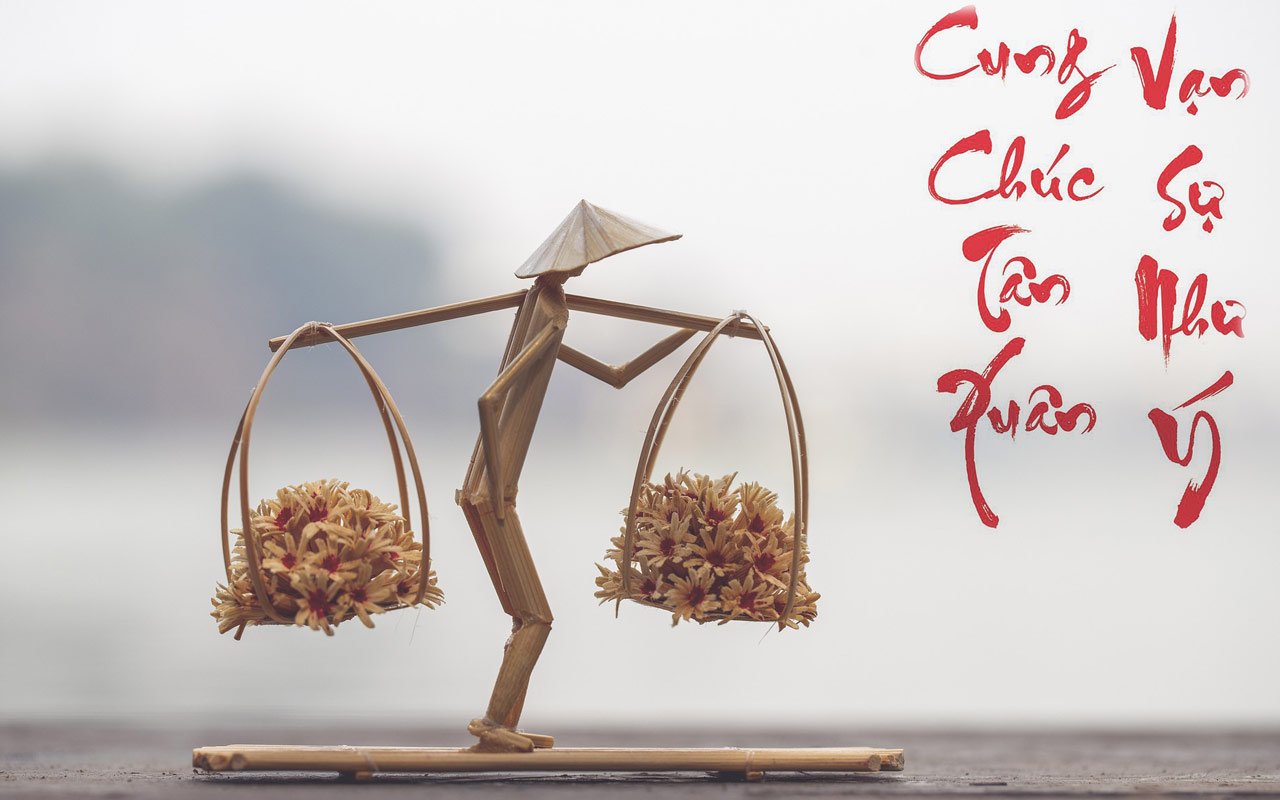 The traditional greetings are "Chúc Mừng Năm Mới" (Happy New Year) and "Cung Chúc Tân Xuân", (Gracious wishes of the new spring). People also wish each other prosperity and luck.
The custom of wishing Tet is indispensable for Vietnamese people. People will send each other good wishes for Tet to look forward to a more prosperous new year.
Tet is the time when we welcome a new year and say goodbye to the old year, also known as the moment of change of seasons. A new year with many new beginnings, everyone has their own dreams and ambitions. We all hope all good things will come in the next year.
That's why the custom of wishing Tet on the first days of the year was formed. They give each other good New Year wishes to hope that their friends and relatives will also achieve their own wishes. This is a beautiful tradition of Vietnamese people on Tet holidays and has been handed down for thousands of generations. Generation after generation and so on they exchanged the best wishes.
Some meaningful wishes on Tet
May all your wishes get fulfilled in the New Year.
Chúc bạn năm mới vạn sự như ý.

Wishing your family lots of happiness, prosperity, and luck this New Year.
Chúc gia đình bạn một năm mới với nhiều hạnh phúc, an khang thịnh vượng và may mắn.

May you achieve all your dreams this year. A very happy New Year.
Mong tất cả các ước mơ của bạn sẽ thành hiện thực trong năm này. Chúc một năm mới thật hạnh phúc.

I wish you a wealthy new year.
Chúc bạn năm mới Tấn Tài Tấn Lộc.

On the occasion of New Year, wish all your family happiness and luck.
Nhân dịp năm mới tôi kính chúc toàn thể gia đình bạn một năm mới gặp được nhiều may mắn và hạnh phúc.

Everything starts anew with the new year coming. May your new year be filled with the happiest things and your days with the brightest promise.
Mọi thứ lại bắt đầu khi năm mới đang đến. Chúc bạn năm mới đầy hạnh phúc và những tháng đầy triển vọng và hạnh phúc nhất.

Live up to 100 years.  (Do not wish this sentence to someone who is 99 years old)
Sống lâu trăm tuổi.

Money flow in like water.
Tiền vô như nước.

May everything be better than you wish.
Chúc bạn vạn sự thắng ý.

May you succeed in business.
Chúc bạn làm ăn phát tài.

Source: sgv.edu.vn
Vietnam Travel Tips During Tet
What Gifts Do Vietnamese Bring For Tet?
Meaningful and unique gifts on the Tet holiday are a cultural beauty regardless of any country. A gift on Tet holiday as a wish of peace and health on the first day of the year. That is why the gift choices on this occasion are even more carefully considered, showing the heart and respect of the giver.
During Tet, whether it is a small or large gift, it has its own meanings. Here are some gift suggestions when you come to visit Vietnamese people during Tet. These are also gifts that Vietnamese people often give each other on Tet
Wine
Wine and gift baskets
A branch of peach blossom
Red items
Greeting cards
Tea (Coffee)
Tray of Mut Tet
Nutritious and Healthy Foods
Fruits
Tea set or dining set
Paintings
Flowers, plants, or trees
Feng Shui Products and Items
Parallel Sentences
Visiting Vietnam During Tet
As a visitor, you may not need to experience all of the thrill and feelings that Vietnamese people experience, but there are a few things you should be aware of. You should at least know if your next trip to Vietnam will coincide with the year's most important event.
HuyHoa.Net prepared this advice to assist you to avoid surprises and problems when visiting Vietnam for the New Year, with the aim that after you leave, many people would remark, "I'm very lucky to have read this." These tasks must be completed before you travel to Vietnam for the New Year…"
Transportation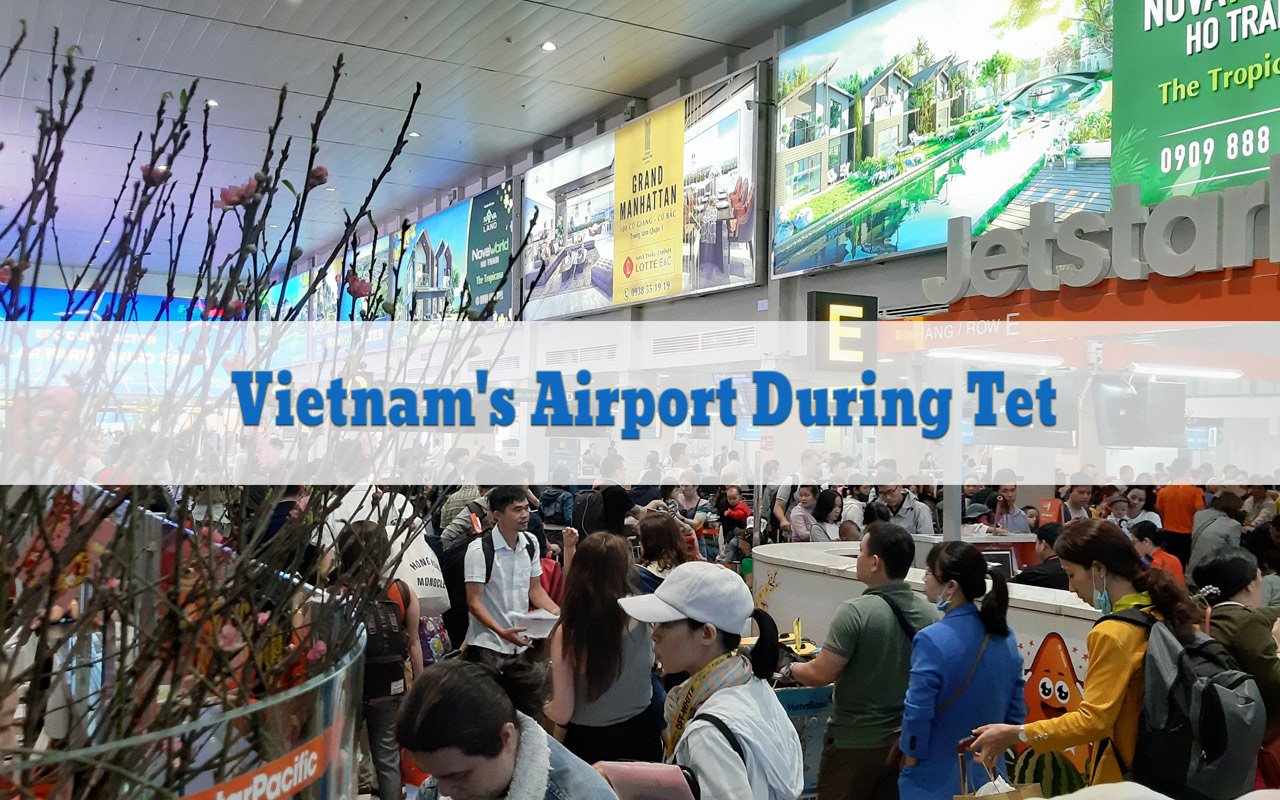 It is sometimes impossible to arrange any mode of transportation during the month preceding Tet. A large number of individuals will travel to and from their hometown. From roughly the beginning of January until the end of March (Solar calendar ) is a particularly busy season, so remember to book ahead of time.
International traffic, particularly aircraft travel, will be unaffected over the holiday season. There is no reason to be concerned if you plan to fly to or from Vietnam during Tet. If you need any supplies to travel around the country, make sure you've prepared them well in advance.
Accommodation
Most hotels, motels, or other accommodation facilities are open on New Year's Day, however, the prices will increase very high. We recommend that you book hotel services in advance and should book services from reputable providers.
Infamous tourist destinations, it is relatively easy to book accommodation services but in less famous places or places with a small number of hotels and motels, it will be difficult to book services. service at peak times such as Tet.
Sightseeing
All tourist attractions will be open on Tet. However, there may be difficulties in purchasing tickets (for places where tickets are required). Make sure you book your tickets in advance or find out information on how to buy tickets at those locations before you plan to visit.
Food
Restaurants also have some that will be closed, check with the restaurant you booked, make sure they are open on the first 3 days of the year.
If you've booked a package tour, you won't have to worry about these issues because the operators have already booked it for you.
Shopping
Be aware that most shops and markets will be closed for the first three days of the new year. If you want to go shopping during Tet, you should only go sightseeing and should not shop on this occasion. Usually, the price of items on the Tet holiday will be very high. Especially souvenirs. Therefore, we recommend that you do not buy things during Tet or after Tet for at least 1 week.
Conclusion about Tet
Life will always change, Vietnamese people can live in Vietnam or in the United States, or anywhere in the world. However, traditional values, customs, or Vietnamese dishes will always be preserved and promoted so that future generations will always remember their roots. Tet in Vietnam today may be different from the old days, Tet in the US may be different from Tet in the UK or in Australia, but the meaning and customs will be the common point to identify the Vietnamese community.
Depending on economic and living conditions, we can enjoy different Vietnamese traditional Tet. We collect and write this article about the Vietnamese New Year with the hope that all Vietnamese people around the world can have basic knowledge about this very meaningful holiday.
If you are a foreigner, want to visit Vietnamese families during Tet, or you want to travel during Tet, the article also provides some basic information on manners, customs, and traditions. ideas about what to do or not to do. Hope the article will be of some help to you.
Above is the most basic information about the Vietnamese Tet – The Lunar New Year in Vietnam. Along with some information about the customs and habits of Vietnamese people during Tet (both people in Vietnam and Vietnamese people living abroad) and tips when traveling to Vietnam during Tet you should know.
If you have any questions or want to contribute to the list, please leave a comment or send an email to [email protected]
Have you enjoyed the Tet atmosphere of Vietnamese people? If not, why don't you arrange a time and schedule a trip to Vietnam during the Vietnamese Tet holiday?