The Socialist Republic of Vietnam is a stretch of land in S-Letter shape. Being located in the center of the Southeast Asian Region, and the Eastern part of the Indochina peninsula, Vietnam shares its borders with China to the North, Laos, Cambodia to the West, and the East Sea – Pacific to the East and South.
Vietnam Geography
Longitude: 102­­010′-109030′ East
Latitude: 8o02′-23o23′ North
Vietnam lies along Indochina's east coast, bordering Laos and Cambodia to the west, and the People's Republic of China in the north. You can divide Vietnam's geography into four areas: the Highlands, the Red River Delta, and the Central Mountains; the Coastal Lowlands, and the Mekong River Delta.
Vietnam's coastline is 3260 km long, meanwhile, the inland borderline is 4,510km. The mainland extends from the northernmost point to the Southernmost point is 1650 km (according to the birds flying stretch). From the Easternmost point to the Westernmost point, its width varies from 600 km (in the Northern part), 400 km (in the Southern part) to 50 km (in the Quang Binh province).
Vietnam Topography
The topography of Vietnam is lower from the Northwest to the Southeast. This can be clearly seen in major rivers' flows. Three-quarters of Viet Nam's territory is made up of hilly and low-mountain regions. The territory is made up of 85% of regions with an elevation below 1,000m above sea level.
Three-quarters of Vietnam's territory is made up of hilly and mountainous regions. It has two major deltas, the first one is the Red River Delta, the early settlement region of ancient Viet people and either cradle of the wet rice civilization, the second one is the Mekong Delta – the biggest rice-growing area of Vietnam. There are thousands of large and small rivers in Vietnam, but only the two biggest river systems – the Red River in the North and the Mekong (or Cuu Long) river in the South are the most important.
Vietnam has a 3,260 km coastline with such nice beaches as Tra Co, Sam Son, Lang Co, Non Nuoc, Nha Trang, Vung Tau, Ha Tien, Phu Quoc… In some places, the mountains reach far to the sea, creating fantastic beauty like Ha Long Bay, which was listed by UNESCO as the World Heritage Site. 0ffshore in Vietnam's sea area are thousands of islands and islets, scattering from North to South, among these are the two archipelagoes Hoang Sa (Paracel) and Truong Sa (Spratly).
Vietnam Climate
Vietnam is known for its tropical monsoon climate. Vietnam's average temperature ranges between 70 and 95 degrees F year-round. The average annual humidity in Vietnam is around 85%
According to an International Commission on Climate Change report, Vietnam is among the most vulnerable to climate change. Because of its diverse geography, Vietnam is susceptible to weather phenomena such as storms, floods, and droughts. These events are likely to become more severe in the future.
Vietnam's terrain extends over 1000km north to south. This gives it both a tropical and temperate climate. Every year, the entire country is affected.
Forests and forest lands account for a big area on the Vietnam territory and endow the valuable ecotourism sites such: as Ba Vi (Ha Noi), Cat Ba (Hai Phong), Cuc Phuong (Ninh Binh), Bach Ma (Hue), Cat Tien (Dong Nai), Con Dao…
See more weather in Hanoi to see the richness of the 4-season climate in Vietnam.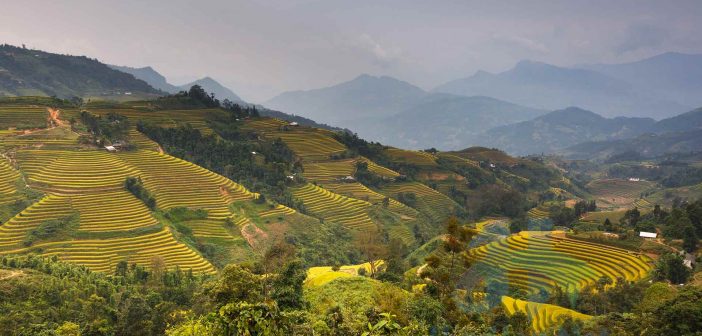 Vietnam is situated in the sub-tropical and tropical area having monsoon, abundant sunshine, rainfalls, and high humidity. At some high places in the tropic zone or in the high mountainous areas, the climate is rather similar to the temperate one. In general, there are two seasons in Vietnam: the dry cold (from November to the next April) and the rainy and hot one (from May to October).
Map of Vietnam
Vietnam is located in southeastern Asia. Vietnam is bordered by the East Sea and Gulf of Tonkin to the east, China to the north, and Laos and Cambodia to the west.
This is a map showing the most famous tourist destinations in Vietnam that are most interested and searched by foreign tourists on Google in 2023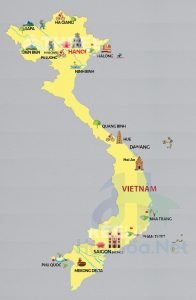 Other information
Vietnamese Art
Vietnamese Villages
Vietnam Architecture
Frequently Asked Questions
What are two famous attractions in Vietnam?
There are many scenic spots of Vietnam that are famous to tourists all over the world. It's hard to give the 2 famous attractions but if you still want to know, chances are Halong Bay and Mekong Delta. There are also many other famous places such as Hoi An, Da Nang, Sapa, Can Tho (floating market), Ninh Binh, Ha Giang (Dong Van stone plateau), ...
What is the most visited place in Vietnam?
There are many tourist attractions in Vietnam that are loved by tourists. Plan your visit with this list of the best places to visit in Vietnam that we recommend below:
Sapa Countryside
Ba Be National Park
Dong Van - Ha Giang
Halong Bay
Hanoi
Ninh Binh
Mai Chau - Hoa Binh
Nha Trang
Hue
Danang
Phong Nha-Ke Bang National Park
My Son
Hoi An
Mekong Delta
Ho Chi Minh City
Cu Chi Tunnels
Can Tho
Chau Doc - Dong Thap
Mui Ne
What is Vietnam known for tourism?
Vietnam is a popular destination for tourists due to its stunning beaches, culture, delicious food (like Pho), and friendly people. Vietnam is known for its Vietnam War, motorbikes (86 percent of households own one), Vietnamese coffee, and floating markets. Vietnam is known for its vibrant cities of Hanoi and Ho Chi Minh and Instagram-worthy tourist destinations such as Ha Long Bay, Hoi An ancient town, Da Nang, Sapa, and the Mekong delta.
Which language is spoken in Vietnam?
Vietnamese, which is the national language of Vietnam, is the official language. The majority of the population speaks this language. Vietnamese is the national language. English is being increasingly preferred as a second or third language. French, Khmer (and other highlander languages) are also spoken. Between 85 to 90 percent of Vietnam's population are Vietnamese-born.
Is Vietnam safe to visit?
Most visits to Vietnam are trouble-free but you should take sensible precautions to protect yourself and your belongings in big cities and tourist areas.
Why is Vietnam a popular tourist destination?
Tourists to Vietnam are drawn by the beautiful country. The amazing natural beauty of the country, from the rice fields of northern Vietnam to the bustle of the Mekong delta in the south, Vietnam has a rich history and is steeped in ancient traditions. There are many old temples and historical sites.
What should I avoid in Vietnam?
You shouldn't do these things in Vietnam:
When visiting a pagoda, temple, or another religious site, don't wear shorts or knee-baring skirts, or strappy tops. Cover your shoulders, arms, and legs with a conservative dress.
If you're staying at someone's home, don't point your feet towards the family altar.
Do not take photos of military personnel. You could be accused of breaching national security and shouldn't take photos of Vietnamese prison cells.
Do not take a video camera into small villages. It's considered intrusive, and people are too polite to ask you to stop filming.
Public displays of affection are not recommended. You should get a room. Anything beyond holding hands is considered offensive and seriously frowned upon.
Do I need a visa for Vietnam?
You must have a valid passport and visa (or get pre-approved for a visa on arrival) to enter Vietnam. Most tourists entering Vietnam need a visa. Vietnam now has visa exemption for citizens of some countries. Some countries have higher visa fees than others. Citizens from a few countries can also apply for an e-visa. Your passport must be valid for six months after your intended stay and you must have at least one blank visa page. Visit the website of the Vietnam Immigration Department for a list of visa-exempt countries, countries that are allowed to make electronic visas, and other information about visas to enter Vietnam with the latest information.
Is English spoken in Vietnam?
According to the EF Education's EF English Proficiency Index (compiled by EF Education), Vietnam ranked 29th among the Top English Language Skills Countries. Although English is widely used and taught in Vietnam, it is not yet an official language. Vietnamese will prefer to speak Vietnamese to one another than English. English was used extensively in school and in job applications and business. English is only used when there are foreigners within the organization.
Many Vietnamese tourists report that they have no trouble speaking English in major cities such as Hanoi, Danang, and Ho Chi Minh. Many Vietnamese can speak some English in tourist areas, but many will not speak any. English speakers are not common in remote areas.
How much money do I need for 1 month in Vietnam?
The cost of living in Vietnam for a foreigner ranges from $900 to $1,700 per month. In which, specific costs include:
Room rent (1 bedroom Western-style) $350
Utilities (including fast wifi) $70
Transportation (motorcycle + petrol, or one month Grab motos) $120
Food (fusion of local and international) $300
Plus (coffee, outing, daily small spending) $50
Cell Phone $5
Can you use USD in Vietnam?
You can easily use US dollars in major tourist cities such as Hanoi, Hoi An, Danang, and Ho Chi Minh City. However, to make it easier to buy and sell, when you arrive in Vietnam, you can change your currency to Vietnam dong, which will save you time in converting and also save money to avoid the exchange rate difference currency price.
Is it OK to wear shorts in Vietnam?
Sportswear designed to absorb sweat and stay dry is a better choice for wet days. Keep in mind that short shorts, crop tops and tank tops are not considered appropriate in public places in Vietnam, especially sacred places like temples. Loose, long clothing both flatters your figure and tends to keep you cooler in hot climates.