Due to the growth of life in Vietnam and the increasing number of tourists visiting this beautiful country, commercial centers, and retail stores are on the rise. Domestic and foreign companies invest heavily in the consumer retail sector. In large cities like Hanoi, Danang, and Can Tho, large supermarkets have been opened or branches of retail stores. Check out this list of the top malls and supermarkets in Vietnam.
Top supermarket chains in Vietnam
Q & Me published a report in 2021 stating that Co.opmart has 128 outlets stores and VinMart has 89 outlets stores. Co.opmart, a Vietnamese supermarket chain, is part of the Ho Chi Minh City Union of Trade Cooperatives.
Co.opmart has more than 128 hypermarkets and supermarkets across Vietnam. They also own and manage a chain of convenience shops Co.opFood and modern grocery store Co.opSmile. Saigon Co.op was also the largest retailer in terms of retail sales, with US$2.81 million in 2018.
VinCommerce, a subsidiary of Vietnam's largest corporation VinGroup founded the VinMart supermarket chain. FMCG Masan Group has managed VinMart since 2020. Masan Group has rebranded this newly acquired supermarket chain.
The subsidiary was renamed WinMart in 2021. It plans to increase its workforce to over 10,000 employees by 2025. This subsidiary is also the owner of Vietnam's largest convenience stores.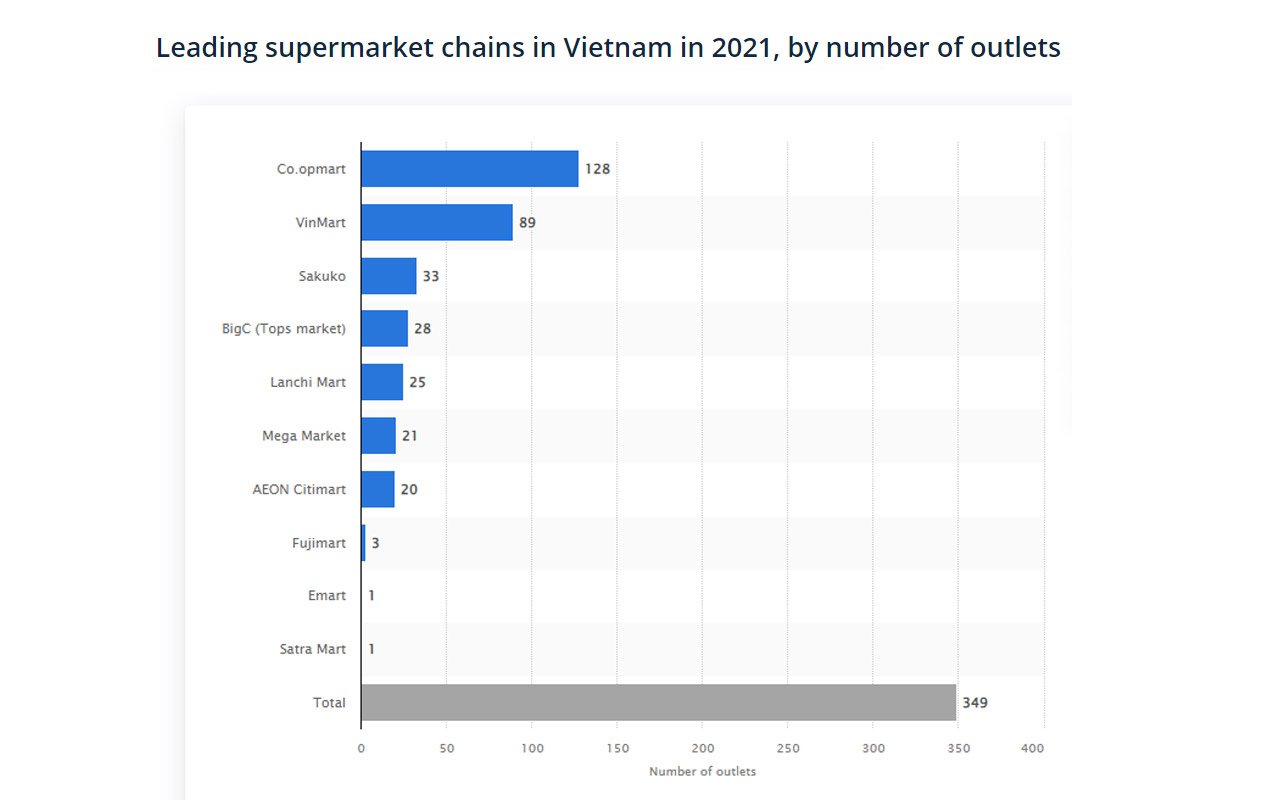 Top 9 Supermarkets in Vietnam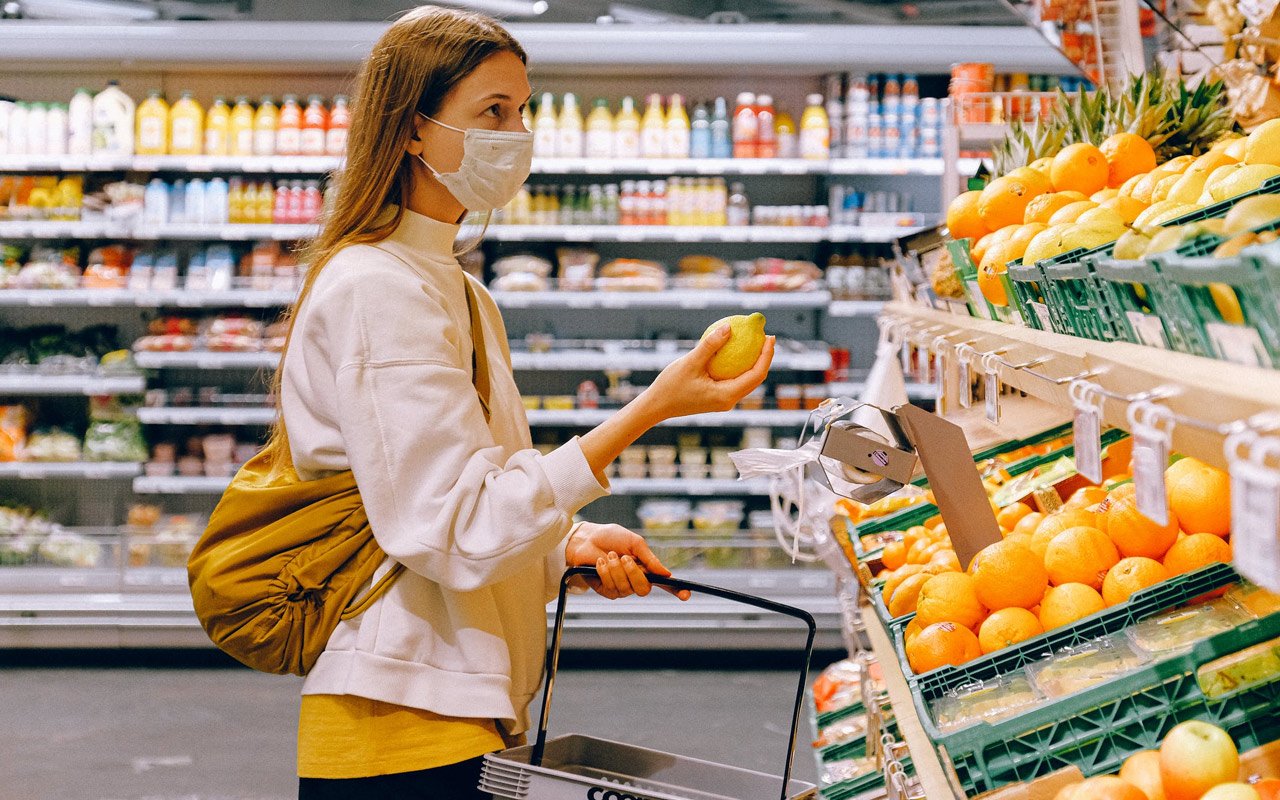 AEON Vietnam – A large supermarket in Vietnam
AEON is one of the most important retail trade groups in the globe with 179 malls across Japan. AEON was founded in 1758 and has a history that spans more than 260 years.
Currently, in Vietnam, there are four AEON Malls: one in Hai Phong City, Ho Chi Minh City, and Hanoi. They have the largest Vietnamese supermarkets thanks to the professionalism of AEON malls.
AEON Group has a consistent commitment to customer-first throughout its operations. This system's fundamental principle is to create a peaceful and prosperous society through retail activities. AEON gains the trust of its customers and expands its business activities to Vietnam.
List of Aeon mall supermarkets in Vietnam:
AEON Mall Tan Phu Celadon
30 Bo Bao Tan Thang, Son Ky Ward, Tan Phu District, Ho Chi Minh City.
AEON Mall Binh Tan
1 Street No. 17A, Binh Tri Dong B, Binh Tan District, Ho Chi Minh City.
AEON MALL Long Bien
Address: 27 Co Linh Road, Long Bien Ward, Long Bien District, Hanoi City
Hotline: 0243.269.3000 (ext. 211)
Email: [email protected]
AEON MALL Hai Phong Le Chan
Address: No. 10 Vo Nguyen Giap Street, Kenh Duong Ward, Le Chan District, Hai Phong city, Viet Nam
Hotline: + 84 225 3525 888
Email: [email protected]
AEON MALL Binh Duong Canary
Address: 1st Floor, AEON Mall – Binh Duong Canary, 1st Binh Duong boulevard, Binh Giao quarter, Thuan Giao ward, Thuan An City, Binh Duong province
Hotline: 0274 6259 333 – Ext: 119
Email: [email protected]
Website: https://aeon.com.vn/en
Headquarter:
Working hours: Monday – Friday: 8:30 – 17:30.
Phone: (028) 6288 7711 (028) 6269 2012.
Email: [email protected].
Communication & External Affairs
Phone: (033) 217 9797.
Email: [email protected].
Customer care: [email protected].
Co.op mart
Co.op Mart or Coopmart is a retail system that belongs to the Ho Chi Minh City Trade Cooperatives (Saigon Co.op). Coopmart is the largest supermarket, with 128 in Vietnam.
Co.opmart began as a grocery in Ho Chi Minh City. It has since grown to be a reliable shopping center for thousands of people in cities. Co.opmart is now a modern, convenient market that covers the entire country.
There are 32 supermarkets located in Ho Chi Minh. 6 in North Vietnam and 15 in Central Vietnam.
Co.opmart Cong Quynh was the first supermarket to open in District 1, Ho Chi Minh City, on February 9, 1996, at 189C Cong Quynh Street.
Co.opmart Cong Quynh was established to end the stigma associated with small, saggy markets and centers in Vietnam. CoopMart has a great chance to prove its capabilities in the retail sector.
Co.op Mart's customers are workers, officers, and the middle-income population. These are the majority of the society.
Big C Supercenter
Big C is a network of modern supermarkets in Vietnam and trade centers.
From March 1, 2021, according to a representative of Central Retail Group, 7 BigC supermarkets will be transformed into Tops Market and 5 BigC hypermarkets will change their name to GO!
The system of Big C supermarkets was sold to a Central Group of Thailand in April 2016. Big C continues developing in Vietnam. It's one of the largest supermarkets that sell the same products and groups of customers as Coopmart.
Big C has grown into a large network of commercial centers that spans over 20 provinces and major cities in Vietnam.
These centers are home to approximately 8,000 workers and sell approximately 50,000 products (95% of which were manufactured in Vietnam).
Each year, they serve more than 35,000,000 customers. Big C is committed to satisfying its clients by making every effort to resolve difficult issues regarding price-quality service.
MM Mega Market Vietnam
MM Mega Market (formerly Metro Cash & Carry Vietnam) has 19 retail centers across the country. There are 3 supermarkets in Ho Chi Minh City and 3 in Ha Noi. Also, there are 3 supermarkets at Ha Noi's center.
MM Mega Market employs more than 5,000 people, making it one of the largest employers in Vietnam. They strive to make big changes in all areas to improve the image of shopping centers, develop new products, and promote food safety and hygiene. They guarantee that all goods sold in supermarkets come from domestic sources.
Lotte Mart
Lotte Mart is a supermarket owned by the Lotte Department, a division of Korea's Lotte Group. It has over 290 shops, all designed in a contemporary and attractive style that suits the needs of the consumers.
Lotte Mart Vietnam has 14 shopping centers. They are all located in major cities like Hanoi, Can Tho, and Binh Duong. They are committed to selling quality products and creating a pleasant shopping environment for their customers.
Emart
Emart is another shopping center that belongs to a Korean retail group. In 2015, the first supermarket opened in Vietnam at 168 Phan Van Tri Street in Ward 5, Go Vap District in Ho Chi Minh City.
The total investment in the shopping center is up to 60,000,000 USD. It covers an area of approximately 11,900 square meters and is intended for retail service. The real construction area is 19,700 sq. meters. Emart offers a convenient and modern shopping experience with clean and comfortable shopping areas. Customers can also enjoy high-quality products and preferential prices at the supermarket.
The mall displays dairy products and other goods. It also includes many gadgets, such as entertainment for children, food courts, and the house of healthcare services, which is the first service offered at Vietnamese supermarkets.
Vinmart
VinMart, one of Vietnam's most famous retail chains, is part of Vingroup. VinMart's shopping centers are located in almost all of Vietnam.
VinMart supermarkets can be a lot larger than normal, with more than 10,000 square meters. VinMart stores have over 40,000 products in their shopping areas, including cosmetics, food electronics, household appliances, and clothes.
VinMart's supermarket system will fulfill all customers' shopping needs. VinMart+ mini-stores are located in the best locations on the streets and in small towns.
This makes it easy to purchase dairy products for your family. VinMart is one of the largest supermarkets in Vietnam.
Lanchi Mart
Lan Chi Company, founded in 1995, manages Lan Chi Mart. It began as a small business that distributed consumer goods in Hanoi's western region.
LanChi Mart is a large-scale, professional distribution network that has grown over 25 years of experience in retail.
Lan Chi Mart's system includes many supermarkets located in Hanoi and Hai Phong.
Sakura Vietnam
Sakura International Vietnam Co., Ltd. is a specialist in the supply of domestic products from Japan, such as consumer goods, baby products, and some household appliances, electronics, and electronic equipment.
Sakura Vietnam operates 9 shops in Hanoi. Sakura Baby Shop was the first to open in September 2011. It is located at a stall on The Garden Commercial Center's second floor, Me Tri, Tu Liem.
All products will be 100% Japanese-made. Sakura is able to grow and thrive because of the trust of its customers.
Fujimart Vietnam
Japan's Summit supermarket will be opening its first Vietnamese store in Hanoi, the capital of Vietnam in December 2018. Two more stores are expected to open in 2019 or 2020. Fujimart Vietnam Retail will manage Summit stores in Vietnam, a joint venture of Sumitomo's parent and BRG Group real estate conglomerate.
Sumitomo will elect a president, send personnel from Japan while BRG will manage the company's operations.
The stores will target middle-class customers in the city and use the Japanese model. Summit supermarket group's loyalty program and point-of-sale system are used to analyze customer shopping habits and plan product lines.
Fujimart, a supermarket that serves Vietnamese food in Japan's famous dedicated services culture, is Fujimart.
Sumitomo and BRG have great resources, and Sumitomo has more than 50 years of experience trading and operating supermarket chains. BRG, however, is a private company. Multidisciplinary leader in Vietnam. The cooperation in Vietnam is a way to resonate strength and contribute to the non-stop development of Vietnam's retail sector.
Both Sumitomo and BRG want to offer the Vietnamese the best, safest, and most complementary products and food through the FujiMart model supermarket.
FujiMart Le Duan Supermarket: No. 142 Le Duan Ward Kham Thien Dong Da District, City. Hanoi
Contact: +84 24 3220 2431
FujiMart Hoang Cau Supermarket: No. 36 Hoang Cau, O Cho Dua Ward, Dong Da District, City. Hanoi
Contact: +84 24 3203 0036
FujiMart Tay Son supermarket: No. 324 Tay Son, Nga Tu So Ward, Dong Da District, City. Hanoi
Contact: +84 24 3205 2324
Email: [email protected]
Shopping malls in Vietnam
Vietnam's shopping malls are the perfect place to shop during your holiday. These shopping centers are easily accessible by foot or cyclo and conveniently located near popular landmarks and five-star hotels.
These shopping centers sell cosmetics, apparel, and accessories at fixed prices. However, they also stock a wide range of international brands as well as renowned local designs.
You'll find plenty of restaurants and entertainment centers in the area to keep you busy after you've finished shopping. Here's a list of shopping malls in Vietnam.
Ho Chi Minh City
AEON Mall Tan Phu Celadon

AEON Mall Binh Tan

Crescent Mall

Diamond Plaza

Icon68 Shopping Center (Bitexco Financing Tower)

Nowzone

Estella Place

Gigamall

Pandora City

Parkson Cantavil

Parkson CT Plaza

Parkson Flemington

Parkson Hung Vuong Plaza

Parkson Saigon Tourist Plaza

Pearl Plaza

Saigon Centre

SC VivoCity

Vincom Center Landmark 81

Vincom Center Dong Khoi

Vincom Mega Mall Thao Dien

Vincom Plaza Go Vap

Vincom Plaza Quang Trung

Vincom Plaza Thu Duc

Vincom Plaza Le Van Viet
Ha Noi
AEON Mall Long Bien

Parkson Viet Tower Plaza

Trang Tien Plaza

Vincom Center Ba Trieu

Vincom Center Nguyen Chi Thanh

Vincom Mega Mall Royal City

Vincom Mega Mall Times City

Vincom Plaza Long Bien

Vincom Center Pham Ngoc Thach

Vincom Plaza Bac Tu Liem

Lotte Center Hanoi

Mipec Tay Son

Mipec Long Bien

Indochina Plaza Hanoi

The Garden Shopping Center
Da Nang
Parkson Vinh Trung Plaza

Vincom Plaza Ngo Quyen
Can Tho
Vincom Plaza Hung Vuong

Vincom Plaza Xuan Khanh
Hai Phong
Parkson Thuy Duong Plaza

Vincom Plaza Le Thanh Tong

AEON mall Hai Phong Le Chan

Vincom Imperia Hai Phong
An Giang
Vincom Plaza Long Xuyen
Binh Duong
AEON Mall Binh Duong Canary
Dak Lak
Vincom Plaza Buon Ma Thuot
Dong Nai
Vincom Plaza Bien Hoa
Phu Tho
Vincom Plaza Viet Tri
Quang Ninh
Vincom Plaza Ha Long
Thai Binh
Vincom Plaza Ly Bon
Summary
Traditional grocery shopping in Vietnam is still done through independent and local stores. However, large supermarkets and modern channels are growing rapidly thanks to behavioral change customers.
This was further fuelled by the growth of e-commerce posts and during the COVID-19 pandemic.
Both Vietnamese and expats spend a lot of money and time grocery shopping each day. According to Vietnam's chamber of commerce, the average Vietnamese spends about VND 250.000 per week on groceries.
Vietnam has many grocery stores and supermarkets. Most of them are in Hanoi, Ho Chi Minh City, Danang, and larger towns.
In recent years, foreign-branded convenience stores and supermarkets such as KFC and Family mart have seen their prices rise. This makes it easier to shop. Big C currently leads the way in quantity, with 35 supermarkets.
Vincom Mega Mall has 13 supermarkets. Lottle supermarket has 13, and then Big C supermarket, with 12. Finally, Aeon, a Japanese brand, has 4 supermarkets.
Due to international economic demand, Vietnam is seeing an increase in commercial centers and retail stores. Foreign enterprises, as well as domestic businesses, invest heavily in consumer markets and retail stores.
In Vietnam, there are many large supermarkets and large retail outlets in major cities like Ho Chi Minh City or Hanoi, Danang, Binh Duong, etc.
Supermarkets in Vietnam are growing in size and variety. This is a huge opportunity for investors, but also a challenge. Above are the top-ranked Vietnamese retail supermarkets.
Vietnam's market becomes more vibrant, diverse, and colorful. These are great opportunities for retailers in Vietnam. HuyHoa Team hopes that you will have a plan for shopping when you visit Vietnam during your holiday.
Frequently Asked Questions
What are the main retail supermarket segments in Vietnam?
Big C dominates the Vietnamese retail supermarket sector. There are 35 Big C stores in Vietnam. The key players in the mini-supermarket segment are Family Mart, B's Mart, and Circle K.
What is the best hypermarket in Vietnam?
Lotte Mart is probably the largest hypermarket in Vietnam, they have built 13 large and medium centers in Vietnam. They are committed to selling high-quality products to customers and always innovate in every way to bring the best to customers. Big C, which is also a well-known hypermarket in Vietnam, includes grocery stores and supermarkets and was recently sold to the Central Group of Thailand in 2016.
Where to find convenience stores in Vietnam?
Convenience shops in Vietnam compete with street vendors, stalls on the streets, and traditional markets. You will find convenience grocery stores and supermarkets in Vietnam such as Circle K, Vinmart +, and Family Marts.
How much does the average Vietnamese spend on groceries?
Both Vietnamese and expats spend a lot of money and time grocery shopping every day. According to Vietnam's chambers of commerce, the average Vietnamese spends about VND 250.000 per week on groceries.
Which retailer has the most outlets in Vietnam?
A report by Q&Me published in 2021 shows that Co.opmart was the leading supermarket chain in Vietnam and had 138 outlet stores. VinMart follow and had 89 outlets.