Most tourists insist on visiting Van Phuc silk village during their stay in Hanoi. This is where they can see the true traditional silk-making process.
Van Phuc Silk Village can be found on the banks of Nhue Thi River near Ha Dong, 8km southwest of Hanoi. From the center of Hanoi, it takes only 30 minutes to get there by motorbike. This village is well-known for its traditional sericulture and weaving. The village offers many beautiful silk products, including ties, shirts, and dresses. The unique thing about silk is its simplicity. This is the traditional way of making silk in Vietnam.
You can see the traditional silk weaved from natural silk in Van Phuc's silk village. It has a uniquely soft touch and sophisticated look that you won't find anywhere else. Van Phuc silk was probably chosen to make the Nguyen dynasty's national costumes.
Van Phuc silk, which was first displayed in Marseille and then Paris at international exhibitions, was greatly appreciated by the French and was preferred. Van Phuc silk was mostly exported to Eastern Europe from 1958 to 1988. It has been widely known in many other countries since 1990.
Van Phuc is located in the middle of Hanoi. Despite being subject to many changes due to the modernization and industrialization of Hanoi, Van Phuc retains the traditional features of a Vietnamese village, such as the stone walls, old-century trees, communal houses, and ancient altars.
You can visit this famous silk village by following the Le Van Luong or Nguyen Trai roads, then turning to Van Phuc at the Nguyen Trai crosswords. Van Phuc silk village is located on the Nhue riverbank at its main gate, "Van Phuc Village".
Van Phuc Pagoda is located right next to the main village gate. Mix into the quiet atmosphere of Vietnamese pagodas and inhale the incense smoke. The cluster of flowers, greens, and wooden bridge that crosses the lotus pond will make it feel familiar and relaxing.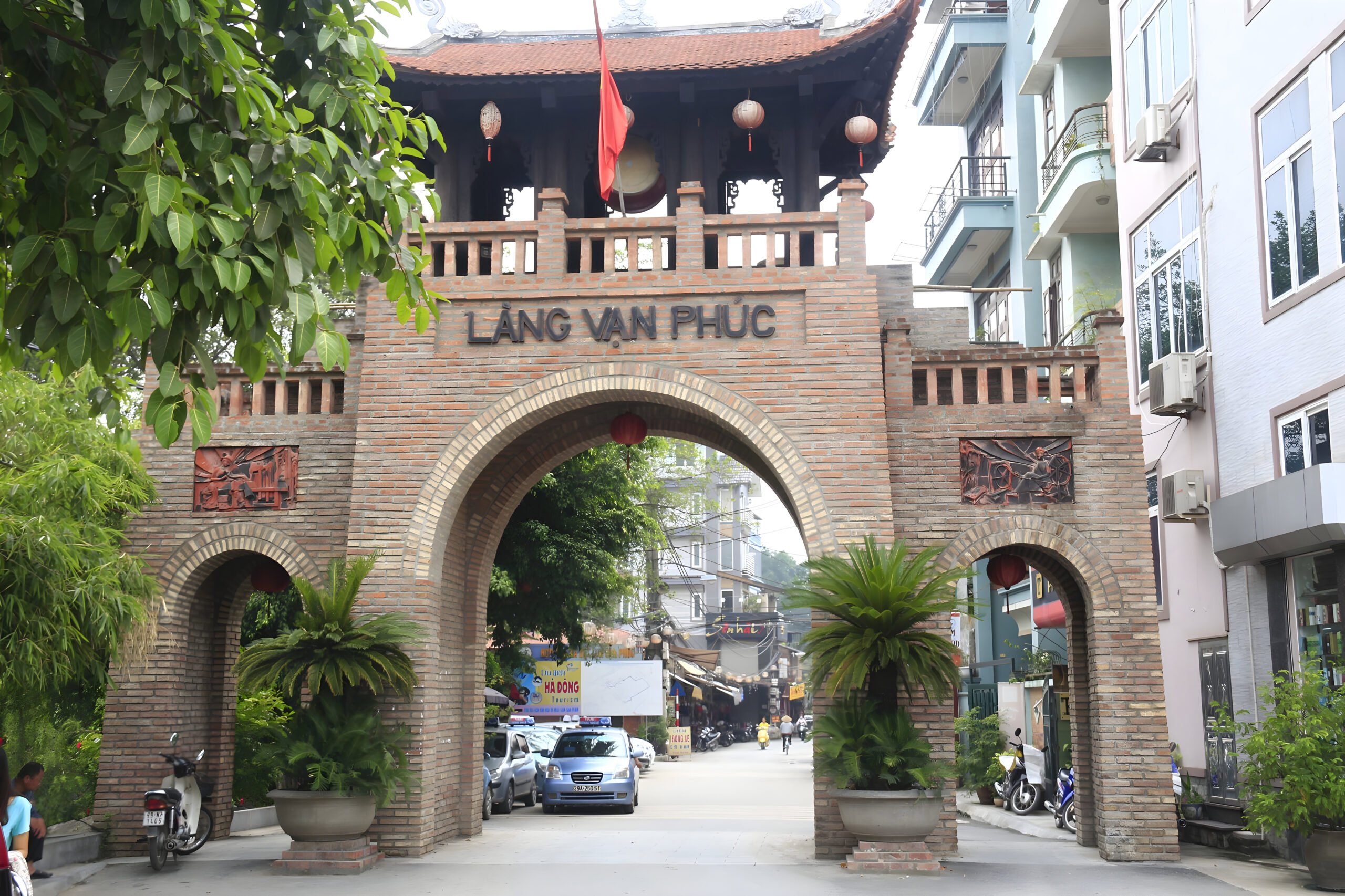 The Cradle of Vietnamese silk
Silk has been a luxury for centuries. It is comparable to ivory, rhinoceros Horn, and the precious handworks of Vietnam. Silk has been the universal symbol of luxury and is often worn by the most wealthy and powerful. Visitors to Vietnam will have heard of the importance of Viet Silk but may be curious about where it is.
Van Phuc Silk Village, which has a history that spans more than two thousand years, is proud to be the source of the finest silk. Despite many ups and downs, the village's craft has seen a revival thanks to the rising demand for silk on both domestic and international markets.
The fine, lustrous fabric that comes from the cocoons of silkworms is now more affordable for ordinary people. Silk is enjoying a revival in fashion, especially because it can be made into many different designs that suit all aspects of modern life. If you are looking to order silk formal wear, come here and choose the right materials. The professional tailors will be happy to help you!
Silk Products & Souvenirs at Van Phuc Silk Village
You will be amazed at the "Silk Shop Town", where nearly all the houses along the paths are now converted into shops selling silk products. The village now has 1,280 households, 90% of which are involved in the production and management of silk. Each year, the village produces more than 2,000,000 meters of silk. You will have the opportunity to visit the traditional silk-making industry in Vietnam.
The glistening variety of silk products is something that all tourists are enthralled by. Tourists are constantly confronted by a wide range of silk products from raw materials to garments and a multitude of accessories. Local silk is well-known for its lightweight and smooth appearance. It can also be dyed in more colors to suit different skin tones.
Van Phuc silk producers are constantly expanding their range of silk and garments to meet changing customer demands. They offer traditional shiny, embroidered silks as well as double layers and wrinkled silks.
Silk and silk-made clothes are readily available in villages if you plan to purchase something from Vietnam for gifts. Although silk is no longer a luxury cloth, it will never be the same as silk. The silk weavers of Van Phuc Silk Village have 2000 years of history and are still weaving dreams.
How do I get to Van Phuc Silk Village?
Tourists should travel southward from Ha Noi on Nguyen Trai Street to reach Van Phuc Village. Continue driving for approximately 3km, turning right. You will find the village on your left, approximately 8 km from central Hanoi. You can use taxis, buses, and motorbikes.
Tourists can also book day tours to handicraft villages in Hanoi. Nearly all Hanoi handicraft and culture tours include Van Phuc Silk Village. These tours are typically only one-day tours that depart from Hanoi so it is very easy for tourists to plan their time.