For many generations, the traditional textile and garment industries have played a very important role in the lives of Vietnamese people.
Traditional textiles in Vietnam today, although they no longer play an important role in the economy, are still focused on development for the purpose of preserving traditional cultural features in craft villages.
Silk weaving is a traditional occupation in Vietnamese culture. This is also a testimony to the remarkable development of the culture of Vietnam.
From ancient times, the Vietnamese have always valued costumes. Not only for special occasions but every day. The best type of silk is the one that reflects the beauty of the wearer and the class and prestige of the wearer. This has been true until now.
Traditional Textiles in Vietnam
Silk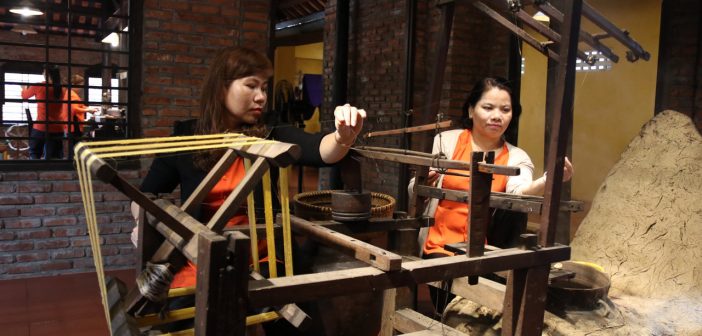 Silk weaving and embroidery are a long-standing tradition in Vietnam. Silk was an extremely expensive luxury in Vietnam during feudal times. Silk was associated with nobility and was only worn by kings, queens, or mandarins.
The rules governing color, ornamentation, and style of the clothes worn by aristocrats in Vietnam were established by various dynasties.
The clothes of Vietnam's nobles were adorned with the royal symbols of dragons and phoenixes as well as tortoises and cranes. The garments were made differently and included elements from traditional Vietnamese design.
For example, Vietnam's Nguyen Emperors (1802-1945) wore long con (grand audience) and chan (formal military dresses, similar to today's Vietnamese ao dai tunics). Five-clawed dragons and the emperor were both reserved in golden hues.
Vietnam's finest silk was from Ha Tay, southwest Hanoi in the Red River Delta. This area is known as "Ha Dong Silk". Silk weaving was first practiced in Ha Tay around 2,000 years ago. Ha Tay's silk industry thrived between the 16th and 18th centuries.
Even though the techniques and quality of silk have changed, the residents of traditional villages such as La Ca, Trieu Khuc, and Van Phuc still produce silk today. Generators and mechanized weavings have replaced handlooms in Van Phuc (12km southeast of Hanoi).
Vietnam produces 70% of silk, but some weavers have revived traditional methods to produce high-quality cloth. Vietnam exported 20% of its silk in 2000 by hand.
My A silk, also known as the Queen of Silks, takes more than 20 days to make a single silk batch. The first stage of weaving the cloth is where every thread is checked for uniformity.
This ensures a smooth surface. The silk is then soaked, washed, and dried. To protect the silk from damage, the silk is dried in gentle sunlight.
To get the correct color, the forest resin used for silk soaking should be extracted at the appropriate season. Silk is made from natural fibers and does not require any chemical treatment.
Mai Chau, the oldest weaving village in the world, is known for its silk weaving and Mulberry-raising techniques. Since the 2nd year of Hong Duc's (15th century) dynasty, the Mai Chau people have experienced a change in their lives.
The northern people brought this trade with them. This region is known for its silk and tussore. Ma Chau village has seen a great deal of development in both quality and quantity since 2000 to meet increased market demand. Out of 600 households, 400 have their own factory that has more than 4,000 looms.
Brocade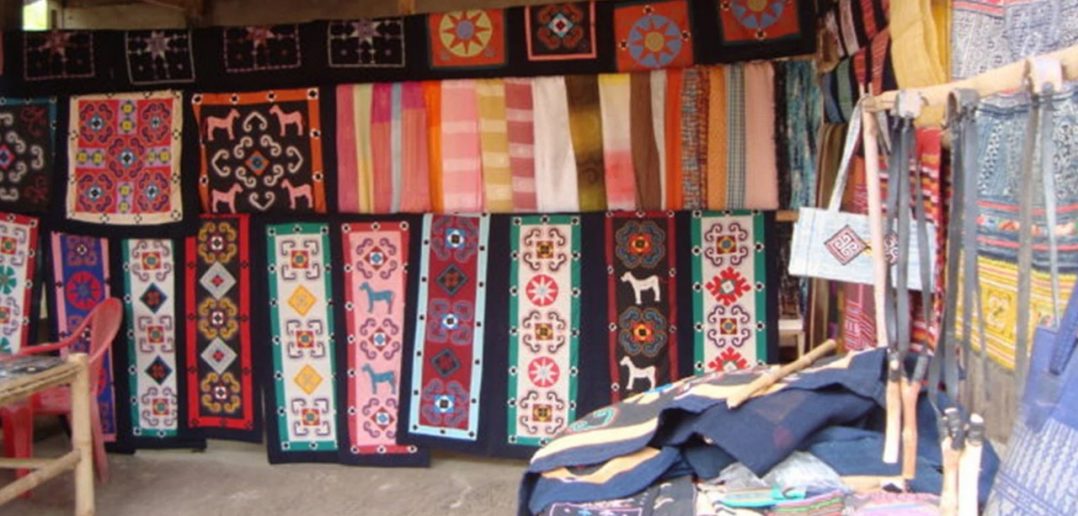 Brocades from Vietnam are made in small villages that have a long tradition of silk weaving. Their history and heritage are marked by symbols and patterns. Small communities can benefit from the purchase of Vietnamese silks.
The silk brocade fabrics are made with metallic threads in rich colors, intricate patterns, and details. They are usually about 30 inches wide.
The Cham ethnic group in central Vietnam practices brocade weaving. Many types of embellishments can be added to stylized designs, including flowers, birds, tortoises, and elephant tails.
Brocades have important meanings. Red is for passion and love, while yellow represents light and harmony between humans and the natural world.
Embroidery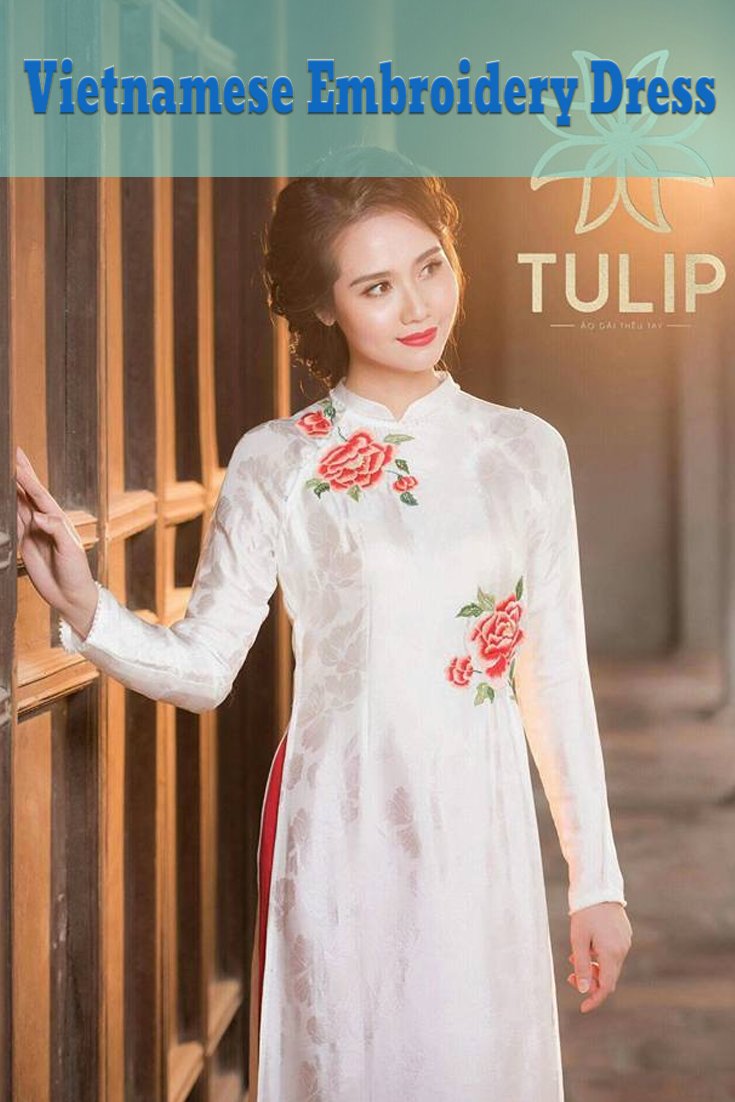 Vietnam has a rich history of embroidery. Different ethnic groups have made the art unique over time. The 17th century brought the art of embroidery on silk to the North.
The practice began in the northern provinces and eventually spread to the Old Quarter of Hanoi where many guilds were established.
Silk embroidery used five colors of thread in its original form: yellow, red-green, violet, and blue. It was used mostly to decorate temples and pagodas.
Van Lam is a cradle of traditional embroidery, which is very well-known in Vietnam. According to village annals embroidery has been around for seven centuries.
There are currently seven hundred skilled in the village trade of making lace embroidery. There are many embroidery frames that the villagers can use, some as big as a sedge mat and others as small as a human hand.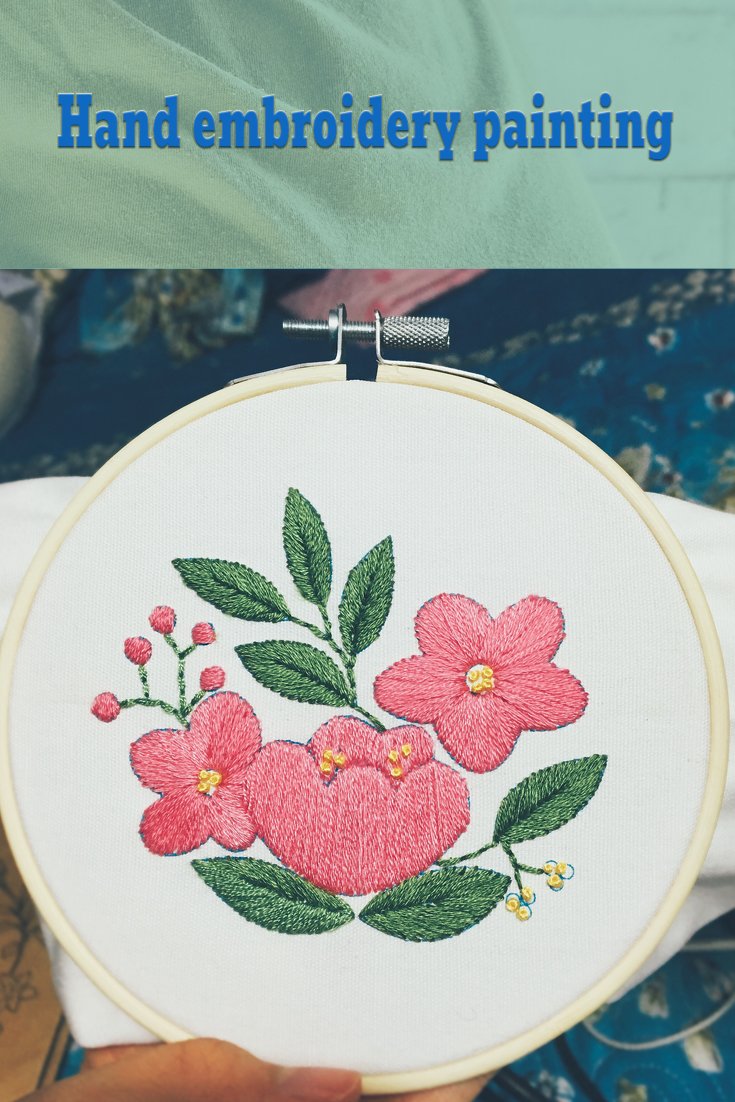 It is a skillful combination of lace and embroidery. Van Lam is still being passed down generation after generation.
Each minority group in Vietnam has its own embroidery style. Many of the clothes worn by minority groups like the Hmong or Dao peoples are intricately decorated with fine embroidery and braiding.
Some pieces are so intricately decorated that it's almost impossible to distinguish the front and back. Beautiful batik designs are also used by the Hmong to embellish their clothing, which was in the past made entirely from hemp fibers.
Lace
The 19th-century silk had made embroidery very popular at Hue's royal court. During the French colonial period, the old craft was given a new lease of life when the wives of French officials hired local women for dressmaking.
A new generation of urban artisans, known as Co Khau Dam (sewing women), was beginning to emerge in urban centers. They were skilled in French-styled lace embroidery and some worked directly for French families.
Others set up their own tailoring shops. Later, several rural workshops were established to produce lace for export. In fact, the northern province of Ha Dong had over 4,000 lacemakers by 1930.
The Great Depression saw the international market for lace embroidery shrink and the introduction of machine-made lace. Nowadays, most lace can be made by machines.
Applique
Applique is one way to identify the Hmong people in Vietnam. The Hmong people of Nghe An have made ancient techniques into an art form. Applicating fabric shapes by hand is a way to create decorative patterns on a wide range of woven products. Legend has it that the Hmong had their own written script, but were forced to flee by the Han Chinese after they defeated them.
They applied their script to their clothes to prevent losing them, which became the Applique we know today. While their written language is long gone, there are variations of their original script that can be found in Hmong communities. They can also be used to identify members of particular areas.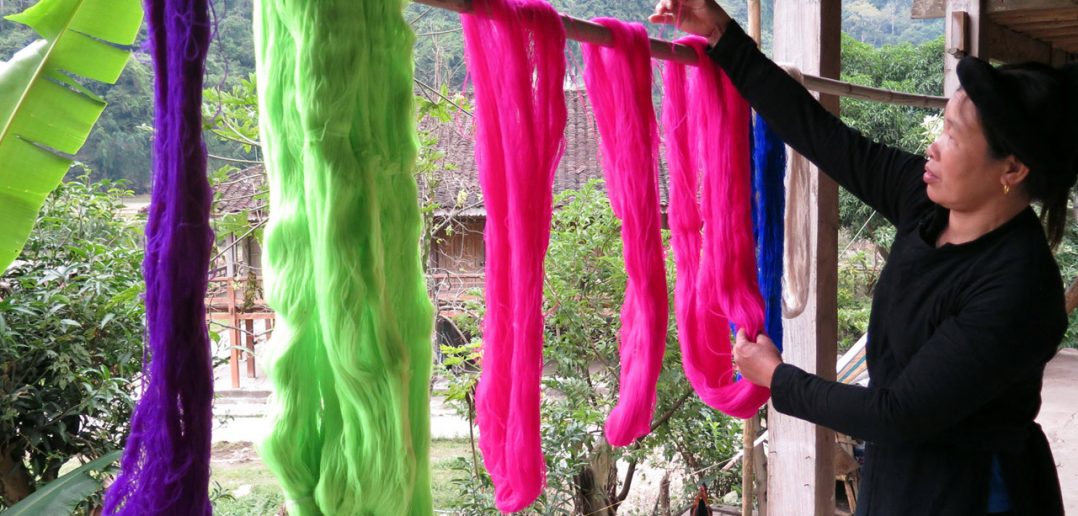 Destinations for Traditional Textiles in Vietnam
The top silks from Vietnam have been "diplomatic ambassadors" and are often presented to foreign friends. You will learn more about the rich culture of Vietnam by visiting the 9 traditional textile villages in Vietnam below:
Van Phuc silk weaving village
Van Phuc Village is part of the Ha Dong ancient province. According to the explanations from the people here, because Van Phuc's favorable terrain borders the Nhue River and the South borders La Khe Peach River on the wharf underneath the boat, Van Phuc enjoys a vibrant, developed landscape.
Van Phuc is one of the most attractive traditional craft villages in Vietnam
Silk weaving was created very early with cool, soft silk touches and brilliant symmetrical patterns. Van Phuc has been using high-quality, thin silk since the 15th century. Many shapes of water clouds, flowers, and birds. Lucky words, longevity, geometry, adoring dragons, and tigers.
The silk weaving village of Van Phuc has been a popular place in the region for its talent and the high-quality silk it produces. It is often presented to the kings or mandarins. Van Phuc silk has retained its scent for thousands of years, which is what brought in the cultural and artistic values of the country.
Duy Duyen silk weaving village
Duy Duyen Silk Village was established in Quang Nam over 300 years ago. This region is home to the Cham Pa people. The Cham culture can be seen in the care of silkworms, the spinning of silk, and the motifs woven onto the fabric.
Duy Xuyen silk's specialty is formed from the very first stages of silk weaving. The first stage in silk weaving is the cultivation of mulberry for raising silkworms.
Mulberry leaves are harvested by people who live in the Quang Nam forest. This is what makes silk different here. Silk made from lighter silk fibers is softer. The Cham Pa people of Duy Xuyen's silk village have retained their traditional silk weaving technology.
They still weave and embroider fine art items and make unique, ready-made, embroidered silk scarves. These scarves often reflect Cham culture. Pa is located in the Quang Nam area.
Tan Chau silk weaving village
Tan Chau silk village is well-known for its famous silk weaving. It's now located in An Giang province.
No child from the S-shaped region has ever heard of Lanh My A, a brand that has been around for many generations. Different fabrics, from weaving to drying have created silk of high quality and earned the title "Queen of Silks".
Good news from far, Tan Chau cloth village is well-known for its talented and simple people who make silk. This village also has beautiful girls that are An Giang's pride and joy.
Half apricots are used to dye Tan Chau silk, which is blackened and shiny after it has been woven. Tan Chau silk's unique characteristics include its softness and toughness as well as durability and high hygroscopicity.
Tan Chau silk is a labor-intensive product that was very expensive in the 1960s. Tan Chau silk, a Vietnamese product that is imbued in ethnicity, is still a proud symbol of Vietnam.
Nha Xa silk weaving village
Nha Xa village is located in Ha Nam province next to the tranquil Red River. Many tourists and traders from around the world have been drawn to this area by the softness and charm of silk.
It is proud to be known for its soft and durable silk. This silk is second only to Van Phuc silk from the past. Because of the silky smooth silk, traders came from far and wide to Nha Xa village in the 18th century. Nha Xa's 1920s were the most prosperous time for silk weaving, which was also brought to other countries.
The production scale of Nha Xa's silk village has been increasing in the direction of industrialization and modernization. You can enjoy the stunning scenery of Nha Xa's rural village, nestled between old French-style villas.
But you also have the opportunity to choose from the finest silks decorated with exquisite silk fabrics. The skilled hands of skilled artisans can weave and dye traditional silks using traditional techniques.
Ma Chau silk weaving village
Ma Chau Silk Village in Quang Nam Province. Ma Chau Silk Village, located in Quang Nam Province, was established in the 15th Century. It is situated near Tra Kieu's capital.
Ma Chau village is well-known for its silk weaving ability to supply the court with silk. Ma Chau was known for weaving more than 4000 looms every day in the 1960s. With the help of hundreds of handicraft families, the work of growing mulberries and raising silkworms, weaving silk, and making silk is all done in the village.
Ma Chau silk is hand-woven using 100% silk yarn. The traditional Ma Chau method of yarn processing is used. The entire weaving process is entirely the work of skilled craftsmen. Silk is dyed before weaving to create tight strength and light-colored fabrics according to the light angle.
Despite many challenges, the silk weaving villages have survived and are still very popular. Each thread's uniqueness and refinement have been acknowledged and rewarded in Vietnam and around the globe. This village will remain a proud and traditional crafts village for the Vietnamese people forever.
Van Giao Brocade Village, An Giang province
Locality: The village is in Van Giao Commune of Tinh Bien District in An Giang Province
Characteristic: Van Giao Brocade is a symbol of the beauty and rich cultural characteristics of Khmer ethnic peoples' brocade
Van Giao Brocade products are a unique blend of modern and traditional methods. They have a multiform style, harmonious color, and fine patterns. Van Giao Village dyes its fabric with a dye material that is 100% natural. This makes silk shiny, smooth, and fast.
Van Giao brocade has a unique feature: the colors used in the products. Brocade shawls are usually made by Khmer artisans who weave three layers of silk fibers in 3 colors. Blue will be visible if you look straight. Orange will be visible if you look from the left. You will see red if you look from the right.
Brocade pictures or table covers are also notable features. They often use fairy tales as their inspiration. Van Giao brocade has been exported to many countries, including the United States, Australia, France, and Thailand…under the trade brand Khmer Silk.
My Nghiep brocade village of the Cham people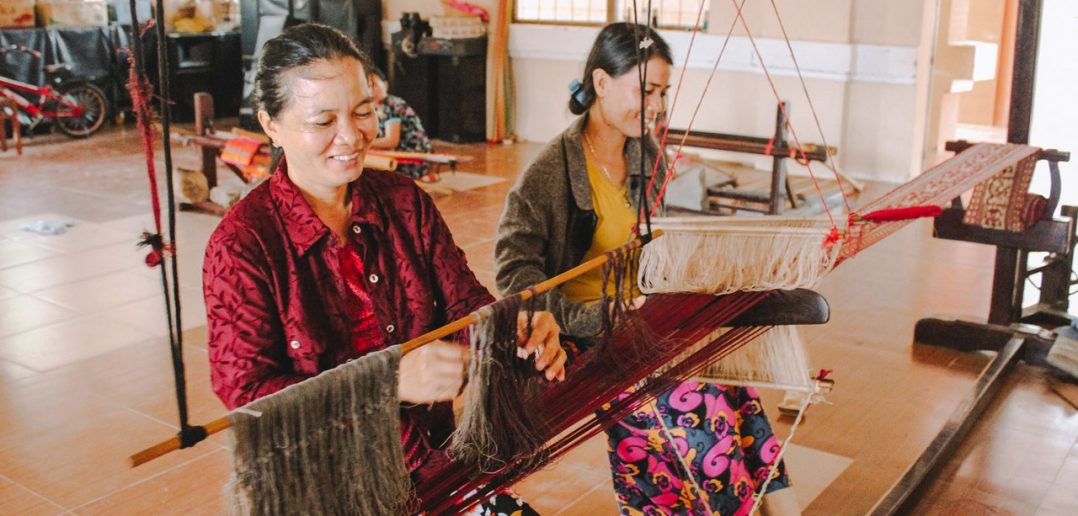 My Nghiep village (Ninh Phuoc district) is a traditional brocade weaving village that has existed for more than 4 centuries in the Cham community in Ninh Thuan. Legend has it that, in the seventeenth century, a woman named Ponagar came to this land, found the natural conditions suitable, planted cotton, weaved cloth, and taught the craft to the people in the village.
My Nghiep Brocade is black as the main color, used as a fabric background, and combined with other colors such as red, blue, and yellow to become vivid and eye-catching motifs. My Nghiep brocade color is mainly taken from nature.
Today, coming to My Nghiep, tourists can not only admire the diverse brocade panels but also experience the cultural stories of the Cham people. The stories about the origin of weaving, the technique of weaving, the meaning of each pattern, etc. are vividly told by the local people.
Quat Dong Traditional embroidery Village
The origin of Vietnamese embroidery is believed to be Quat Dong Traditional Embroidery village in Thuong Tin District (Hanoi). To this day, the old song can still be heard.
"O lady with a blue belt/
Come back to Quat Dong with me.
Quat Dong village he has a job/
Embroider chickens and ducks, embroider flowers on branches.
Although embroidery is a younger occupation than many others, it has an unusual attraction due to its uniqueness and sophistication that is infused with Vietnamese culture. The skilled hands of artisans create beautiful images of their country and homeland with brightly colored silk threads.
The industriousness of the Vietnamese people over hundreds of years has allowed embroidery to flourish in the area where it was born. It also spread across the S-shaped land.
However, most attention is on the North, particularly Hanoi. You can mention rural areas that have strong embroidery development, such as Quat Dong and Thang Loi, Le Loi, Nguyen Trai, Phu Xuyen, Co Dong, Dong Cuu, Binh Lang (Hanoi); Van Lam (Ninh Binh), Minh Lang (Thai Binh), Thanh Ha (Ha Nam), Kim Long, Thuan Loc (Hue), Bao Loc (Lam Dong)…
Weaving villages of the H'Mong people in Northwest Vietnam
The H'Mong women's Northwest costume is one of the cultural traditions that the H'Mong have preserved from generation to generation.
Vietnam's ethnic minorities have a rich and diverse culture of textile traditions. They can be found from clan to clan, village to village, and even village to village. The Hmong is one of the most numerous and largest of these groups. Each person has a distinct identity and costume, from the indigo-colored Black Hmong of Sapa to Lao Cai's Flower Hmong.
Women continue to wear traditional clothing in the region. In some areas, it becomes more elaborate as the Hmong struggle to preserve their identity in modern society.
The availability of ready-made cheaply bought synthetic embellishments is in some ways helping this. A change in village dress style can be easily and quickly integrated into any women's outfit. Styles were not as varied in the past when clothing was made only by hand.
Hemp fabric is still being used today, but there is an increase in the use of synthetic fabrics, ready-made skirts, and western t-shirts for everyday use. Slowly, the intricate hand-decorated skirts and jackets are being replaced with machine-embroidered pieces. Traditional hemp outfits are increasingly being worn only by older women in the village, or on special occasions.
These days, Hmong men tend to wear western clothes except in some villages, where older men may still be wearing plain black pants or jackets.