Including through ups and downs, Quan Chuong city gate is still grave stood there, trying to keep Hanoi culture a thousand year a simple wonder but valuable to infinity.
Quan Chuong city gate in the reputation of the five city gate of Hanoi : Cau Giay, Cau Den, O Cho Dua, Dong Mac and Quan Chuong city gate. 80m long street in Quan Chuong city gate, from Tran Nhat Duat road to the Dong Ha city gate, connected Hang Chieu str and linked to the Red River. Street is formed from the French colonial, called Rue des Nattes en joncs (Meaning sedge mat street), special trade other sedge mat from Ninh Binh, Nam Dinh, Thai Binh province carry on.
Talking about the citadel in Vietnam, the more locals have citadel but city gate that Hanoi only appear. And to present the Hanoi also has only one Quan Chuong city gate . This is one of 21 city gate open through the east wall of the building into the land surrounding the ancient Thang Long capital built in the 10th Canh Hung (1749).
Currently, City gate has one main gate and two secondary gate . On the roof of main gate is a watch tower gazebo. Ancient there are bodyguard patrols. The left side wall mounted with a 1882 stele written command by Hoang Dieu viceroy forbid soldiers harassed the people.
Above the doors are three Hanja: " Thanh Ha Mon "means Thanh Ha gate (for this store in Thanh Ha village, next to the ancient To Lich river. Thanh Ha is the name of a ward area Le dynasty including Hang Chieu, Thanh Ha, Dao Duy Tu). Such as a dome of each door, on opening, closing night.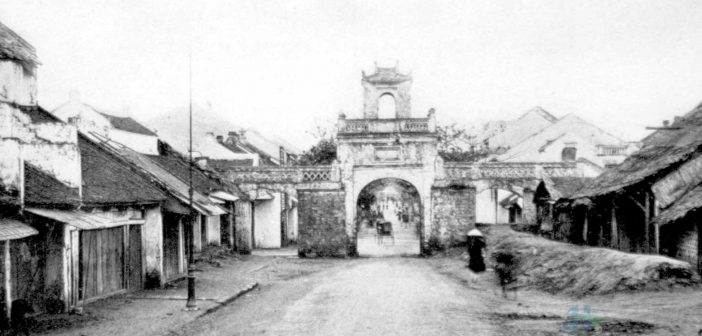 XX century on the books only mention 5 city gates, but in fact only exists a unique one city gate is Thanh Ha, also known as Quan Chuong city gate. But the appearance as Quan Chuong city gate today because of a major repair was in 1817.
City gate is manner as gate of citadel but smaller. After occupy Hanoi, French executed all city gate and dike to expand Hanoi. Also separate Thanh Ha city gate, thanks to the persistent struggle of the people and canton chief Dong Xuan Dao Dang Chieu (1845 – 1916), the Khuc Thuy (Ha Dong), so the policy is not implemented. Because this canton chief and people didn't sign in statement ask permission to destroy city gate then French should make concessions. So far, Hanoi remains a precious traces of ancient architecture.
Why Thanh Ha city gate called Quan Chuong city gate?
As things recorded in Dao family tree in 1873, there are a mandarin named Chuong of Bac Ninh province famous anti French, unfortunately caught in Gia Lam, Hanoi. French brought back to Hanoi cutting, display head on the side of Cai river front of Thanh Ha city gate, assigned to canton chief Dong Xuan Cai keepers.
Immediately the first night, this canton chiefi hear the dogs barking outside river echo. He command for soldiers review that has two large boat to which the river near place display head of Chuong . Afraid someone to take the head, this canton chief brought this head hanging in Thanh Ha city gate.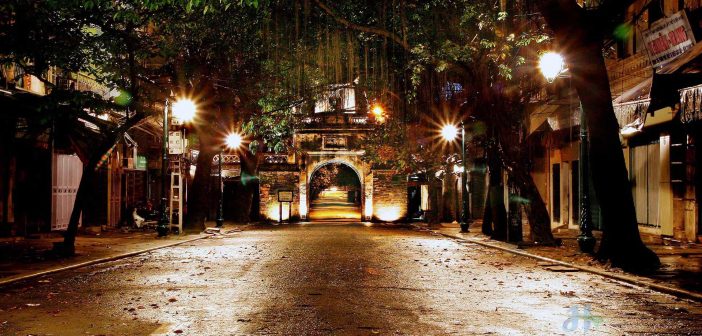 Today the family of the Chuong's canton chief negotiate to get Chuong's head. Know that this is good deep to do, but to carry out crimes with the above, he came up report city's mayor would bring the head drown keeping hygiene in residential quarter and approved.
Night, he handed the head for the family of Chuong, and early the next day command trusted watcher got big stone covered fabric and put in cage to bring middle river. Before throwing down the river to clear the reef to the shore people hear "Under the above mandarin, this head must be drown oneself in a river".
The story of the mandarin Chuong was spread in the general Dong Xuan, who went through the door from here also called a Quan Chuong city gate eventually the name of the old Thanh Ha is not mentioned again.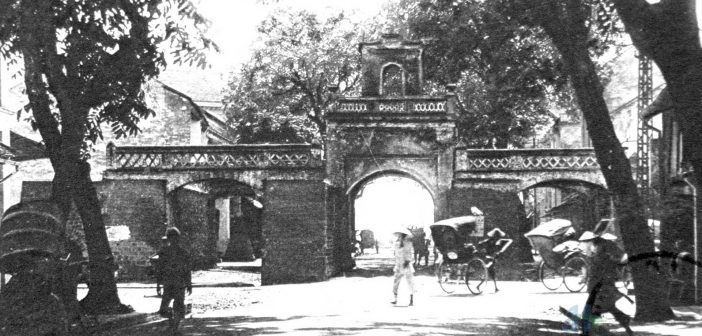 As part of the Thang Long citadel ancient, Quan Chuong city gate is the only city gate surviving ancient of Hanoi capital. Experience in months, not maintained, affected by war and urbanization, 15 city gates was destroyed, but only Quan Chuong has serious degradation and conservation are needed. This is a monument was ranked in 1995.
Conservation in Quan Chuong city gate is funded through the Conservation of Cultural of US Ambassador is a meaningful contribution in the activities to commemorate 1,00 years of Thang Long-Hanoi.