Tet holidays also known as the Vietnamese Lunar New Year, are days to relax, joy, and happiness. Similar to the West's Christmas holidays with pine trees, the Vietnamese use many flowers and plants during the Tet holidays. You can list some names: Chrysanths and Marigold, Mao Ga flowers, Paper flowers, and Lavender. Even though this isn't yet very popular, some people still use roses and orchids. There are three types of Tet flowers & plants that cannot be missed during the Tet holidays: the Peach flowers, Mai Flowers, and Marumi Kumquat.
Tet Flowers Market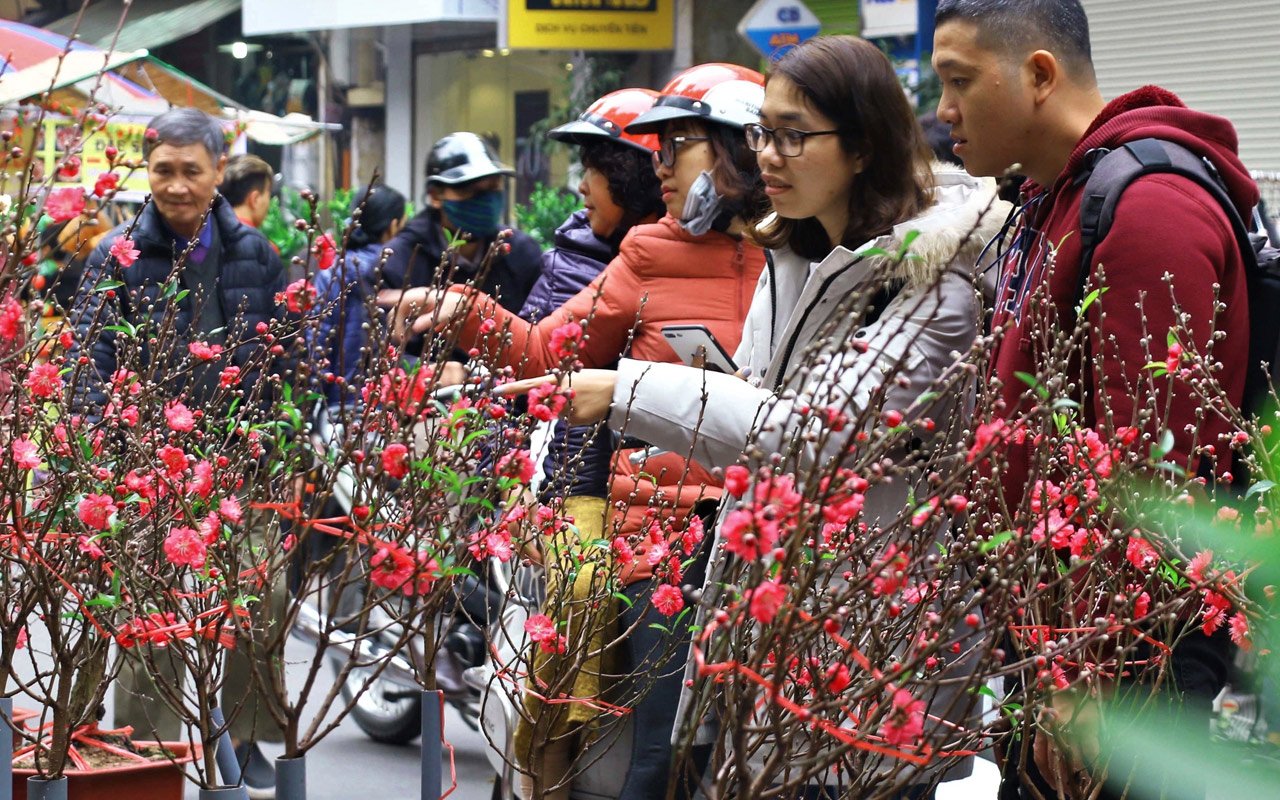 It's easy to feel nostalgic and excited by the bustling scene at Tet Days' flower market.
North Vietnam is familiar with marumi kumquat and peach flowers, while South Vietnam prefers Ochna Itegerrima to celebrate the Tet holidays. The plants' characteristics are another reason. Marumi Kumquats and peach trees can grow well in cold temperatures, but Mai Flowers thrive in warm lands that have lots of sunlight.
There are many explanations for this tradition, and they vary between people from different parts of Vietnam. Northerners believe that peach blossoms in spring are a sign of strength and bravery.
The pink peach flower color is a sign of love and joy during this special time of year. There are two types of peach flowers: the light peach, which is light pink in color, and Nhat Tan–Ha Noi's special peach which is dark pink (nearly) red.
Tet Flowers & Plants
Vietnamese people have a long tradition of decorating their homes for Tet. To throw out bad luck, clean the house, and arrange worries and problems from the previous year in order to welcome a new year full of joy and happiness.
Although it may seem like nothing extraordinary, the decoration of your house can add great value to your home. The house's decorations for the New Year will bring you good luck and a smooth start.
Tet flowers are an essential decoration for the Vietnamese traditional Tet holiday.
Here are 7 of the most popular flowers used during Tet in Vietnam, with their Vietnamese names and meanings:
Apricot blossom (Hoa Mai): A symbol of spring and the Lunar New Year, apricot blossoms are often used to decorate homes and businesses during this time. They are believed to bring good luck and prosperity in the coming year.
Peach blossom (Hoa Đào): Another symbol of spring, peach blossoms are also associated with beauty and love. They are often given as gifts during Tet to express good wishes for the new year.
Kumquat tree (Cây Quất): Kumquat trees are small, citrus trees that are often decorated with red kumquats during Tet. They are believed to bring good luck and prosperity, and they also symbolize wealth and abundance.
Daisy (Cúc Mẫu Đơn): Daisies are a popular choice for Tet decorations because they are simple and elegant. They are also associated with purity and innocence, which are qualities that are valued during the Lunar New Year.
Marigold (Cúc Vạn Thọ): Marigolds are often used in religious ceremonies and are a symbol of good luck. They are also believed to ward off evil spirits, making them a popular choice for Tet decorations.
Orchid (Hoa Lan): Orchids are considered to be a symbol of elegance and sophistication. They are often given as gifts during Tet to express good wishes for the new year.
Chrysanthemum (Hoa Cúc): Chrysanthemums are associated with longevity and happiness. They are often used in Tet decorations to bring good luck and prosperity to the home.
Peach flowers – Tet flowers symbol in Northern Vietnam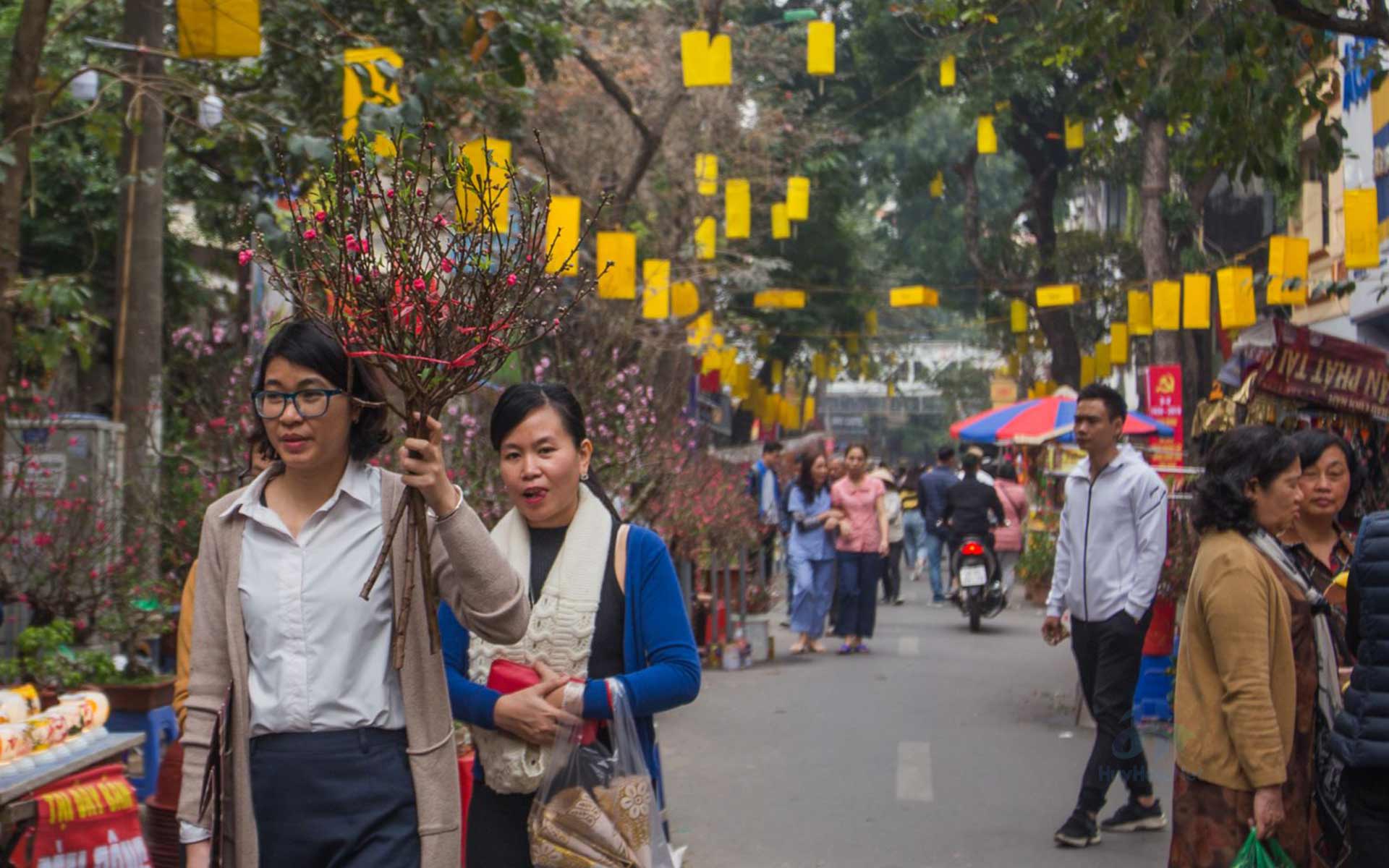 This is one of the most common Tet flowers found in Northern families. People consider peach blossom to be a symbol of growth and development. It is also considered lucky and auspicious. To pray for a prosperous and happy new year, families should arrange peach blooms on New Year's Day.
Peach blossoms are a symbol of purity and womanhood. When they get engaged, young women keep them in their homes as a sign of good fortune and joy.
Peach blossoms are soft and delicate in texture, with a sweet almond-like aroma. Peach blossoms have a mild flavor with a sweet, nectar-like sweetness.
Kumquat is lucky and fruitful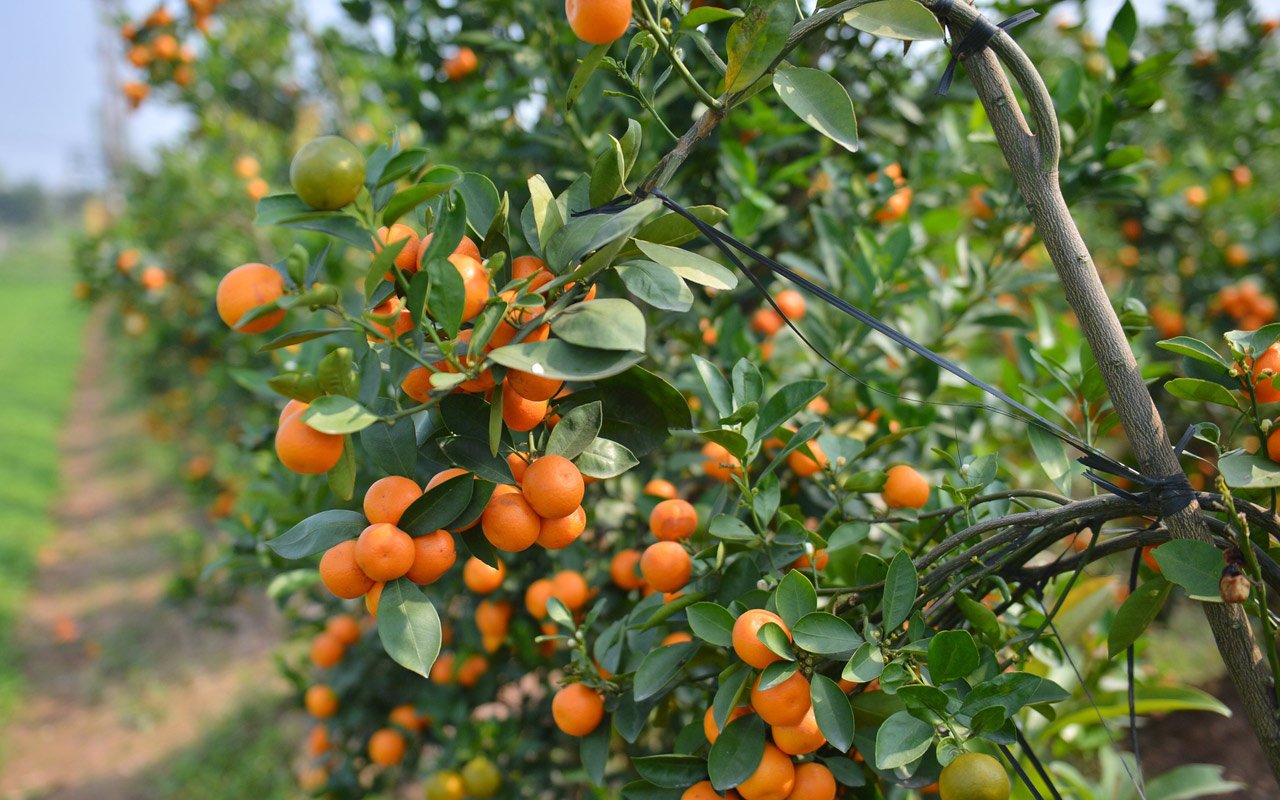 A traditional symbol of the Vietnamese New Year is the kumquat tree. The Chinese pronunciation of "kumquat", which is similar to "sand" in "cat wall" is almost identical. Therefore, putting it on a tree of kumquat trees is often associated with luck and blessings.
People often bring home kumquats to decorate their homes at the start of the year. Tet kumquats are beautiful trees that have green leaves and produce golden fruits. They look like little lanterns.
A fruit tree that is full of fruits indicates a prosperous and happy new year. People often buy kumquat trees that have new buds, in addition to the yellow and green fruits. They are a symbol of prosperity, health, fame, and good fortune for the coming year.
Hoa Mai (Ochna Integerrima) – Tet flowering plant that represents luck, happiness, and joy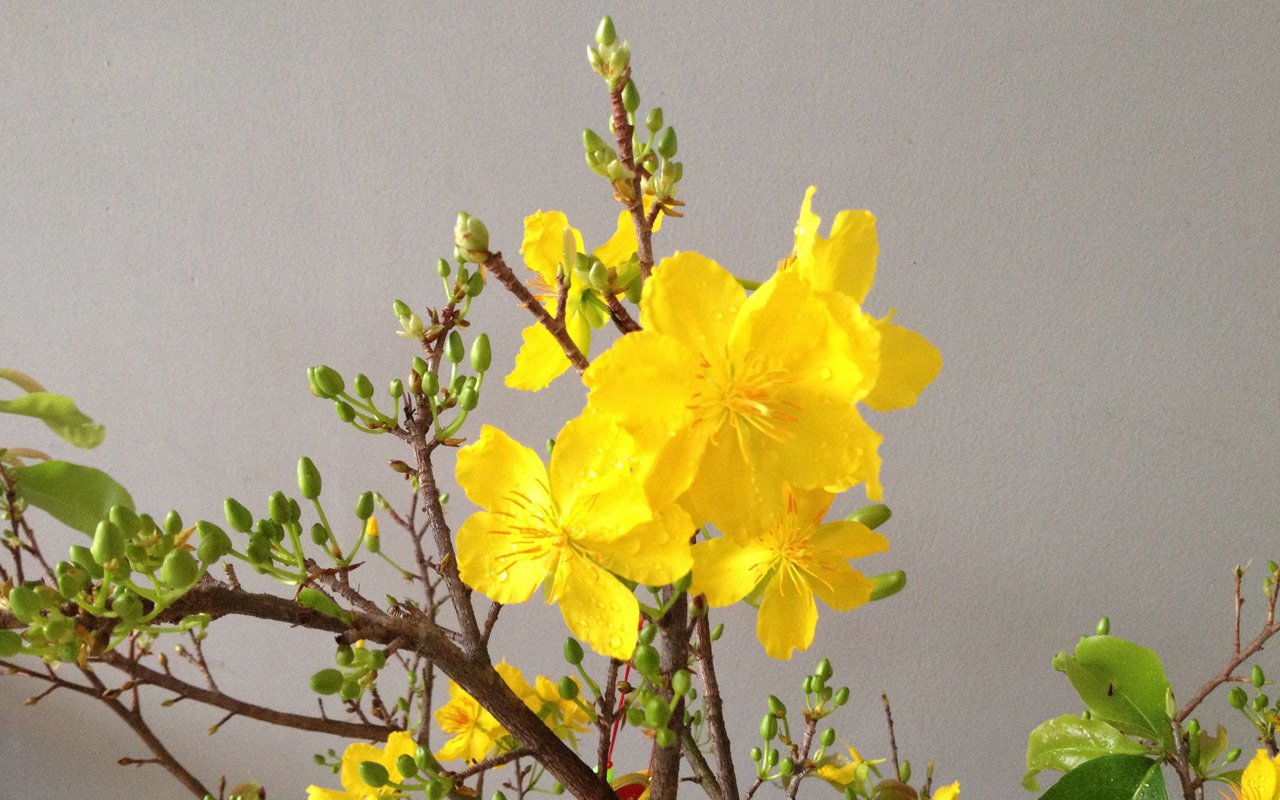 Hoa Mai (Ochna Integerrima) is a beautiful and meaningful flower that symbolizes luck, happiness, and joy for the Vietnamese people during Tet, the Lunar New Year. Hoa Mai blooms in early spring, right before Tet, when the weather is still cold and the trees are still bare. Its bright yellow petals contrast with the green leaves and bring a warm and cheerful touch to the homes and streets.
Yellow apricot blossom is also known as Hoa Mai in Vietnamese, but it is different from the peach blossom (Hoa Dao) that is more common in the north. Peach blossom has a rosy-pink color and symbolizes bravery and vitality. Marumi kumquat (Cay quat) is another popular plant for Tet that can be found in both the north and the south. It is a small citrus tree that bears many orange fruits, and it symbolizes abundance and harmony

Yellow apricot blossom (Ochna integerrima) is a special and meaningful flower that Vietnamese people, especially those in the south, love to display in their homes and public places during Tet, the Lunar New Year. This flower has bright yellow petals that look like the sun, and it represents good luck, wealth, good health, happiness and love for the new year.
Vietnamese tend to buy these special plants from lunar Mid-December at the flower market. Some even attempt to get peach tree branches/trees out of the mountains due to their incredible vitality. They are kept until lunar Mid-January of each New Year. Some branches are kept by families until the end of lunar January.
The Lunar New Year celebrations in southern and central Vietnam are marked by the appearance of apricot flowers. There are many types of Apricot flowers: eternal apricots; Blenheim, Castlebrite, Tilton, Pixie Cut, Gold Kist, Autumn Royal; five-petaled, and mountain apricots.
The yellow color of this flower is a sign of good fortune, luck, and moderate happiness. The new spring arrived in the country, it was announced. This is why many families decorate this flower on New Year's Day.
Apricot flowers are the New Year's Day symbol for people in Vietnam's central and southern regions. This is because the apricot trees have a high level of resilience and strength. Bright yellow apricot blossoms are associated with wealth and luck, while green buds signify growth and reproduction. The apricot flower is also a symbol of longevity and good health for the elderly.
You should select flowers with balanced branches and natural black bark to make a lovely apricot tree. The size of the apricot flowers should be large and the petals must not be wilted or crippled.
Daisy flower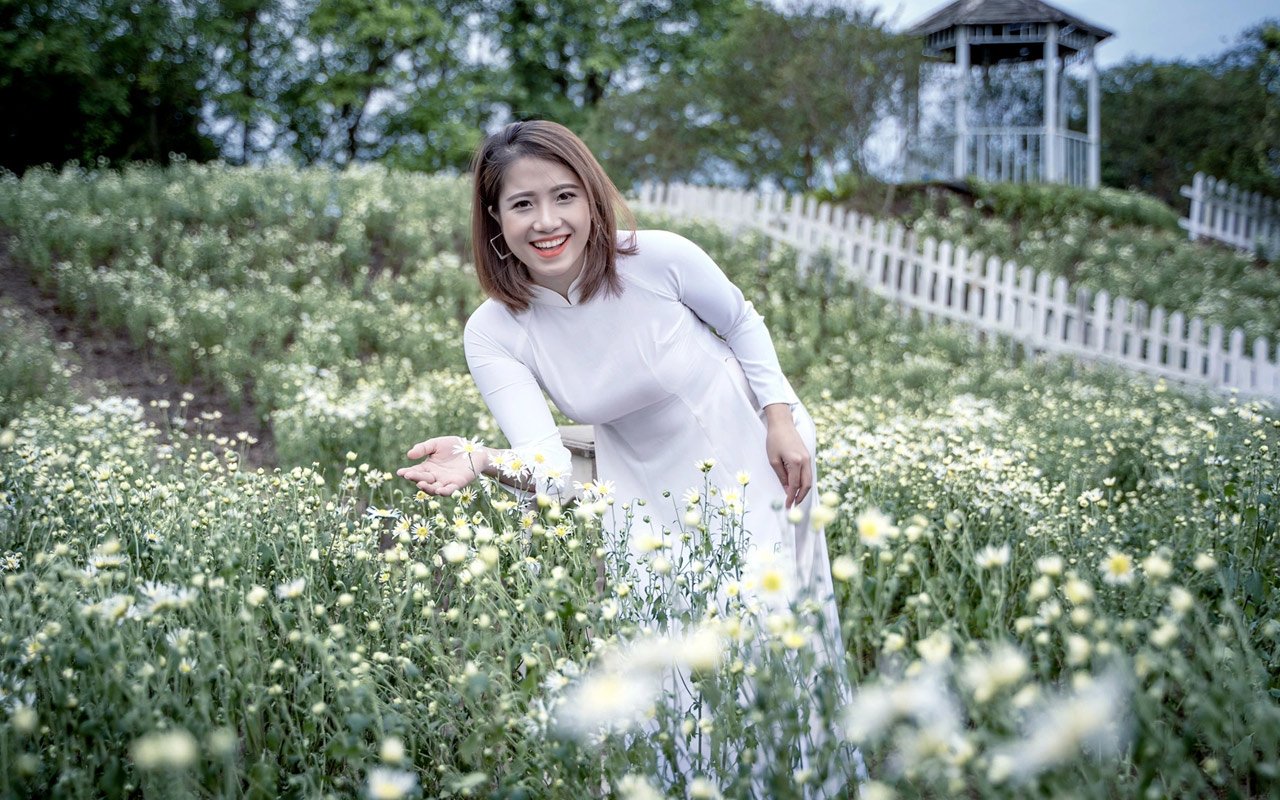 Chrysanthemums are very popular flowers. They come in many colors, including daisies and marigolds. It is easy to grow, long-lasting and affordable. It is worn by the family during the Tet holidays.
The chrysanthemum is a symbol of longevity and good luck because of its soft vitality. This flower is a common one for its simple, yet stunning beauty. It is a symbol of understanding in some Eastern Asia countries like Vietnam, China, Korea, and Korea. Many people love to give it to their parents to celebrate a reunion.
Tet decorations are often made from flower branches of chrysanthemums. These flowers can be arranged in a variety of ways to make the vase look more impressive to place on the ancestral altar. Many families also grow small chrysanthemums that they can use to decorate their balconies.
Tet should also include Chrysanthemum as a flower to plant. The meaning of Chrysanthemum flowers is longevity and luck.
Folk beliefs say that the more light a chrysanthemum gets, the fresher it will look and the luckier it will bring. In Northern Europe, the chrysanthemum is considered a sacred flower symbolizing the goddess of love, beauty, and fertility. So, place chrysanthemums where there is lots of sunlight and according to house feng-shui.
Marigold Flowers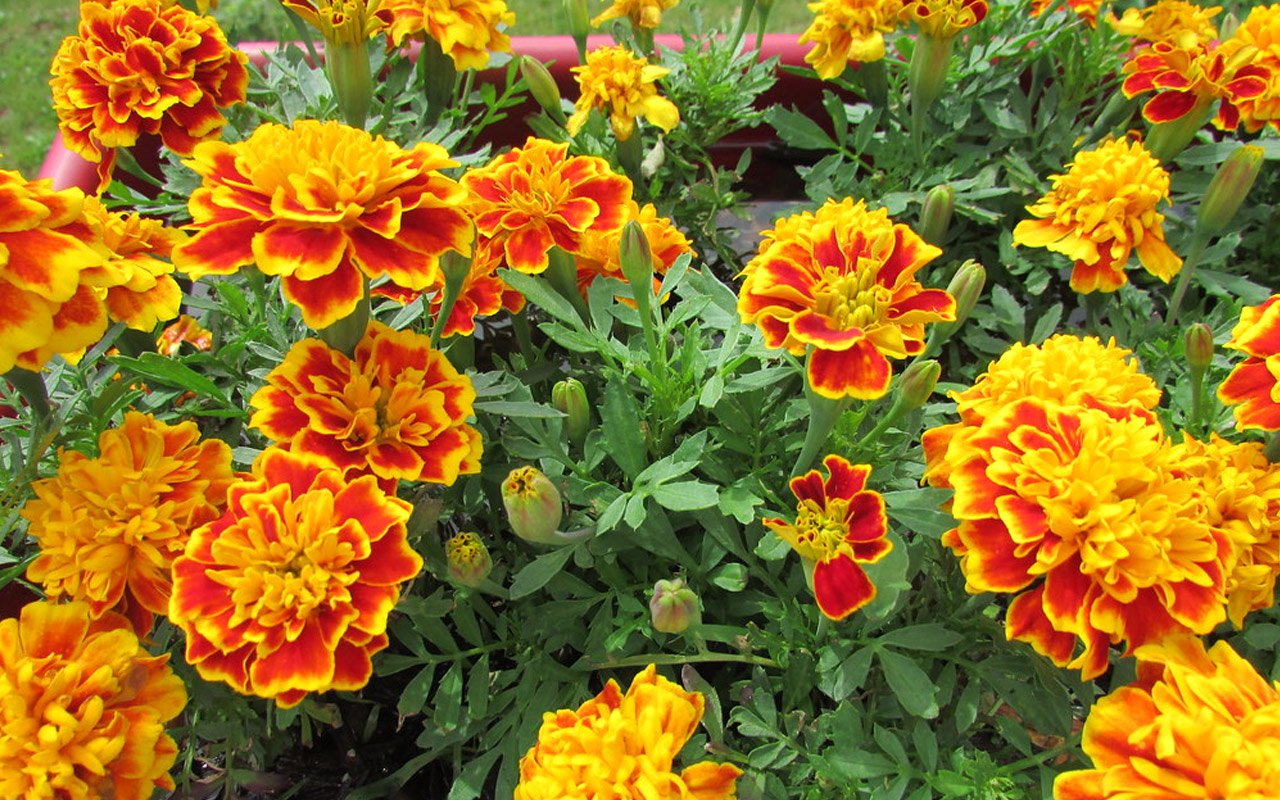 Marigolds are Mexican flowers. They are herbaceous and grow upright, often branching to form a bush with spreading stems. The leaves are compound feathery leaves with serrated edges. Sometimes alternate or symmetrical. In each leaf, the axils will produce side branches.
The flowers are single-stemmed and will have one of two main colors: yellow or yellow-orange. They bloom in the winter and last for many years. They are used to decorate sidewalks and gardens.
During Tet, families often place marigolds in the alleyway or in the home. The marigold flower is symbolic of a desire to live a long, healthy, and peaceful life. The pleasant scent of this flower repels insects, flies, and mosquitoes.
Most people are familiar with the meaning of marigold flowers. This flower symbolizes longevity, eternality, and immortality. They also carry hidden meanings on New Year's Day. These flowers can be used to wish for peace and show filial piety towards grandparents and parents.
The marigold flower is also symbolic of the warm sun and the desire to live a happy, prosperous life. The flower's red color will signify long life and good health. The spirit of optimism and positive outlook in life is symbolized by the golden marigold
This flower is also used to mourn and remember the dead. Many people use marigold flowers to decorate the altars of their ancestors during the Tet holiday.
Orchid
Orchids are one of the most beautiful flowers on the planet. Different orchid varieties can be used to show sophistication and elegance, with each having a dominant color.
Orchids are a symbol of luxury, wealth, nobility, and sophistication. Many people decorate their homes with orchids during Tet.
Feng Shui of the East says that soft flowers, bright green leaves, and diverse colors are the best. Orchid Quan Tu meets these criteria. The orchids' colors also bring happiness and color to the space, which opens up a new year of success and luck.
Research has shown that orchids in Japan represent wealth while in England they symbolize royalty. Because of its soft colors, soft body, and gentle scent, Vietnam is associated with luxury and nobility. It also symbolizes the reunion and prosperity on the first day of the year.
People and flowers are one whole. If orchids are taken care of well, life is happy and prosperous. These are the lessons learned from many flower players. To receive positive things in the new year, orchids must be taken care of.
When an orchid plant flowers, it usually blooms for six to ten weeks, that's why people can buy orchids before Tet and display it until the end of January next year.
Gerbera flowers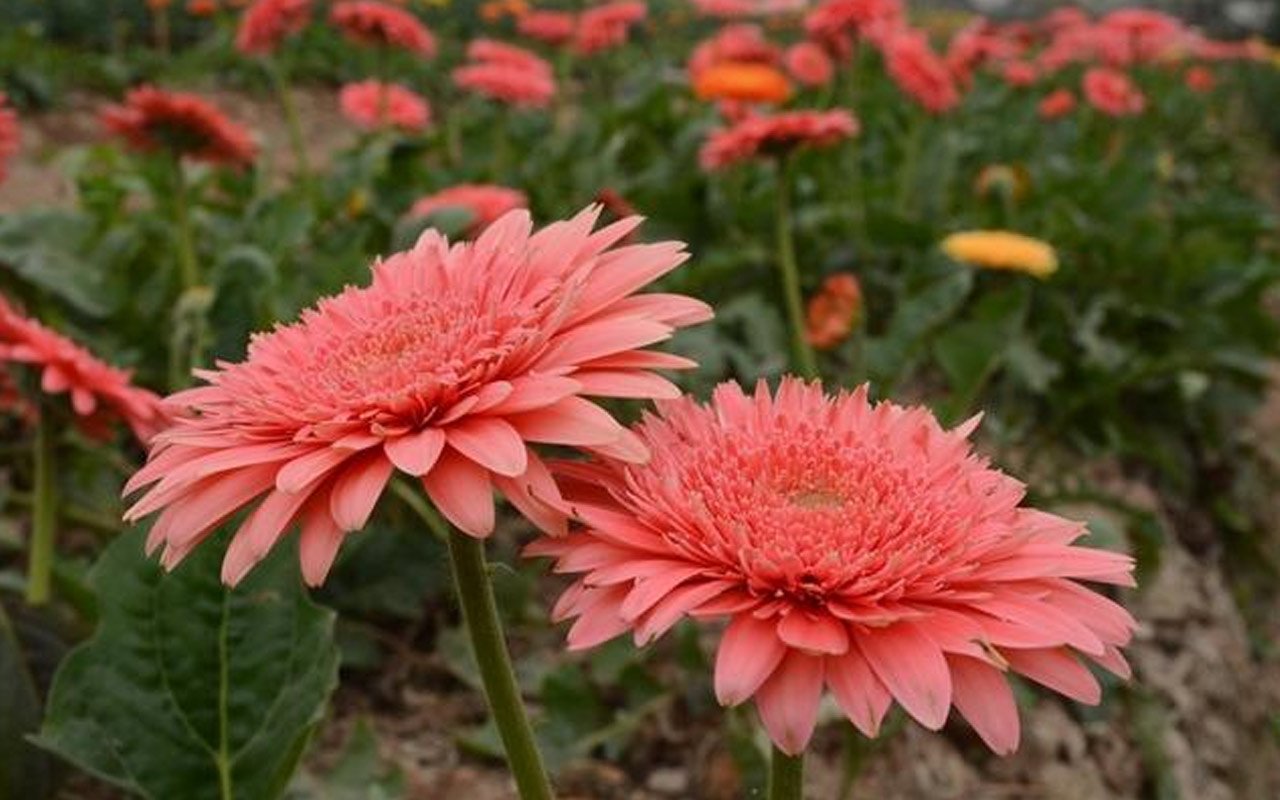 Gerbera is a familiar flower to many. Gerbera Flowers, with their charming and beautiful beauty, is a great choice to make your home more beautiful, especially during Tet.
Gerbera is also known by the scientific name Gerbera. This flower belongs to the chrysanthemum plant family. It was first grown in South Africa, and later in Asia. Gerbera is widely available around the globe with over 3000 flower species, including dwarf gerbera,…, and double gerbera.
Gerbera flowers have a large cluster of small, stacked petals that are arranged on top of one another. The flowers can also be found in a variety of outstanding colors, including yellow, orange, and white as well as pink, red, blue, white, white, and pink. Although it looks simple at first, this flower actually has many small petals.
Gerbera has many bright colors and is easy to grow. This makes it very popular. Gerbera flowers are often used to decorate holidays and special occasions or decorate living rooms.
Feng Shui says that gerbera flowers are luck and fortune. Our grandparents believed that a house with gerbera flowers in it on New Year's Day would bring good fortune, money in similar water, and good luck for the entire year. Gerberas are also a symbol of joy and happiness, so people often buy them as gifts to each other in order to share New Year's wishes.
This flower's vibrant colors, such as orange, pink, yellow, and white, will brighten up your home with spring-colored decorations to welcome in the new year.
Gerbera flowers are not only beautiful, but they also have many special meanings. The spring holidays bring the meaning of luck and fortune to the gerbera flowers.
People have believed since ancient times that a pot of Gerbera flowers will bring prosperity to a homeowner's business and help them achieve great success. It can also be used to bring good fortune and neutralize negative omens.
Gerbera is also a synonym for happiness. On the occasion of Tet, decorate gerbera flowers with the wish to send your family a peaceful, happy, and joyful new year.
Nu Tam Xuan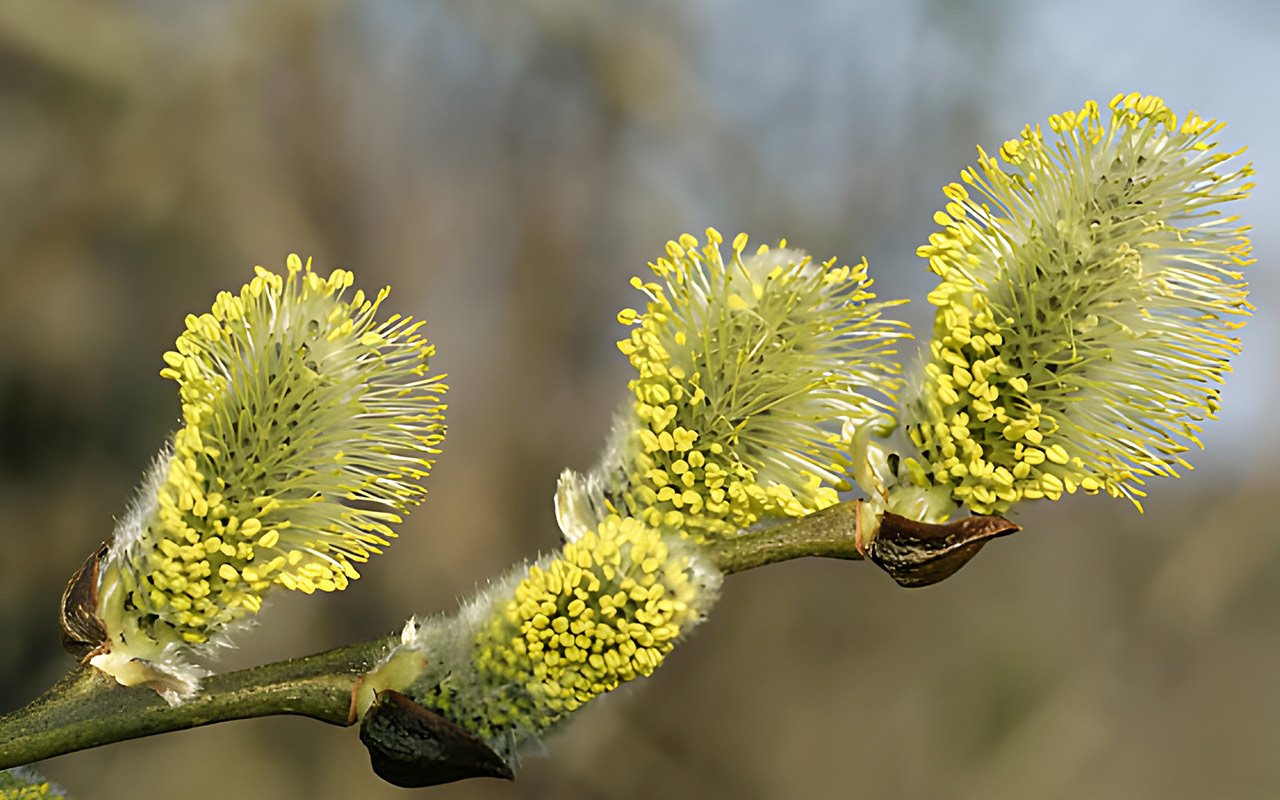 Nu Tam Xuan, also known by Chi Lieu Tree, is also known under Lieu To, Pussy Willow, and the scientific name Salix Caprea.
The native people of North Asia, such as Japan, Korea, and China.
Pussy Willow is a vibrant color that attracts all eyes.
Nu Tam Xuan, is a flower that means success, luck, and prosperity. This flower is highly prized every spring.
You are giving someone precious things by choosing a vase to be a congratulatory gift for Tet.
Pussy Willow is also a synonym for energy, will to rise, and steadfast faith.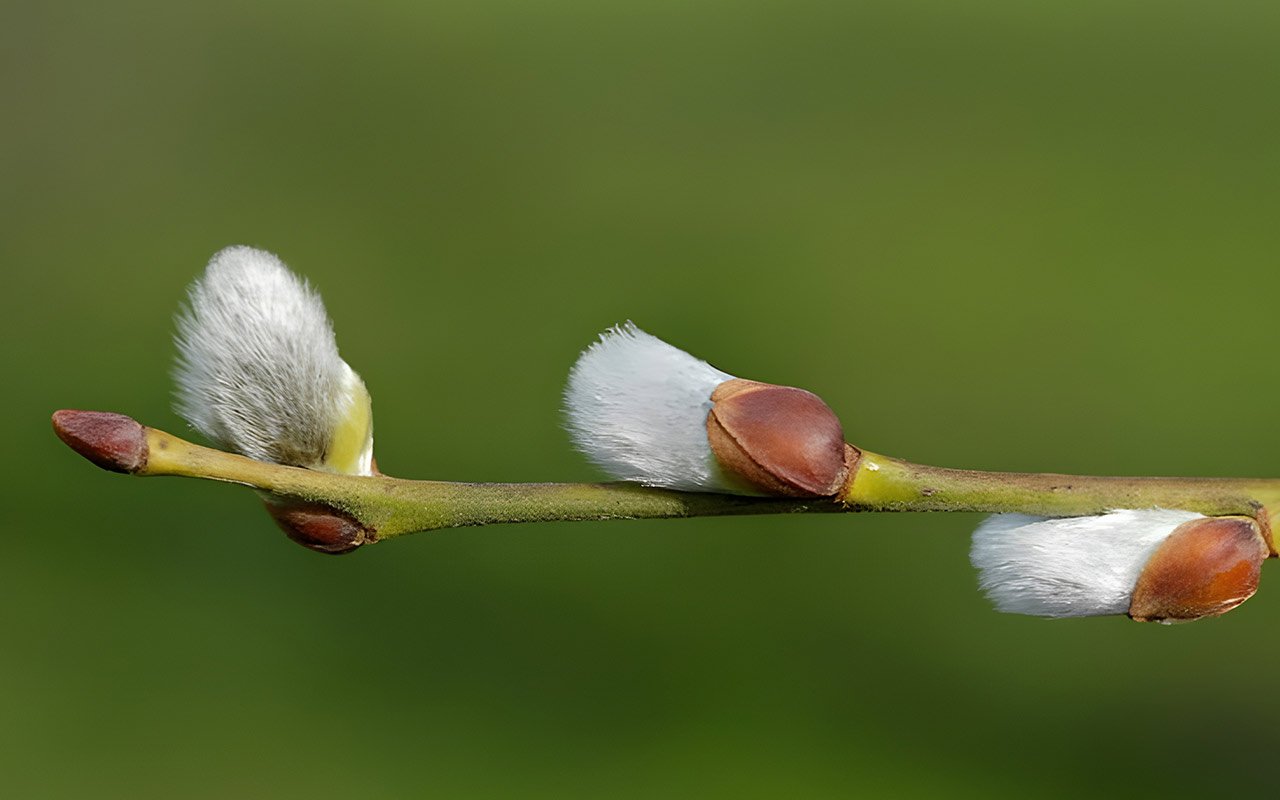 These flowers retain their freshness for a long time. The flowers are often thinner than the flowers themselves, but they have a lot of vitality. Many people make opening flowers, congratulatory flowers, and birthday flowers to send to family, friends, and loved ones. When there is an important occasion, colleagues.
It would be a grave error to not mention rosehip buds on New Year's Eve. Nu Tam Xuan is adorned with young shoots. This is why many families buy homes at the start of each new year.
Lily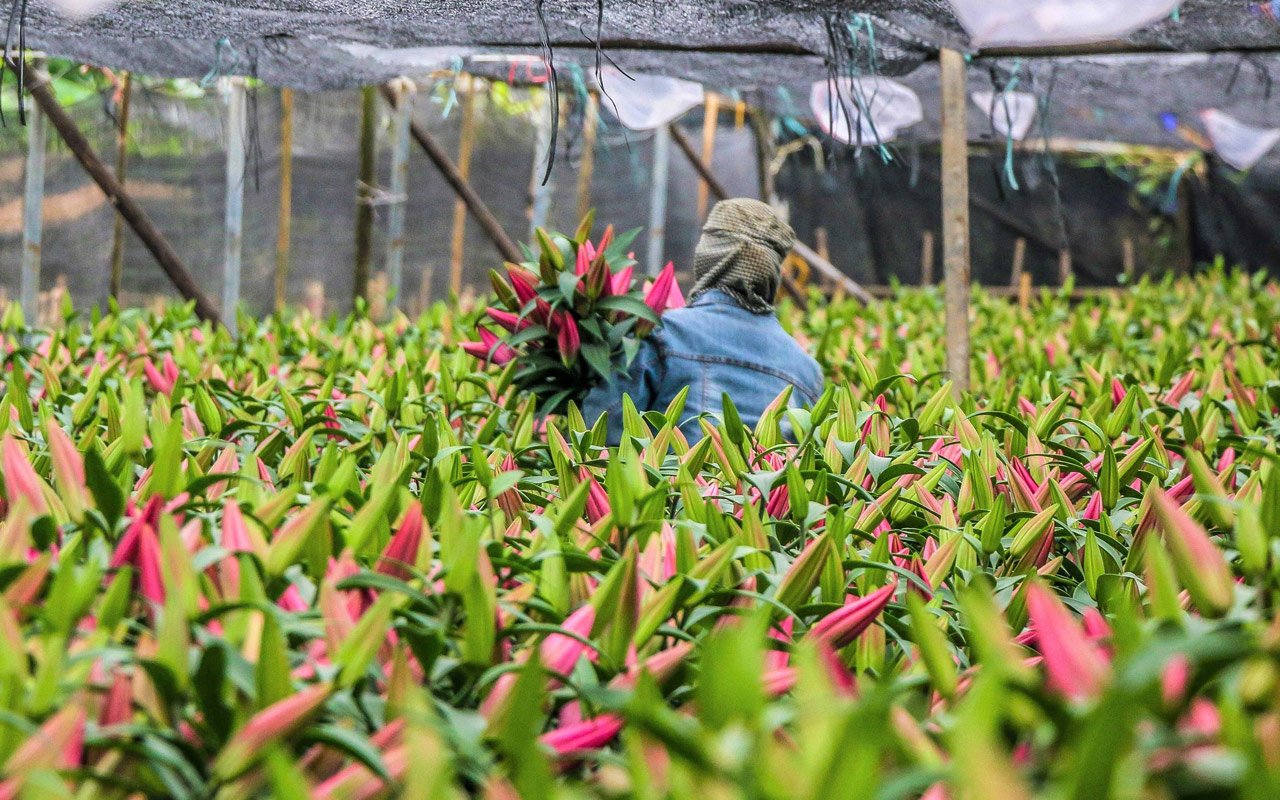 Tet is also a popular time for lilies. This flower is associated with prosperity, abundance, happiness, and success. Lily flowers are a focal point of any space and will bring sweetness to your decor.
The lily is a beautiful flower that attracts all eyes, despite its rustic appearance. During the Tet holidays, lilies are often the centerpiece of the flower arrangement. This flower's unique meaning is what makes it so attractive.
White Lily: It is symbolic of virginity, loyalty, and nobility.

Orange Lily: It is a symbol of wealth and pride.

Yellow Lily: It symbolizes joy and gratitude.

Pink lily: Innocence, youth, vitality.
Gladiolus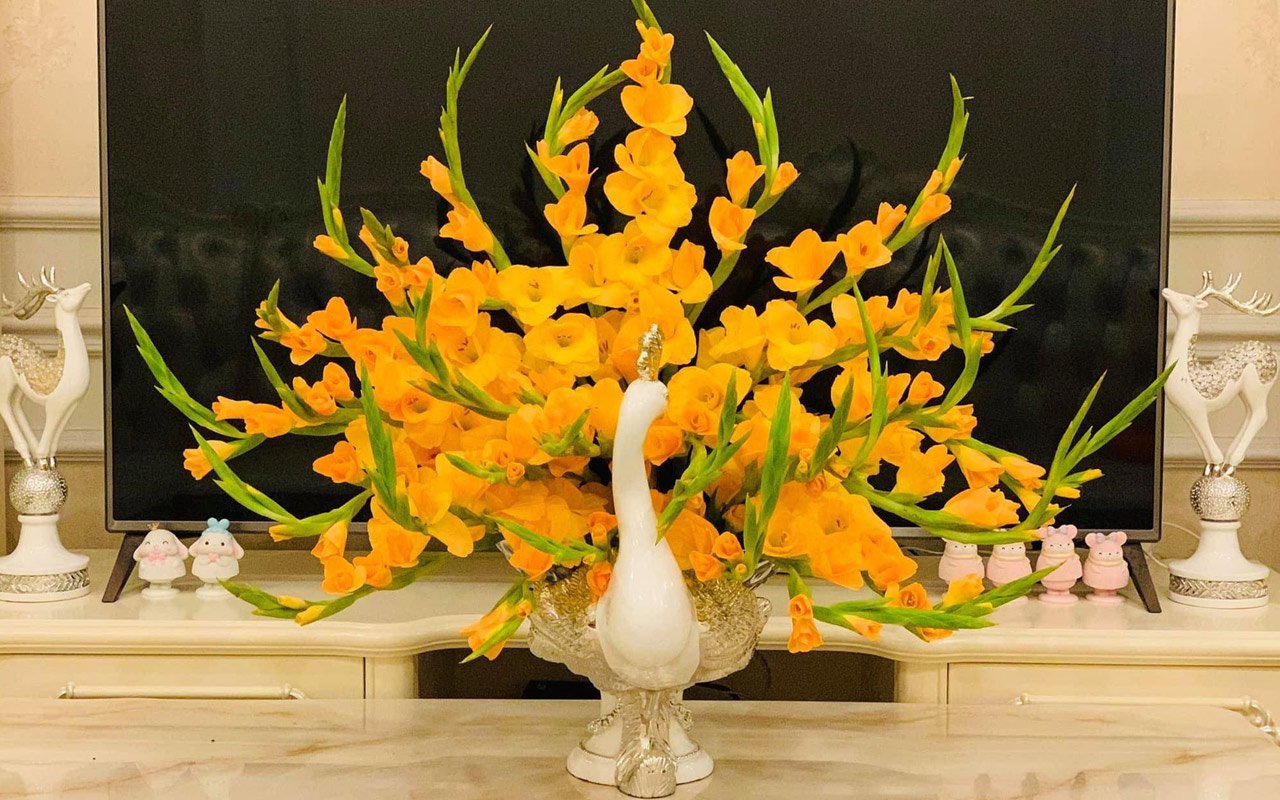 The color yellow gladiolus symbolizes joy, happiness, friendship, cheerfulness, and compassion. This flower is a great choice to send to someone who needs comfort or happiness. Gladiolus' purple color is symbolic of grace, mystery, and seduction.
Gladiolus is a genus of about 260 species of flowering plants in the iris family, and they are native to tropical and southern Africa, Asia, and Europe.

Gladiolus in Vietnamese is "hoa Lay Ơn" or "hoa Dơn". It is a popular flower in Vietnam and is often given as a gift to express love, appreciation, and respect. It is also a popular choice for Tet decorations.

Here are some other interesting facts about gladiolus in Vietnam:

The Vietnamese word for gladiolus, "hoa lay ơn", literally means "flower of gratitude". This is because gladiolus flowers are often given as a token of appreciation.
The Vietnamese word "lay ơn" means "to ask for a favor". This is because the shape of the gladiolus flower is said to resemble a sword, which was often used to ask for favors in ancient times.
Gladiolus flowers are also associated with love and romance. Gladiolus is a popular flower in Vietnam for weddings. The flowers are often used to decorate the wedding venue and are also given as gifts to the bride and groom. In Vietnam, it is not uncommon to see couples exchanging gladiolus flowers on Valentine's Day or other special occasions.
Gladiolus flowers are a popular choice for Tet decorations because they are associated with good luck and prosperity. In Vietnam, it is believed that gladiolus flowers can bring good fortune to the home.
During Tet, Vietnamese also choose Gladiolus flowers (also known as Don flowers). This flower is believed to bring good fortune and prosperity. Gladiolus, also known in feng shui as the sword orchid is believed to exorcise evils and banish bad omens.
Gladiolus flowers are also long-lasting and can be left alone for many years without needing to be tended. These flowers will last until Tet so you can make your home stand out.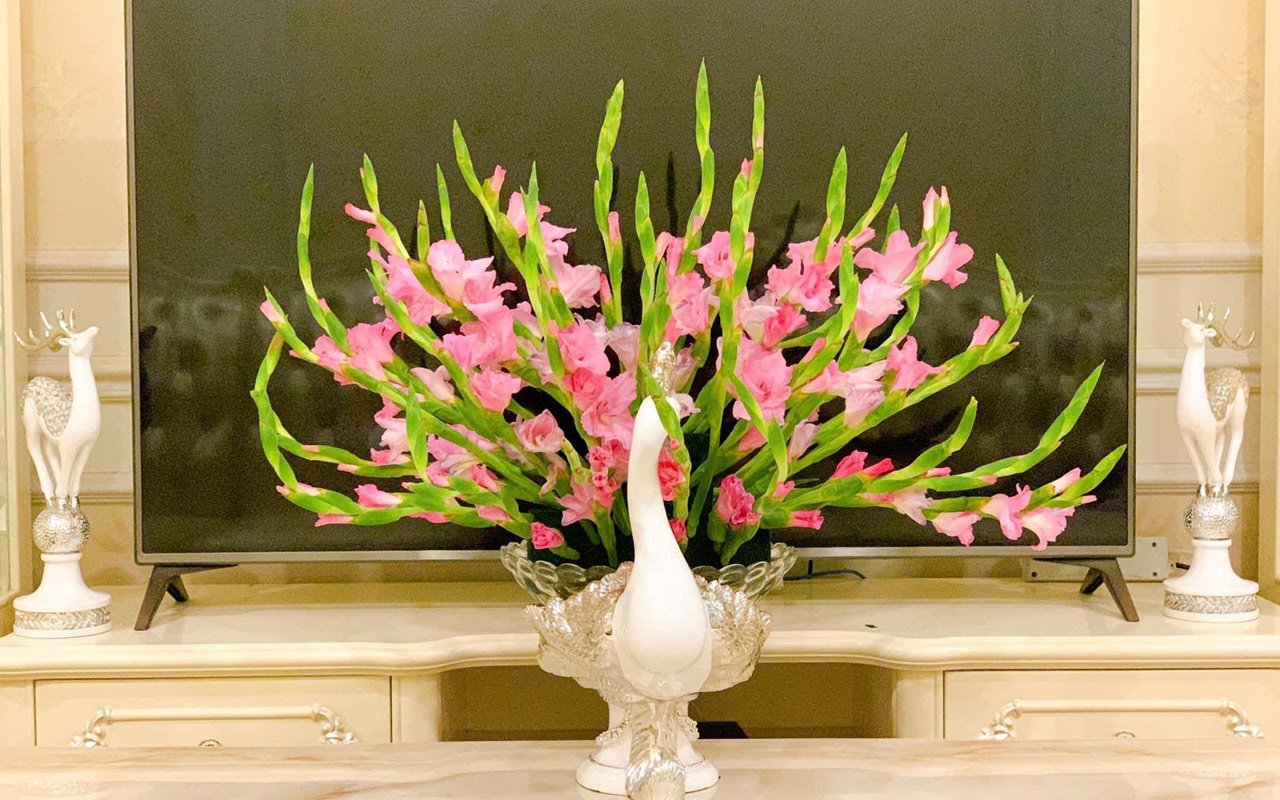 Flowers are loved for their colors, textures, shapes, and scents. We believe flowers have good meanings, and that they bring us happiness, luckiness, and blessings.
All Vietnamese arrange flowers and plants for the largest festival in Vietnam. This is a way to brighten up their homes and bring in a new year.
There are many species that can be grown and sold at Tet, including the Transvaal daisy and marigold.
These are the Vietnamese New Year's Day flowers and plants that you can plant to bring luck and fortune into your home. You can save and choose the right plants to decorate your home in the first days. Follow HuyHoa.Net for the latest information
Frequently Asked Questions
What flowers are used for Tet?
Flowers for Tet often have a clear distinction between the two northern and southern Vietnam. While in North Vietnam, the peach blossom is the flower symbolizing the traditional Tet holiday, in South Vietnam, the apricot blossom is the typical flower for Tet.
The blossom, also known as Yellow Mai Flower (Hoa Mai), is the symbol of spring. Hoa Mai, a southern Vietnamese plant, is one of the first to bloom during the Tet holidays.
They are therefore regarded as Tet's embodiment. The Vietnamese believe that the yellow color represents wealth, hope, and noble roots. Hoa Mai is also believed to bring wealth and good fortune into the new year by the Vietnamese.
Five petals signify five blessings, which are peace and joy, longevity, convenience, happiness, and pleasure.
What does Tet mean?
Tet is the most significant Vietnamese celebration. This is a celebration to welcome the New Year based on the Vietnamese Lunar Calendar. The first day falls in January or February according to the Gregorian Calendar. This holiday is also the longest for locals and can last up to seven consecutive days.
What flowers do Vietnamese like?
The rose has quickly become the most popular flower in Vietnam. It has been used to decorate homes, weddings, and parties due to its beauty and a wide variety of meanings. For your girlfriend, red, pink, blue, and purple flowers are all acceptable. Friends are often gifted yellow roses. In Vietnam, it is important to have enough roses.
What is the most famous flower in Vietnam?
Vietnam's national flower is the lotus. The lotus is an integral part of Vietnamese culture. It can be seen at many cultural events. The lotus is a simple flower that looks like the Vietnamese. This flower is still one of the most beautiful in Vietnam.