From Hue city along the 1A National Highway , approximately 40km to Da Nang, Hai Van tunnel before you turn on the small road to Bach Ma National Park (White Horse National Park) located for both sides, about 3 km you will go forward to the main door into the garden.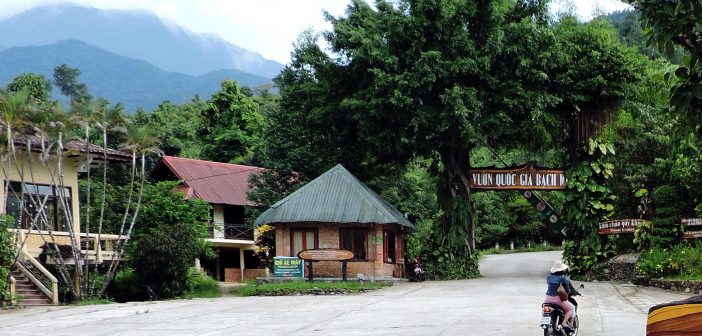 Bach Ma is a spectacular picture and dreaming is formed by high mountains the same message, the center strip of remaining only natural forest green in Vietnam and also the last part of the Northern Truong Son range stretching from the border of Vietnam – Laos to make the East Sea, including Bach Ma top high 1.450m comparison with sea level. With spectacular scenery, several high passes, waterfalls.
The climate is cool all year round, summer from 18 – 23oC and the rainy season lasts from September to January next year is considered to have the biggest rainfall in Vietnam, 8000mm/year. Temperature conditions this is why the early twentieth century, the French built many villas, hotels and roads to the mountain to turn the place into an ideal resort. In 1925, a project established the National Park Bach Ma – Hai Van to preserve species as white crested pheasant was submitted to the French Ministry of Colonies.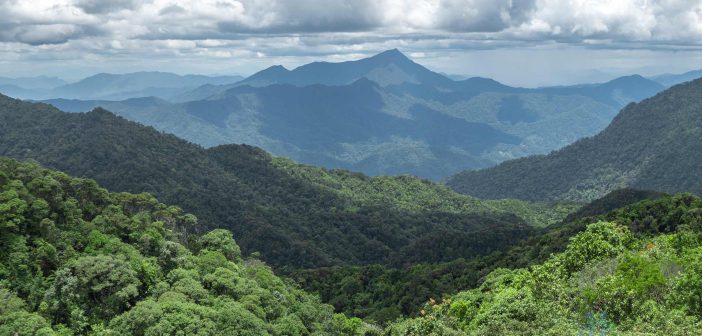 Until the early 1930s, France has built 139 villas, markets, post office and ran out to take a road of 1A National Highway. However, during the war years later, a large part of forest were devastated and works most villas only left traces in ruins. In 1988, forbidden forest, Bach Ma – Hai Van Pass was completed. Dated 15/7/1991, National Park Bach Ma was officially established with area 22.030ha.
Bach Ma forest is composed of two main forest types are evergreen forests rainy season in tropical land below 900m evergreen forest and tropical seasonal rain at elevations above 900m. The forest is home to thousands of the common residence of different plant and animal species, many species of special and rare. Scientists have listed 83 animals from the same animals are endangered to the new varieties of the world and Vietnam, such as tigers, gibbons, iridescent langurs, brown langurs, Sao La, bears horses, the clouded leopard, red monkey, copperhead …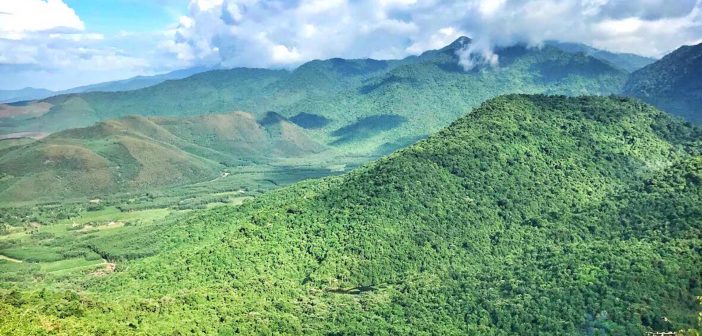 Bach Ma is a refuge for 333 species of birds, over 1/3 of the birds in Vietnam. Many beautiful and unusual birds such as nightingales and black throated laughing, fire magpie-robin, from chicken, white pheasant and white crested pheasant and pheasant 7 different species, including rare species such as stars pheasants.
Bach Ma National Park also 256 species of butterflies and many species of reptiles, amphibians, fish and insects including 68 species listed in Vietnam Red Book should be strictly protected. Many species of exotic insects such as rod beetles and unique body long bones, body color like twigs, green salamanders and swarms of colorful butterflies on flowers perched in rows on the wall moss green stone.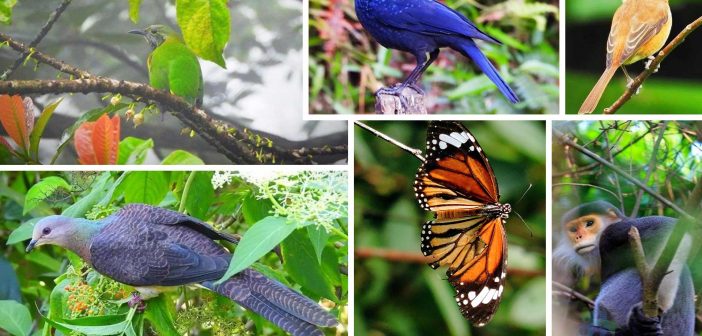 The scientists were listed 1406 species of plants here include the rare as aloe wood… and 338 species of trees can be used as Vietnam traditional medicine. Some medicinal plants have great economic value should be protected and propagated crops such as Vang Dang is used in treating malaria and jaundice; white arrowroot used as a tonic and cure back pain.
Some species was first discovered in the garden here was named Bach Ma wagtails. In the first period and last raining season, Bach Ma forest also colorful flowers of azaleas, curly wishers, vanilla orchids, tea yellow flower and the like fungi, lichens, ferns and have color bizarre shapes, rich …
Time to visit the most beautiful gardens in the year from March to September. After temporary rest stop in the center display and welcome visitors, you continue to take the 14km long winding roads leading to the top of the mountains of the Bach Ma, where the main guesthouse, built in the style ancient castle is named after the character of forest products.
From here, you may select more than one route to visit the region. Firstly Hai Vong Dai trail is about 1km from the parking to of Bach Ma top. From here you can observe the beauty of the whole forest of Bach Ma, Cau Hai lagoon, Chan May port and beach Canh Duong, Lang Co … Go down to about 2km from the summit by ramp through the tropical jungle, you visit the collection of hundreds of mountain orchids and other flowers.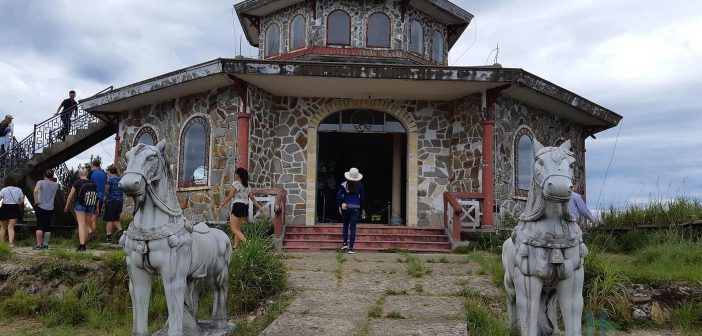 From where to stop, you can also follow the trail through the Ngu Lakes (Five Lake) through forests have many birds and butterflies to a series of five waterfalls and lakes in blue, calm, and if not enough time to go off this route, you can be separated along the azalea trail slopes gently to peak of Rhododendron waterfall with height of 300m, width of over 20m.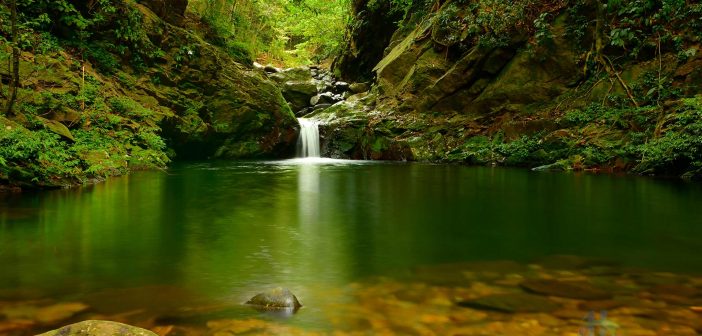 Want to see your birds, you follow the trail of more than 2km long ocellata, in addition to enjoying the forest and the lake is clear, you will find this area is home to pheasants and birds and pigs, deer, copperhead.
From the hostel down the road 3km by car, you can turn to black Parashorea trail, a distance of only a half mile but very steep and difficult, you will be surprised to see firsthand many ancient trees towering over 30 meters and 1 meter in diameter are gathered close together san …
The tourists love of agriculture can choose to park in the village of Khe Su to learn about the farming life of local residents, and end the trip will stop at the beautiful waterfalls and streams, such as Thuy Dien, Da Dung used for camping and swimming delight.
After the jungle, over waterfalls, sightseeing, tourists can go back four motels in the area of Do Quyen peak, Sao La, Kim Giao and White Horse and down the other motels in the reception area of the Hue travel companies such as Phong Lan (Orchid), Cam Tu (hydrangeas), Hoang Yen (canary) …
The rooms here are comfortable, some rooms are also designed for families and groups with external works. In particular, visitors who love nature can rent the camp for 2 people or 6 people to camp overnight at the Thong Nang beach, enjoy the cool mist of the mountains and listening to the heart of the wild animals of through the forest wind whisper…
Official website of Bach Ma National Park: https://bachmapark.com.vn/index.php