Unlike the architecture of old town – close together tubular houses, always bustling buyer and seller, Ly Thuong Kiet street in the "staff" west neighborhood. Fit in the heart of town has many hotels, restaurants, bars and coffee houses including, small villas designed by architecture in Europe.
Hanoi people and tourists love this street not only in looks and quiet location near the center but also because of the attractive address for leisure and recreation: Pho Cafe, Lan Vien, Tonkin, New Window, Palomar … This street also mentioned with many restaurants specializing in Thai food, delicious and popular prices not expensive.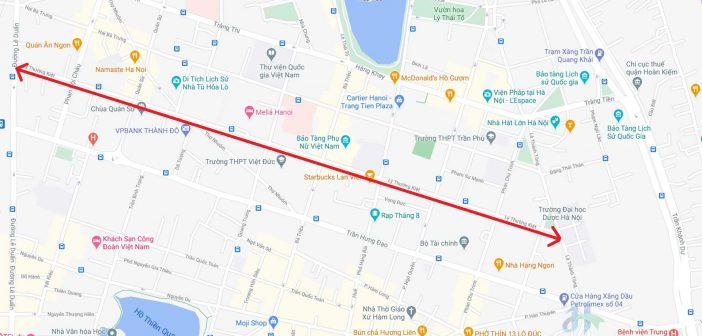 The street is named Vietnamese grand duke Ly Thuong Kiet, one of the preeminent military hero of Vietnam country. Ly Thuong Kiet which surname: Ngo, name : Tuan, who in the village of An Xa, Quang Duc district (The Xa, Gia Lam – Hanoi), son of Ngo An Ngu- general of the army. Later, his family to live in the ward Thai Hoa (Hanoi).
You may also like:

Hang Buom Street – A Mall In The Hanoi Old Quarter Area

Ma May Street – Stamp of Hanoi Old Quarter

Hang Giay Street – A Corner of Thang Long, Hanoi
All through his lifetime, Ngo Tuan was handsome, smart and fast. As a child of military leader, Ngo Tuan like martial arts career and vocational martial. Daily Ngo Tuan often train bow and sword, hold manoeuvre, night lights read art of war then he was early become famous
In 1036, Tuan Ngo is 18 years old, his mother died. Ngo Tuan bury with all the ceremonies follow period. People praise him was very filial.
After come out of morning, Ngo Tuan was promoted Officer cavalry that a small mandarin. In 1041, at age 23, Ngo Tuan was added imperial guard. When King Ly Thanh Tong to the throne, Ngo Tuan was leaving the positions of the internal temple and offer help to the king at court.
Tong in 1069, Ly Thanh Tong attacked Champa to the south still peace. He was appointed pioneer, established the large merit, King appointed Khai Quoc Cong for the reason that they named Ly then his name: Ly Thuong Kiet.
At that time in China, Tong dynasty had confused , Chancellor Vuong An Thach had many reforms, but no results. King of Tong Dynasty would find to escape by invasion Dai Viet. When Tong dynasty prepare the invasion Dai Viet, at talks with the high-ranking madarin,, he was the first nation in history dare set out: "Sit still waiting for the enemy I bring before military review to block the enemy's key" .
That is the basis of the strategy "the first hand, control the enemy". He looked provident, restore united bloc in court, suggested Linh Nhan Thai Hau to call Ly Dao Thanh entrust first of the prince, talk keeping the country together. Keep quiet inside the internal preparation of resistance against foreign states.
In 1075 he brought 10 million army divided into two army attacked Tong dynasty. The first army by Ton Dan (second in command) command, including army of the ethnic Than Canh Phuc, Vi Thu An, Hoang Kim Man … leading, attack directly into the Ung Chau (Nanning – China) by road. The second army he commanded directly, by sea landed in Kham Chau, Chau Liem (Quang Dong).
When he came Tong's land, he wrote "Phat Tong lo bo van" the reason of his military operations are crushed to prepare the invasion of the Tong dynasty and help people escape the Vuong An Thach and court of Tong dynasty caused. He also ordered the troops not to "needle and thread" of the people. As a result, wherever his army, enemy troops were defeat. Hoa Nam people called him "Father with Ly last name". Vietnamese troops entered the Ung Chau citadel and after some time the siege was lower. Realize the operations has seen the results, he ordered the withdrawal, preparation against invaders.
In 1077, 30 ten thousand Tong troops by Quach Quy command to Vietnam. He set up defense line Nhu Nguyet (Cau river) to block the enemy and defeat enemy forces in marine of Quang Ninh. Road troop by Quach Quy stopped when they came to Nhu Nguyet. Many fierce battle occurred. Tong army is not the enemy line, created the camp waiting reinforcements.
Night, Ly Thuong Kiet to the Truong Hong, Truong Hat temple in the south of Nhu Nguyet, feign gods read the poem, later regarded as "The first declaration of Independence" of Vietnam:
River and mountain of South King then he live
Evidence in the heaven book
Why enemy excuse to violate
We will be to attack down
Thus the spirit of soldiers more eager. Opportunities to, he organized a battle of the war, crossing the river attacked enemy in the camp. More than half of the enemy forces destroyed. Next, he gave messenger for peace, paving the way for the enemy out. Quach Quy agree and rush to withdrawal. t. After the victory, Ly Thuong Kiet concern the internal political, renovation of dykes, roads, modify administrative apparatus in the country. King Ly received him as foster brother to look after the citadel.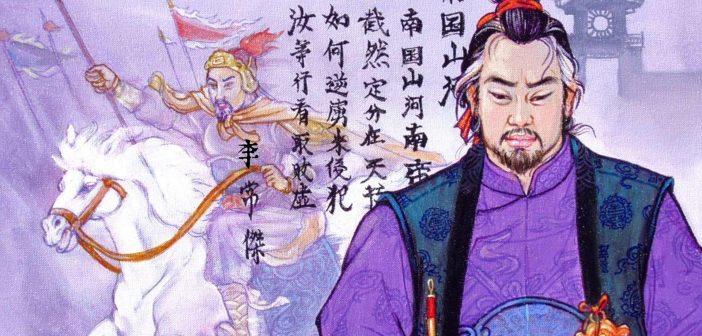 His last years, he held military Ly Giac in Dien Chau (1103), destroyed Chiem army in Bo Chinh (1104), reorganized the military apparatus, approval was banned from imperial guard to militia.
With brilliant his merit, Ly Thuong Kiet been the Ly dynasty valued. He is history recorded preeminent hero, a man devoted soul energy for career independence of our country in the early sessions of autonomy. Recorded history, until Captain Thai Ly Thuong Kiet was 86 years old, with great prestige, he held up the horse and victory in Chiem battle keep safety country . A year later, he was seriously ill and died, aged 87. It was in 1105.
Currently, the country is, in addition to Thai shrine in the village Captain Ly Thuong Kiet Ngo Xa, Ha Trung district, Thanh Hoa, also has his temple in Kim Bang, Nam Ha. in Hanoi, he also founded the people set up temple in three places. The first is Co Xa hamlet, now in the No. 4 Nguyen Huy Tu street, the second is temple 120 Hang Bong street, and three are at 63 Nam Dong street.
Map of Ly Thuong Kiet Street: Lý Thường Kiệt – Google Maps