In the past, Ho Guom Lake was variously named "Luc Thuy Lake", "Thuy Quan Lake", "Hoan Kiem". Comes to Ho Guom (Hoan Kiem Lake) culture, we also can not speak to the school's first private university in the early 19th century has created an unprecedented culture around Hoan Kiem Lake area.
In 1791 – 1854, An Pham Pham Hoi was established Private University Pyramid Village, students have up to several hundred people (now No. 3 Hang Trong street).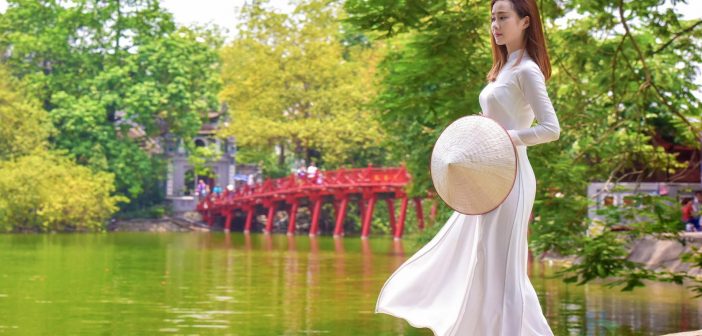 Around 1835, Dr. Vu Tong Phan founded the Ho Dinh school in the campus of housing, under the shade trees (in the Nhan Dan editorial today). In Huong exam in 1837, out of 35 who passed BA, Ho Dinh school had 6 people. Among students of the instrument is made to the head of court.
Mid 19th century in the north and south ends of Hoan Kiem Lake appears set two more famous universities. In Kim Co ward had Kim Co school (now the 12 Hang Bong street). In Vu Thach ward had of Mr Vu Duc Nguyen Duc Huy (now No. 7 Trang Thi street).
Around 1854, the Phuong Dinh School appeared, belong Dung Tho ward (now number 12-14 Nguyen Sieu street) is home to the "Than Sieu". He was a close friend of Cao Ba Quat and contemporary religious people are called "Than Sieu – Thanh Quat"(Sieu deity- Quat saint).
The same studies also show your pen Le Duy Trung, Ngo The Vinh, Vu Phan and Nguyen Van Sieu same school as disciples of Pham Quy Thich, respectively all passed the doctoral degree.
In 1885, the first electric street car was unveiled at the shores of Ho Guom Lake and carriages running on rails through the drag of the three donkeys from Bo Ho (popular name of Ho Guom Lake area) to the Cua Nam.
In 1884, the French government began building programs around the western town next Ho Guom Lake area. The projects are springing up, fundamental changes in the landscape around Ho Guom area.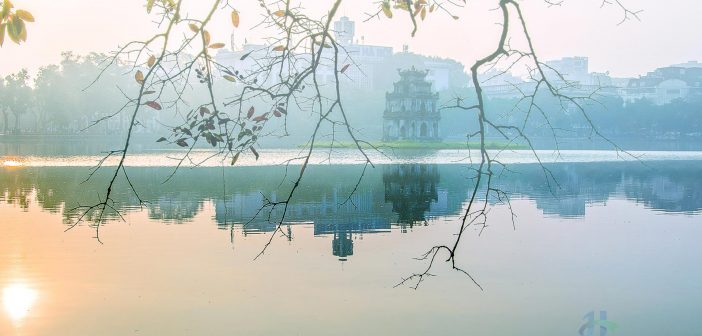 Talk to Ho Guom Lake is also said to not forget great and oid trees are not always clear since no one knows the history, age it is, but when Dr. Vu Tong Phan founded Truong Dinh school in 1835, it has horns as a witness of history, how events witnessed changes of dynasties past. These trees are still there in the People's Newspaper
Ho Guom Lake beautiful and sacred, but history rarely choose to save the poetic scenes posterity. But modern history to have a special page on the Lake from 1954 to 1960 years when the two region didn't reunite.
Ho Guom Lake at that time, with a very kind call Hanoi that Bo Ho – has suddenly become extraordinarily busy on Lunar New Year's Eve and all of Saturday afternoon, all day Sunday. Who first emigrated in 1954. No one told anyone, those who find their way down to the area 300 days in of Hai Phong will visit Hanoi, then just release. Family, friends, teachers and students are separated hopefully find each other on the banks of Hoan Kiem Lake.
No appointment which should, Bo Ho that place can meet the last of the separation by history that no one is selected. Disturbance waves of Bo Ho before the capital was liberated only three exciting – four months after the Geneva accords, came after some day people link the South to the North gather. Between 2 area a swallow does not fly. The train from Ca Mau, from Quy Nhon and elsewhere, South to the North is separated each place across the North.
Correspondence, telephone conversation back then was a luxury, find each other, visit, news from the members of separated families in the South than the North extremely difficult. Only one opportunity is most likely to Hanoi, Saturday afternoon and all day Sunday to raise hopes of finding each other, picked up the littleprivate house.
Relatives throng walking around Bo Ho not once but many times all day, walk and smoke or sucking cream, may have the opportunity to meet acquaintances. This meeting means that naturally, it was born by emotional family home deep in the heart of every Vietnamese, long days turned into a market sentiment around Ho Guom Lake.
If you ever stroll around Bo Ho on Sunday that the firm can not forget the call, the hug, the tears of the Bo Ho, between the Southern of people capital openness and rich emotion. There were things happening around Lake as the only new novel. A young man on board Hanoi southward late in 1945, until 10 years later the same unit assembled in the North.
Find old home is no trace. Place each cut his umbilical cord is now in place for several families in residence. Not a scrap, not a current address. He was stationed in Son Tay should win every week just to Hanoi once and only do one thing only a stroll around Ho Guom off to the next round as lantern. Then heaven also have eyes.
He met old mother, grandmother also heard people tell a cane to walk lake may have been a son. Many couples love each other, father, mother or sisters, neighbors gathered once, but not prior to the next round. They "lost" in the heart of the North is a busy large percentage of the next ten thousand years of war … Again, Bo Ho was a witness of history that painful sorrow of the nation divided.
The Ha Noi or anyone, including foreigners who had lived some time in Hanoi is probably difficult to forget the shores of lake in Eve. Each of the Vietnamese was "eating" some seven decades the festival somewhere on earth, would you go for a Bo Ho in Eve.
Because, forgetting how cold the air was a little drizzle, rain types heard only in the North of Vietnam should have a new French word to call it "le crachin Tonkinois (Tonkin dust rain), rain does not rain.