For a century, the coffee flavor has fascinated both Hanoi. First drink brown color and bitter exist everywhere, from the Old Quarter to the new urban areas. Hanoi Coffee has become a particular culture in Hanoi.
Turbulent history, the French brought coffee to Vietnam in the late nineteenth century and appear in Saigon in 1864. In the heart of Hanoi, coffee available in 1883 with the famous coffee brand Cafe du Commerce, Cafede Paris, Albin Cafe, Cafe de la Place, Cafe de Beira. At the same reception from the French, but the Hanoi and Saigon have a difference in the way of enjoying these drinks.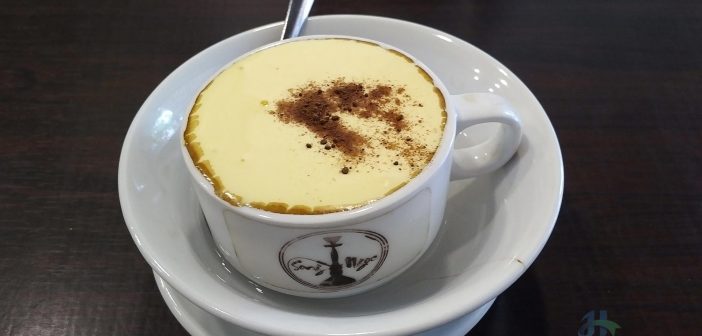 The Saigon consider coffee as a mass drink , bars, accompany with the breakfast. Saigon cafe enjoying is usually available, relatively washy, put in sugar a lot, for frothy resurfacing and drink together with crushed ice, drinking is bitter less but the sweetness is much. The Hanoi's enjoy coffee more sophisticated, they drink coffee in a unique way to create a coffee culture of its own.
Coffee bean were imported and then automatically processed, roasted, grind and make coffee by filter. Each shop has these tips for its own skill to create a fragrance, flavor characteristics. In Hanoi, one to the cafe is not simply drink before embarking on the task but also to interact and meet.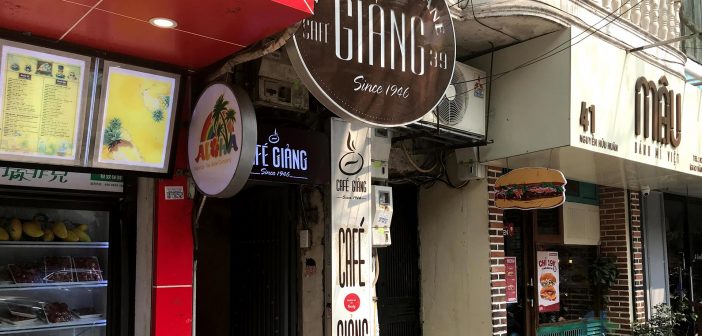 As time and years, coffee in Hanoi has many changes, both in terms of "style" and enjoy. Many new shops appear, there are shops increase to crowded and spread and other shops, the brand gradually faded away and lost customers. Hanoi before coffee is famous for both Nhan and Giang, after are names such as Lam coffee, Mai coffee, Nang coffee and Thai coffee, Tho coffee. These are the most coffee shops with dozens of years. Most of these shops are in old houses, Old Quarter with fade walls, roof moss.
Lam coffee in Nguyen Huu Huan street is known for coffee shop that owners here are selected and combined special characteristics of each type of coffee to create distinct acidity, bitter, tastily rich. Lam is also known by the four walls in the bar is congested with the paintings of the artist known as Bui Xuan Phai, To Ngoc Van, Duong Bich Lien, Vo Tu Nghiem, Nguyen Hong, Nguyen Sang…
I heard is anecdotal that the former is just a wagon to sell coffee to people artists, the artists have no money to pay the coffee … donated paintings, your boss is also happy to receive artist paintings instead of money. Today, coffee shops throughout the capital to expand with the rich brands, diverse, such as Trung Nguyen, Highland, My Way, Ciao.
The shops also diversified dishes out drinks with coffee such as vitamins, juice, tea, fruit juice, the slightly dry foods. Even to attract visitors, it also serves breakfast, lunch, fast food, and equipped with both Wi-Fi, billiards, karaoke. Effect of coffee is also designed in a variety of "styles" ranging from noisy style, popular, to quiet, romantic, soft and luxurious style, gaudy, ostentatious. And most often use custom music with classical tunes, the music jazz, country, pre-war, no word on the saxophone, guitar, violin … done in part to attract customers.
Here, one can sit quietly, relaxed conversation, sipping a cup of coffee bitter mix sweet. One very interesting thing is the coffee flavor in Hanoi separately for each spring, summer, autumn and winter. Early winter, sitting sidewalk sipping hot black coffee the feel at ease before cold air of the monsoon.
Summer evening, sitting in the heart of Old Quarter held leisurely coffee spoons which pick carefully, so that all the air in the milk underneath black coffee on top. Milk flowers season, cool air in the early morning , quiet, sitting on the sidewalk Le Van Huu street or Nguyen Du, Trieu Viet Vuong, Ngoc Khanh … sipping a small sip of "brown ice", all the sudden substance water was sweeter, more aromatic.