The flower villages in Hanoi with beautiful flower fields and many elaborately staged artificial scenes make the West Lake flower valley, Nhat Tan peach garden … become favorite photography locations of many people, especially when the new year is approaching.
Nhat Tan Peach Garden – The most famous flower village in Hanoi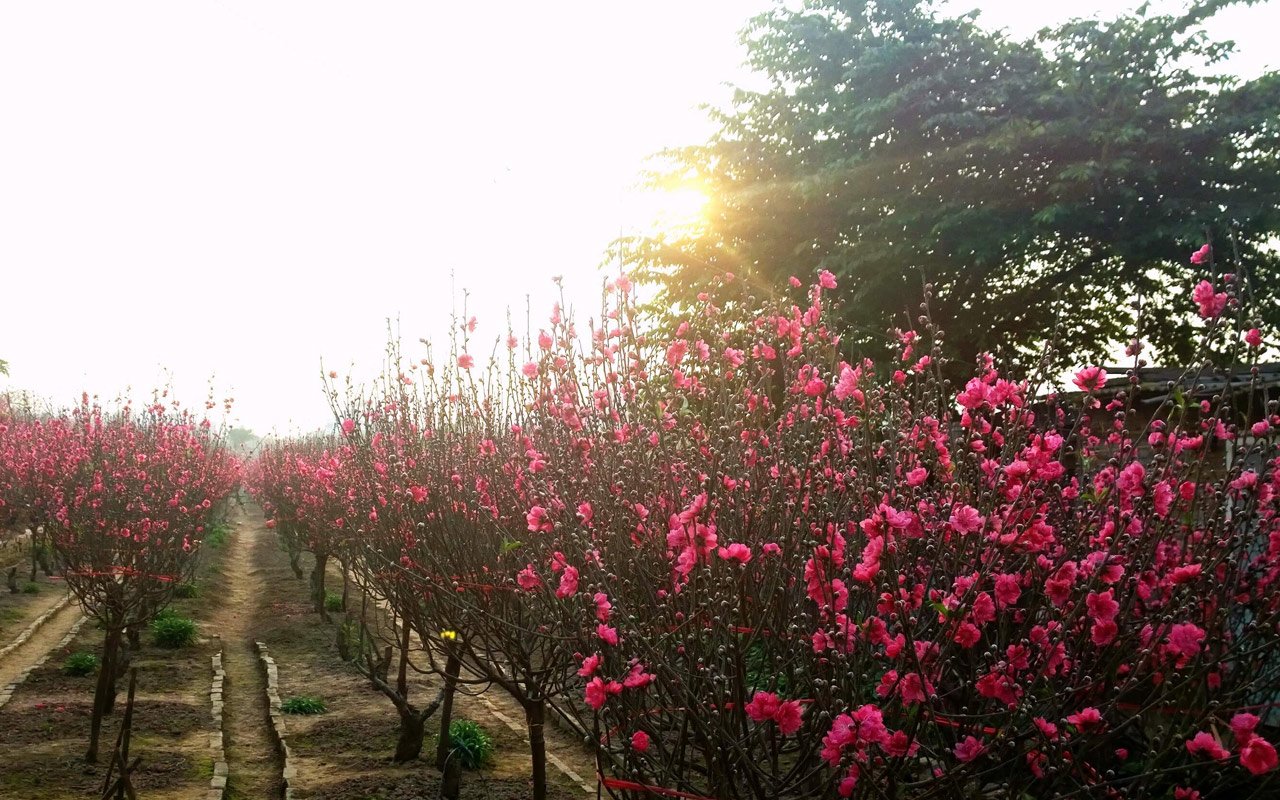 On the occasion of Tet, when the weather in Hanoi becomes chilly, the Nhat Tan peach garden becomes bustling again and stands out with its peach blossom fields. Many people choose Nhat Tan Peach Garden in Hanoi to capture pictures of Tet.
Many young people and their families flock to Nhat Tan Peach Garden to take beautiful photos. People feel Tet is very near when they see people in Ao Dai carrying lanterns, Lucky Money, and Red Envelopes as they pose in a happy atmosphere.
Peach blossom is not the only thing that grows here. There are also many other bright flowers like roses, chrysanthemums, and butterfly flowers, as well as fancy ornamental plants.
Nhat Tan's flower garden has many backgrounds, including swings, bridges across the lake, and flower gates. These are all available for the virtual living needs of photographers. The entry fee for flower gardens is between 30,000 and 50,000 VND per person, depending on when you visit.
You can travel by car or motorbike to Peach garden on many roads. However, you can take Au Co street and turn it into Lane 124 (inside dike). Continue straight until you reach the slope. Turn left and continue for about 1km to Nhat Tan peach gardens.
You can pick a specific garden from the large peach garden. Photographers should always ask permission from the garden owners before taking photos. Some gardens may charge a fee.
Continue on the road, turn left and pass through a banana plant. You will reach the Red River rock. The Red River Rock Beach has been transformed into a tourist attraction. However, it is now subject to a ticket collection. To ensure safety, do not get too close to the beach's edge. This is because the area could be submerged by sand.
There are many buses that go to Nhat Tan Peach Garden. Simply stop at Anh Tri florist and continue as above. You may be able to walk in faster if you have been able to go down 2 points after Anh Tri supermarket. Ask your friends and family who are riding along. For more detailed instructions, you can ask the assistant or bus driver.
Tay Tuu Flower Village is the oldest flower village in Hanoi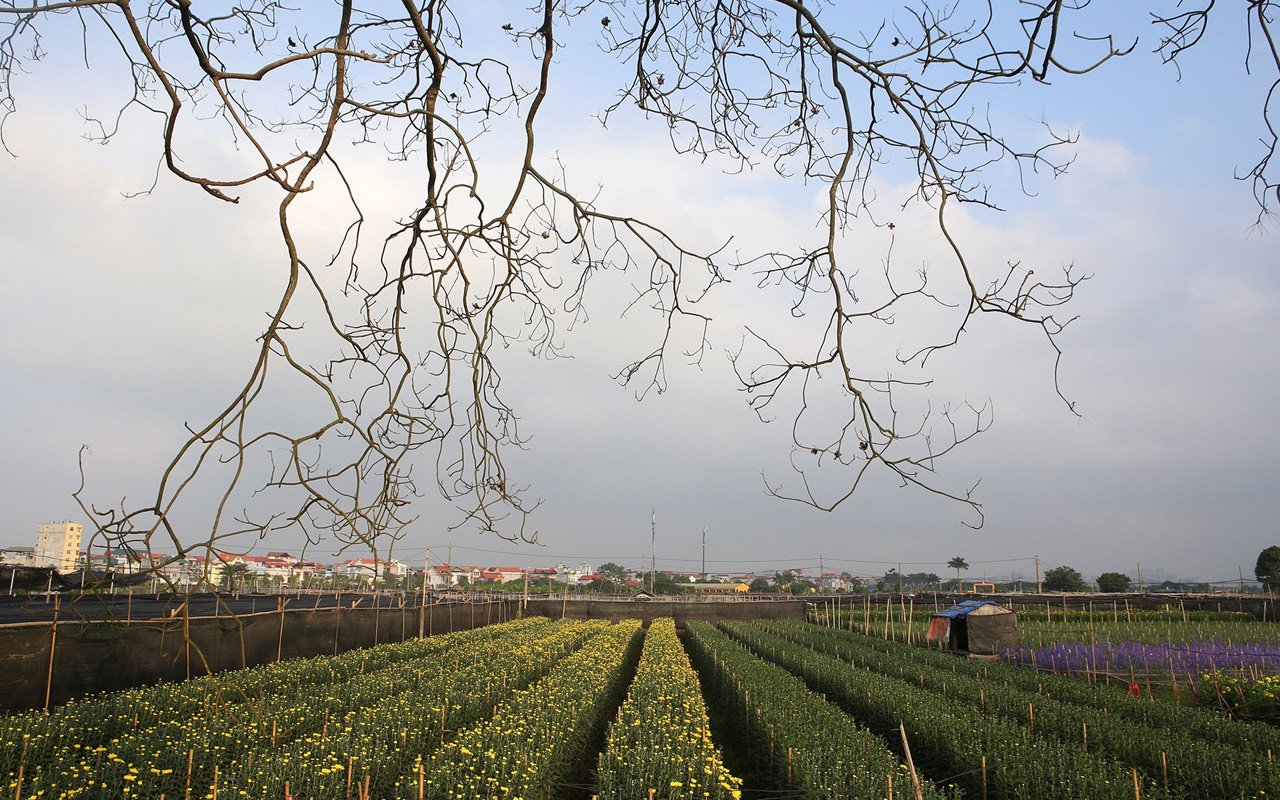 Tay Tuu flower town is located approximately 15km from Hanoi. On weekends, it's often packed with tourists. Fields of purple and brilliant yellow daisies can be found on both sides of this road.
Tay Tuu Flower Village is located in Tu Liem District. It can be considered the oldest of the Hanoi suburb villages. This place supplies flowers regularly to the Capital, especially in the New Year.
Around 10 years ago, flowers were most commonly grown in the area. These included gerbera and lily, lily, etc., as well as fragrant roses and rosemary. …
The village market sells flowers, or the villagers bring them into the Quang Ba wholesale market to be sold. Tay Tuu flowers are very cheap, with the exception of the Tet holidays when they cost only a few thousand per dozen.
The village also has wintergreen vegetables.
There are no decorative backgrounds or accessories like in other flower villages in Hanoi. However, Tay Tuu flower Village has many flowers, including daisies and roses. This background is perfect for taking beautiful natural photos.
Me Linh Flower Village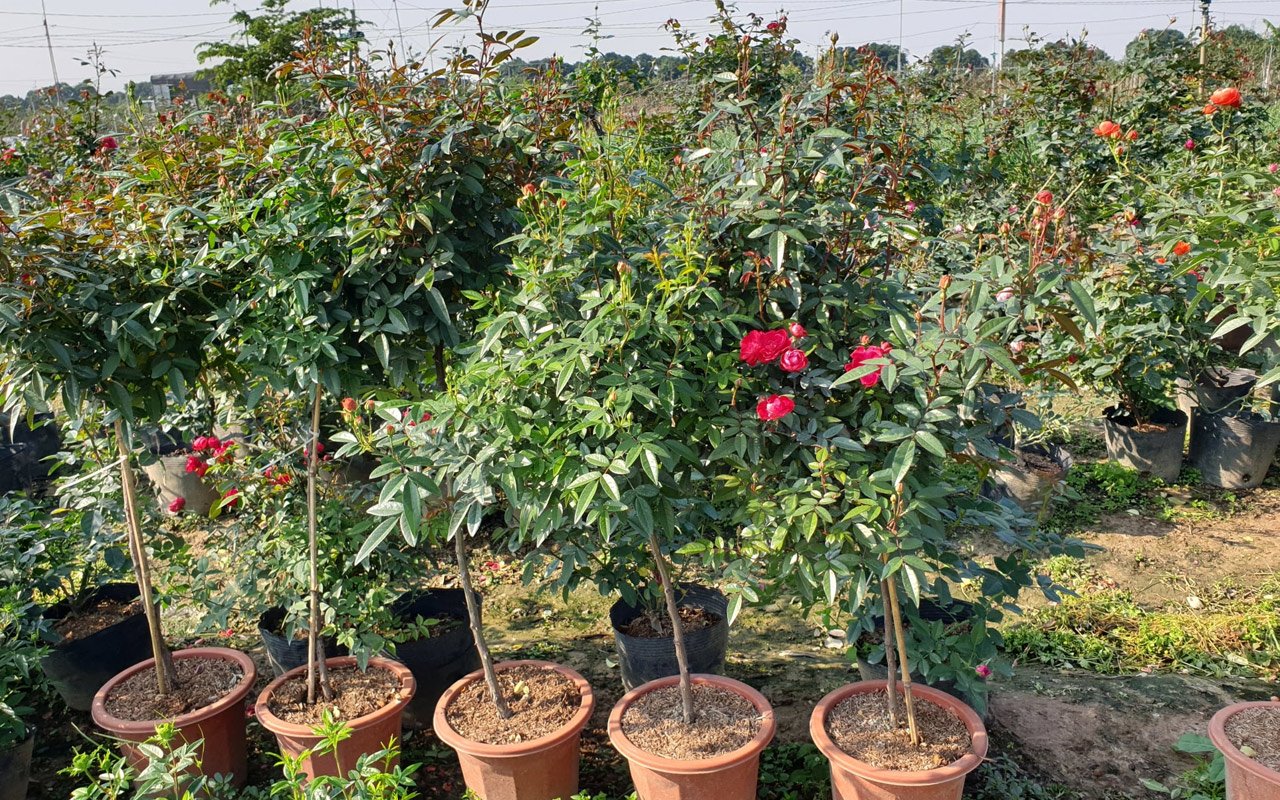 The village is 30km away from the city and near Noi Bai airport. The flower village is more than 10 years old and can be found in the following communes: Trang Viet; Van Khe; Me Linh; Tien Phong; Thanh Lam…
Me Linh village is similar to Tay Tuu's flower village. It grows many flowers, including daisies and red roses as well as white roses and gladiolus. Many new rose varieties have been introduced in recent years. Pilot planting, such as French roses and Dutch roses or Chinese roses has created a variety of flower types.
Me Linh Flower Village covers an area of approximately 200 hectares. Me Linh is a popular destination for flower-loving tourists because of its fresh air, suburban peace, and friendly locals.
Me Linh not only supplies flowers to Hanoi but also exports its flowers to other countries.
The night of frosty weather brings beauty to Me Linh's flower garden. There are hundreds of electric lights scattered throughout the field creating an extraordinary scene. Warm bulbs for rosebuds. On the occasion of Lunar New Year, flowers will bloom
The best time to visit the garden is between December and March according to the solar calendar. This is when hundreds of thousands of flowers are in full bloom in preparation for the Tet season and holidays in March and February.
Me Linh flower village can be found about 30km from Hanoi. You can take bus number 07, or ride a motorcycle in the direction of Noi Bai airport via Thang Long bridge. Turn right at Thang Long industrial park entrance, and continue for about 5 km.
Ngoc Ha Flower Village is the largest Hanoi flower community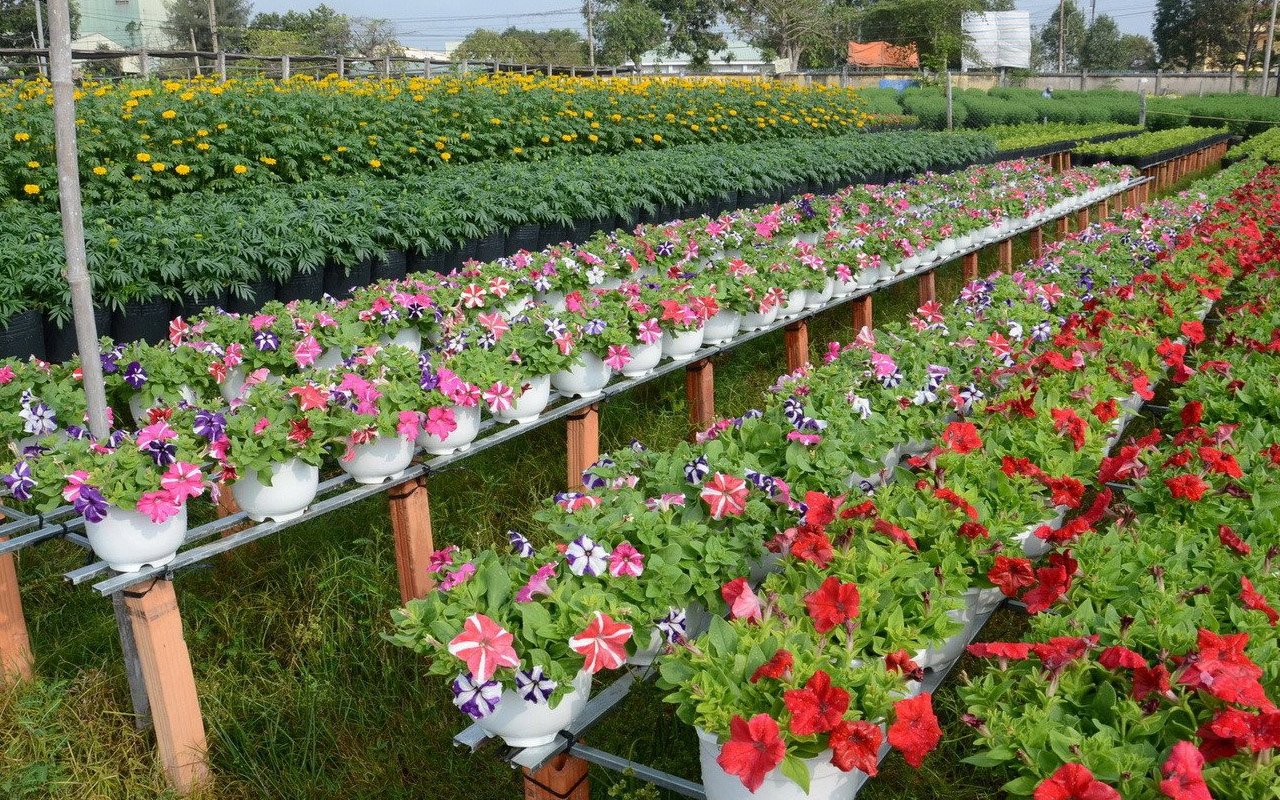 Ngoc Ha village is the name of the area where flowers are grown. Ngoc Ha was the most well-known flower village in Hanoi during the French colonial period.
Historical records show that Ngoc Ha was founded right in the royal garden of royal palaces, just south of West Lake. The late king of the Ly dynasty. The Ngu Ha stream that flows through the Ngu Uyen region was given the name by the ancients, and the village Ngoc Ha was named after it.
Tran Nguyen bo, a veteran flower grower, stated that Ngoc Ha people used to grow beautiful flowers to supply the country's connoisseurs. After passing Ngoc Ha's communal house, each house was filled up with fresh flowers.
Peaches here are not grown like Nghi Tam or Quang Ba or Nhat Tan. They grow flowers all year, every month. You can get lost in Ngoc Ha's "land of flowers", with thousands upon thousands of colors like roses, chrysanthemums, and orchids as well as jasmine, as well as rare and unusual old things such pansy, gladiolus, or violin. Carnations…
No matter if you are on the main road, or one of the branches of the herringbone village road, flowers can be found everywhere.
Nghi Tam Flower Village- This flower village in Hanoi is steeped in tradition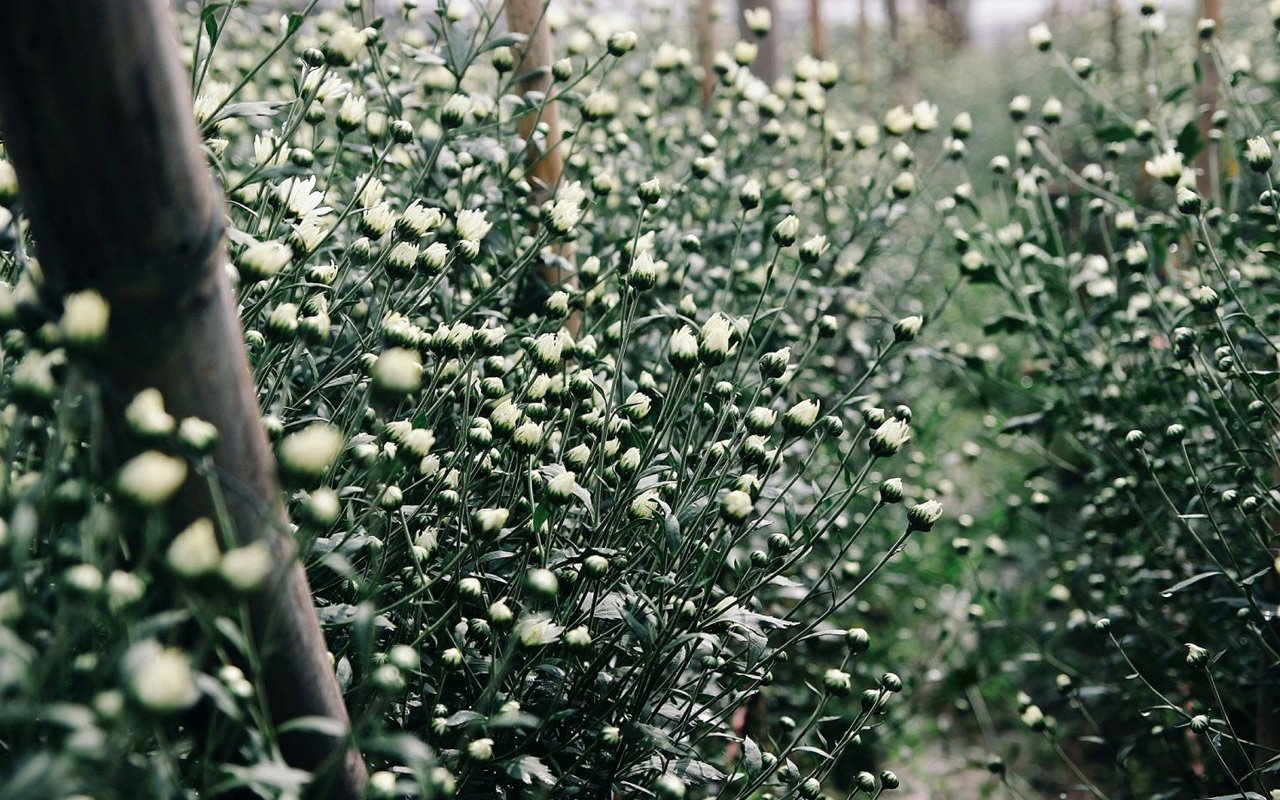 The long history of Nghi Tam's floriculture is a testament to its success. There are many types of flowers in Nghi Tam, but the most well-known is the chrysanthemum. The Chrysanthemum flower is beautiful and can be grown in pots or pots and bowls. There are three types of chrysanthemum: single wing, two wings, rich and colorful.
Particularly, chrysanthemum has the most species of flowers, including Cuc Chau Sa, Cuc Bach Tho Mi, pink lagoon and golden pyramid, crane spirit, marigold, and chrysanthemum. People call it that because they know how people refer to it. It was once called by people by the shapes and colors of the flowers, such as large yellow daisies and small yellow daisies. Brocade chrysanthemums and white daisies were the most common. However, Nghi Tam floriculture is well-known for its Camellia trees, a rare and difficult to grow flower.
The famed Nghi Tam ornamental and flower plant, also known as the Nghi Tam flower, is not limited to Hanoi. It can be found throughout South and North Vietnam. The flower village gets crowded when spring arrives. Every garden is full of flowers. The smiles of sisters and women were bright with joy.
Nghi Tam, in particular, is developing the professions of bonsai, ornamental fish raising, and planting trees.
Phu Thuong Flower Village
Phu Thuong Ward (Tay Ho) is located approximately 4km west of the Hanoi capital. It is known for its peach cultivation. Phu Thuong ward, which includes 3 villages, Phu Gia Thuy, Thuong Thuy, and Phu Xa, is well-known for its many occupations. These include growing gladiolus flowers, planting peaches, cooking sticky rice, making sticky wine, floating cakes, and rice cakes.
The best part is still peach planting. A large digging area of up to 116.7 hectares. It has been reduced by 20 hectares for the Nhat Tan bridge construction project. However, the artisans take care of it and transmit the information. Digging Phu Thuong is a well-known and highly respected profession.
We learn more about Phu Thuong and Hanoi's flower villages by visiting Phu Thuong during spring. This attracts a lot of tourists who choose to purchase peaches every Tet holiday. Peaches can be purchased not only in Hanoi or the surrounding areas but also from the South.
Lien Mac Flower Village
Lien Mac flower village can be found approximately 2km from Thang Long bridge. The Lien Mac people used to live primarily by farming and husbandry in the past. Lien Mac was a village that made flowers and ornamental plants, as well as growing delicious pomelos, a few years back. Although there are many flowers that can be grown in this area, the most popular and most beautiful are the chrysanthemums.
Each year, people from the capital invite one another to Lien Mac for fresh fruits and to celebrate spring. Young people can also visit this new address to take photos, save precious moments and make beautiful memories.
Tay Tuu is located next to Lien Mac. This flower village has been around for many years and is home to all types of flowers, including pink, lily, and lily as well as gladiolus, chrysanthemums, chrysanthemums, dahlia, gladiolus, gladiolus, chrysanthemums, chrysanthemums, chrysanthemums, and gladiolus. It's the main source for Hanoi'santhemum. The flowers grown here are much more affordable than those in other flower villages in Hanoi.
Tu Lien Flower Village
You will find Tu Lien, a large flower village on the banks of the Red River, in the middle of Hanoi. It is located approximately 2km past Yen Phu Gate. Despite being under the pressure of the land fever of urbanization the flower village retains arable land as well as floriculture.
This area is well-known for its ornamental flowers. People can also use the space to plant flowers in the field, as well as the garden corner and terrace balcony. These areas are used for grafting and trimming ornamental plants. Many bonsai enthusiasts know this place because Tu Lien flower Village is near Nghi Tam bonsai villages.
Red river rock beach flower garden
The Red River Rock Beach is located at the end of Lane 264 Au Co and is less than 30 minutes from Hanoi's center. It has a serene and beautiful beauty that contrasts the hustle and bustle of the streets. There are many picturesque scenes that can be photographed and enjoyed on a large area of land.
Visitors can take photos and enjoy the cool breezes of the alluvium while enjoying the surroundings. This area is decorated with flower beds.
The contexts are well-arranged and interwoven in a way that can please anyone. Youth.
Visitors can freely wander and take photographs of the daisies, peach blossoms, and butterfly flowers. chrysanthemum, dahlia, cypress, rose garden…
West Lake Flower Valley
The intersection of Nhat Chieu Street and Water Park is West Lake Flower Valley. It has a large area of thousands upon thousands of m2 of fancy flowers like sunflowers, dandelion, and other flowers. This location has attracted a lot of attention. Small with young people who love to take photos
It is very popular to take photos of the flower villages in Hanoi. West Lake Flower Valley's entrance fee is 50,000 VND/child and 80,000 VND/adult. This is quite a steep price, but the valley is truly "cut into pieces" because of its many stunning shimmering scenes and romantic scenes.
It is easy to find. Visitors can also travel by bus or motorbike taxi.
Next, you will find 2 flower villages in Hung Yen. This is not a Hanoi flower village, but it is very close geographically.
Phung Cong Flower Village
Phung Cong Flower Village
Van Giang, Phung Cong, Hung Yen Province is a land known for its ability to plant ornamental plants that help people "change their life".
The homeland is also preparing for a "makeover" towards urbanization. In the flower baskets, people are busy caring for, transporting, and trading ornamental plants to meet the Tet holiday needs of both the Capital and the neighboring provinces.
Phung Cong is a famous grower of camellias (or begonias), camellias. This plant is very popular and is very profitable during Tet.
You can reach Phung Cong by going to Bat Trang pottery village. Do not turn in, but instead continue on Bac Hung Hai bridge for approximately 2 km. There will be many signs. You will find the village on the left side of the Red River Dyke
Xuan Quan Flower Village – A flower village in Hung Yen that has a rapid growth rate
The Xuan Quan Flower Village is located in Xuan Quan, Van Giang – Hung Yen. It covers an area of almost 200 hectares and is completely outside of the dyke.
Xuan Quan is home to flowers and ornamental flowers. ), hanging flowers (night primrose, sandalwood, etc.) Walls …), carpet plants, and many kinds of construction plants (peach fairy, sesame buns …).
It is located approximately 20km from Hanoi city, and close to Bat Trang pottery villages. You can ride a motorcycle on Long Bien road, then catch bus 47, and then take a taxi motorbike for further distance.
You can visit these flower villages in Hanoi and take photos, but you can also purchase wholesale or retail flowers.
You can also visit these flower villages in Hanoi if you're a student and want to make a little extra money on October 20, November 20.
To make it easy to explore the flower villages of Hanoi, get a pair of good shoes.