Every year, on Tet occasion, Hang Luoc street bustles with people going to flower market. This is a traditional flower market and has been maintained for many years. Hang Luoc flower market is always brilliant during Tet with all colors of apricot, peach, kumquat …
Hang Luoc long 264 meters , going from Hang Cot to Hang Ma street. This is the land of Phu Tu and Vinh Tru villages – Tong Hau Tuc (the change of the Dong Xuan), Tho Xuong district of old. Today the street is still 2 old communal house: Phu Tu at number 19 and Vinh Tru at number 59.
To name the city as this is where the focus of comb vendors. Horns comb from Thuy Ung (Thuong Tin) brought up. Fine-toothed comb from the Hoach Trach (Binh Giang-Hai Duong) to take. Comb of wood from the village of Tien Nhi Khe. Time we know the familiar call this city with a complex name is Cong Cheo-Hang Luoc.
Because before, in between cities, across home number 12-14 have a drains put through To Lich river. This river from estuary (where Gao market street today) through Nguyen Sieu, Ngo Gach cross Hang Duong turn north to Hang Luoc street, incorporated Phan Dinh Phung street and Buoi treet …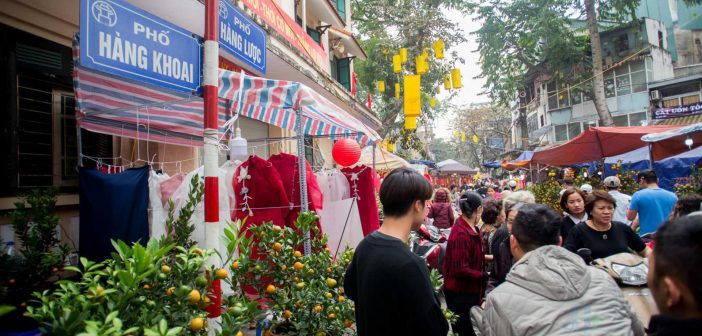 Thus the Hang Luoc was running along the east coast To Lich river. By the end of IX century, the French colonialists filled head of the To Lich river and destroy the Hanoi citadel. At this time only a few comb vendors at the next Vinh Tru communal house to the years 1935-1936 to become a dogs meat shop and Pho shop …
Now, Hang Luoc sell all products and still found dog meat in the house next to Vinh Tru. Especially this street have a good one year only appear once. It is in flower. Annually to the New Year period from Kitchen God (23 December) until 30 pm on New Year (Tet), the flowers market gather on the Hang Luoc street.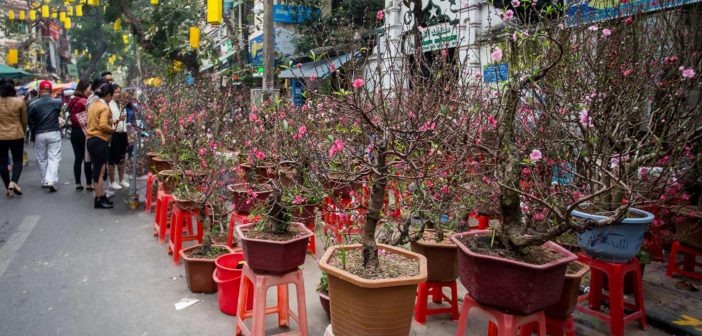 Before not exit Dong Xuan market, only Cau Dong market (the first of Hang Duong street today). Flower also is goods in this market. Belong to the French, colonial destroyed market, construction Dong Xuan market and the flower is also found in here, in the end markets for Hang Khoai street. But only about 1910-1915 onwards, this market does not contain the flowers on the New Year.
The flowers of the village of Quang Ba, Nhat Tan, Ngoc Ha, Huu Tiep, around the West Lake and around Bach Thao choose Hang Luoc to place. 70 year without Tet flower market which is not. Except the Tet Dinh Hoi in 1947, at which Hanoi is a battlefield …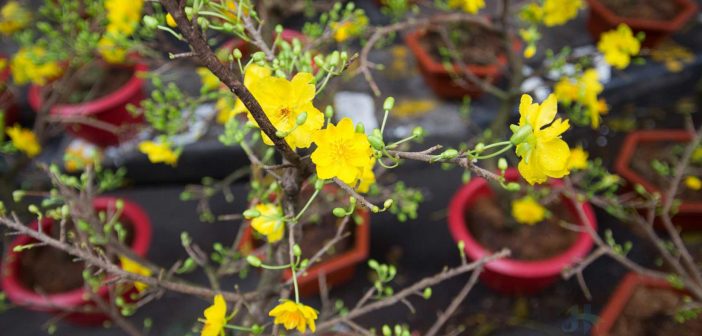 Although the pressure is on New Year, many flowers filled the city's inner city is still great but Hang Luoc street is still for special kind of goods. Tourists to come here at this time would be extremely interesting to glimpse a stroke living elegant, elegant city of peace, the capital of heroes.
Some pictures of the New Year flower market at Hang Luoc Street