Because of its diverse and unique cuisine, Vietnam is a paradise for food lovers from all over the globe. You must try Vietnamese street food when you visit Vietnam. Bun Dau Mam Tom is a delicious street food that combines noodles and tofu with shrimp sauce. Bun Dau Mam Tom is a Vietnamese specialty.
What is Bun Dau Mam Tom and how do you define it?
The dish includes mam tom (a sour shrimp paste that can be used to knock out unprepared foodies) and dau (rice vermicelli.
Bun Dau Mam Tom, a Vietnamese favorite, is a very addictive dish. Bun Dau Mam Tom is a delicious dish that can be enjoyed any time of the day, for breakfast, lunch, or dinner. Locals eat Bun Dau Mam Tom usually at lunch. Who is the one who created this delicious dish?
Bun Dau Mam Tom's origin story is not clear. It seems that few culinary experts have ever researched this dish. According to legend, a woman from a rural region invented the dish first and sold it on the streets. It has been a popular trend in "Bun Dau Mam Tom", which has spread to other parts of Vietnam.
How do you make Bun Dau Mam Tom?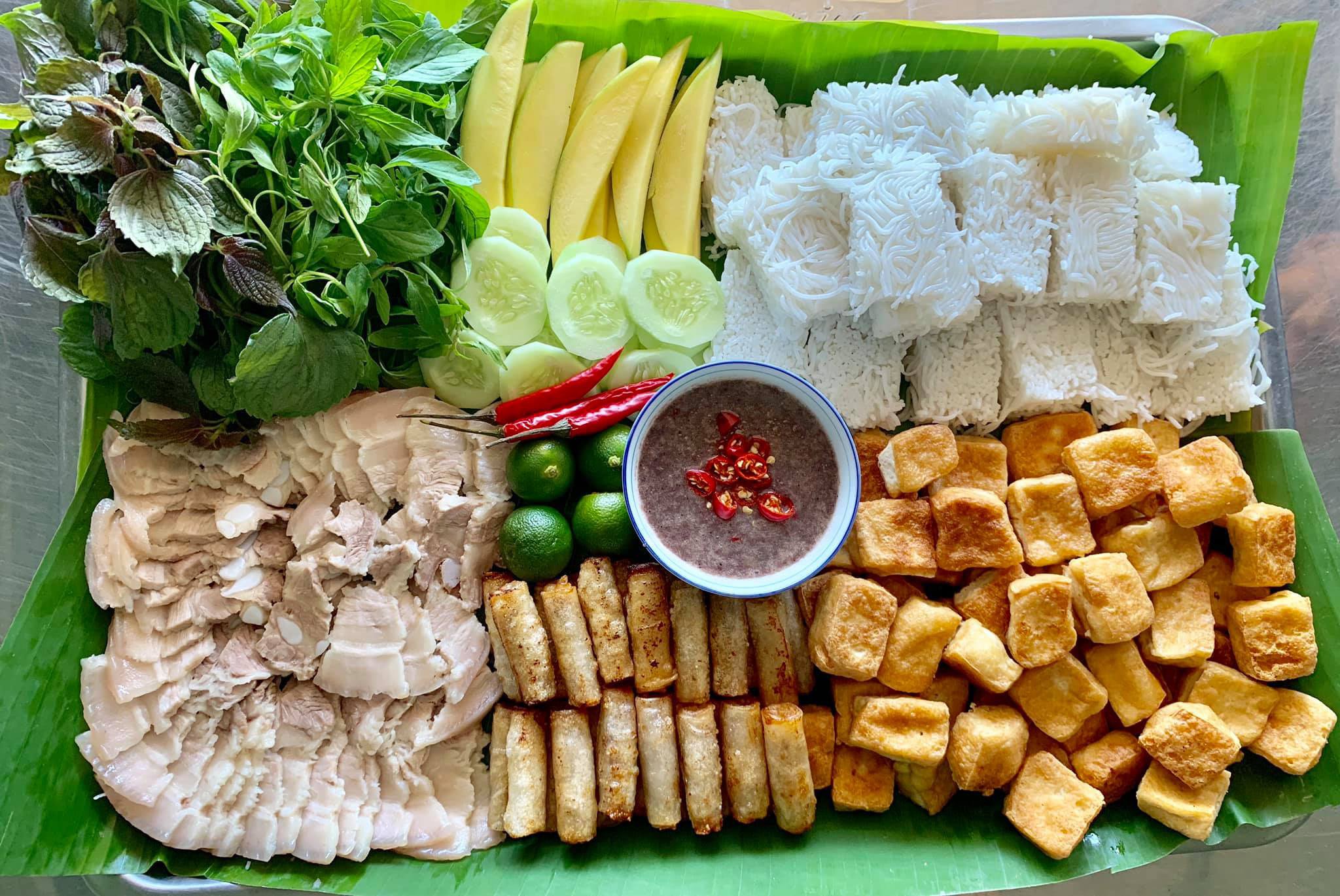 Bun Dau Mam Tom is easy to make, but the key is to make a delicious sauce – shrimp paste.
These are the things we need to prepare:
Tofu 10 pieces
Bacon 500 g
1 kg noodles
Shrimp paste 1/2 cup
1 teaspoon chopped chili
Lemon juice 1 Tbsp
1 tbsp white sugar
6 Tablespoons of cooking oil
100g Perilla, vegetable
Cucumber 200g
Tofu should be cut into small pieces for taste. Then, fry the tofu. Cook bacon. Boil the bacon, then cut it into small pieces.
Peel, wash, and cut the cucumber into small pieces. Perilla, herbs, remove any old branches, leaves, wash, rinse, soak in diluted salt water for approximately 30 minutes, then drain the basket and splash some water. The noodles are then cut into pieces.
Mix 1 tbsp sugar, 1 Tbsp lemon juice, 1 Tsp MSG, and 1 Tsp chopped chili to make shrimp sauce. Stir and mix.
For a more appealing and beautiful dish, place the ingredients on a tray or plate. Now you can enjoy it. Bun Dau Mam Tom is a complex recipe, but it's easy to make.
Bun Dau Mam Tom is a set that includes Bun La (noodles shaped like leaves), Mam Tom, boiled meat, Cha Com, Cha Muc, and Long Doi. These names might seem a bit odd to you. These are special Vietnamese food made of pork, squid, and other ingredients.
These ingredients can be found anywhere in the world if Bun Dau Mam Tom is not used. Mam Tom is a special Vietnamese sauce. It is described by many foreigners as "smells like hell, tastes like heaven". This sauce is made from shrimp and salt. Mam Tom is a delicious result of a complex process.
How to eat Bun Dau Mam Tom?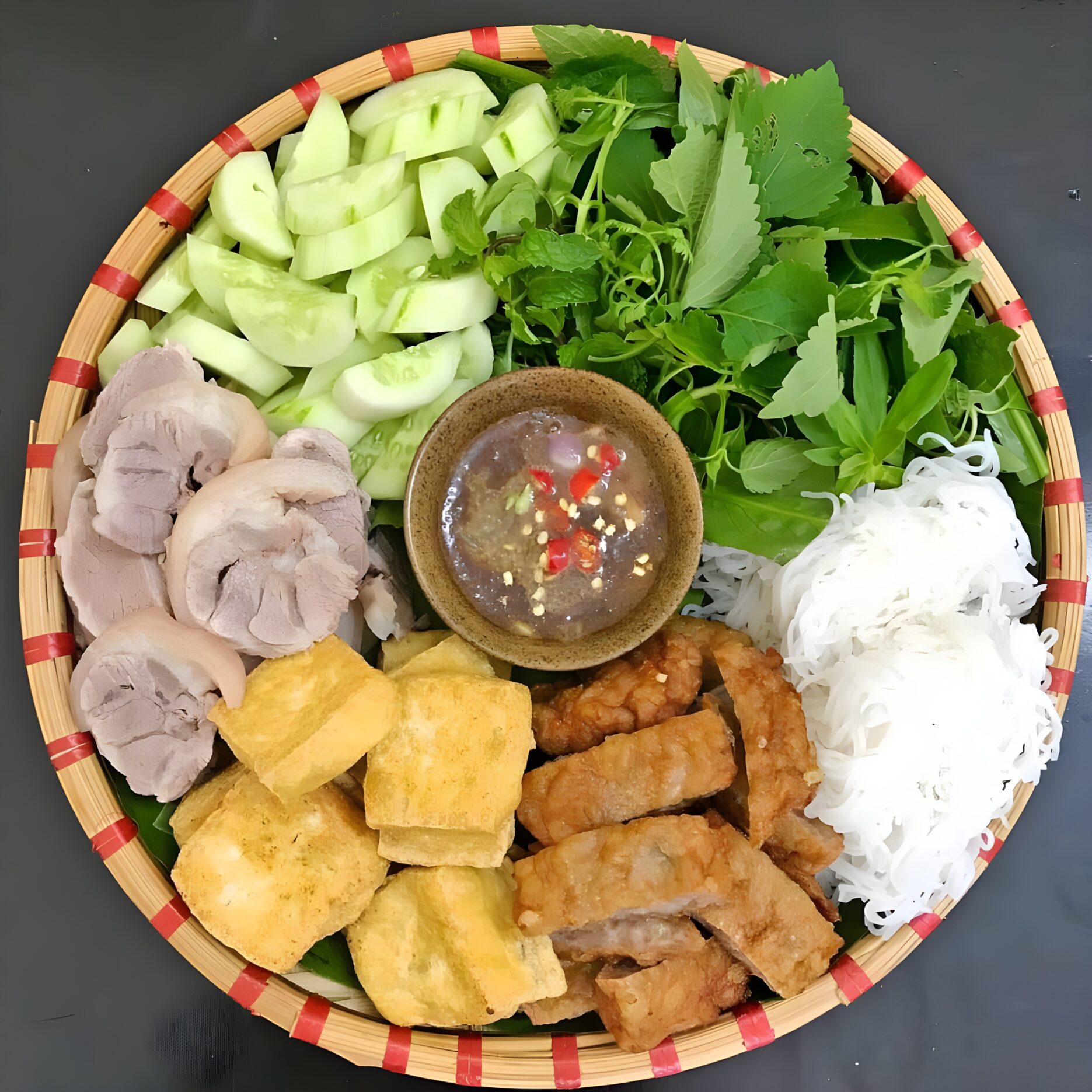 Mam Tom, as mentioned earlier, is what determines whether a Bun Dau dish is good or bad. Mam Tom is a key ingredient in this dish. Some restaurants will even prepare Mam Tom from scratch for you.
You will need lime juice, minced garlic, sliced chilies, sugar, and oil. These spices are added to Mam Tom, and then they mix them. You have a delicious dish. In some places, however, the spice mixture will be divided and placed in small bowls. Mix them up in whatever way you like.
You use chopsticks for eating. To pick up Bun La (a noodle that looks like a leaf), you dip it in Mam Tom and then put it in your mouth. You can then choose from fried tofu or boiled pork. You should enjoy the dink with a bit of sourness, such as plum juice or lemon tea. It's wonderful!
Bun Dau Mam Tom is Hanoi's unique cuisine. If you have the time to travel to this capital of Vietnam, why not give it a try?
Bun Dau Mam Tom Restaurants
Bun Dau Mam Tom has evolved from street food to a Vietnamese staple. These are some of the places that sell Bun Dau Mam Tom.
Hanoi
Bun Dau Mam Tom is considered a must-try dish when coming to Hanoi. Below is a list of some restaurants that sell this noodle dish with shrimp paste.
Trung Huong Bun Dau Mam Tom
The special shrimp sauce flavor is a must-try for anyone who has been to this place. Hanoi's most unique and aromatic fish sauce comes from Thanh Hoa. It is made of pink cotton.
Although it is located on the street the cost of a bean noodles dish here is very affordable. You can also order additional boiled meat, jellyfish salad, and braised banana snails.
Address: 49, Phat Loc Alley, Hang Bac, Hanoi. 
The cost is between 1 and 3 USD.
Bun Dau Mam Tom on Hang Khay str.
This is the famous Hanoi vendor for Bun Dau Mam Tom. It's number 31st Hang Khay Street. This place is extremely crowded, as it is located on Hang Khay street lane no. 31.
To make the place more appealing and to protect the environment, the chef placed Bun Dau Mam Tom onto the banana leaves.
Mam Tom is the highlight of this address. It is known as "the sauce of heaven" because of its incredible taste. If you have the chance to visit Hanoi, we recommend that you go here to try Bun Dau Mam Tom.
Address: 31 P. Hàng Khay, Tràng Tiền, Hoàn Kiếm, Hà Nội
Bun Dau Mam Tom Hoang Cau
The restaurant can be found on Hoang Cau Street. Bun Cha is also available, but Bun Dau is my favorite. Mam Tom is a delicious dish that is skillfully prepared by skilled chefs.
The hot set comes hot right out of the oven because it's just been prepared. Dồi Rán, a unique dish made of pig's stripes, is another highlight. Bun Dau is a must-try when you visit Hanoi.
Address: 82 Ng. 34 P. Hoàng Cầu, Chợ Dừa, Đống Đa, Hà Nội, Vietnam
Bun Dau Mam Tom Ngo Tram
A single serving will contain crispy tofu and fragrant sauce made with shrimp. The price for this meal is 2 USD.
However, it is slightly more than what you would find at shrimp vermicelli restaurants as the portion here is much larger. The restaurant also offers civet dishes, which are popular and well-received by many customers.
Address at 1B-Ngo Tram Hoan Kiem Ha Noi
Bun Dau Mam Tom Ngo Gach (Gốc Đa)
Although it is only a sidewalk shop, Bun Dau Mam Tom in Ngo Gach (aka Bun Dau Goc Da) is always the first choice if you want to enjoy this typical Hanoi dish. The shop looks very clean and of course, the service is very enthusiastic, agile, meeting the fastidious requirements of customers such as eating crispy beans or medium fried.
Cha com is also appreciated as delicious, soft, and with the whole grain of the nuggets intact, the meat is fragrant and firm.
The restaurant's shrimp paste also makes a strong impression on customers because of the way it is mixed with salt, neither brackish nor too salty, and the unique flavor that only the restaurant has.
If you don't know what to eat, come here once to enjoy a full meal of vermicelli, fried rice, and boiled meat.
Address: No. 4, Gach Lane, Hang Buom Street, Hoan Kiem District, Hanoi
Opening hours: 10:00 – 22:00
Ho Chi Minh City
Bun Dau Mam Tom in the past was mainly in Hanoi, it's difficult for anyone who wants to eat or miss Hanoi, but now it has become a hot dish in Saigon, let's take a look at some delicious Bun Dau with shrimp paste that is always crowded in Ho Chi Minh City with Huy Hoa Team.
Although it is a Hanoi dish that was opened in Saigon, it does not lose the rich flavor of the dish, below is a summary of 10 delicious vermicelli noodles with shrimp paste in Hanoi style in Saigon.
In addition, you can also make your own at home with how to make delicious Bun Dau Mam Tom homemade with Hanoi's taste that we have shared the recipe above or search on Google.
Bun Dau Homemade
Homemade Beans is a restaurant with bold Hanoi, with Bun Dau Mam Tom as the main dish, in addition, the restaurant also has a rich and diverse menu, you can combine and eat Bun Dau Mam Tom with other dishes. such as Crab spring rolls, chicken feet soaked in lemongrass salt, snail rolls with guise leaves…
Address: 1 Nguyen Van Trang, Pham Ngu Lao Ward, District 1, Ho Chi Minh City.
Price:  $1 – $2.5
Bun Dau 46
Although the name of the shop is vermicelli, the shop also has Bun Cha Hanoi, located in the center of District 1, originally just a small shop, but now has developed into a large restaurant, and even has a branch.
The restaurant's boiled meat is very delicious without much fat, moderately tender, the tofu is always hot and delicious, the fried rice nuggets are thick, the fried spring rolls are strange, and the price is affordable.
Address: 1 Nguyen Van Trang, Pham Ngu Lao Ward, District 1, Ho Chi Minh City.
Price: 50,000 – 100,000 VND
Bun Dau Mam Tom – Tien Hai Quan
The shop with many branches is located in many crowded city districts such as Go Vap, Tan Binh, and district 10 and is always busy, the price is very affordable, the shrimp paste is reviewed as delicious by many people, along with the popular grilled sausage.
Address: 804 Su Van Hanh, Ward 12, District 10, HCMC.
Price: 22,000-55,000 VND
Bun Dau Mam Tom in San Jose, CA
We researched and consulted with some friends living in San Jose, CA, below is a list of restaurants that serve Bun Dau Mam Tom that they recommend.
Paloma Cafe
Address: 1111 Story Rd, San Jose, CA 95122
2. Nha Trang Restaurant
Address: 1820 Tully Rd, San Jose, CA 95122
3. Saigon Kitchen
Address: 1111 Story Rd #1005, San Jose, CA 95122
Seattle, WA
List of Vietnamese restaurants serving Bun Dau Mam Tom in Seattle, WA
Wicked Chopstix
Address: 6021 Martin Luther King Jr Way S, Seattle, WA 98118
Pho Hanoi
Address: 9447 Rainier Ave S, Seattle, WA 98118
Lam Bistro & Pho
Address: between Burien and Des Moines and SeaTac Seattle, 17851 1st Ave S, Normandy Park, WA 98148
Orange County, CA
Orange County's Little Saigon originally consisted of a 1-and-a-half mile stretch of Bolsa Avenue in Westminster. Over the years, the Vietnamese population grew and the original business became a cultural hub. It also expanded to include neighboring communities like Garden Grove, Fountain Valley, and Santa Ana.
Little Saigon, which has a population of close to 200,000 and dozens of Vietnamese-language newspapers spread across three square miles, is today the largest Vietnamese community outside of Vietnam.
There are many Vietnamese restaurants in the US serving Vietnamese dishes, but not all restaurants have Bun Dau Mam Tom. These are the best Vietnamese restaurants serving Bun Dau Mam Tom in Orange County, CA
Quán Bún
Address: 9792 Garden Grove Blvd, Garden Grove, CA 92844
Ha Noi Corner
12119 Brookhurst St Garden Grove, CA 92840
Son Kieu
9609 Bolsa Ave Westminster, CA 92683
SaigonView
5127 W Edinger St Santa Ana, CA 92704
Ha Noi Avenue
8432 Westminster Blvd Westminster, CA 92683
Bun Dau Mam Tom, a traditional Vietnamese dish, is loved for its unique flavor. This delicious dish is a must-try when you visit Vietnam.