Quick weaves look just like wigs and traditional sew-in weaves. They are great for creating a variety of looks without needing to alter your natural hair or take a lot of time.
Quick weaves have a bad reputation for some. There are many horror stories about hair damage caused by the installation and removal of quick weaves. If done correctly, quick weaves can give you vivacious and glamorous hair in no time.
It is becoming a popular trend to get glamorous hair in a shorter time. This is a cheaper and faster alternative to the traditional sew-in weave.
What is a quick weave, you ask? What makes a quick weave different from a regular sewing machine? Is it worth the effort? How does it get installed? What are its pros and cons? Which weave hair extensions should you use? How Long Does a Quick Weave Last? Do you want to know more about quick weaves? Continue reading.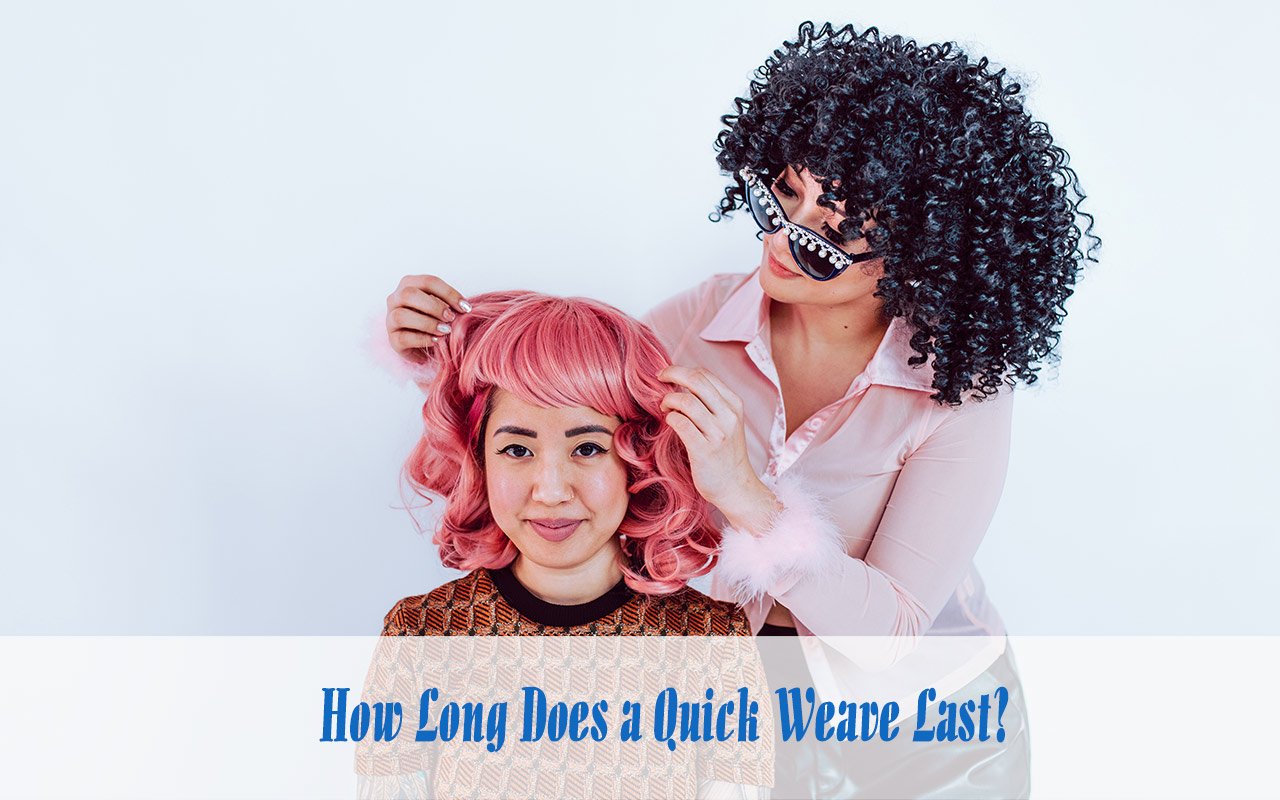 What is a Quick weave?
Quick weave refers to a full-head weaving technique where extensions are attached to a protective cap and then bonded to your head. The foundation is easy to apply and remove from the head. It is essentially a custom-made hairstyle.
You can make any look you want with any type of extension hair by doing a quick weave. You can make it long or short, straight or curled, with or without highlights.
Your imagination is your limit! This is not the best option for you if you are looking for a style that shows your hairline. Consider regular bonded tracks and sewn in weaves.
Pros and Cons Of Wearing A Quick Weave
Pros Of Quick Weaves
There are many benefits to wearing quick weaves that make you look attractive. These are three reasons to think about.
Affordability
Because it's cheaper and quicker, a quick weave is an excellent alternative to traditional sewing-in. The weaving process can be done in approximately 1.5 hours. This is much quicker than sewing-in.
The quick weave technique also creates less tension on your hair and scalp. Do you want to know why? Your hair will be cornrowed for sew-in weaving. The extensions are then inserted directly into the cornrows. This can cause hair and scalp damage, as well as excessive tension.
A quick weave is a bonding technique that allows extensions to be kept in place, rather than being sewn directly into your hair.
Easy to Remove
You can remove the extensions and replace them by attaching the wefts to the cap, rather than to your natural hair. This method is becoming more popular with women.
Low maintenance
A quick weave is low-maintenance. You only need to use a nighttime wrap method. It doesn't take much effort to create a tight weave.
Cons of Quick Weaves
There are some downsides to quick weaving. The quick weave has a reputation for creating unwanted side effects. Poor results can sometimes be due to human mistakes and actions. Let's look closer at the cons of wearing a quick weave.
Damaging Your Hairline
A quick weave can cause damage to your hairline, scalp, and hair. This happens when adhesive or hair glue gets in contact with your natural hair or hairline.
The contact between your hair, scalp, and adhesive may not be obvious until it is time for you to take out the quick weave. You want to prevent any glue from coming into contact with your hairline. This means that you should wear the right type of quick weave cap.
Hair loss or damage can also be caused by hair that is too tight on the scalp or at the hairline.
Duration
The traditional sew-in has a longer life span than the quick weave. If you expect to get long-lasting wear from this product, it may be worth reconsidering. Quick weaves usually last one month. A sew-in can last for up to two months if you take care of it. This information is important if you plan to purchase more expensive hair for a quick weave. You may find it more cost-effective to wait for the sew-in than for a quick weave.
Hair Extensions Are Harmful to
Sealing hair with products can cause damage, which could lead to a loss of investment. Hair extensions are similar to your hair and can collect adhesives that can cause clumping or poor quality.
Risk for Shedding
Due to the amount of work you or your stylist might have to do to achieve the style, the hair wefts in your hair extensions may be more susceptible to shedding.
A quick weave can be used to create beautiful styles with weaves, and it will change your appearance positively. You can easily change the look of your hair with a quick weave.
How to Install a Quick Weave
Here are the materials needed to be able to wear a quick weave:
Weave extensions, synthetic or human
Hair glue
Protective wig cap (either your natural hair color or the color of hair wefts).
Scissors
Blow-dryer (optional)
Molding gel (optional)
Quick Step-by-Step Instructions
Braide natural hair. You can leave a part of the center or side out if you prefer. You don't have to get the cornrows or plaits perfect.
Are you uncomfortable with braiding? Instead, use molding gel to smoothen and wrap your hair.
Cover your hair with a protective cap.
Tip: Use a concealer pencil or lip to outline any part you want onto the weave cap. This will ensure that you don't glue a track too close or in the same area as your leave-out.
Apply glue to hair wefts starting at the back of your head and working up to the front. Wefts can be cut by measuring from left to right to the area you wish to place the weft.
After the weft has been bonded to its wig cap, blow dry each one or dry it in the air. If you're leaving hair out to create a side or center part, trim the protective cap around your part. Follow your lip line or pencil outline. To outline your part, glue the weft in a U-shape.
Style and cut extensions
You can find many YouTube videos and tutorials that show how to install a simple weave at home. These videos will help you get started.
How To Create A Quick Weave Wig
Materials To Create A Quick Weave Wigs
Hair Bundles;
Hair bonding glue;
Scissors;
Protective wig cap (either the color of your natural hair or hair bundles);
Wig clips;
Needle;
Nylon thread.
How to do a Quick Weave Wigs
Step 1: Measure your hair bundles using a wig cap. Measure your hair and cut it using a wig cap.
Step 2: After you have measured and cut your hair bundles, you will apply the weave bonding glue. Allow it to dry for 5 to 7 seconds, depending on how tacky you want.
Step 3: Grab the hair track and place it on top of the cap. Press the hair bundles onto the cap by applying pressure.
Step 4: Continue with steps one through three.
Step 5: After you reach the top of your cap, cut off any excess material. This will allow your natural hair to look natural.
Step 6: Attach the wig clips to the wig using a needle, thread, or super glue to secure it in place.
Step 7:  You can use fine-textured straight hair bundles with a deep side part to achieve this look. The look is best if you have longer bangs, but you can use any length.
How to Maintain and Remove a Quick Weave
Quick weaves last on average one month and usually last for between 4 to 5 weeks.
You can reduce hair tangling by covering extensions with a silk scarf or satin blouse at night. You can keep curls in curly hair by using rollers or pins while you sleep.
It is possible to wash and use products on your quick weaving, but oil-based products can cause the glue to slacken and tracks to slip.
How to remove the quick weave
These quick weaves are easy to do. You can start by applying oil or an oil-based conditioner to your hair and leave it in for a while. You can easily remove the tracks by oiling your hair. After rinsing your hair, rinse it out.
For a quick weft removal, oil the base of your hair and the cap. This will make it easy to remove. Apply a glue-removal shampoo to your natural hair or scalp if you find dried glue. After shampooing, comb your hair and apply conditioner.
Quick weave Hairstyles
Today, the quick weave is one of the most popular styles. It can be done in just minutes. This weave uses glue to attach the hair tracks to the cap. This cap can be removed and attached easily. It looks like a regular hair wig. This style will require you to style your hair the same as the sewn-in style.
Cute Quick Weave Styles
Short quick weave
Curly bob quick weave
Quick weave with highlights of pink
Long Quick Weave
Wavy quick weave with the side parting
Long and straight quick weave
Quick Weave Straight Hairstyles
Bond in a blunt cut
Middle parting quick weave
Sleek straight hair with two buns
Easy Quick Weave Hairstyles
Black Quick Weave Hairstyles
Short straight weave with thick bang
Fantastic quick weave bob
Red quick weave bob
Layered quick weave bob
Medium Length Quick Weave Hairstyles
Side parting quick weave
Green wavy hairstyle
A-line quick weave bob
Largely curly hair
Pretty Quick Weave Hairstyle
Straight hair half up half down
Curly and blonde mohawks style
Invisible part quick weave
Inverted braid with vivacious curls
Blonde hair with dark roots
Natural Quick Weave Hairstyles
Black hairstyle
Purple highlights curls
Curly weave with an invisible parting
Honey blonde bob weave
Straight and wavy hair
Short Quick Weave
27-piece quick weave
28-piece quick weave
Pixie cut quick weave
Nice Quick Weave Hairstyles
Blonde quick weave with simple bans
Big bang quick weave
Grey locks quick weave
Ombre quick weave hairstyle
Cute Quick Weaves with Bangs
Frontal quick weave with bangs
Banging bob quick weave
Unique quick weave style
Cute Quick Weave Bobs
Curly and frontal quick weave
Quick weave short bob
Curly Quick Weave
Ginger afro style
Simple curly quick weave with a middle parting
Honey blonde curls
Shoulder Length Quick Weave
Honey blonde straight hair with bangs
Silky straight hair with China bangs
Quick Weave Ponytail
Easy, quick weave ponytail
African American ponytail with a braid
Low ponytail with curls
Two-Toned Bob Quick Weave
Feathered bang
Blonde and black feathered hair
Simple Quick Weave Hairstyles
Body wave
Braided ponytail
Blonde quick weave
Quick Weaves Synthetic Hair
Brown curly hair
Synthetic blunt bob
Braided Quick Weave
Two braids with quick weave ponytail
Two braids crown with the quick weave hair
Braided Quick Weave Hairstyles
Side braided quick weave with curls
Micro braid quick weave
Red Quick Weave
Simple red bob hair
Straight, sleek red hair
Short cut quick weave with curly top
Mohawk quick weave
Quick Weave with Shaved Sides
To see more pictures of quick weave hairstyles, please see the hottest beautiful summer hairstyles
A quick weave will leave little or no unfinished edges. You can have almost any style you like! There are many quick hairstyles that you can choose from. A bob quick weave hairstyle is a great choice if you want a classy, yet elegant look.
A quick weave long haircut will give you this flexibility quickly and easily. People love to have shorter hair with quick weaves. A few curls can make a big difference. You can do it for any face type and you will look younger.
You can reuse quick weave and continue to use it for many years. You can do quick weave in many styles, including loose waves, jerry curls, afro quick weaving, quick weave long hair, and blonde quick weave.
This is a great option for traditional sew-ins and can be used as a protective style. Because of its simplicity and ease, a quick weave is a popular choice for many women. You can create short weave hairstyles and long hairstyles.
You can create beautiful and unique hairstyles using quick weaves. You can easily change the look of your hair with different types of hair extensions from long, short, straight, or curly, mixed with color or even highlights.
Frequently Asked Questions
How much should a weave cost?
A quick weave is usually $60-$150. This price range depends on whether the sew-in is done by a professional or at home.
| Type | Average Cost |
| --- | --- |
| Weave | $100 to $600 |
| Fusion | $200 to $1,000 |
| Glued-in | $300 to $500 |
| Bonded | $1,500 to $3,000 |
What is a quick weave cap?
If you're interested in hair extensions, the quick weave cap is essential. What is a quick weaving cap? When users put on the quick weave, it covers their entire scalp.
The quick weave cap acts as a barrier between the natural hair and the scalp of customers who have hair extensions. This is the protective cap you use to attach hair extensions to your scalp.
How Long Does a Quick Weave Last?
Because the bonding glue can wear out, quick weaves might not last as long. A quick weave, when done correctly, can last for up to one month before needing to be removed. Although quick weaves can be done quickly and are easy to apply, natural hair is not well-treated.