Understanding your face shape is important for many reasons. This article will cover the seven most common types of face shapes, as well as how to use them when choosing clothing, makeup, or hairstyles. In addition, we also show you how to easily identify your face shapes (including video tutorials) to help you answer the question "what is my face shapes"
The shape of your face can help you predict how your face will age. You can also play with the dimensions to determine which areas of your face to emphasize or minimize. Knowing your face shape is an additional tool to help you make better decisions and understand yourself.
Then, you've come to the right place if you were searching for "how do I find my face shape" or "what face shape am I?" You might be curious about whether your face is square or round, or you want to find out why it matters.
You will need to look at three factors in order to determine your face shape: your widest area (forehead and cheeks), your jawline (round, pointy, or square), as well as the length of the face (short, long).
We've shared our tips to help you choose the best hairstyle for your face shape. This key piece of information will give you confidence when styling your hair. Keep scrolling to discover yours.
Types of face shapes
Face shapes can be classified according to their symmetry or angularity. This indicates how a person's face will look in a profile.
You can learn a lot from the shape of someone's face. Every face shape is different and has its strengths and weaknesses. A long, square- or round-shaped face with strong bones may require a different hairstyle.
There are seven types of face shapes available: triangle, oval, square, round, diamond, rectangular, and heart-shaped. Please note that the division into different face shapes is only relative, there are no specific formulas or rules for dividing face shapes.
Triangle (Triangular face shape)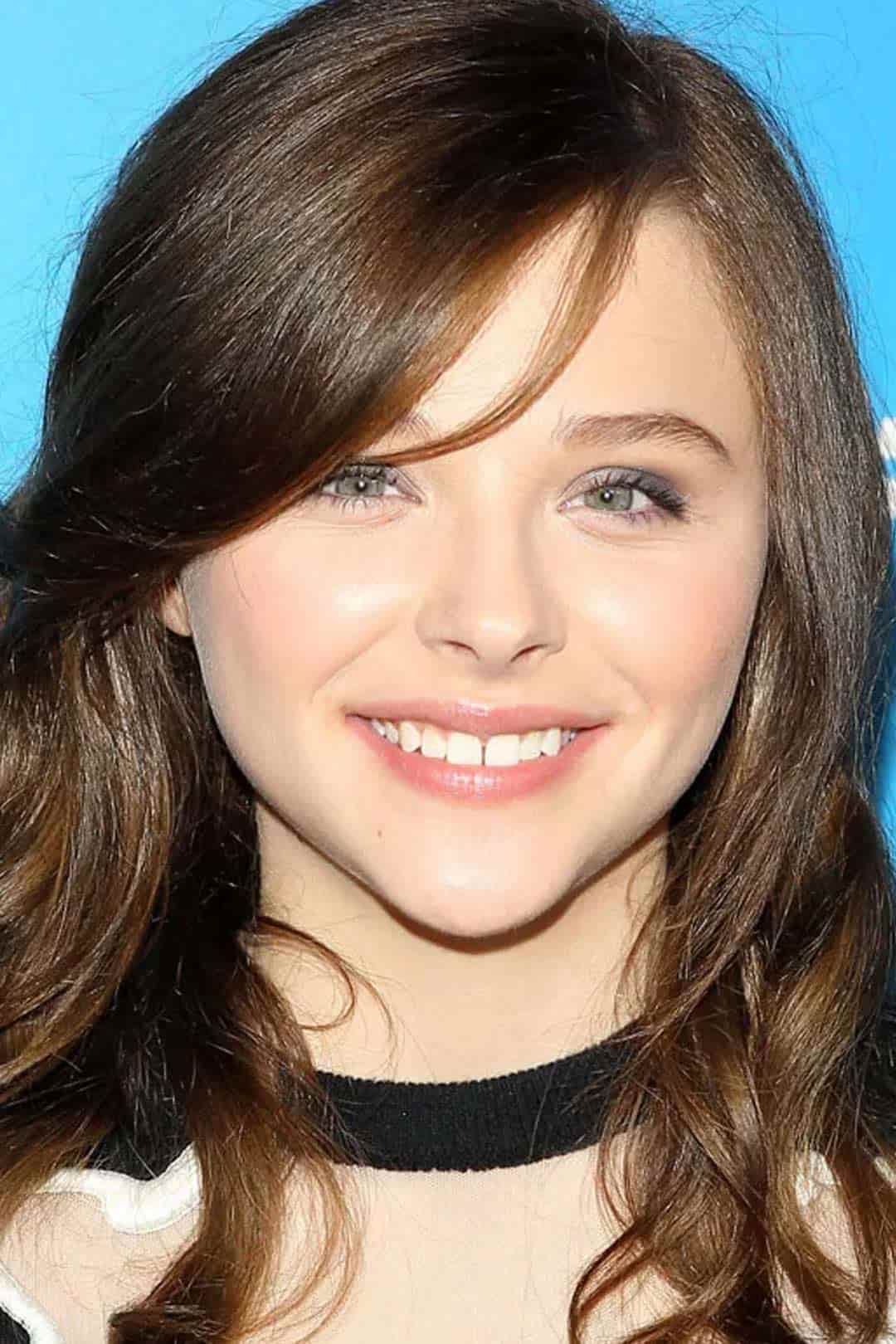 A triangular face has a wide jaw and high cheekbones. Measurements will show that your cheekbone and forehead are wider than your cheekbone. Your chin is shorter and more pointed.
This distinctive face is found in women with a narrow forehead and wide jawline. A triangle-shaped face, also known as a pear-shaped face, is the opposite of a heart-shaped one.
The jawline is the widest part of the triangle face shape. Triangle faces have a narrower forehead than any other face shape. This face shape is popular among celebrities such as Geena Davis and Minnie Driver.
You will recognize these characteristics if you have a triangular-shaped face:
Your face is shorter than your body.
Your forehead is higher than your jawline.
Your chin may be square or flat.
Your jawline is strong and broad.
Your cheekbones should be straight from your jaw to your forehead.
Your forehead is small.
Your jawline is the most prominent point on your face.
These unique features make for a distinctive face shape that can be accentuated with the right hairstyles and makeup.
Hairstyles to Try
Layered hairstyles can help soften and balance your prominent jawline.
You can flatter yourself with styles that have layers that taper at the jawline.
Hairstyles to Avoid
It is better to be shorter than you are longer.
Avoid hairstyles that draw too much attention to your chin, such as straight bobs or solid bobs.
A triangular face shape with a balanced proportion can be achieved by makeup. This includes reducing the width of the chin and increasing the width of the forehead. These are some tips to help you get started:
Face
To create width across your forehead, blend a lighter foundation just above your eyebrows.
Eyes
To make a bold statement, apply dark eyeshadow to your eyes. Next, add a gold highlighter to your eyebrows to increase the width.
Start by placing a grey kohl pencil over your lashes. Then, move to the outer corner of your eyelids. Continue on to the bottom of your eyelashes.
Cheekbones
To narrow your face, use a light-colored blusher only on your cheekbones.
To blend a triangle-shaped shape between your cheekbones and the points of your jaw, use a blush that is one shade darker than your foundation.
Lips
Dark lipsticks will reduce the width of the lower half of your face. You can shape your lips with our beauty article Lip Shapes.
You can see the impact lipstick can have on your face by visiting the Extras section of our Virtual Hairstyler.
Comfort is the most important rule when it comes to makeup. These tips and makeup colors can be used as a guide to creating your look. Keep in mind that every face is unique and you want to balance them all.
Round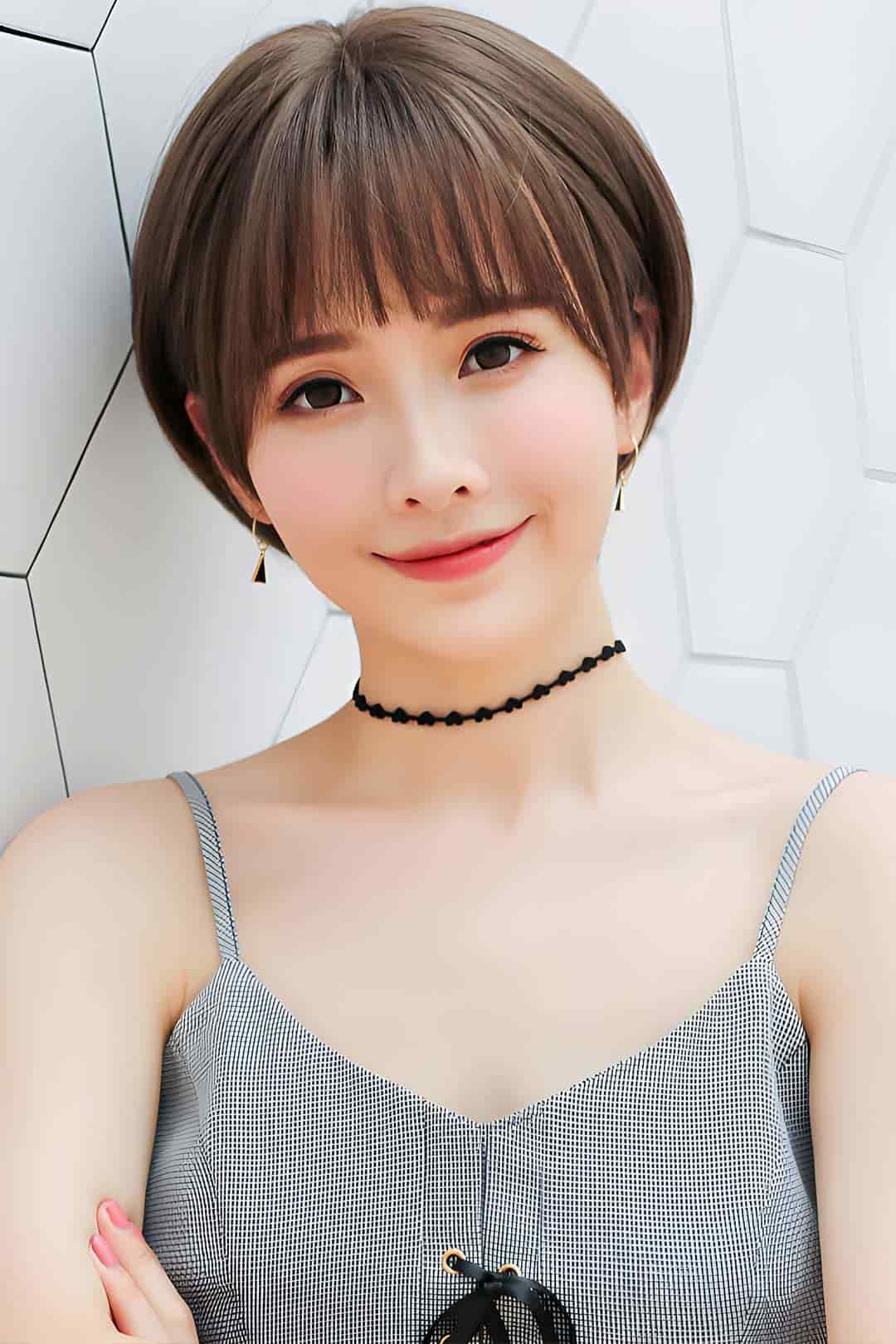 A round face shape is distinguished by a rounded jawline and hairline. Round faces have the same dimensions as their length and width.
Round faces are like square faces with soft angles. The sides of your face curve outwards rather than being straight. Your cheekbones are the largest part of your face, while your chin is round.
Celebs with round faces: Chrissy Teigen and Elizabeth Olsen, Jennifer Lawrence, and Ginnifer Goodwin, Michelle Williams
The best hairstyles for round faces:
Long bobs and chin-length bobs are best for round faces. Soft, face-framing layers and long bangs work well with round faces. The hairstyles with strong, angular fronts and added height will help lengthen the face.
However, you should not soften the already round shape too much and don't add width to the sides. This will enhance the shape. Avoid tucking your hair behind your ears and leaving your hair down.
Makeup tips to round your face:
You can use makeup to enhance or minimize certain facial features. For starters, contouring can work wonders. To make their heads appear more structured, women should improve their cheekbones and jawline.
These expert-approved tips will help you contour your round face.
To create length, add a highlighting powder on the bridge of the nose, in the middle of the forehead, and on your chin.
Highlighter applied high on the cheekbones, above the blush, can help to emphasize bone structure.
Blush can give cheekbones more depth. Blush can be used on rounded faces by focusing on the apples of the cheeks. Blend down and out.
A rounder face can be balanced by balancing eyebrows. An angled arch will keep your brows longer and straighter. They shouldn't be around.
Square
If your forehead, cheekbones, and jawline are all the same width, you have a square shape to your face. Your forehead and jawline are also wider and more prominent. Although the dimensions are comparable to a round face shape, your face structure feels more angular and has fewer curves.
If your face is square, your sides are straight and your jawline has a slight curve.
Your face is almost as wide as its length. In other words, your face is nearly as wide as it is long. If you measure from your temple's edge to the top of your jawline, it will be roughly equal to the distance between your left and right jaws. Sharp, angular features include a sharp jawline.
Celebrities with square faces: Rihanna and Cameron Diaz, Angelina Jolie and Sandra Bullock
The best hairstyles for square face shapes:
You should choose a hairstyle that is fuller on the sides and softens the corners if your face is square. Long layers, textured shags, and side-swept bangs are all options. Avoid adding more definition to the jawline with blunt lines. A strong fringe is also not recommended.
Makeup tips for a square face:
The square jawline is very strong so you might want to contour your face at the jawline, temple top, and around the edges.
To soften the edges, add blush or bronzer to your jawline. If you are looking for square or rectangular shapes, place blush on the apple and blend upwards. For soft rounding effects, you can use any leftover blush from the brush to sweep around your temples.
You can have fun with your lips and eyes if you have a square face. The rest of your face is already well defined. To contrast the angular features, try a rounder smokey eye.
Do the same thing with your cheeks. Use a peachy or bright pink shade to create a soft, rounded appearance. A hard jawline will be distracted by bold or bright lip color.
Oval
The oval is the most popular shape for women and is often considered to be the ideal face shape.
An oval forehead is a mixture of square and round. The forehead width is usually smaller than the cheekbone width and the face is generally longer than its wide. Dr. Shafer says that the jawline is more round than the angular lines of square faces.
Oval faces have foreheads that are just a little wider than their curved nose. Think of an egg upside-down. If your cheekbones are at the highest point of your face and are wider than your forehead, you may have an oval face.
Celebrities with your face shape: Kelly Rowland. Olivia Munn. Kerry Washington. Blake Lively.
Hairstyles that work well with an oval face shape: An oval face can be styled in almost any style from a bob to long beachy waves. You should focus on your best features and avoid adding too much height to the top. This can make this face look oblong.
Makeup tips to flatter oval faces:
If you have an oval face shape, congratulations! You can wear any type of makeup with ease.
A round face is the best shape for applying makeup. For long faces, blush should be applied along the hairline and cheeks. This creates a wider-looking face.
A bronzer can be lightly brushed on the forehead, under your cheekbones, and onto your apples of the cheeks.
If your oval face isn't round, however, it doesn't mean you have to bring attention to them.
An oval face shape is balanced and you don't need to emphasize too much. This is where subtle makeup should be considered.
Diamond
The diamond face shape, which is more angular than an oval shape, is a more rectangular version of the oval shape. The cheekbones are usually strong and high, with a distance between them slightly greater than the length of your forehead. Also, the chin is narrower and more pointed. The hairline becomes more angular.
The diamond-shaped face is the rarest of the face shapes. People with this face often have a narrow forehead, wide cheekbones, and a narrow chin. Diamond-shaped faces are usually narrower in the eye line and jawline, with high and often dramatic cheekbones.
It would be a diamond shape if someone traced lines from the center of your hairline down to your cheekbones, and down to your neck.
Diamond faces have high cheekbones and a pointed chin. The major difference between a heart-shaped and diamond-shaped facial is the hairline. If you have a narrower hairline, it will look more like a diamond.
Celebrities with your face shape: Jennifer Lopez and Vanessa Hudgens.
The best hairstyles to wear for a diamond-shaped face: A long, soft fringe will soften the angles. Avoid styles that emphasize the jawline or draw the eyes to it.
Long layers, textured shags, and side-swept bangs are all options to flatter your diamond-shaped faces.
Some makeup tricks can enhance and complement the diamond-shaped face. People with diamond faces should first add volume to their jawline and forehead.
This can be achieved by using a lighter foundation to highlight the jawline and forehead. A way to create the illusion of a larger forehead is to lift the eyebrows and leave a gap in the middle.
You can soften the appearance of your face by contouring your bottom chin. This creates a shadow and highlights the cheekbones, bringing more light to the center of your face.
If you have a diamond-shaped face and wish to blush, don't use too much. Keep it simple!
Rectangular (aka Oblong)
Rectangular faces have a longer face than their width. They also appear to have the same width between their foreheads, cheekbones, and jaw.
In older people, a rectangular shape is more common because the skin from their cheeks and their jowls tends to settle into their lower half. Sometimes, young people may have prominent buccal fat pads.
Rectangular faces, also known as oblongs, are similar to square-shaped faces but are longer than squares. Your forehead, cheeks, and jawline are roughly equal in width, while your chin curves slightly.
Celebs with your facial shape: Joan Smalls. Sarah Jessica Parker. Alexa Chung. Liv Tyler. Gisele Bundchen.
The best hairstyles for rectangular faces: If you have a rectangular face, it is important to balance this shape by creating volume at the ears and balancing the sides.
You should choose soft waves, long layers that frame the face, and chin-length hair bobs. Avoid flat straight hair with little movement, volume, and no width. This shape can feel more masculine if it is cut shorter.
Makeup tips to flatter a rectangle-shaped face:
To soften your forehead's edges, apply blush to the cheeks and the cheeks.
Playing up your eyes is a great way to draw attention to the length of the face. Exaggerated cat eyes or dramatic smokey eyes in bold colors will make your eyes pop.
To create a curve in your face, you can make your eyebrows more round. To make your lips look fuller and plumper, keep them at a minimum. Use a rosy color to brighten them.
Heart
A widow's top hairline is one of the most obvious signs of a heart-shaped facial shape. The forehead is wider than your jawline, the cheekbones wider than your forehead, and the chin narrower with a strong point. People with heart-shaped faces tend to have larger forehead size than other face shapes.
A heart-shaped face is one where your forehead is wider than your forehead and your chin is pointed. You may not have a widow's peak at your hairline. However, you can still have heart-shaped faces without one.
Celebs with your facial shape: Sarah Hyland and Reese Witherspoon. Chloe Grace Moretz
The best hairstyles for a heart-shaped face: To balance the shape of your face, hairstyles create width at the jawline and fullness at the nape.
Side-swept bangs and brow-grazing fringes are all acceptable. Avoid styles that emphasize the cheekbones or forehead width.
Makeup tips to flatter heart-shaped faces:
Do you want to balance a heart-shaped nose? Get out your makeup bag!
A bronzer can be used along with your temples and below your chin to soften the look of a larger forehead. To highlight the high cheekbones, use a rosy blush.
It is also a good idea to draw attention to your lips. Think bright colors and glossy lips. This will help to draw eyes away from your jawline.
Light eye makeup colors can be used by people with heart-shaped faces to bring out the beauty of their eyes.
How to determine your face shape
What is my face shape is a common question. You have probably asked this question at least once in your entire life. This question will help to better understand your face and the best way to dress it.
Before you can begin to explore the various face shapes, first get out your measuring tape and write down the following numbers.
Face length measures from your top hairline to the lowest part of the chin.
The forehead width measurement of the distance from your hairline to your forehead. Do not bend the measuring tape to the curve. Keep it flat.
Cheekbone width measures from one cheekbone to the next. Keep the measuring tape flat against your skin.
Jawline width holds the measuring stick just below your ear and then brings it down to your chin. Next, multiply by 2. You can then bend the tape to fit against your skin.
If you don't have one, it might be easier to let someone else do it for you. The iPhone also has a handy measuring app that can help you measure your face. Even if you don't own a measuring tape there are strong visual cues that will help you determine your face shape.
It's easy to determine your face shape. Measure from the center of the hairline to the top of the chin. Next, measure from the right side of your face to the left side. If the length from the hairline to the top of the chin is longer than the width from the left to the right, you probably have an oval face shape.
Conversely, if the width from left to right of your face is larger than the length from your hairline to the top of your chin, you may have a round or heart-shaped face. To make sure your hair is free of obstructions, you should first pull it away from your face.
Determine the largest part of your face. Take a look in the mirror to determine which part of your face looks the largest. You can either use a flexible tape measure or sight. Your face shape will be oval if you have a broad forehead. If your cheekbones are wide, it is likely that your face is round.
Define the shape of your jaw. Your face shape is also affected by your jawline. If it's shorter or wider, your face will be round. Your face will be heart-shaped if your jawline is narrow and pointed. A strong jawline and sharp angles are further signs that your face is square.
Measure the width and length of your face. If you are still uncertain about your facial shape, measure your face's length against its width. Measure from the middle of your hairline to your chin. Measure from the left side to the right. An oval face shape is one where your face is wider than it is long. A round or heart-shaped face may be possible if your face is longer than it is wide. A rectangle face may be a face shape if your face is twice the length as it is wide. A square or diamond face shape may be possible if your face is twice as long as it's wide.
If you don't have measurements but still want to know the shape of your face, follow these steps:
Take a look in the mirror, and reflect on how full you feel. This second part is optional, but it serves as a reminder.
Next, use the lip liner to trace your face directly onto a mirror.
Consider your outline and determine if it looks like a rectangle, square, oval, or heart.
In summary, if you still do not understand how to determine your face shape, here is the most important information:
Take out a flexible tape measure and follow these guidelines. You'll be able to get it done in no time.
Take the following measurements in inches or centimeters:
1. Forehead: Measure from the top of one arch to the bottom of the other arch with a tape measure. That number should be recorded.
2. Cheekbones Measure across your upper cheeks starting at the bump below each eye's outer corner.
3. Jawline: Measure the width of your jaw at its widest point (about one inch below your ears).
4. Measure your face length from your center hairline to the tip of the chin.
These are the measurements. Take note of the largest measurement and use this information to determine your face shape.
Round: The measurement of the cheekbones and the length of the face are similar. They are larger than the forehead and jawline. The angle of the jaw is very soft.
Square: All measurements are very similar. Sharp angles are a hallmark of sharp jaws.
Rectangular: The longest face length. The size of the jawline, cheekbones, forehead, and cheekbones are identical.
Diamond: The longest face length is the largest. In descending order, cheekbones, forehead, and jawline are the largest. Pointed chin.
Triangular: A large jawline, small cheekbones, and a small forehead. Any length of the face is possible.
Oval: The face length is greater than the width of the cheekbones and the forehead is wider than the jawline. The angle of the jaw is round.
Heart shape: The face is wider than it is long and has a broad width. The forehead and jawline appear similar in width. The chin is pointed and the forehead is round at the hairline. Your forehead is where your face is most wide, but your cheekbones and forehead are wide.
Is there an app to find my face shape?
Instead of taking measurements, or looking in the mirror, modern technology has helped you a lot. Here are some specialized apps to help you determine what your face shape is.
Best face shape apps for android:
Best face shape apps for iPhones
The bottom line
Many people aren't limited to one type of face. It's possible to have multiple face shapes, and it is quite common. Jennifer Lopez, for example, has very distinctive facial features. Her face can be described as a combination of an oval and a round shape.
As we age, our face shape changes. Due to changes in fat, muscle, and skin over time, older people have more rectangular faces. Younger people have more triangular shapes.
There are no rules about how to apply cosmetics or what accessories you should wear. However, you might find certain items flatter your face better than others due to the shape of your face. Enjoy it! Don't worry about it. Keep being beautiful.
Frequently Asked Questions
What determines the face shape?
Although we all have a similar skull, Keaney says that the sex hormones (namely estrogen or testosterone) influence our skull growth and the underlying soft tissue. This ultimately determines our face shape and the unique characteristics and features of our faces. Vasyukevich identifies the most important structures in determining facial shape as the forehead, cheeks, and jawline.
What are the differences between male-identifying and female-identifying facial shapes?
Face shape was traditionally divided into two groups: masculine and feminine. But new approaches to gender polarization have allowed us to see face shape from a neutral perspective. According to Grawe, while women are more likely to have oval or heart-shaped faces (traditionally considered "feminine") than men, they tend to have squarer ("masculine") faces. They have a bigger, more balanced jaw, a more square face, and a lower and upper half that is less proportional than their feminine counterparts.
Keaney says that the male forehead is generally higher and wider than the female, and slopes back to the prominent supraorbital Ridge (that bony line running atop the eyes). Stereotypically, the male cheek is flatter and wider. Let's not forget about the nose. While a stereotypically masculine nostril is straight and broad, a stereotypically female nose is narrower and more concave with a "swoop".
Grawe points out, however, that not all male-identified individuals have traditionally masculine features. There is no ideal face shape.
Can I change my face shape?
Genetics and bone structure are key factors in the shape of your face. Both of these are difficult to alter. You can change the look of your face, enhance your features, and make it more glamorous.
what is the most attractive face shape?
A heart-shaped face, also known as a V-shaped face, has been scientifically proven to be the most attractive face shape for women. A heart-shaped face is said to be mathematically beautiful. Meanwhile, for men, oval and square faces are often the most attractive face shapes
Why Is Understanding Your Face Shape Important?
Understanding your face shape will allow you to experiment with dimension.
Know which area of your face you want to highlight. Knowing your face shape will help you determine which parts of your face need a little more sparkle to make you stand out. To emphasize the bone structure of a round face, you could put blush slightly higher on your cheekbones.
Know which area of your face you want to emphasize. Your face shape can help you decide which areas to emphasize. To soften a square jawline, contouring makeup can be used to create rounder appearances.
Choose the best haircut. How you highlight your face can be affected by how your hairstyle looks. Consider your face shape before you start looking for a haircut that suits your face. Your face shape will help you choose the right hairstyle for you. You can choose the cut you want by doing a quick search online or consulting with a hairstylist.