In the early 21st century, any visitor who does or Saigon to Ha Noi for the first time were impressed by the dense traffic in the city center with full media type from the car expensive to the old bike carefully. In the noise of modern life, the pedicab (or Cyclo) (Vietnamese mean: Xích lô) is slowly walking back to his quiet glimpse of life. Introduced in Vietnam since 1939, trishaw has become a in the transport of the familiar old Hanoi.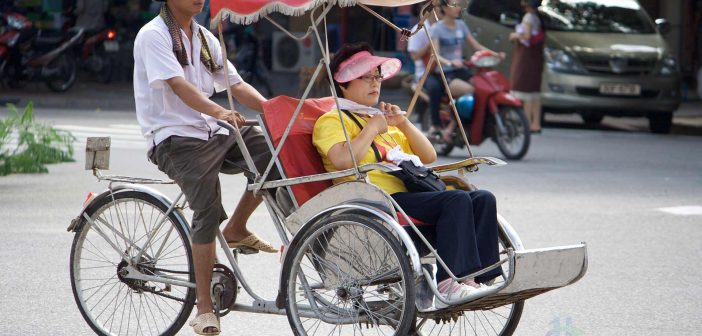 More than a century ago, when the stretcher, palankeen is not common means of transport of the Vietnamese again, people started switching to use rickshaw.
The first rickshaw had iron wheels, so running is not very quiet. Though this vehicle means for the wealth and supremacy of the owner rickshaw. When rickshaw driver pull boss on this machine caused the curious crowd. At that time, everything French are brought to them as civilized. The Hanoi young woman she did not dare sit on rickshaw because they afraid of somebody to refuse "Me Tây", that is married with French man. With the advancement of technology, then the iron wheels are replaced by special rubber wheels, more comfortable to sit on the rickshaw.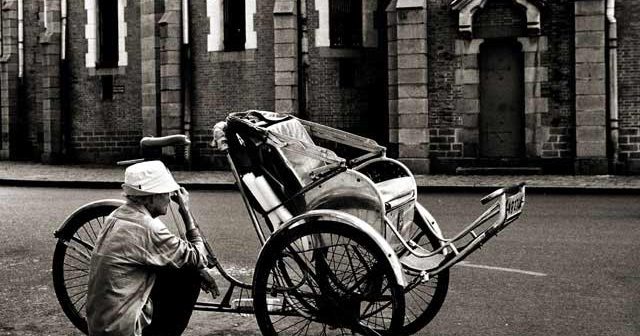 Only at that time the Hanoi young woman dared to use new rickshaw with iron wheels, also advanced with a kind of rubber wheels are reserved for Vietnamese people married with French man. And rickshaw obsolete with iron wheels were slowly pushed into the suburbs Hanoi. Even rickshaw with rubber wheels and divided into two categories, normal type and the type of OMIC. This type have aluminum seat with shiny white and mattress bundle fabric is also white, of course, this type of ride they ride expensive than common type.
After first world War, people are surprised to find bike-in from Saint-Etienne for the first time in the city center: What tools do any more than? No draught horse or driver push! Just a few bike is that it does not run a quiet hard. Someone thought of mind to add it to the rear of the rickshaw, so that the pedicab was born.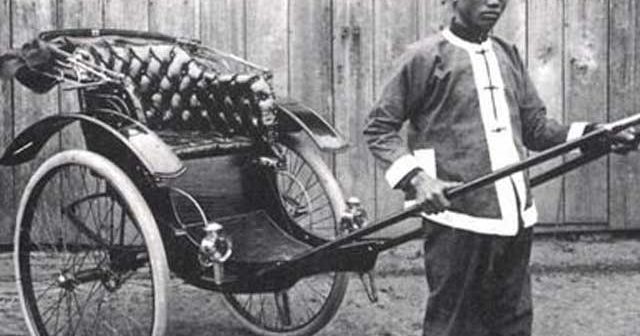 About 60 years of Hanoi people familiar with the image of the driver pedicab face cloth on their shoulder, sweat stained bend one's back on the roads. Have time, pedicabs are popular transport of Hanoi. There are in Hanoi fell into " break out trishaw" especially in the late 1988 – 1992 when a very large number of workers both foreign capital and the provincial holiday mode 176 of the State ( mode of labor restructuring in state-owned economic units). There is a allegory: "To see the trishaw, go to Hanoi – To see the soldier on the Son Tay ( now belong Hanoi)
Since Vietnam into the renovation, the urban planning and was developed with high speed, motorized transport development massively throughout the provinces in the presence of pedicab are gradually becoming rare. Now pedicab is no a first choice of most people to travel but with rudimentary manner, the narrowest in the corner, it has become a means particularly interesting for tourists to visit the ancient street of Hanoi.
Hanoi pedicab now has a little change in the form of activities, which mostly operate in the model of the company tour travel and tourism. Those ancient pedicab now also been decorated lounge chair more, cover parasol help travelers feel more comfortable. The drivers also dressed ladies very polite: uniform white shirt, dark trousers cap (that necktie eating betrothal ceremony tour) to create taste for the ride feel and enjoy the view pedicab.
Trishaw drivers who are also not a poor working class anymore, they speak some foreign language to communicate and ready to become a tour guide if you require. You can choose other means such as taxis and motorbikes to explore the old town … but the vehicle can not give you the feeling of leisurely watching look wonderful in every street corner, just enjoy the food, the traditional house, humans and the unique architecture that you can not find as when walking on the trishaw.
Foreign tourists to Hanoi would love to be shopping appliances, souvenirs by trishaw, especially through Hang Gai street buy silk, Hang Duong buy jam, drink beer in Ta Hien street or buy the book in Dinh Le street(This is also the currency exchange location).
Pedicab is "specific" not only of Hanoi but also in Vietnam. Foreign visitors often chat with each other: "Has you went to Vietnam stroll by pedicab? Has not been? Oh how he must go away, otherwise considered not to Vietnam". Tourists almost everyone must visit on a trishaw to explore seem interested. "I read in the tourism guide book is a pedicab in Vietnam so I would love to go to Hoan Kiem lake to try, that is great," Henry, a Dutch tourist said.
Alain Cany, A French has lived and worked in Vietnam, they had a special anniversary with a driver trishaw. He enjoyed food Vietnam want to buy a cookery book as a gift for his wife – a wife who enjoyed cooking. And he began the journey to buy your books with a driver trishaw is good speaking French on the gate of hotel. After day , two men can not find a book that teaches cooking in French. Sense of frustration rise in Alain.
However the late night, that the driver pedicab returned and offered Alain's gift was a yellow book with a gentle smile and friendly. This book that his mother bequeath, she has more than 90 years old, actually it is reserve for his wife but his wife has died. Alain does not know what to do at that time than to thank. And until now he is still feeling the original integrity, the book is an invaluable gift that people – this country has offered for a stranger like him.
Now picture each convoy "stainless gold parasol" passenger overseas visit the old town or a union men and girls carry casket for a  eating betrothal ceremony  brought joy happy for wedded pair to become a city beautiful image in the eyes of the people and international friends: photos he really is like a culture, a sharp elegant Hanoi in which both traditional and historical.
In the souvenir stalls sell special maps for tourists in town, but the tiny trishaw is found to be most popular. Tourists bring home to them the trishaw and he told friends that "In Hanoi have a vehicle that sit on it for a walk is extremely interesting.
Look on the corner of the image, no coincidence that artists choose the image on the trishaw and streets next to the old house to put into their paintings. It is consistent with each other about lines, about the structure and about poetry again. It is fairly typical picture of life living Hanoi, making people see a vivid strokes, connecting strokes cultural life of the past and present.
Hanoi – peace city with the ancient heaving tile. Many years this has become a cyclo cultural capital of culture thousands of years. Foreign visitors have started to love Hanoi from pedicab went round street in afternoon … And while many people remember to Hanoi, to see how friendly brand image of a old men with a smile trishaw gentle climate, dedicated follower flies around 36 streets to build a picture Hanoi upright, mild and hospitable. Even now we do not see them appearing more on all streets, but pedicabs are still living symbol of cultural and historical colorful Hanoi
Now Hanoi has four companies providing Cyclo tourism: Lam Anh Joint Stock Commercial Forestry Services, Sansucious Travel, Cultural Tourism company, Huy Phong company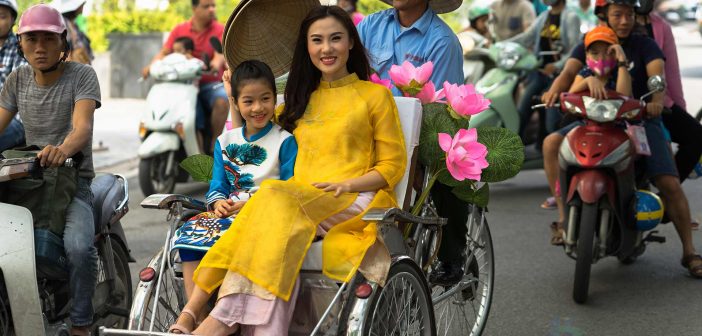 You can refer to a tour following:
Program in 1 hour
"History Museum – Hanoi Opera House – Hang Tre str – Hang Trong str – Luong Ngoc Quyen str – Hang Buom str – Dao Duy Tu str  Hang Chieu street- Hang Ma street – Hang Dong str – Lo Ren str – Lan Ong str – Bat Su str – Bat Dan str – Hang Bo street – Silver Street – Hang Mam street – Nguyen Huu Huan street – Museum of History (or hotel where you rent).
Program in 2 hour
Area 36 old streets – Cathedral – Quang Trung – Thien Quang lake – Nguyen Dinh Chieu – Hien Thanh –  Hom Market – Hanoi Opera House – Quan Thanh temple – Tran Quoc Pagoda – Museum of History (or hotel where you rent).