Referring to Vietnamese cuisine, it is impossible to forget Vietnamese Spring Rolls. This article shows you how to have crispy Vietnamese spring rolls and how to make a simple dipping sauce. Fried spring rolls are very famous and popular among Vietnamese people, so it seems to be pointless to write about something that everyone knows. However, it's also cool to have my own recipe with no need to ask Google :-P, and more importantly, some tips are hopefully useful for my foreign friends who want to try to prepare the dish.
Ingredients:
Minced pork (can be replaced by beef or chicken for variation, but pork is traditional)
Shrimp or crab meat (optional) to add more flavor
Vegetables: Carrot (Orange), German turnip (white), and Herbs (coriander/fennel/thyme ) or spring onions (green) to make the spring rolls colorful. Mexican turnips (Jicama) or bean sprouts can be used as well but they contain more water, so I prefer to use carrots and German turnips.
Mushrooms, dry vermicelli.
Egg (to bind ingredients when frying), shallot (or onion) (add more beautiful smell), and of course rice papers (to wrap)
Vegetable oil, vinegar, lime, sugar, salt, pepper, chili, garlic, and fish sauce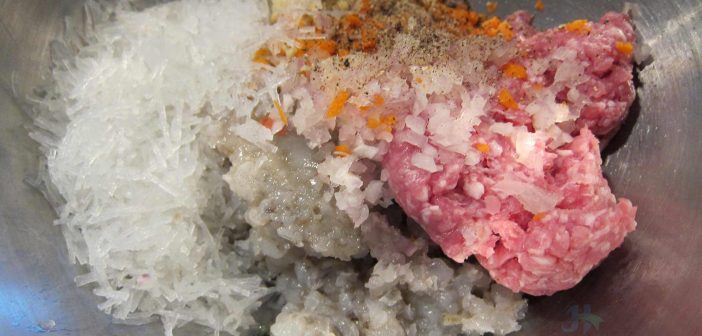 Making dipping sauce
Many Vietnamese people joke that making dipping sauce is the most important step and shows the cooking skills of women.
In order to make a beautiful, colorful sauce with floating garlic and chili, it has some tricks dipping sauce is to be made first since it'll be spectacular if it is left to curve for long hours.
Therefore if you are supposed to make Vietnamese fried spring rolls, you can make the dipping sauce the night before.
The following ratio of ingredients is referenced from a Vietnamese Chief recipe:
100g sugar
100ml vinegar
50g salty fish sauce
300ml water
10ml lime juice
Chopped garlic and chili
The first 5 ingredients are mixed together first and set for a while (or long hours). Garlic and chili are added until eating. Garlic and chili need to be chopped very finely. Do not crush them, just chop them into very small pieces with a knife.
TIPS: Put some drops of lime juice in garlic and chili, they will float beautifully on the dipping sauce.
If you don't have any utensils to measure the ratio, you can simply mix a bowl of sugar water and lime juice which is suitable to your palate, then gradually add the fish sauce until it tastes right.
You don't need to use vinegar. Garlic and chili are made as above.
Prepare for spring rolls
– Mushrooms and vermicelli need to be soaked in water for a while, not too long because their main roles are to absorb the water for easier wrapping and rolling. They also add flavor and make the spring rolls more crunchy.
– Finely chop all veggies, mushrooms, and vermicelli into consistent small pieces. To be quicker, a Grinder or Salad Chopper can be used to chop and mix them together.
– Then mix with meat, shrimp, or crab and add chopped garlic, salt, and pepper –> Add egg –> Add oil into the mixture to avoid watery rolls which will stop your rolls from being crunchy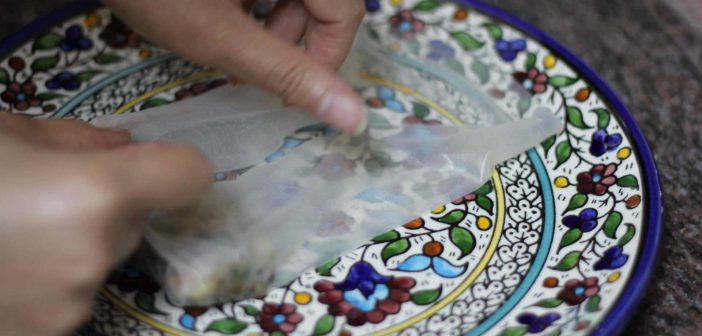 Wrapping: Choose big or small paper rice and stuff more or less, depending on how large you want them. Wrap small ones, it takes more time but the rolls will be more crunchy. Drop a little bit of vinegar into the rice paper to make it more crackling. Put all wrapped rolls in the fridge for 15-20 min before frying.
Frying
Use a frying pan with lots of oil. Put some drops of lime juice so that the oil won't splash on you and everywhere. I love this step most because the smell is so great and the sound of bubbling and drizzling is also interesting
If you are supposed to make rolls for two or three meals in 2-3 days, you can fry them two times. The first time, you just fry rolls to rare or medium status under low heat.
Second, spring rolls are fried under greater heat until they turn into beautiful yellow color. Put them aside for a while then ENJOY.
If you leave some for later meals, then put them into the freezer. When you wanna eat them, just fry them again.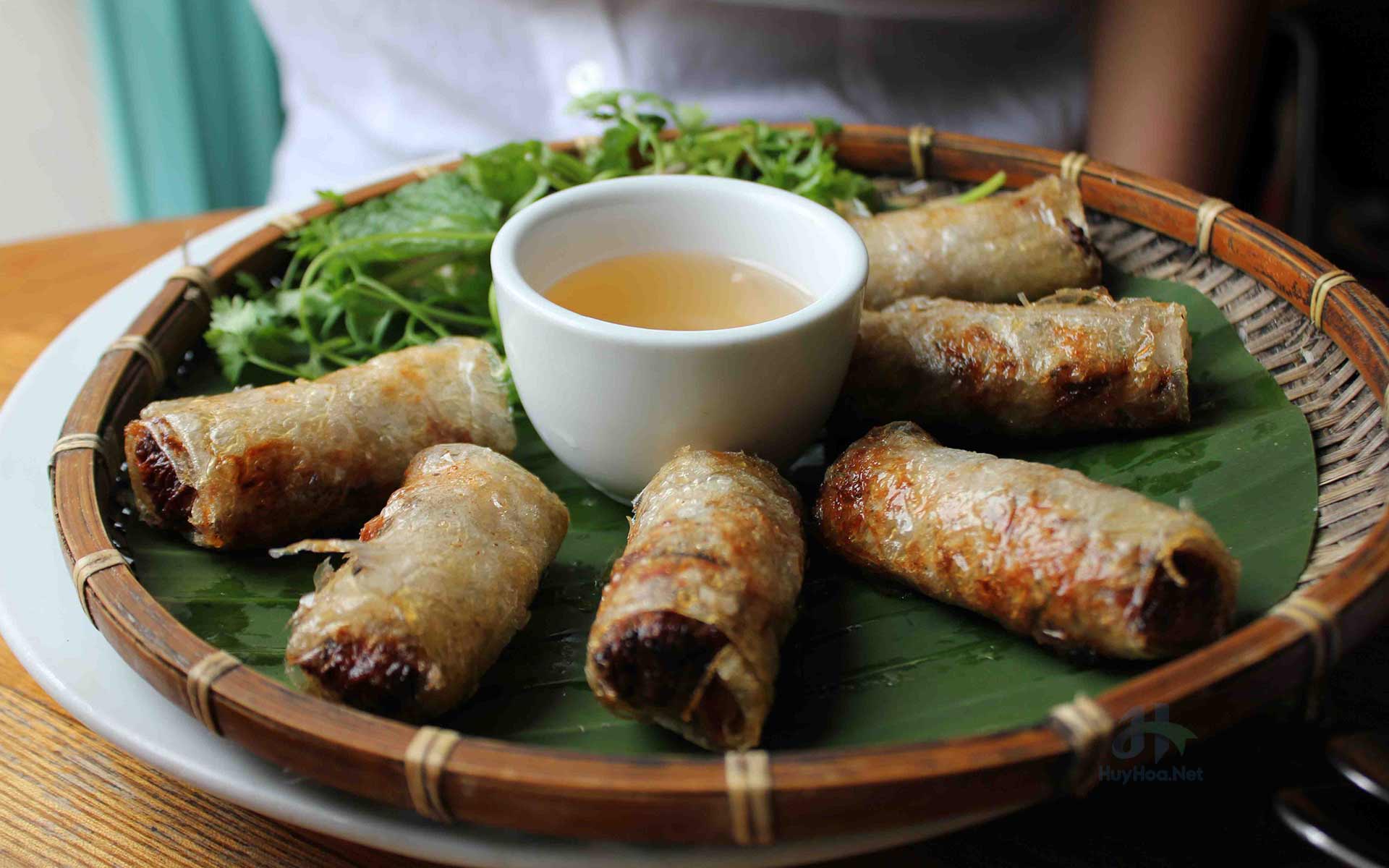 Delicious Vietnamese fried spring rolls: with a beautiful and smooth dipping sauce. Crunchy on the inside and crackling on the outside. Beautiful yellow color and is very tasty enhanced with the smell of garlic and pepper.
Bonus Recipe: Baked Pork Spring Rolls
Baked Pork Spring Rolls are crispy roll wrappers filled with tender shrimp, pork, ginger, garlic, fresh herbs, and spices and baked to perfection with a zesty ginger tamari dipping sauce.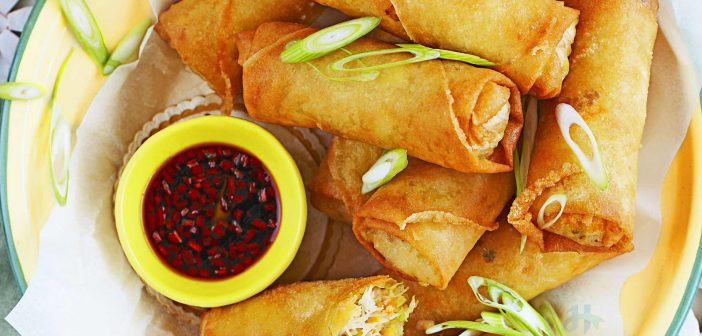 Ingredients
Serves: 12
225g (8 oz) minced pork

75g (2 oz) finely shredded cabbage

30g (1 oz) finely shredded carrot

2 spring onions, thinly sliced

2 tablespoons chopped fresh coriander

1/2 teaspoon sesame oil

1/2 tablespoon oyster sauce
2 teaspoons grated ginger root
1 1/2 teaspoons minced garlic
1/2 teaspoon crushed chilies, such as Schwartz
1 tablespoon cornflour
1 tablespoon water
12 spring roll wrappers
2 dessertspoons vegetable oil
Method
Prep: 20 min  ›  Cook: 20 min  ›  Ready in 40
Preheat oven to 220 C / Gas mark 7.
Place pork in a medium frying pan. Cook over medium-high heat until evenly brown. Remove from heat and drain excess fat.
In a medium bowl, mix together pork, cabbage, carrot, spring onion, coriander, sesame oil, oyster sauce, ginger, garlic, and chilies.
Mix cornflour and water in a small bowl.
Place approximately 1 tablespoon of the pork mixture in the center of each spring roll wrapper. Roll the wrapper around the mixture, folding the edges inward to close. Moisten fingers in the cornflour and water mixture, and brush wrapper seams to seal.
Arrange spring rolls in a single layer on a medium baking sheet. Brush with vegetable oil. Bake in preheated oven for 20 minutes, until lightly browned. For crispier spring rolls, turn after 10 minutes.
Note: Spring roll wrappers are available at any Vietnamese or Asian Supermarket. If you are in the US, you can refer to the article about Vietnamese food in 50 states of the US to find yourself at the nearest address where you can buy ingredients to make Vietnamese spring roll.
FAQs about the Vietnamese spring roll
What is a Vietnamese spring roll?
This traditional Vietnamese Spring Roll recipe (gỏi cuốn) is a fresh and healthy recipe, full of veggies, lean meat, and shrimp so you can chow down with less guilt :).
Made from just rice and water, the rice paper (bánh tráng) could be easily used for lots of other things. In one Vietnamese Market, over five brands of this stuff.
Can Vietnamese spring rolls be frozen?
These spring rolls, served with dipping sauce are a favorite at our house. While they are a little tedious to make, the recipe makes about 20, so they can be frozen and then just thawed the next time.
Cook time is approximate, it will depend on how many you make, and whether you need to do them in batches.
Are Vietnamese rolls gluten-free?
Mix all the ingredients above before wrapping the filling with Vietnamese rice paper. Deep fry in oil until the inside filling is cooked through and serve with the dipping sauce.
Do Vietnamese Rolls Have Gluten? The rice paper and the mung bean noodles are both gluten-free so this recipe is gluten-free.
Are Vietnamese spring rolls healthy?
Vietnamese spring rolls are the perfect veggie-heavy, light, and healthy spring meal. Filled with shrimp, baby spinach, asparagus, carrots, cucumber, red cabbage, and sprouts, these spring rolls are naturally gluten-free and served with a delicious almond butter dipping sauce.
How many calories are in Vietnamese spring rolls?
There are about 110 calories in 1 roll (1.3 oz) of Vietnamese Spring Rolls – Pork (Deep Fried).
How to fold Vietnamese spring rolls?
Hold a sheet of Vietnamese rice paper sheets in one hand and dab it with cold water across one side of the sheet. You don't need a lot of water, either, just a little bit, and you can use your fingers to do it.