You will probably only find a few choices of healthy Sonic drinks options on their extensive drink menu if there is a Sonic near you.
You may find a few that are low in calories, and sugar, and high in vitamins, nutrients, and antioxidants if you look through their drink list. Coke Zero and Sprite Zero are good options if you're a big soda drinker. These are great, no-sugar options that are fizzy, refreshing, and delicious.
Drinks like water, tea, coffee, and milk are the healthiest at Sonic Drive-in. These options are located at the end of their menus. They will show you their Sonic drink combinations first, including slushes and splashes as well as limeades and smoothies.
Avoid high-sugar drinks. Limeade Slush 44, for example, has 157 grams of sugar. Sonic offers a list of healthy drinks that you can be smart about.
Healthiest Drinks at Sonic
Sonic has long been a top destination for families looking to satisfy their collective sweet tooth, but it's also now become one of the most popular places to get a healthy drink on the go.
A healthy lifestyle is all about eating right and exercising. So ditch the soda, energy drinks, and frozen blended treats that are laden with sugar, artificial sweeteners, and other additives – not to mention the huge amounts of calories.
If you're looking for some diet drinks at Sonic that won't make you feel guilty or bloated, you're in luck. Sonic has a bunch of options that are low in calories, carbs, and sugar. Some of the best diet drinks  at Sonic (these are all low in calories – less than 50 calories) are:
Diet Coke, Diet Dr. Pepper, and Sprite Zero have zilch, nada, and zip in terms of calories, carbs, and sugar. They're basically water with bubbles and flavor.
Diet Cherry Limeade and Diet Limeade have a smidge, a tad, and a pinch of calories, carbs, and sugar. They're like a splash of summer in your mouth.
Diet Green Iced Tea comes in different flavors such as blackberry, lemon, mango, cranberry, peach, and raspberry, and has a whiff, a trace, and a speck of calories, carbs, and sugar. They're like a sip of nature in a cup.
Green Mountain Coffee Roasters has jack squat, diddly squat, and squat diddly when served black. It's like a shot of caffeine in your veins.
You can also jazz up your drinks with sugar-free flavor add-ins such as vanilla, chocolate, cherry, raspberry, and peach which add only 5 to 25 calories per serving. That's like adding a sprinkle of magic to your drink. I hope this helps you find a drink that tickles your fancy.
Some people have PMed me which sugar-free drink I recommend? That is a good question. I know everyone's taste is different, and I also have my own list and based on my experience, some of the best popular sugar-free drinks at Sonic are:

Diet Cherry Limeade which has a sweet and tangy flavor and real lime juice .
Diet Green Iced Tea which has a refreshing and natural flavor and comes in different fruit flavors such as blackberry, lemon, mango, cranberry, peach and raspberry .
Green Mountain Coffee Roasters which has a rich and smooth flavor and can be customized with sugar-free add-ins such as vanilla, chocolate or caramel .

Of course, you can also try any of the other sugar free drinks at Sonic and see what you like best. You can also ask for sugar-free flavor add-ins to your drink, such as sugar-free cherry, blackberry, mango, peach, or raspberry.
If you're looking for a filling, nutritious drink that's packed with nutrients, but still provides some sweet satisfaction, try these 5 healthy options at Sonic drinks.
Diet Limeades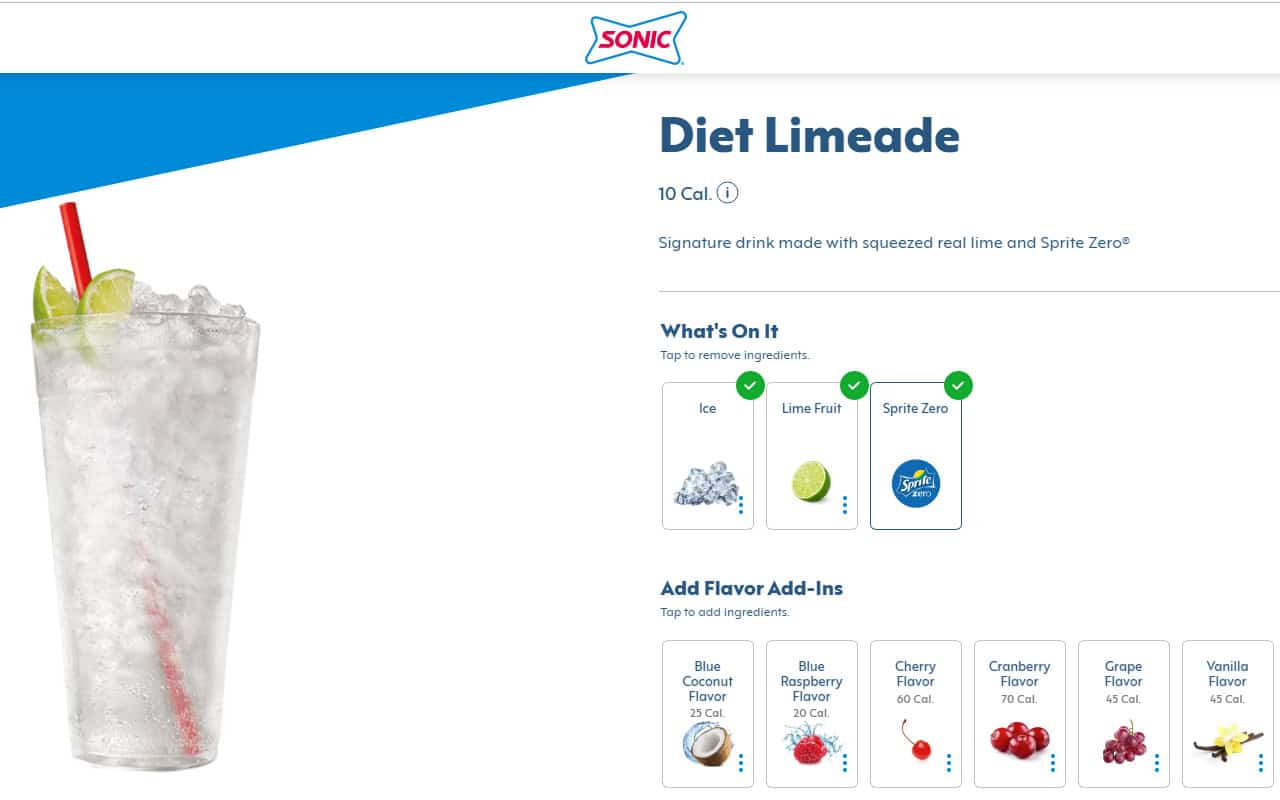 Sonic's Diet Limeades is my last healthy drink option. It's made from freshly squeezed lime juice, and Sprite Zero, and is delicious. It has only 5 to 15 calories, depending on how large you choose. This makes it a great low-calorie option. If you're looking for a refreshing, flavorful, and low-calorie drink with just 5 calories, ask for the small size.
These drinks are low in calories, sugars, and carbs and can provide some sodium for your body. Sonic offers a low-carb diet of cherry limeade. It isn't sugar-free but it has a lot less sugar than the regular version.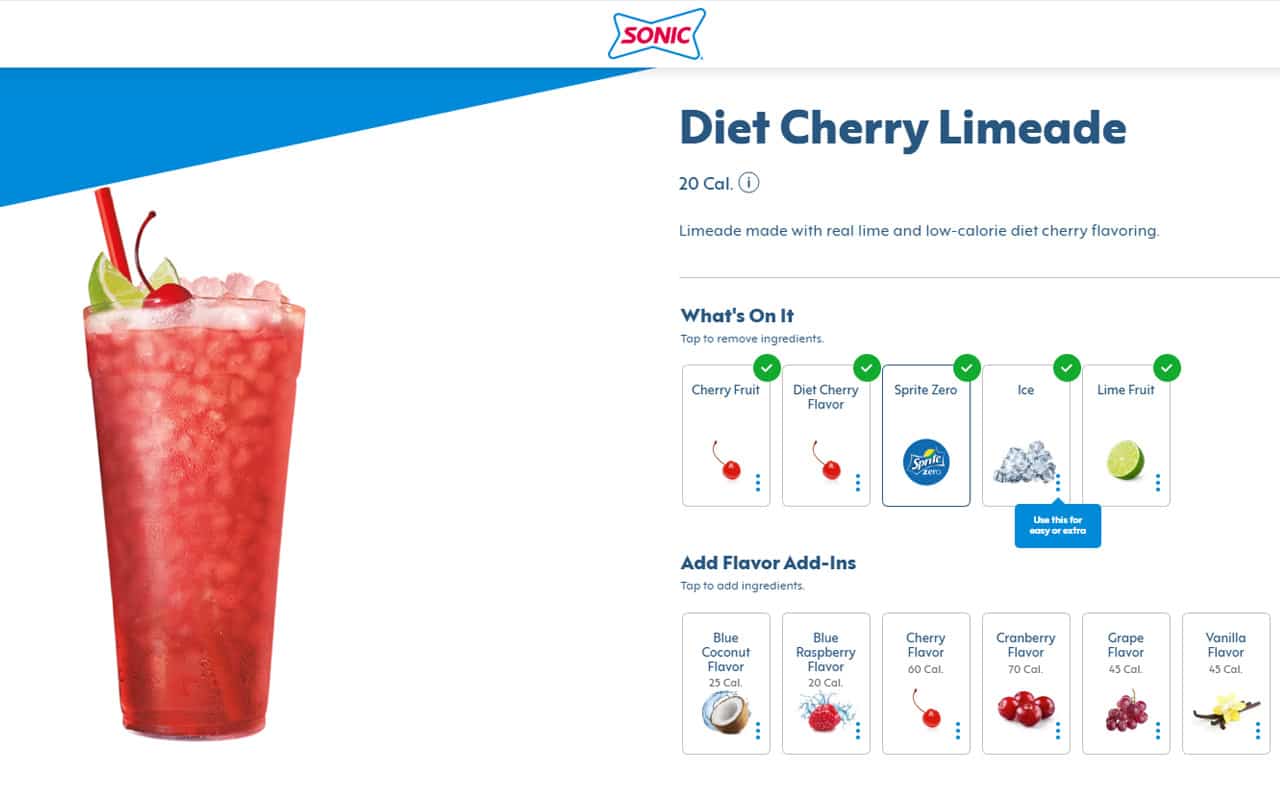 A Diet Cherry Limeade is the best keto drink at Sonic. It is refreshing and delicious, with just 4 g net carbs. One serving of Diet Limeade Large contains 4g total carbohydrates, 4g gross carbs, and 20 calories. A former employee who loves everything Sonic said a Diet Cherry Limeade has sugar unless you specify.
They are available in lemon, cherry, or lime flavors.
Bottled or tap water
You can cut down on calories by getting bottled or tap water if you plan to eat a burger or a dog.
This is not an easy task with all the additional items on your list. However, it can make a big difference in your calorie intake, sugar intake, and carb intake.
You will also be a blessing to your waistline and body.
Unsweet Iced Tea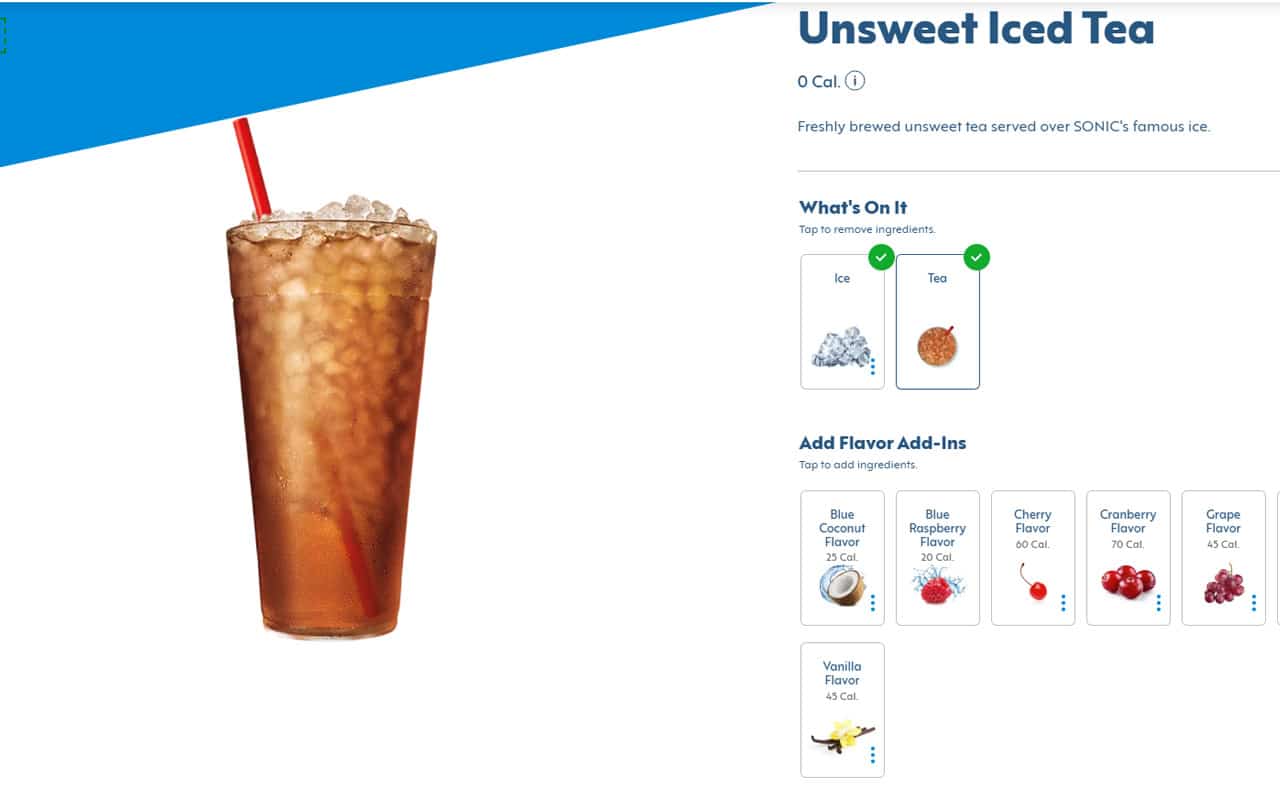 Sonic offers a refreshing alternative to limeades, slushies, and unsweet iced teas.
You can be sure you made the right choice by choosing water that is more flavorful than water and has the same amount of calories and sugar (0).
The RT 44 has only 35 mg of sodium and 0 calories.
Coffee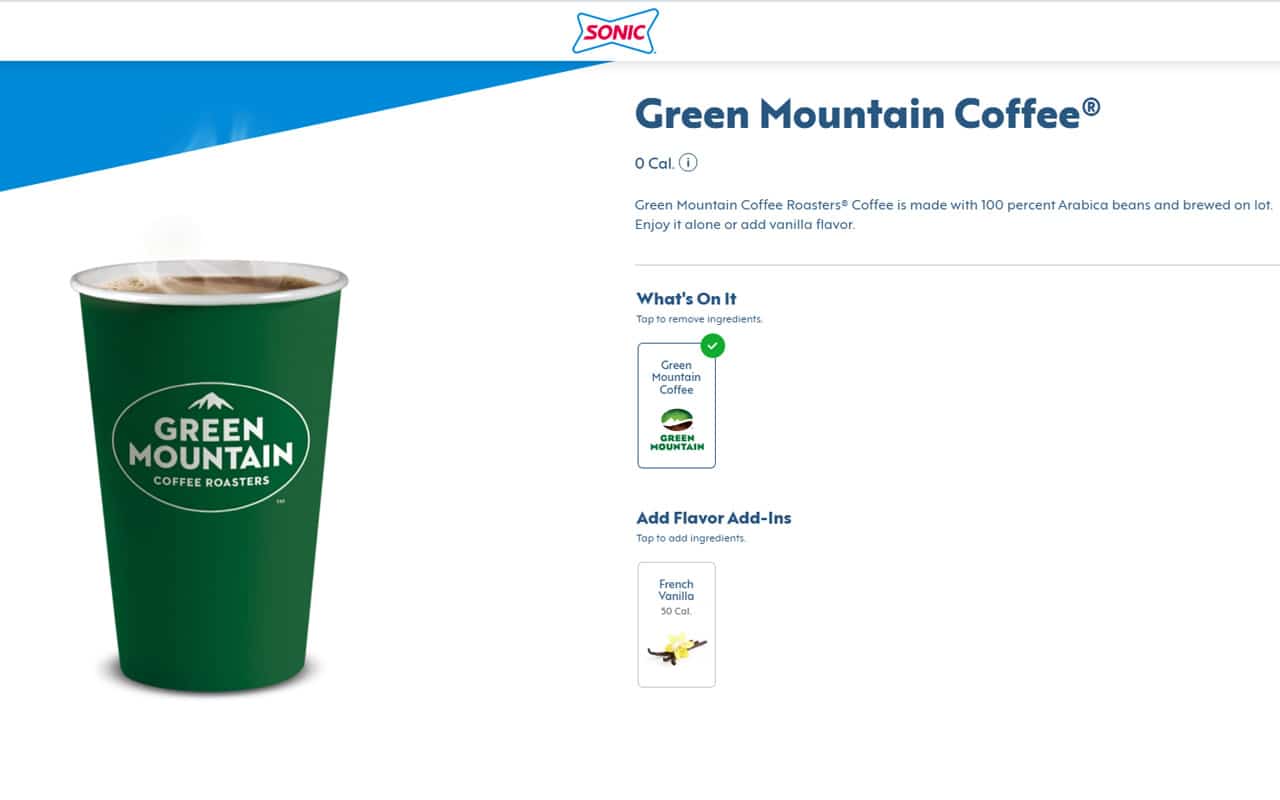 There are many healthy compounds in coffee that help prevent a range of diseases, including polyphenols, which may help to prevent type 2 diabetes, heart disease, and cancer. Drinking one cup of coffee can pack in 200-550mg of these helpful micronutrients. Most of the antioxidants in coffee fall into two categories:
Hydrocinnamic acids: These micronutrients energize the body and prevent oxidative stress.
Polyphenols: These plant compounds help to lower blood pressure, improve cholesterol levels, and may have anti-aging properties.
Do you know what's great? Black coffee. If you're on the hunt for a sugar-free drink, black coffee will do the trick 99% of the time. And, if it's during the middle of summer, it might be refreshing to ask for your black coffee over ice.
Their "Green Mountain Coffee Roasters" is one of the most healthful options on their menu. It will give you a boost and provide you with energy for the day ahead.
Your body will get antioxidants from the coffee and zero sugar. Don't add sugar or creamers to make it worse.
Their cold brew coffee has only 12 grams of sugar, and their French Vanilla cold-brew iced coffee has only 17 grams and 210 calories.
Milk
A 1% milk is a great option if you are looking for something more than water.
You can get your body vitamin D and protein from milk. It is also low in calories and sugars, which makes it a healthier choice than other drinks.
You might need to order the kids' menu if you really want milk.
Summary: Healthy Sonic Drinks Options
Sonic is a great place to grab a burger or tots. You should carefully read the nutrition facts before making a decision. Don't make a poor food choice and then have to go without. Instead, choose a low-calorie, refreshing drink that is rich in vitamins, minerals, and nutrients.