Vietnam Museum of Ethnology is a place to preserve the unique and valuable culture of 54 ethnic groups in Vietnam. It is attracting more and more tourists who are passionate about history and culture to explore. In this Vietnam Museum of Ethnology travel guide, Let the HuyHoa.Net team tell you about some experiences of going to the Vietnam Museum of Ethnology!
Vietnam Museum of Ethnology
Address: Nguyen Van Huyen Street, Cau Giay District, Hanoi
Ticket Fee:
Ticket price to visit the museum: is 40,000 VND / turn. (~$2)
Entrance fee for students: 15,000 VND / turn. (~$0.65)
Entrance fee for students: 10,000 VND / turn. (~$0.45)
The elderly, people with disabilities, ethnic minorities: 50% discount on ticket prices.
Children under 6 years old, people with severe disabilities, people with ICOM cards, journalists' cards, sponsors: Free.
Vietnamese Museum of Ethnology Indoor/Outdoor narration in Vietnamese: 50,000 VND. (~$2.2)
In-house voiceover in English/French: 100,000 VND. (~$4.5)
Opening hours: 8:30 – 17:30, all days of the week and subject to change depending on the holidays of the year.
Located right on Nguyen Van Huyen street, in Cau Giay district, Hanoi, the Vietnam Museum of Ethnology is only about 8 km from the center of the Hanoi capital, very easy for you to move.
For the people of Ha Noi in particular and the people of Vietnam in general, the museum holds great cultural significance and value. In your journey to discover Hanoi's Old Quarter, you definitely cannot miss this place.
Vietnam Museum of Ethnology was built in 1981 with an original area of ​​3.27 hectares. After many renovations, the area of ​​the museum was increased to a total area of ​​4.4 hectares.
This is a work designed by architect Ha Duc Linh, Tay people; The interior was designed by female architect Véronique Dollfus (French).
With the purpose of preserving the history and cultures of major ethnic groups in Vietnam (54 ethnic groups), the museum is one of the best attractions in Hanoi that is suitable for students, and visitors interested in learning all about the Vietnamese culture and customs.
The exhibits are displayed in many different categories such as clothing, jewelry, weapons, musical instruments, religion, housing, etc., which are loved and appreciated by visitors.
Areas of the Vietnam Museum of Ethnology
In the series of experiences going to the Vietnam Museum of Ethnology, let's explore the unique architecture of the museum.
Architectural garden at the Vietnam Museum of Ethnology
This is an outdoor exhibition area with an area of ​​​​up to 2 hectares with 10 different folk works. You will admire the model of recreating houses of ethnic minorities in the Central Highlands and northern mountainous areas, including communal houses, stilts, tile houses, etc.
From the entrance gate, wells, and steps are all designed and built. built exactly like the real thing for visitors to have the most comprehensive view of each feature of the people.
Drum Display Area
The Dong Dong exhibition area has 2 floors where visitors can admire the traditional costumes, rituals or labor tools, and ancient living utensils. The first floor is where you will visit and learn about 54 ethnic groups in Vietnam through their images and residential areas. After that, the guide will continue to give a detailed presentation about ethnic groups such as Vietnamese, Muong,… 2nd floor is where you learn about the culture of ethnic minorities such as Tay, Thai, Hmong, Knife,…
Currently, this is a place to display more than 15,000 artifacts, 42,000 films, and tapes, music about the culture and customs of 54 Vietnamese ethnic groups.
Kite display area
The third area is the Canh Kite display area with an area of ​​​​about 500 hectares. This is an area for you to learn about the customs and daily activities of people in Southeast Asia.
Activities of the Vietnam Museum of Ethnology
Coming to the Vietnam Museum of Ethnology, you can also participate in interesting entertainment activities such as watching water puppet shows, listening to Quan ho Bac Ninh folk songs, participating in folk games…
Water puppetry is a unique traditional folk theater art form, born from wet-rice culture. From the stories of life and daily activities of ethnic groups in all parts of the country, puppeteers will change and retell with vivid puppet images.
Ticket price: 90,000 VND / adult and 70,000 VND / child. It will be free if you watch and buy water puppets in the morning.
Quan ho Bac Ninh folk song is an art form that is considered the core of the culture of the thousand-year-old "Northern Kinh Bac" culture. No need to come to Bac Ninh province, you will also have the opportunity to participate in Quan ho folk songs and cultural exchanges held to promote the country's culture to domestic and foreign tourists. You can also try out your folk singing skills in concerts here.
Folk games such as: throwing bamboo, swinging, going overseas, balancing… will be held on the museum's premises. According to visitors to the museum, participating in folk games is the most interesting experience. You both have the opportunity to play and learn about the folk games that are gradually disappearing in modern life today.
In addition, the Vietnam Museum of Ethnology also has an area to sell Vietnamese souvenirs related to the culture of 54 ethnic groups. This will be a great gift for family and friends.
Vietnam Museum of Ethnology Travel Guide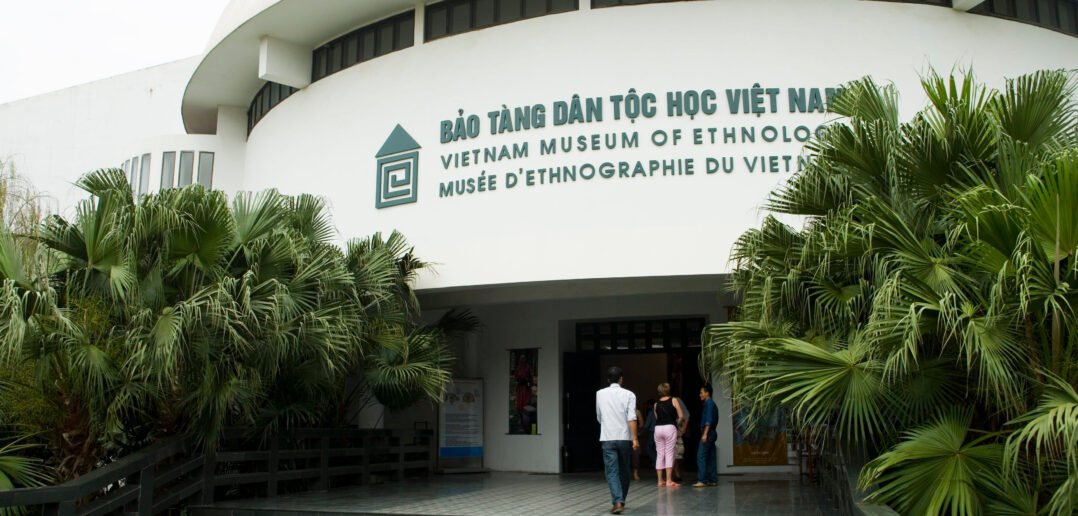 To make the most of your visit to the Vietnam Museum of Ethnology, please note a few things that Huy Hoa Team is about to list below.
To rent a motorbike to visit the museum, go to Hanoi's Old Quarter.
Register in advance to have the tour guide explain or answer your questions when you purchase tickets. You can be sure that if you're a foreign tourist, the guides will speak fluently in English, French, or Vietnamese.
You should arrange a tour that isn't too crowded to ensure you understand the identities of all 54 ethnic groups of Vietnam.
You are prohibited from bringing in any inflammable or pet-related items into the museum.
You can leave your personal items at home and bring only money and a mobile phone or camera for the tour.
You must not touch, move or attempt to manipulate the products displayed during the tour.
Keep your hygiene good and don't cause disorder or inconvenience to others.