Primers that are best for mature skin will not only make your makeup last longer but will also prevent the foundation from getting smudged or settling into wrinkles. Many primers are specifically designed for older skin types, which means they not only make your makeup last longer but also help to give your skin a more youthful look. Continue reading to learn more about makeup primers, their effectiveness, how long they last, and which one you should use.
We have the best beauty products, makeup, and skincare for women over 50. You'll find everything you need in our beautiful collection. To make your makeup even more beautiful, you can add one of our top primers for mature skin.
What are makeup primers?
Makeup primers can be described as gels, creams, or oils that prepare your skin for makeup products. They provide a smooth and even foundation on which you can apply your foundation or loose powder. Primers are essential for every makeup lover. They create a barrier between your skin, your makeup, and your skin. This will increase the longevity of your look.
Some primers combine elements from both skincare and cosmetics. They can moisturize just like your favorite creams. Others will even your skin tone, just like a bb-cream. You can find the best primers for mature skin at department stores, drugstores, and specialty cosmetics retailers at a variety of prices.
What are the benefits of using makeup primer for aging skin?
Primers that are best for mature skin help make makeup last longer and prevent the foundation from getting smudged. Many primers are specially formulated for mature skin. This means that they not only make your makeup last longer but also help you look younger.
A face primer is an important step to take as we age. It can be used in conjunction with our favorite moisturizers and serums. The right primer will not only keep the product in place but can also make it last longer. Some people's skin will become drier as they age while others may notice wrinkles and fine lines.
"I believe that many people don't know that certain primers do different things. It's all about identifying the skin issues and finding primers to address them," Allan Avendano, a makeup artist, told Allure in 2019.
For dry skin, you should look for primers with hydrating ingredients such as coconut water or hyaluronic acids. Look for primers that have smooth properties and a high amount of plumping collagen if you are looking to reduce fine lines and wrinkles.
Tests have been done to determine the effectiveness of primers for skin conditions such as hyperpigmentation or fine lines. One 2015 study found that using a primer over a 12-week period helped to improve the skin's appearance. There's a primer for every skin type. Primers for your eyelids are available, specifically designed to protect and maintain your eyeliner and eyeshadow.
What is a face primer?
Primer prepares skin for foundation and makes make-up last longer.
It can reduce foundation cracking, creasing, and settling into fine lines and wrinkles.
A face primer can be used to reduce the appearance of large pores and give the final result a smoother appearance.
There are many primers available that can treat different skin conditions, such as oily or blemished skin.
It can be difficult to find a face primer that suits mature skin. It can be difficult to find the right combination of a primer and a foundation.
Jamie Greenberg, a celebrity makeup artist, says that primer provides a smooth canvas for your make-up. It can also keep your makeup in place and prevent it from moving. It not only gives you an even foundation, but it also locks everything in.
Sometimes, foundations can slip off your face if they don't fit together well. This is the worst! Bottom line: not all primers are the same. It took many trials and errors to find the right primer for mature skin.
Best Primers for Mature Skin
The review of best primers for mature skin and primers containing anti-aging ingredients is purely the personal opinion of the writer. We are not promoting any of the products listed below or using any of the affiliates in this article.
List of 20+ Best Primers for Mature Skin:
Lancome La Base Pro Perfecting & Smoothing Makeup Primer
Using Lancôme's Elasto-Smooth technology, this face primer refines skin's texture and diffuses light. It visibly reduces imperfections and creates a smooth base. It can be compatible with all skin types
Lancome, a luxury beauty brand, is well-known for its exceptional skincare products. The La Base Pro Perfecting and Silking Makeup Primer is no different. This oil-free formula can refine the skin, diffuse light, and create a radiant foundation that will last all day.
One customer referred to this as her "favorite primer", and stated that it makes foundation "just glide on" because the skin feels silky smooth.
DHC Velvet Skin Coat
DHC Velvet Skin Coat is an oil-free face primer that absorbs quickly and is perfect for mature skin. It provides a blurred and softened look to your skin. It's a great smooth face base for a long-lasting makeup look.
The DHC Velvet Skin Coat has become a favorite of makeup artists all over the globe. It is formulated with olive oil, a natural moisturizer, to instantly transform skin into smooth, velvety skin.
One reviewer in her 50s stated that she tried this product once and received two compliments on her face for how young it looked.
Milk Makeup Hydro Grip Primer
This is one of the top 5 drugstore makeup primers with hyaluronic acid that dry skin will drink up.
When it comes to skincare, hydration is key. You want your skin to look healthy and radiant, even when it comes to makeup. Hydro Grip Primer by Milk is just that. It is infused with plant-based Hyaluronic Acid, which locks in moisture.
You will also find Niacinamide (Vitamin B3) and aloe water in this product. This will keep your skin supple and your makeup on point. Spray your face with a facial mist before applying. Apply the primer to your face and then apply your foundation.
You will be amazed at how radiant and dewy your skin looks. This award-winning product is vegan-friendly, does not contain icky chemicals, and is light enough to be worn even on the hottest days.
NYX Angel Veil Skin Perfecting Primer
NYX Angel Veil Skin Perfecting Primer is one of the best drugstore primers for oily skin as well as oily mature skin. It can control oil for up to 8 hours and goes on very light.
Although most people take great pride in their skincare, it doesn't mean you have to spend a lot to achieve amazing results. A great drugstore alternative that puts many luxury products to shame. NYX's Angel Veil Skin Perfecting Primer. This primer is smooth as butter and will make your skin feel silky soft while making it easy to apply makeup. This primer is guaranteed to win, especially considering that it costs less than $20 See more primers from drugstores that are good for mature skin!
One user called the primer "amazing" and said it "feels like silk on her dry, sensitive skin."
The Micro-Blur Skin Perfector by Kiehl
If you are looking for the best face primer for sensitive skin of top quality, The Micro-Blur Skin Perfector by Kiehl can be the best choice.
Kiehl's is a brand that you can trust to provide high-quality products for those with sensitive skin. So it makes sense that the Micro-Blur Skin Perfector, which is suitable for sensitive mature skin, would be on our list. This primer is dermatologist-tested and non-irritating. It blurs the appearance of pores and imperfections. The combination of bark, lentil extracts, and lipo hydroxy acids helps to refine texture and improve skin health.
One satisfied reviewer said that this product was like "airbrushing your skin," while another stated that it "blurs your pores so well that you don't even need foundation anymore!"
Face Glow
This product is The Beauty Shortlist's best award-winning primer for mature skin
Graydon's primer is hard to praise without getting poetic. Face Glow reduces the appearance of dark circles and pores, as you would expect. The skin is illuminated by the use of mica (naturally sourced mica) and raspberry seed oil. Sea buckthorn oil adds vitamin C and essential amino acids. Your skin will look radiant and refreshed. This primer is also cruelty-free, hypoallergenic, and dermatologist-approved. It's no wonder that it was named The Beauty Shortlist Winner!
Fenty Beauty Pro Filt'r Instant Retouch
This is one of the best primers for oily skin to try now.
Fenty Beauty is a brand that you are likely to have heard of over the years. This Pro Filt'r Instant Retouch Primer was created by Rihanna, a singer who used the knowledge she had gained from years of working with makeup artists to create an amazing line.
It is oil-, paraben, and phthalate-free. It blurs pores and evens out skin tones to create a perfect base for all complexions, even those that are sensitive to lightening.
One customer was happy to report that the product made their skin smoother and more velvety after one use and that their pores "completely disappeared".
MAC Prep + Prime Fix+ Face Primer & Makeup Setting Spray
This is the best spray premier for mature skin. This priming makeup spray from MAC is designed to nourish your skin and create a smooth canvas for your make-up.
This spray is loaded with soothing ingredients like cucumber, green tea, and chamomile to give your skin a boost. Its unique spray application allows for flawless makeup coverage and evenly distributes the mineral-rich mist throughout your face.
One makeup artist said, "There are many reasons (if not many) why this primer has a cult following." She also stated that she uses the primer when she does her own makeup and for clients. She said that she also loves the "skin-soothing" properties and top-notch skin-nurturing components.
Smashbox Photo Finish Foundation Primer
Best all-over Primer for mature skin
The Smashbox Photo Finish Foundation Primer is a popular makeup primer. It was created to keep makeup looking fresh during long photo shoots. Its lightweight, oil-free, and fragrance-free gel formula makes it a favorite. This helps to smoothen out pores and fill in fine lines.
One fan said, "This stuff literally transformed my life and changed my face." She also stated that it has helped her increase her confidence and "doesn't break [her]out at any point."
Tula Skincare Face Filter Blurring & Moisturizing Primer
The main characteristics of mature skin that disappear with age are flexibility and elasticity. Tula Skincare Face Filter Blurring & Moisturizing Primer helps restore those functions.
This popular primer from Tula Skincare has received over 1,600 5-star reviews from Nordstrom shoppers. This primer is paraben- and phthalate-free and contains ingredients such as licorice, probiotic extracts, and sulfate- and phthalate-free. It will make your skin look and feel its best.
The primer's "dewy effect" and the fact it is "lightweight and goes on smoothly is what makes this primer a hit with happy reviewers. Another customer stated that it "works wonders for her sunspots," while another claimed it "tames her rosacea."
Bobbi Brown Vitamin-Enriched Facial Base Priming Moisturizer
This face primer is one of the best cosmetics for aging skin
Do you prefer a simple routine to a long list of options? Bobbi Brown's Vitamin Enriched Face Base Priming Moisturizer might be your next skincare obsession. This oil-free moisturizer is both a primer and moisturizer.
It's enriched with shea butter to provide hydration, vitamins B, C, and E, as well as antioxidants. For a fresh, light scent, it also contains grapefruit and Geranium notes.
One user who calls it their "favorite product" says that it feels "like food" and smells "amazing." Their skin also looks different when they use it for a few more days.
Murad Invisiblur Perfecting Shield Broad Spectrum Sunscreen SPF 30
If you are looking for the Best primer with sunscreen of top quality, This SPF Makeup Primer is one of the top choices.
To restore the skin's firmness, elasticity, and texture, it is infused with mushroom peptides
Protecting your skin from the damaging effects of the sun, no matter what age you are, is crucial. The Skin Cancer Foundation estimates that one in five Americans will develop skin disease by age 70.
It is easy to protect your skin by using a primer that doubles as a sunscreen such as Murad's Invisiblur Perfecting shield with SPF 30. This lightweight primer does all the same work as a regular primer, but it also provides anti-aging benefits and protection against harmful UVA/UVB rays.
One customer who was satisfied said that they were looking for a sunscreen that doesn't feel or look like sunscreen. This product gives their skin a soft, smooth feeling, and makes them look great!
Tatcha The Silk Canvas Protective Primer
This velvety balm is infused with silk powder and silk extracts. It leaves your skin feeling as smooth as silk. The multi-tasking formula is suitable for all skin types. Hallie Gould, Byrdie Associate Editorial Director, picked it as a top pick.
It minimizes shine and gives a soft-focus effect. Are you still not convinced? You might still be skeptical. According to the brand, the product also contains Hadasei-3, which is a combination of youthful-boosting ingredients that leaves the skin feeling soft and radiant. It can be used on your lips, eyes, and face.
Key Ingredients: Silk, squalane
Skin Type: All
Size: 0.7 ounces
Cruelty-Free: Yes
Byrdie Clean: Yes
The Ordinary High Spreadability Fluid Primer
This wallet-friendly option is for you if you don't want to spend your hard-earned cash on makeup. It comes with an ultralight serum-like formulation and a serum-Esque applicator.
This is designed to improve the spreadability and uniformity of foundation and concealer products to ensure that the color stays even and beautiful. It will also help prevent makeup from creasing and clumping on dry patches. This is a huge plus. It is silicone-based. However, if this is not an issue, this is a great choice.
Key Ingredients: Hexamethyldisiloxane, Cyclopentasiloxane
Skin Type: Balanced, dry
Size: 1 fluid ounce
Cruelty-Free: Yes
Byrdie Clean: Yes
PYT Beauty Baby got Base Face Primer
Are you still not convinced that you need a primer for your face? This drugstore option will convince you otherwise. This product is cruelty-free, vegan, clean, and comes at a reasonable price.
The formula is more moisturizing than a moisturizer, as it contains jojoba oil and coconut oil. It dried quickly and left no greasy residue. This is due to the fact that it's made of 29% recycled plastic.
Key Ingredients: Jojoba oil, coconut oil, hyaluronic acid
Skin Type: Balanced, dry
Size: 1 ounce
Cruelty-Free: Yes
Byrdie Clean: Yes
Fenty Beauty Pro Filt'r Instant Retouch Primer
Since oily skin is often prone to acne, there may be a red discoloration on the skin. Fenty Beauty Pro Filt'r Instant Retouch Primer is one of the best foundations for oily skin that keep shine away
Oily skin types may benefit even more from using a primer. By choosing the right formula, you can significantly reduce the chance of unwelcome slick spots appearing mid-day. This primer is the perfect formula. It is oil-free and instantly reduces shine.
However, it doesn't make skin feel or look chalky. Instead, it leaves skin feeling soft and touchable. The subtle peach tint gives it a blurring effect that is similar to a filter.
Key Ingredients: Dimethicone, glycerin
Skin Type: All
Size: 0.5 or 1 fluid ounce
Cruelty-Free: No
Byrdie Clean: Yes
Isla Face Base Priming Moisturizer
The ideal primer for dry skin should contain ingredients like shea butter, hyaluronic acid, glycerin, aloe, and vitamin E. Skincare and makeup benefits. Isla Face Base Priming Moisturizer is one such product.
Primers don't have to be for oily skin. There are many hydrating options that can add moisture to dry skin. Faith Xue, former Byrdie Editorial Director, loves this lightweight lotion from Isla. It plumps and hydrates the skin with hyaluronic acids and glycerin.1 A special HEV complex provides protection against blue light, while a hydrating blend from natural oils leaves it soft and smooth.
Key Ingredients: Rosewater, glycerin, hyaluronic acid
Skin Type: Balanced, dry
Size: 0.8 fluid ounces
Cruelty-Free: Yes
Byrdie Clean: Yes
Bare Minerals Blemish Rescue Anti-Redness Mattifying Primer
This product is the best primer for Acne-Prone skin
This primer is also for combination Acne-Prone skin
A condition resulting from clogged or plugged hair follicles present under the skin. It presents as small to large, red bumps on the skin which may be painful and pus-filled in some cases.
It's true that if you have breakouts you might be more inclined to keep your makeup simple. But this product is absolutely worth it. It's more of a skincare product than anything else. It's hydrating enough to double as a moisturizer and has ingredients that are great for oily skin that is acne-prone or irritated. You'll find things like salicylic acid to reduce oil, zit-zapping zinc and sulfur, mattifying clay kaolin clay and calming chamomile… and the list goes on.
Key Ingredients: Salicylic acid, kaolin clay, zinc, sulfur
Skin Type: Oily, acne-prone
Size: 1 ounce
Cruelty-Free: Yes
Byrdie Clean: Yes
Benefit Cosmetics The POREfessional Primer for the Face
Those with large pores should look for ingredients like dimethicone, Cyclopentasiloxane, and Cyclopentasiloxane. These ingredients float over pores to create a smooth layer that allows the skin to breathe. Benefit Cosmetics the POREfessional Face Primer is the best primer for large pores that blur, conceal, and minimize
Let's start with the bad news. There is no way to change the size of your pores. The good news is: The good news? A primer like this can dramatically reduce their appearance. (You can't get everything you want. This oil-free, clear silky balm instantly conceals pores and fine lines. Even better? Even better?
Key Ingredients: Cyclopentasiloxane, dimethicone
Skin Type: Oily
Size: 0.3 or 0.8 fluid ounces
Cruelty-Free: No
Byrdie Clean: No
LYS Beauty Secure Skin Gripping Serum Primer
This is one of the best brightening primers that will give your complexion the glow it needs
Are you struggling with acne scars or stubborn dark spots? This primer by LYS Beauty is the right product for you. This serum is not only strong enough to hold makeup in place but also has texture- and tone-enhancing skincare benefits. A combination of AHAs derived from fruit visibly smoothens skin4, while vitamin C-rich grapefruit oil fades the appearance of dark spots and hyperpigmentation5. This serum is a must-have for anyone with oily or acne-prone skin.
Key Ingredients: Niacinamide, alpha-hydroxy acids
Skin Type: Balanced, oily, combination
Size: 1 fluid ounce
Cruelty-Free: Yes
Byrdie Clean: Yes
Armani Beauty Luminous silk Hydrating Makeup Primer
If you use the moisturizing option, you'll get the benefits of a primer plus a soft and luminous base – this is perfect for dewy skin! I really love Armani Beauty Luminous Silk Moisturizing Makeup Primer. This primer hydrate protects and boosts your skin's radiance.
You can layer highlighter after highlighter to get the glowing skin you desire. This luminous primer can make your skin look radiance-boosting faster. This combination of rice bran, shea butter, and glycerin is super creamy and hydrating. It will leave your skin looking fresh and radiant even before you apply any makeup. You can expect skin that is soft, smooth, and glowing. This makes it the perfect base for your makeup.
Key Ingredients: Shea butter, glycerin, rice bran
Skin Type: Balanced, dry
Size: 1 ounce
Cruelty-Free: No
Byrdie Clean: No
Exa Beauty Jumpstart Smoothing Primer
This is a clean semi-matte primer charged with a triple antioxidant blend that creates a canvas of possibility for any skin tone.
Credo's first private brand, this new brand is safe to use. There are no silicones in the formula, but a long list of protective antioxidants that will protect your skin against all environmental aggressors.
Quartz crystals are real ones! The mixture creates a beautiful blurring effect, which works well with the semi-matte finish. The formula, as you would expect from Credo is 97% natural, cruelty-free, gluten-free, and safe for sensitive skin.
Key Ingredients: Silica, raspberry seed oil
Skin Type: All
Size: 1.1 fluid ounces
Cruelty-Free: Yes
Byrdie Clean: Yes
Lawless Beauty: Hydrating Primer Serum
This is the best Multi-Purpose Primer optimized and beneficial for all skin types. This serum-based foundation feels like hydrating skincare, smoothly gliding onto skin and self-setting in under a minute.
This product is a skincare-makeup combination that's truly unique. It contains a skin-soothing serum with peptides, rosehip oil, and a hydrating moisturizer (hello shea butter). Sea buckthorn oil is also included, which protects your skin from damage by free radicals.
The texture is what really stands out. It can transform from serum to oil to a gel, and we love the fact that it is free of silicone. It also smelled like lavender, which was a nice touch. We are hooked, it's no surprise.
Key Ingredients: Sea salt, shea butter
Skin Type: All
Size: 1.7 fluid ounces
Cruelty-Free: Yes
Byrdie Clean: Yes
How to choose the right primer?
Currently, on the market, there are many types of primers advertised with many different uses, so it is easy to confuse you in choosing which primer is good, and really suitable for your skin.
So let's take a look at how to choose primers by skin type below. Because only when you understand your skin, it will be easier for you to choose the right product than just looking at the long list of benefits.
Here are a few specific skin types/conditions and suggestions for suitable primers.
Primer for dry skin
Dry skin: This is the most common skin type and needs primer the most because dry, flaky skin will make the foundation rough, moldy, and quickly fade. So the right primer for dry skin needs a lot of water-based moisturizing ingredients like Hyaluronic Acid, or oil-based moisturizing ingredients like avocado oil, jojoba, and shea butter. In addition to moisturizing the skin, applying a layer of moisturizing primer also acts as a lock on moisture, preventing water drainage and smoothing the foundation better.
Primer for acne skin
Acne skin: for acne skin, especially red, swollen acne spots, you need a colored primer to adjust the skin tone and reduce the tired red color on the skin. A green primer will calm blemishes and a blue tint to balance skin tone. In addition, some good ingredients for acne skin should be included in the primer, which are AHA / BHA, orange, lemon, green tea, and mint extracts that have antibacterial effects and soothe acne skin.
Primer for oily skin
Oily, oily skin: the excess oil on the skin plus the oil available in the foundations will make your skin turn into a "mobile oil pan". So an oil-control primer is the "savior" in this situation. Some good oil-control ingredients are tea tree, green tea, mineral powder, and clay. In particular, you should choose a gel primer because of its thin, light texture, which absorbs quickly so as not to clog the skin.
Primer for aging skin
Skin begins to age, has wrinkles, laugh lines: this is when you need to choose a primer with a slightly thick cream texture, waxy form, or containing silicone particles to be able to fill in wrinkles, for a smooth skin background. smoother. And also choose a primer with a sun protection index to enhance skin protection, and contain good antioxidants such as seaweed, green tea, and zinc.
Best Primers For Women Over 50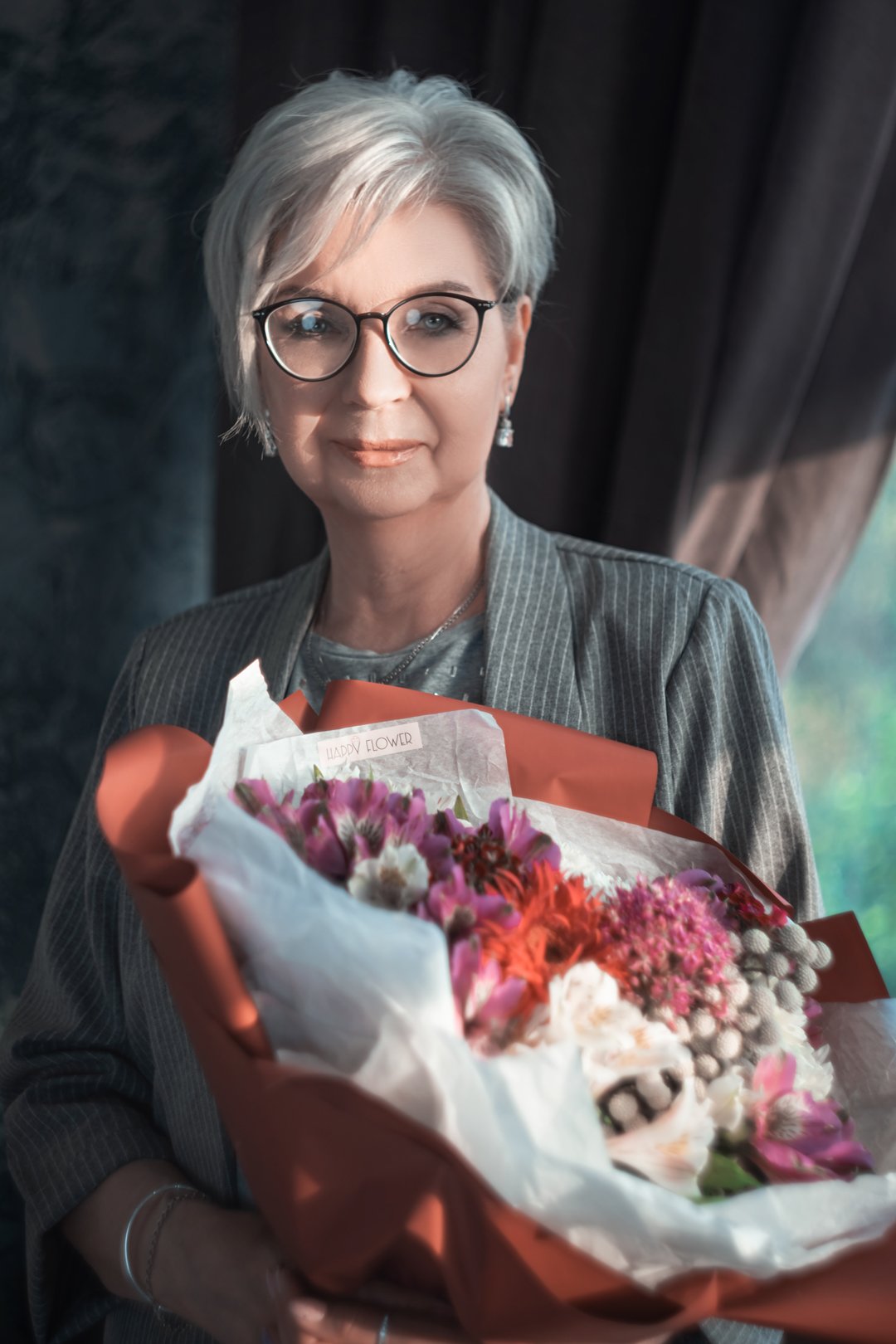 Wisdom and wrinkles are both part of the 5th decade in your life. The former needs to be celebrated, while the latter requires makeup. These are the best primers for women over 50 years old and will be your most important makeup tool.
This is when your skin starts to show signs of age. Your skin becomes dry easily, wrinkles and fine lines start to appear, and dark circles, blemishes, and dullness make it look duller than before.
To cover scars and freckles, you need to use a lot of makeup. However, it can end up looking cakey. Your skin will start to need special care and regular beauty products may become less effective.
Aging does not have to be a scary story. You can have flawless skin no matter what age.
Here is the list of the best Primers For Women Over 50:
Covergirl Simply Ageless Anti-Aging Foundation Primer
Jane Iredale Smooth Affair Facial Primer And Brightener
It Cosmetics No.50 Serum Collagen Veil Anti-Aging Primer
Estee Lauder The Illuminator Radiant Perfecting Primer + Finisher
Chantecaille Broad Spectrum SPF 45 Primer
Clarins Paris Instant Smooth Perfecting Touch
Tatcha The Silk Canvas Primer
Revlon Photoready Perfecting Primer
Benefit Cosmetics The Porefessional Pore Primer
L'Oreal Paris Base Magique Transforming Smoothing Primer
Best Primers For Women Over 60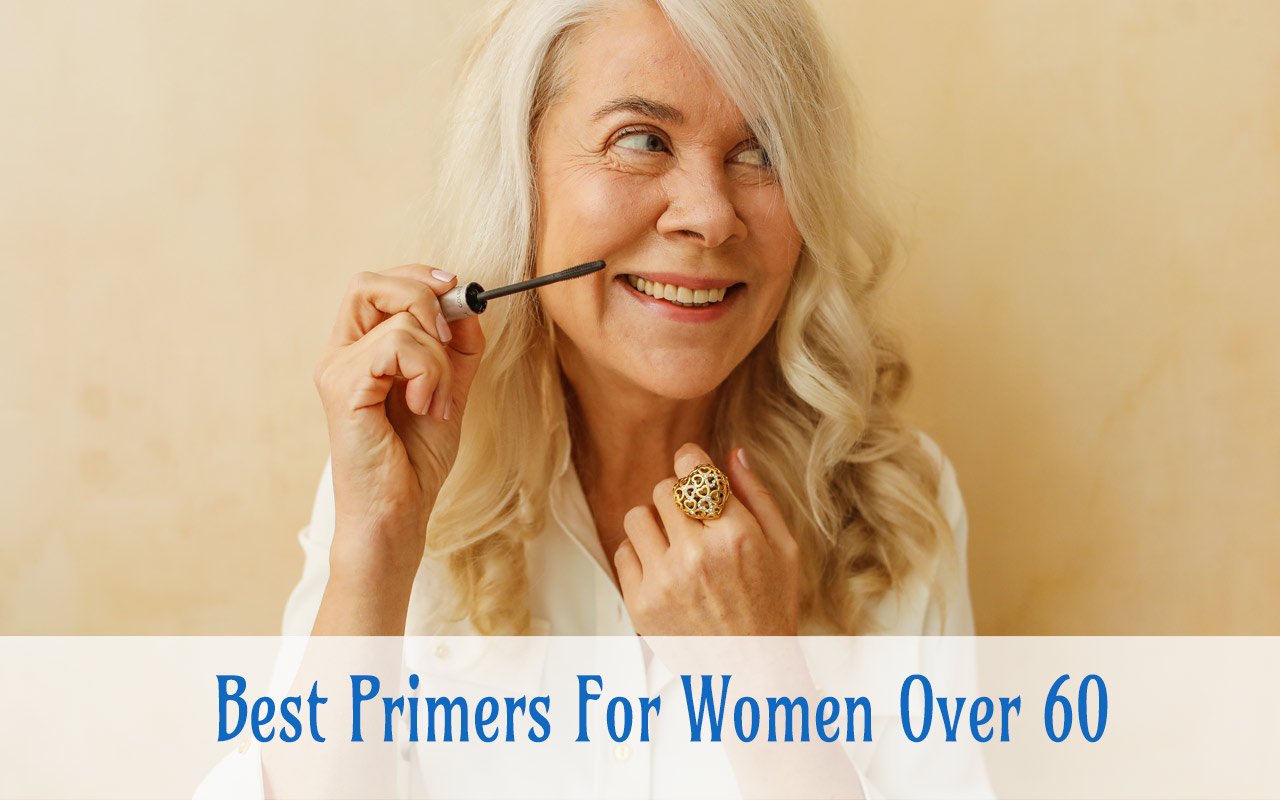 No matter your age, a good primer can guarantee flawless makeup. It is important to remove dead skin cells as soon as you reach 60. It can make your complexion appear more radiant.
Primers for women over 60 include three or more ingredients that help reduce the signs of aging. Most also contain SPF. These primers are usually between $20 and $100.
Retinoids can be used to accelerate the process of removing dead skin cells and increase the production of new cells. They can also improve the appearance and color of scars, and dark marks, and even eliminate cysts. You can look older if you are 60.
While anti-aging creams won't instantly make you look younger, they can reduce the signs of aging.
We have compiled a list of the top primers for women over 60:
Veil Mineral Primer by HOURGLASS
Laura Mercier Pure Canvas Primer (Protecting)
Benefit Cosmetics: The POREfessional Primer for the Face
Too Faced Hangover Remedishing Face Primer
The Ordinary High Spreadability Fluid Face Primer
It can be difficult to find a face primer that suits mature skin. It can be difficult to find the right combination of primer and foundation. It can sometimes cause the foundation to slip off your face, or worse, dry out and crack.
Best Primers For Women Over 70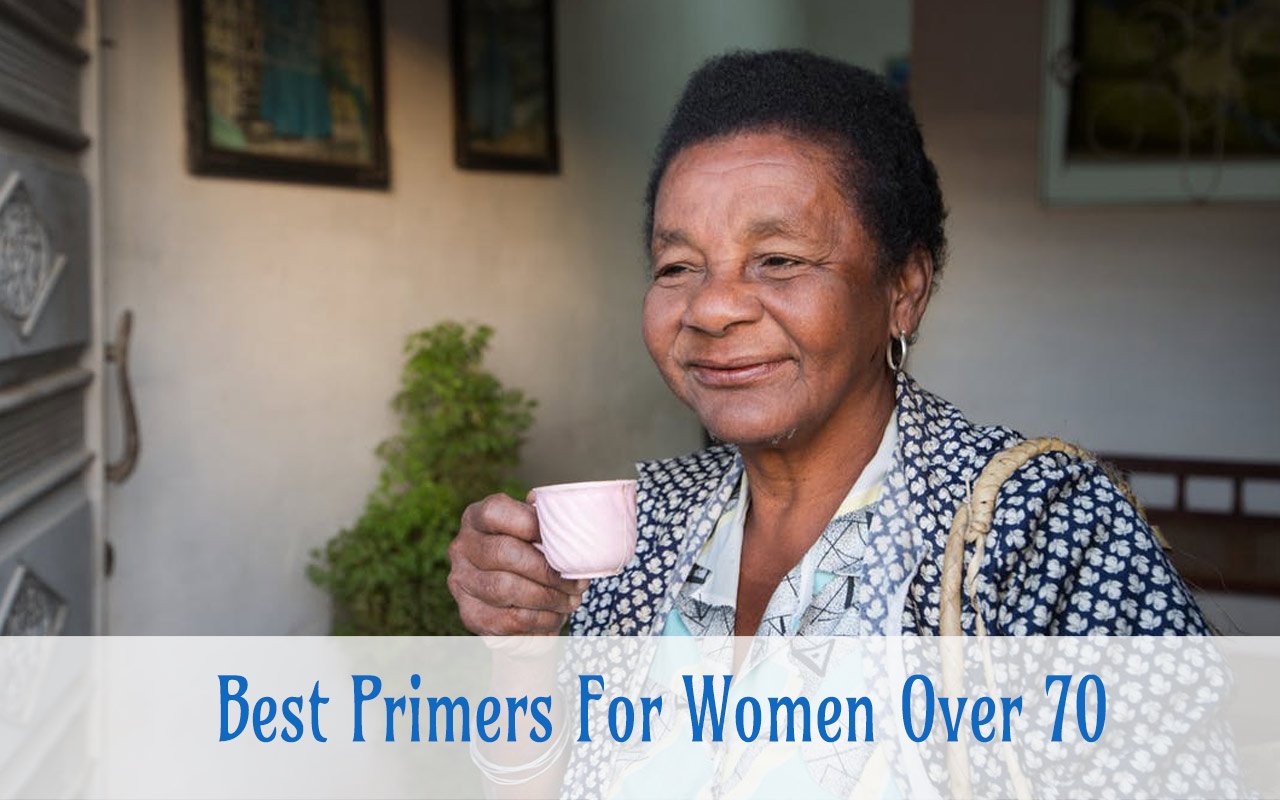 As you age, your skin gets drier, thinner, and less elastic. But the best drugstore primer for over-70 women can restore plumpness and moisture to your face, creating the ideal canvas for your favorite sunscreen, foundation, and concealer.
The best makeup primers come in many forms and formulations, so finding the right one for your skin's needs can seem daunting. Fortunately, we've done the research for you. Whether you're looking for an affordable primer for oily skin or you want a cheap trick for hiding large pores, we've got you covered.
Finding the Best Primers For Women Over 70 with the right Drugstore Anti-Wrinkle Primer may not be easy for you if you are new and don't have enough knowledge about Drugstore Anti-Wrinkle Primer. However, we've scanned thousands of products across the web to find the best Drugstore Anti-Wrinkle Primer for you.
Hopefully, this list of Drugstore Anti-Wrinkle Primers will help you find the product you want within your budget and possibly save you time as well as some money.
List of 5 best primers for women over 70:
CoverGirl – Simply Ageless Anti-Aging Foundation Primer
Hourglass Veil Mineral Primer
Guerlain L'Or 24K Gold Radiance Primer
Charlotte Tilbury Wonderglow Face Primer
OLEHENRIKSENBanana Bright Face Primer
How to Apply Face Primer?
It is easy to add the best primers on mature skin to your skincare routine. Apply a small amount of primer just before applying a moisturizer to prevent pimples. If your skin is drier than average, add a bit more. A half-dollar worth of primer will be too much.
Start by applying the gel, cream, or oil you have chosen, starting at the center of your face and working outwards. Once you have fully covered your face with the product, let it sit for at least one min before moving on to your regular makeup routine.
You can use the best primers to treat wrinkles and fine lines or hydrate your skin for a more intense glow.
Frequently Asked Questions
What makeup fills in pores?
Dewy foundations can make large pores appear larger so choose a matte finish foundation like the L'Oreal Paris Paris Infallible 24H Fresh Wear in Powder. The powder foundation is lightweight and breathable and stays on for up to 24 hours.
What does a Poreless primer do?
The Poreless Face Primer fills in any enlarged pores, wrinkles, or fine lines to make your face smooth and flawless for makeup application.
Can primer close pores?
No matter your skin type, a primer can hide pores and wrinkles. This will result in porcelain skin. It helps hide imperfections and absorbs oil, which can lead to large pores. Primers are great for people with pigmentation, rosacea, or acne. They help to create a flawless foundation for their make-up.
What is the best primer to fill pores?
The following are the best primers for large pores and oily skin:
Hourglass Veil Mineral Primer.
Smashbox Pore Minimizing Photo Finish Foundation Primer.
Tarte Poreless Mattifying Primer.
Lancôme La Base Pro Pore Eraser Perfecting Makeup Primer.
Benefit Cosmetics The POREfessional Face Primer.
Will primer clog pores?
A great primer can make the difference between a flawless, all-day complexion and a creased, faded look. A primer that is not suitable for your skin, especially if you are sensitive to acne, can clog pores and cause irritation, leading to breakouts.
Should I use silicone or water-based primer?
Water-based primers work best on dry or dehydrated skin. They last longer and look more natural on dry skin. Silicone-based primers work better for oily skin because the silicone forms a protective layer that prevents oil from leaking through.
Is silicone primer good for wrinkles?
Because of their soothing effects, silicone-based primers work best for skin aging. Every formula is creamy-smooth and leaves your skin feeling silky smooth after it has been applied.
Is BB cream a primer or foundation?
Although BB creams are lighter than regular foundations, they still provide the same coverage as a foundation. What are the benefits of BB cream? The BB cream's smooth texture allows it to be used as a primer, evening out skin tone, for flawless makeup application.
What is the difference between primer and foundation?
A primer is a product that is applied to the skin before any other products are applied. It helps make makeup last longer, minimize transfers, create a smoother finish, and ensure a flawless application. The foundation, which can be a liquid, stick cream, cream, mousse, or mousse, closely matches the skin's color and is applied over the primer.
Can I use rose water as a primer?
Rosewater is a great option if you don't want to spend a lot on a refreshing spray or priming mist.
Can I use a serum instead of primer?
Squalane oil is a makeup primer that gives flawless results and has skin conditioning benefits. Facial oil or serum can be used under makeup as a primer.
Are primer and moisturizer the same?
Moisturizer is the final step of your skincare before you apply sunscreen. Primer is the first step of your makeup routine. Your skin type will determine which primer you use.
Can you use primer without makeup?
A primer can be used without makeup. These primers are great for creating that "I'm wearing no makeup" look. They provide a smooth, even complexion and neutralize irritation and redness caused by acne.
Which brand of primer is best for all skin types?
Here are our top picks for primers that work for all skin types and skin tones.
Charlotte Tilbury Brightening Youth Glow
Too Faced Hangover Primer
Marc Jacobs Under(cover) Perfecting Coconut Face Primer
Fenty Pro Filt'r Mattifying Primer
The Ordinary High-Adherence Silicone Primer
Nude by Nature Perfecting Primer
Tatcha The Silk Canvas Protective Primer
How long should you wait to put the foundation on after primer?
Before applying the foundation, let the primer dry. Allow the primer to absorb into your skin for about 2 to 3 minutes before applying another layer of makeup.
Can I use Vaseline as primer?
Ron Robinson, the cosmetic chemist, says that Vaseline can be used as a perfume primer by dabbing it on your neck and wrists. It prevents fragrance molecules from evaporating as fast as on bare skin.
Is Face Primer really necessary?
Do you really need a primer? It's up to you whether or not you believe a primer is necessary. Primer may not make a significant improvement to your makeup. In that case, skip this step.
Why do my wrinkles look worse with foundation?
Makeup can be used to dry out the skin and highlight pores and highlight wrinkles. This could be the reason your skin is looking worse after applying foundation. Regardless of how much oil they produce, most skin types become dehydrated.
Is primer the same for all skin types?
Primers can be used on all skin types. There are many types of primers for makeup.
Should primer go on before or after moisturizer?
It's now time to answer the age-old question: should you apply primer first or moisturizer last? You should apply moisturizer first before you reach for primer. We have already mentioned that a moisturizer's purpose is to provide long-lasting moisture to your skin to prevent dryness.
Should I use primer for mature skin?
Primers that are suitable for mature skin will not only make your makeup last longer but will also prevent the foundation from becoming sagging and settling into wrinkles. Many primers are specially formulated for mature skin. This means that they not only make your makeup last longer but also help to look younger.
How do I choose a face primer?
Look out for primers that include words such as "hydrating,"'soothing', or "replenishing." If you have oily skin, choose a mattifying primer. Your primer should combat excess oil and shine if you have trouble with this. A great primer that is matte will help reduce oil production.
Is there a primer that fills in wrinkles?
StriVectin's skincare-infused LINEblurFECTOR instant wrinkle blurring primer instantly reduces the appearance of deep lines and prolongs makeup wear. Apply to the skin evenly after moisturizing.