A hip dip is a small indentation that can be found on the lower half of the hip bone. And while some people are self-conscious about their hip dips, others have embraced them as a unique physical trait. Although there are ways to get rid of hip dips, like exercise, surgery, etc., it's really not that big of a deal. The celebrities below show that hip dip is not a problem with your beauty, they are still confident, and still successful, so why not dare to do the same? Here is a list of 12 celebrities with hip dips that will help you see that hip dips really aren't worth worrying about.
Every day celebrities seem to set new standards for beauty, making women insecure about their looks. They are not only unattainable and impossible for many people, but they can also feel arbitrarily.
The hip dip, which refers to the indentation between the hipbones and the thigh, has recently been added to this category of physical attributes.
Hip dips are also known as Violin Hips. They are caused by the form of the pelvis. They are most common in the 8 shapes, A, and X bodies, but can occur on any body type.
They're an indentation that occurs between the high and lower hips and are normal and part of the skeletal system. They are part of your skeletal structure and you cannot change them. Even so, women are voicing their aesthetic goals like reducing hip dips.
Hip dips happen more often than you might think. Hip dips are something that almost everyone experiences. Some people have it more severe than others. They are more common in women because of the location of the hip bones, and the women's genetic fat distribution.
Contrary to popular belief, hip dipping doesn't have to do with fitness or weight. It's just how certain people look, and that's something you can't change with diet and exercise.
Despite celebrities and influencers sharing endless photos of their "perfect" bodies, some celebrities are showing off their natural beauty.
These women are not only stunning, but they also have beautiful photos that show hip dips are normal and natural. They are worth celebrating. We've collected some celebs with hip dips who don't mind showing off their curves.
Celebrities with hip dips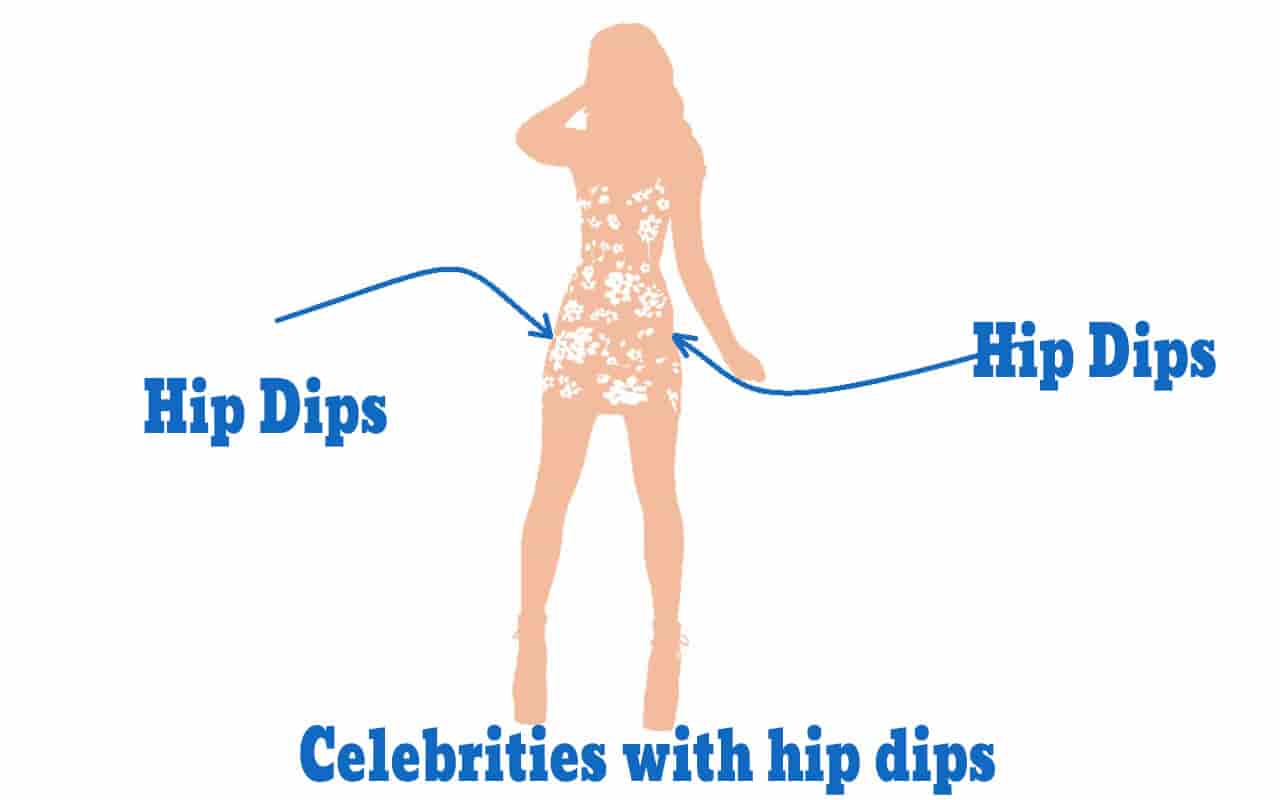 Hip dips, also known as violin hips or hip dents, are the indentations that some people have where their hips meet their thighs. They are caused by the shape and position of the pelvic bones and the distribution of fat and muscle around them. Hip dips are not a flaw or a sign of poor health; they are simply a normal variation in human anatomy.
However, many people feel insecure about their hip dips, especially in a society that idealizes smooth and curvy hips. They may try to hide them with clothing or even consider surgery to get rid of them. But there is no need to feel ashamed of your hip dips; they are part of what makes you unique and beautiful.
In fact, many celebrities have hip dips and they are not afraid to show them off. From singers to actresses to models, these stars embrace their natural curves and rock their hip dips with style and confidence. They prove that you can look stunning and sexy with any body shape.
Celebrities who flaunt their hip dips with confidence are a great source of inspiration for many people who have the same feature. Some of the celebrities who have hip dips and are not afraid to show them off are:
Kourtney Kardashian
The reality TV star has had many ups and downs, but her incredible body has kept her in good shape. We love to see her in tights and heels, as she is well-known for her amazing booty.
Kourtney Kardashian has been featured in numerous magazine covers and photoshoots, including InStyle Magazine. Can you see her confidence with her hip dips? She once posted a hot photo on Instagram with the caption "to hip to take a dip"
Lizzo
View this post on Instagram
Lizzo, who rose to prominence in a meteoric rise this year, has been a symbol of body positivity.
The images of Lizzo in a black cape with multicolored patterns and low-cut hair will not be forgotten.
Selena Gomez
View this post on Instagram
Selena Gomez has visible hip dips. She has two small dimples on her hips that seem to show the taper. Her hip dips when she stands up straight with her arms at her sides are particularly obvious, as her hips taper upwards.
Selena Gomez, Selena Gomez, and other celebrities who have hip dips were not afraid to show off their moves. She believes celebrities' hip dips look beautiful and she shared this with her fans: "They are one of my favorite body parts."
Celebrities have been shamed for not having a thigh gap, despite the fact that many have hip dips. Selena Gomez is a perfect example of a celebrity who has hip dips.
Hip dents can also be called a celebrity's hip dip. They are visible only from certain angles and with certain clothing options, like tight jeans.
Selena Gomez may be proud of her hip dips in order to show off her body type. Hip dip celebrities were discovered because they are not afraid to show off their hips. Selena Gomez, who has been showing many hip dips lately, should be the new trendsetter for celebrities.
Bella Hadid
View this post on Instagram
Bella Hadid is the hips dips' number one Paladin. She can charm the viewer with any look. Bella Hadid is young, confident, and able to make the most of her unique body. She can be seen in either underwear or costume (as she often does during Victoria's Secret Fashion Shows) or any other type of clothing.
She is a true style icon and one of the most famous hip-dippers. Bella Hadid, with her violin hips and riot of beauty, makes her one of the most desired and sought-after models. You have every reason to imitate her look and make the most out of your hip dips.
Nelly London
Nelly London, a body confidence advocate, and body blogger are not afraid to celebrate every inch of her body.
Nelly London mentioned that hip dips are perfectly normal and part of the bone structure. She believes she may but wanted to double-check.
Tracee Ellis Ross
Ross is an American singer and actress. Ross rose to fame as a member of the music group "Recent". Celebrities who have hips that dip are just like everyone else. Celebrities with hips dip have been known for going through many difficulties in their lives. Celebrities have struggled for fame and attention since their childhood.
They also have normal body problems, just like the rest of the women around the world. This rule is not uncommon for celebrities with hips that dip. Celebrities need the support of their fans to continue doing what they love.
Celebrities want to look their best and can't afford to have any hiccups along the way to success. Celebrities must undergo certain procedures and treatments in order to look their best, for their fans and for themselves.
They are not afraid to suffer minor discomforts to make the most out of what they have. However, some celebrities may resort to surgery when their hips drop. Celebrities such as Tracee Ellis Ross are well aware that their hips dip and they don't hesitate to show them off whenever possible.
Miley Cyrus
American actress and singer Miley Cyrus. Her role in Hannah Montana as Miley Stewart is her greatest fame. Celebrities have been criticized for their changing style throughout the years.
This new celebrity look is a result of Miley Cyrus and other hip-hop stars. People are still debating the pros and cons.
She isn't afraid of showing off her slim body and will wear anything, from short skirts to bikinis.
Miley Cyrus doesn't shy away from her slim hips. They will show them off for all to see, even when they are bikini modeling.
Miley Cyrus is well-known for her music career, but she has also been criticized for her fashion sense. Fans have coined the phrase "Hilary swank", which Miley Cyrus and other hip-hop stars have been seen wearing less and less.
Celebrities have long been known for their curves, but Miley Cyrus and other hip-dipped celebrities are changing the perception of what a beautiful body should look like.
Celebrities love her style and she is very fashionable in jeans.
Unconventional, eccentric, and quick to change. This is what makes them stand out. Miley Cyrus is a pop star who is loved and followed on social media.
Her extraordinary voice and looks are always in the news. But they all share one thing: to enhance her natural beauty.
Miley is known for wearing tight bodysuits and rompers at concerts, or sheath dresses that highlight her hips and legs, and it is obvious that Miley loves her body.
This is a perfect example of how it is important to love and accept each other regardless of our differences. You can believe that a girl who has more than 130,000,000 followers will say so.
Kendall Jenner
The beautiful Kendal Jenner can enhance her hips by doing very little. Kendal Jenner is tall and slim, and her hips dips are not due to accumulated fat. She can still look great and stylish.
Julianne Hough
View this post on Instagram
Julianne Hough, an American professional ballroom dancer, is also a country music singer and actress. Celebrities with hip dips like Julianne Hough are everywhere nowadays. It is possible that this could be because so many celebrities want to stay on top of the latest fashion trends, especially in hip-dipping.
Celebrities who have hip dips are aware that there is a lot to be done in terms of their appearance. They want to improve their standing in the industry and look like celebrities at all times.
Celebrities are known for spending a lot of money on treatments and surgeries, but it does not always pay off. However, celebs with hips that dip have been known to undergo treatments and surgeries to improve their appearance.
Celebrities such as Julianne Hough understand that hip dips should not bring them down. Instead, they should embrace them and make the most out of what they have.
Celebrities whose hips dip often feel they have to be down in order to stand out and attract attention. However, this is not always true.
Celebrities are bold to stand out from the rest by being proud of their appearance and confident about what they have.
Ashley Graham
View this post on Instagram
Ashley Graham, a model, and mother-of-three are not afraid to show off her body. She often uses Instagram to share her low-back selfies. We can't forget to mention Ashely Graham who is the most beloved and loved curvy model at the moment.
Ironic, sensual, and the number one spokesperson for body positivity. Healthy, real, and authentic beauty. They aren't interested in the fake canons offered by the company, but they are proud of its many splendid forms, including the hips dips.
Mattel, the manufacturer of the most fashionable dolls in the world, has made a Barbie with Ashley Graham's features. This is a no-brainer. It sends a clear message that all women around the globe should love each other as they are. All your uniquenesses are welcome.
Gabrielle Union
View this post on Instagram
Gabrielle Union knows that hip dipping is not something to be ashamed of. Celebrities who have hip dips don't want to look bad.
They are willing to undergo various treatments and surgeries if they can be considered celebrities.
Alex Light
Alex Light, a self-confessed "quest for dismantling beauty standard" body confidence advocate, wants us to all remember how natural and effortless hip dips are.