As with humans, dogs can become pregnant after mating and eventually give birth to adorable puppies. However, not every pet owner may be able to recognize the signs of a pregnant dog, so it's important to be informed and equipped to provide proper care for your furry friend during this exciting time. Below is a comprehensive guide on identifying and caring for a pregnant dog.
Like humans, after mating dogs become pregnant and give birth to adorable puppies. But not every pet owner has enough experience to recognize a pet carrying a fetus in the womb. So, today I'm going to show you the telltale signs and how to best care for your pregnant pet. Please see below for detailed information.
How long are dogs pregnant?
The canine pregnancy period, also known as the gestation period, typically lasts between 58-68 days with an average duration of 63 days. This is calculated from the time the fetus is formed and begins to develop in the dog's uterus. To ensure proper monitoring of the pregnancy, it is important to record the date of mating if it was planned. In cases of multiple matings, make note of the dates and expect birth to occur within 63 to 65 days from the last mating date. However, it's worth mentioning that there are some breeds such as the Japanese dog, Pekingese dog, and Chihuahua, that have a gestation period that can last longer, exceeding 2 months.
It is also important to know that ultrasound results are only reliable in determining the pregnancy status of a dog after 25 days of gestation. X-rays, on the other hand, can accurately determine the number of puppies a dog is carrying with an accuracy of up to 96%.
It's important for pet owners to consult with a veterinarian to have a better understanding of their pet's pregnancy and to receive proper guidance on how to care for their expecting pet.
Key to takeaway:

Length of dog pregnancy (depending on the breed):
In days: 58 to 68 days
By week: Approximately 9 weeks.
By month: About 2 months
Under proper care, a female dog can enter into heat 6 months after giving birth. This cycle lasts for 3 months of pregnancy, followed by 1 month of weaning, and a recovery period of 7-8 weeks for her reproductive organs.
Female dogs have the potential to have multiple litters within a one-year period, which is determined by the dog's reproductive cycle, overall health, and the breeder's plans. While some dogs may have three or four cycles per year, the majority only have two cycles spaced roughly six months apart.
A dog can have more than ten litters in her lifetime, but this is not always possible without impacting her health. A significant drop in litter size can indicate that it is time for the female dog to be retired from breeding.
It is technically possible for a dog as old as 12 years or older to become pregnant. However, Veterinarians typically recommend that dogs in good health should cease breeding by the age of 8, with the most stringent guideline being to stop at 5 years of age. If you are considering breeding a dog that is over 5 years old, it is best to consult with a veterinarian for guidance.
If a female dog mates with multiple male dogs, it is possible for her to have puppies from different fathers within the same litter.
The typical litter size for dogs can vary from 1 to 12 puppies, with an average of 5-6 puppies seen across all breeds.
Signs of a pregnant dog after mating
The signs of pregnancy in dogs can become visible anywhere between 2 and 3 weeks after mating. A blood test can determine if a dog is pregnant by measuring the levels of relaxin, a hormone produced by the placenta after implantation of the embryo. This hormone can be detected in the blood of most pregnant dogs as early as 22 to 27 days after breeding. During pregnancy, the levels of relaxin remain elevated and rapidly decrease after the end of pregnancy.
Some common indications of pregnancy include:
Pinker nipples than normal: If you suspect your dog is pregnant, keep an eye out for changes in her nipples. During the dog pregnancy week 4 symptoms, the nipples may appear pinker and slightly swollen compared to their normal appearance. This change in color and size usually develops 2 to 3 weeks after conception and becomes more noticeable around the 4th to 5th week of pregnancy. Additionally, during this time, you may also notice an increase in the size of your dog's tummy and waist.
Enlarged belly and nipples: As the pregnancy progresses, you may notice that your dog's belly becomes bigger and her nipples become enlarged. This typically occurs between 4 and 5 weeks of pregnancy.
Easily palpable nipples: During the 6th to 9th week of pregnancy, your dog's nipples will become more prominent, and you will be able to feel them when you touch them.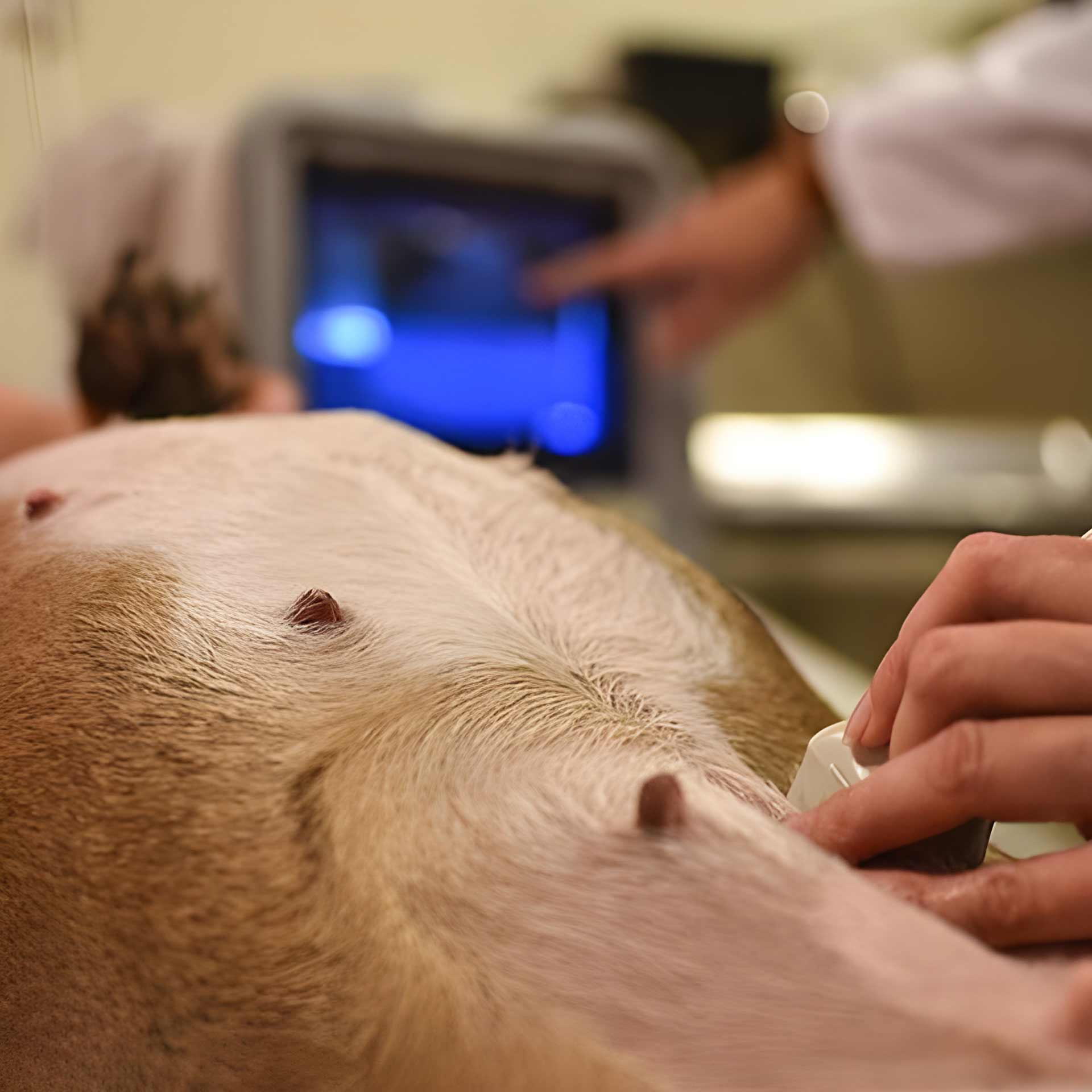 If you are breeding your dog or have a record of your dog's mating date, you can keep an eye on the signs of pregnancy to determine if she's expecting. However, if you're uncertain, you can have your vet perform an ultrasound or x-ray to confirm pregnancy. Understanding the stages of dog pregnancy week by week can help you care for your expecting pet.
Dog pregnancy stages by week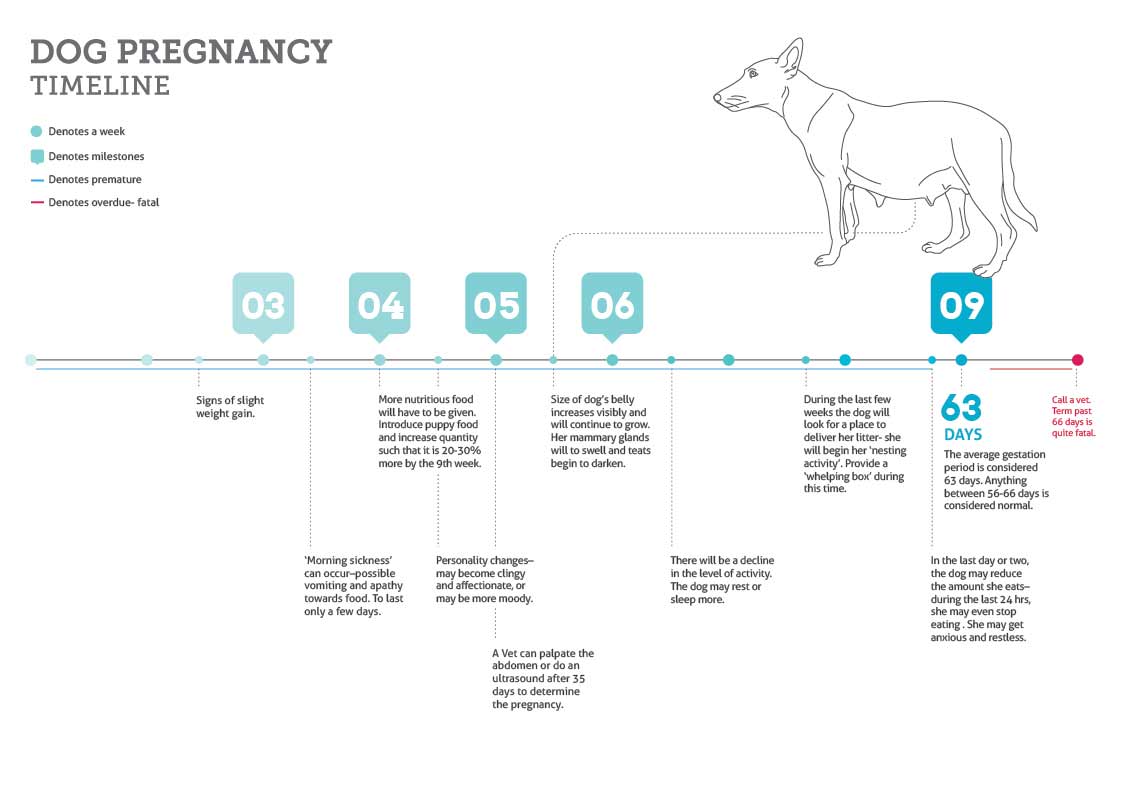 Week 1 and 2: During these early weeks, most dogs don't show any noticeable symptoms, and their weight remains stable. However, some dogs may experience morning sickness.
Week 3: Your dog's appetite may increase, and her nipples may become slightly larger. You may also notice an increase in affectionate behavior. At the start of pregnancy, 1-month pregnant dog symptoms include the movement of embryos to the uterine horns, usually around day 7. By day 16, the embryos have become embedded in the uterine lining. At day 22, the fetus starts to take shape, and by day 28 or 30, a veterinarian may be able to detect fetal heartbeats during an ultrasound examination. It's important for pet owners to keep an eye out for these developmental markers and seek veterinary care when necessary.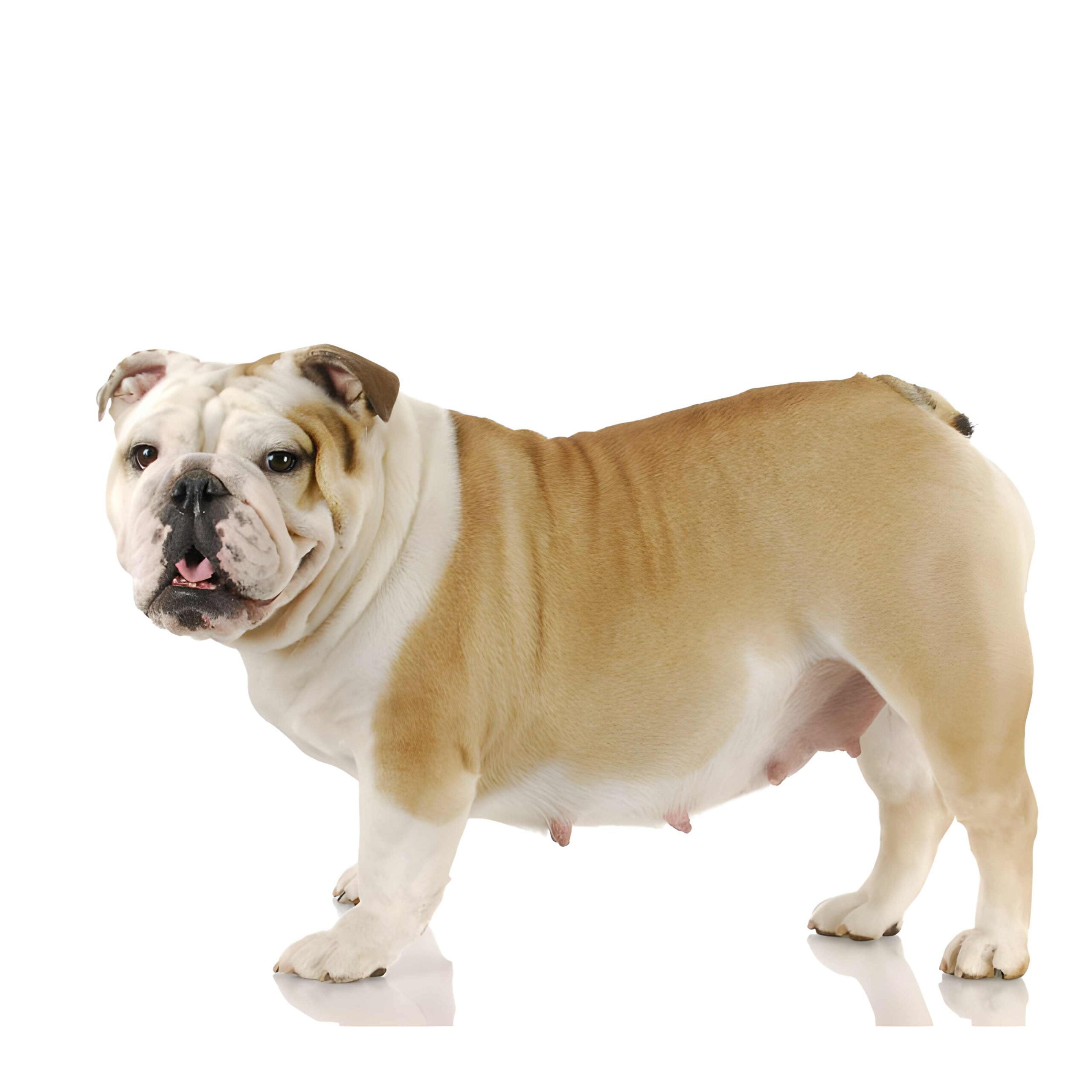 Week 4: During dog pregnancy week 4, symptoms may include a slight enlargement of the nipples and a small amount of clear vaginal discharge. Physical activity levels may decrease, and your dog may notice occasional feelings of nausea and vomiting. Despite this, your dog may still maintain their normal demeanor, however, some weight gain is normal. Hormonal changes may cause morning sickness for some dogs, typically in the 3rd or 4th week, but it is usually only temporary and should only last for a few days. During this time, you may also notice that your pet appears tired and may have a decreased appetite. It's important to schedule an ultrasound appointment with your veterinarian during this stage to monitor your dog's pregnancy progress.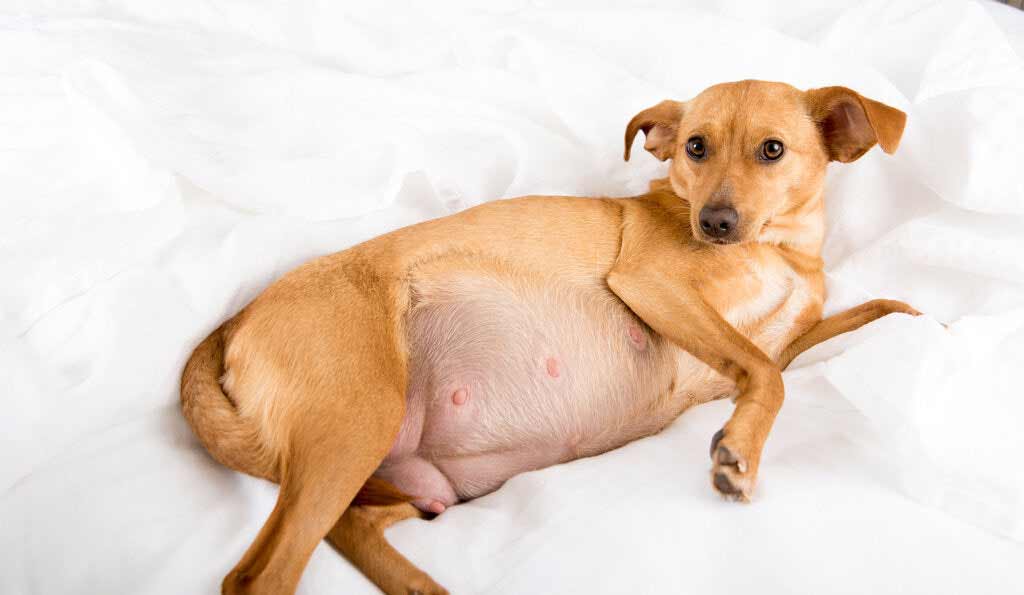 Week 5: Your dog's weight gain may become more noticeable, and you may see an increase in urination. Behavioral changes may also occur.
Week 6: The belly will become enlarged and firm, and you may observe fetal movements. Some dogs may lose their appetite, so it may be helpful to provide smaller, frequent meals.
Week 7: The loss of appetite may continue, and the waist may become slimmer as the puppies move into the birth canal. This is a good time to start preparing a whelping box.
Week 8: Your dog may start lactating.
Week 9: Your dog may become restless and irritable as she prepares for labor. Before labor starts, there may be a drop in body temperature.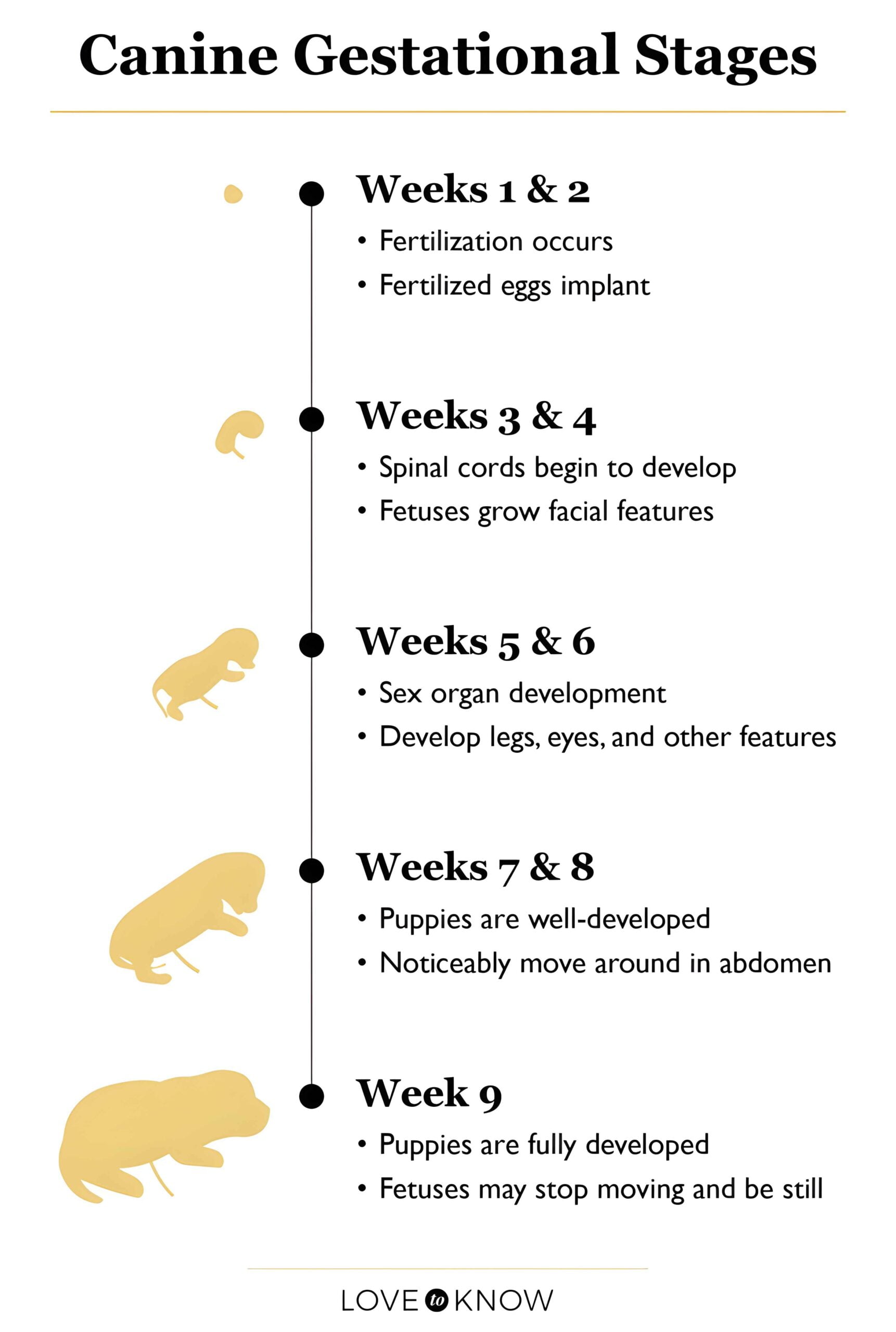 Along with these physical signs, you can also determine the pregnancy of your dog through an ultrasound. An ultrasound can give you a more accurate and quicker indication of pregnancy and the number of days left until the delivery. A veterinarian can perform an ultrasound after 25-30 days of mating to confirm whether your dog is indeed pregnant and how far along she is.
It is important to prepare for your dog's delivery once you know the estimated due date. This may include stocking up on supplies, keeping a close watch on the mother-to-be, and consulting a veterinarian for any questions or concerns you may have.
Symptoms of a pregnant dog about to give birth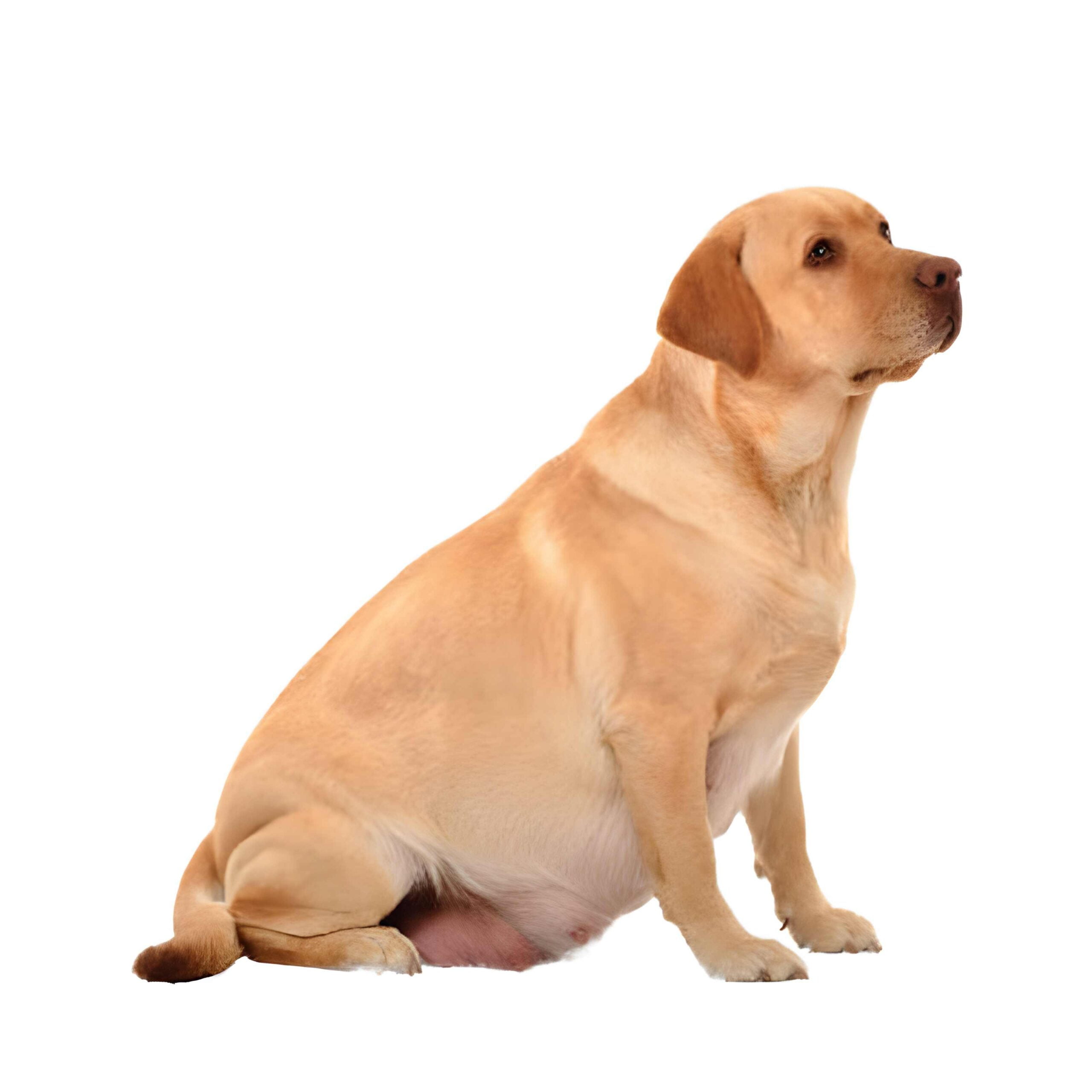 As a dog approaches the end of their gestation period, there are several physical symptoms and behaviors that can indicate they are about to give birth. These symptoms include:
Lactation: The mother dog may start to produce milk 3-4 days prior to delivery.
Belly movements: You may observe the mother dog's belly moving as the puppies inside become more active.
Appetite changes: The mother dog may experience a loss of appetite and eat less food. Her belly may also feel softer to the touch.
Urination changes: The mother dog may experience uncontrollable urination and urinate more frequently during the day.
Nausea: The mother dog may experience vomiting due to the pressure from the growing puppies on her stomach.
Breathing and behavior changes: The mother dog may have shortness of breath, abstain from eating for 2-4 hours before delivery, and appear restless and cry. They may also scratch around in search of a suitable nest.
Birth-related behaviors: As delivery approaches, the mother dog may start running around and purring. Their breathing rate will increase and their back may arch in waves as they push the puppies out.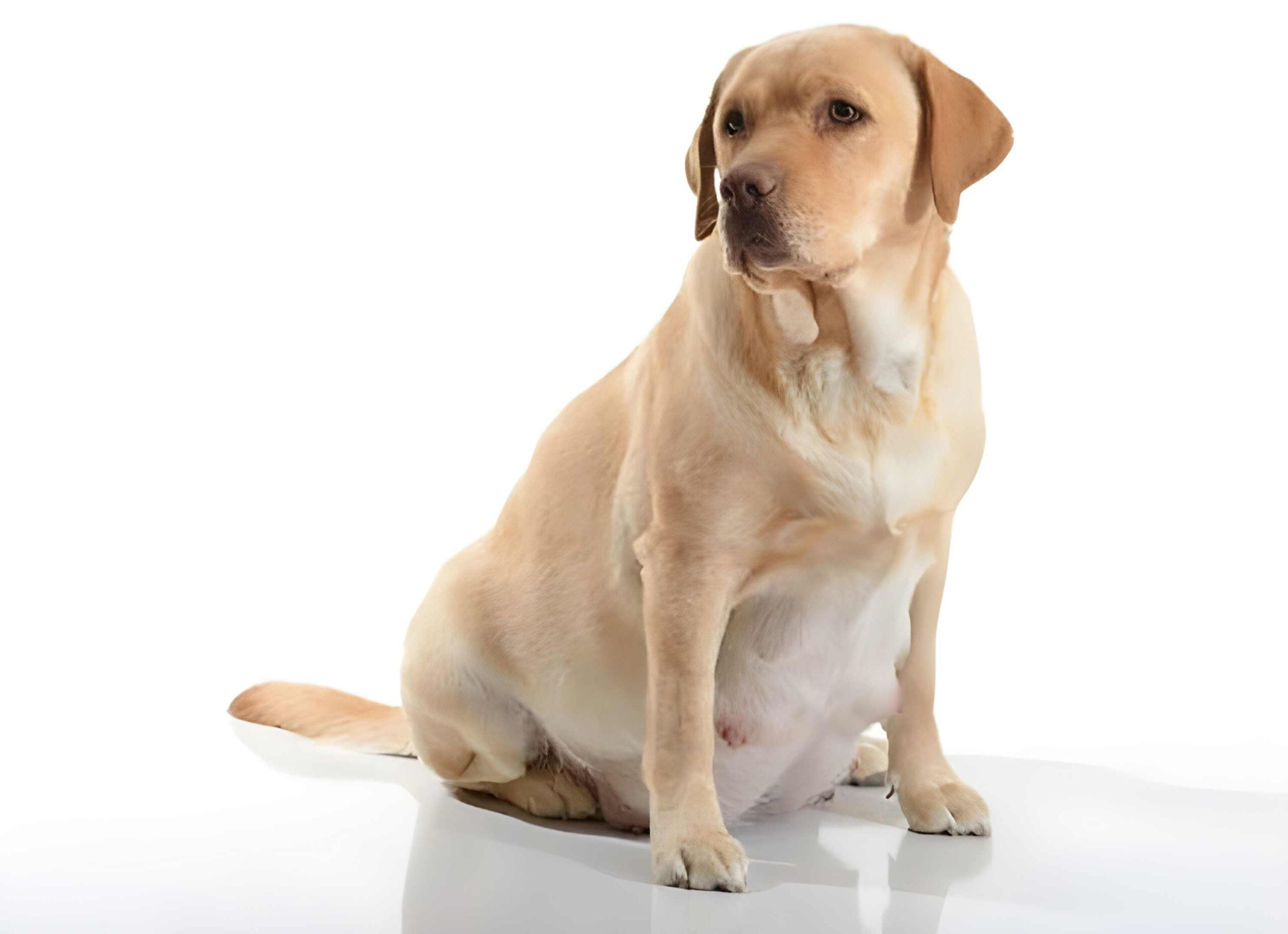 It is important to note that these symptoms can vary from dog to dog and may not be present in all dogs. If you have any concerns about your dog's pregnancy or delivery, it is always best to consult with a veterinarian for personalized advice and support.
False Pregnancy or Pseudopregnancy in Canines
False pregnancy, also known as phantom pregnancy, pseudopregnancy, or pseudocyesis, is a condition in which an unspayed female dog exhibits maternal behavior and physical signs of pregnancy after going through heat, but is not actually carrying pups. This can occur even if mating did not occur. Most intact female dogs will experience false pregnancy at some point after a heat cycle.
"The relaxin test is an effective tool for accurately distinguishing between a real pregnancy and a false pregnancy (pseudopregnancy)."
The symptoms of false pregnancy usually start 4 to 9 weeks after the last heat period and resemble those of a real pregnancy. Common signs include breast enlargement with or without milk production, lethargy, occasional vomiting, fluid retention, and decreased appetite but no weight loss. These symptoms can appear at any age and do not always follow every heat cycle. Their severity can vary between dogs and even from one cycle to the next in the same animal.
False pregnancy can also bring about behavioral changes like nesting, mothering behavior, restlessness, decreased physical activity, and sometimes aggression. Some dogs may also show signs of false labor and protectively guard toys or small objects.
After a female dog goes through heat, her ovaries begin to produce hormones whether or not she is pregnant. These hormones prepare the uterus for pregnancy and will continue to be produced if she is pregnant, until shortly before delivery. In non-pregnant dogs, the hormone levels will start to decrease after 4-6 weeks.
The elevated hormone levels in the early stages cause changes that mimic pregnancy. As the hormone levels decrease in the non-pregnant dog, they trigger signals that bring on false labor and breast growth.
Pseudopregnancy is a phenomenon that can deceive even experienced pet owners. The symptoms can persist for approximately two months following a heat cycle.
It is important to note that there is no actual growth of the placenta during a false pregnancy, and the hormone relaxin is not produced. A reliable method to differentiate between a real pregnancy and a false pregnancy is by conducting a relaxin test, which will always yield negative results for a dog experiencing a pseudopregnancy. The reason for these hormonal changes in a non-pregnant dog remains unknown.
Dog Pregnancy Test Kits
Selecting the best dog pregnancy kit can be challenging. Here are the 7 best kits of 2023:
Draminski DOD2 Deluxe Dog Ovulation Detector – ideal for breeders facing mating problems. With a USB interface and software for data measurement and archiving, it helps reduce expensive vet visits and makes insemination more effective. Includes transport case, user manual, and batteries. Pros: portable, reduces stress, favorable customer reviews. Con: expensive.
Synbiotics Canine and Feline Pregnancy Test Kit (5 Tests)
Uses relaxin hormone detection in blood to indicate pregnancy. Can detect planned or unplanned pregnancy, false pregnancy, fetal resorption, or spontaneous abortion. Only requires a small blood sample and gives quick results. Comes in packs of 5.
Draminski Dog Pregnancy Detector with Probe
An ultrasound tester detects pregnancy by locating amniotic fluid in the uterus. Easy to use and no blood sample is required.
Rubsy Early Pregnancy Test Strips
Accurately detects pregnancy as early as 20 days. Requires fresh blood or serum sample. Easy to use.
DNYSYSJ Pet Ovulation Detector Dog Pregnancy Planning Canine Breeder Tester
A device for dog pregnancy planning for breeders. It detects an asymptomatic estrous period and confirms early pregnancy (19-23 days after mating). Made of plastic and metal, it is powered by a battery and includes a water-resistant case. Pros: detects optimum breeding time, is effective in saving time and reducing vet visits, easy to clean. Con: expensive.
Natures Farmacy Novodog Ovulation Sticks
Helps determine the ideal mating time by measuring glucose and estrogen levels. Inserted in dog's vagina. Portable, affordable, and eliminates stress related to repeated mating attempts.
TABODD Dog Ovulation Detector Tester for Breeders, Automatic Dog Ovulation Detector Tester Pregnancy Planning Canine Mating
A reliable device for mating time optimization. Comes with a portable carry case and user manual. Helps eliminate problems with heat disorders and reduces stress and expenses associated with repeated mating. Pros: detects optimal mating time, reduces vet visits, time-saving. Con: variables can be confusing.
Canine Home Pregnancy Tests – while generally accurate when used correctly, the retrieval part can be challenging for home use. Pregnant dogs are tested for the Relaxin hormone, which requires blood. Drawing blood and separating serum/plasma can be difficult for dog owners, so it's recommended to take the dog to the vet for a proper pregnancy test.
How to take care of a pregnant mother dog
Caring for a pregnant dog requires a balanced and nutritious diet. During the first month of pregnancy, it is important to provide a diet high in calcium to support the growing fetuses. If the dog refuses to eat, it is normal and not cause for alarm, but if this persists for more than a week, it is advisable to seek veterinary care. In the second stage of pregnancy, from 30 to 45 days, it is recommended to add iron to the diet to support blood production and regeneration.
What to Feed a Pregnant Dog:
During the first 6 weeks of pregnancy, it is recommended to maintain the dog's usual diet consisting of 3 meals a day. If the dog shows signs of anorexia, supplementary milk or liquid foods can be given.
Between the 6th and 9th month of pregnancy, the diet should be increased to 4-5 small meals a day to prevent overeating or hunger. The meals should be high in protein, such as beef or eggs, to provide the necessary nutrients for both the mother and the developing puppies.
12-24 hours before giving birth, the mother dog may experience a loss of appetite. At this time, it is important to provide soft, pureed foods and plenty of clean water to prevent dehydration. Avoid overfeeding and force-feeding the dog.
It is crucial for dog owners to seek the advice of a veterinarian, especially when it comes to administering medication, to ensure the best care and nutrition for the pregnant dog.
What foods should pregnant dogs not eat?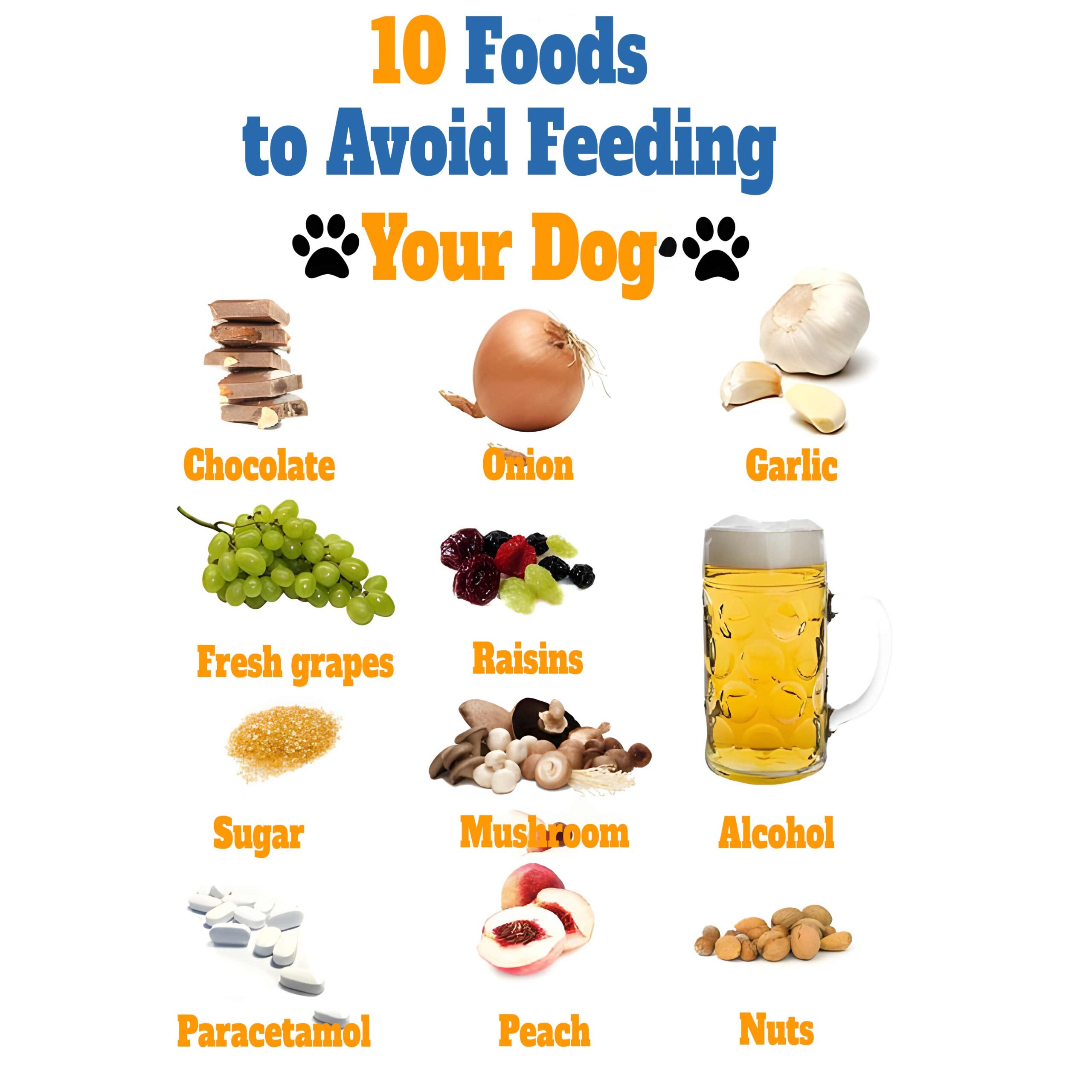 It's important to note that certain foods can be harmful to a pregnant dog and should be avoided. Some of these foods include:
Fatty foods: Consuming too much fat can lead to excessive weight gain and cause difficulties during delivery.
Spices and seasonings: High levels of these ingredients can cause digestive upset or even harm the developing fetuses.
Chocolate, coffee, and caffeine: These contain compounds that can be toxic to dogs and should be avoided.
Alcohol: Alcohol can affect the health and development of fetuses and should be avoided.
Foods high in calcium and phosphorus: Consuming high levels of these minerals can lead to complications with the development of the fetus and the mother dog's health.
It's important to speak with your veterinarian before making any changes to your dog's diet during pregnancy. They can provide recommendations based on your dog's individual needs and health status.
Preparing for a Dogs Birthing Process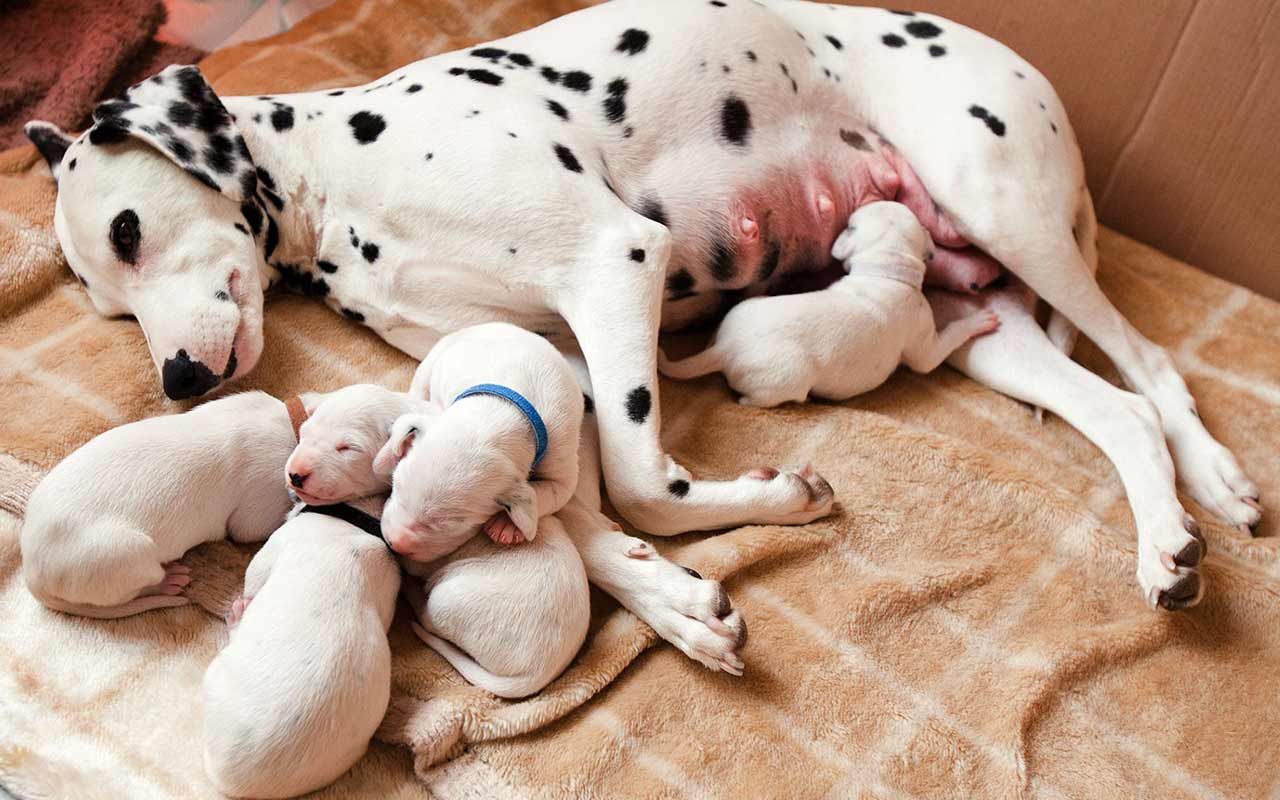 As a dog owner, it is essential to prepare for the birthing process of your pregnant dog. Whether you choose to give birth at home or take your pet to a veterinary clinic, having the necessary items and equipment can help ensure a smooth and comfortable delivery.
Beds and Mattresses: It is important to provide comfortable and safe sleeping space for the mother dog during and after giving birth. A bed or mattress that is twice the size of the mother dog is recommended.
Kit Box: A kit box, also known as an individual medical bag, should be prepared ahead of time. It should contain a variety of essential items such as cotton gauze, scissors, disinfectant, and other medical tools that may be needed during the birthing process.
Sink: A large basin or sink should be readily available, along with two pots – one filled with water and one dry.
Towels: Soft towels, such as those made of terry cloth, can be used to clean the mother dog's body after giving birth or to clean the puppies when they are first born.
Insulation Devices: In colder climates or during winter, it is important to have insulation devices, such as heating bulbs, heaters, blankets, and thick towels, to keep the mother dog and puppies warm.
It is always a good idea to consult with a veterinarian, especially when using medication for dogs, to ensure that the birthing process is as safe and comfortable as possible for both the mother dog and her puppies.
Abnormal Labor and Possible Complications
Dystocia, which is the term for abnormal labor, can have various causes and requires immediate attention from a veterinarian. If you suspect that your pet's labor is not normal, it is crucial to reach out to a vet or an emergency clinic promptly. The duration of labor varies, but can last up to 24 hours, and depends on the size of the litter.
Signs of birth complications may include:
No labor signs for over 24 hours after a drop in the mother's body temperature
Strong contractions for more than 30 minutes without a birth
More than four hours between births
Gestation lasting more than 70 days
Severe pain with vocalization and excessive panting
Excessive vaginal bleeding
Pets typically experience a fever for 24-48 hours after giving birth and may have vaginal discharge for eight weeks. However, if the fever lasts more than 48 hours or the discharge has a foul odor, it may indicate metritis.
Some postpartum complications may show these signs:
Decreased appetite
Lack of interest in caring for their offspring
Difficulty standing
Muscle stiffness
Painful walking
Seizures
Fatigue
Breathing difficulties
Dystocia requires a veterinarian's evaluation, and sometimes medical treatment, but may necessitate a c-section for the safety of the mother and puppies. It's essential to have a birth plan in place, be aware of the signs of dystocia, and have the emergency clinic's contact information readily available. Some breeds, especially brachycephalics, may only be able to give birth via c-section.
Eclampsia, a drop in calcium levels, should be treated by a vet. Inflammation or infection of the uterus and mammary glands may also occur postpartum and may indicate mastitis or metritis. If your pet seems sick, has a fever, or you are concerned about these conditions, please contact your vet.