Can dogs eat strawberries? Should you feed your dog fresh or frozen strawberries? Are wild strawberries good or farm-grown strawberries better? This article will answer for you whether dogs can eat strawberries, what types are good and safe instructions to avoid poisoning dogs.
Fresh, juicy strawberries are a great snack option for you. But, can your dog enjoy them too? This is a great question to ask, as you and your dog have different nutritional systems. Continue reading to find out if strawberries can be safe for your dog.
Strawberries are a great warm-weather treat for both dogs and humans. The warm weather means fresh fruits and veggies are plentiful, so we can give them to our dogs just like we do to our own food.
Although it may seem difficult or confusing to determine which fruits and vegetables are safe for dogs (ie: grapes are not recommended), fresh strawberries are possible. You should avoid giving your dog syrupy strawberries or canned strawberries. These foods are bad for your pet.
Can Dogs Eat Strawberries?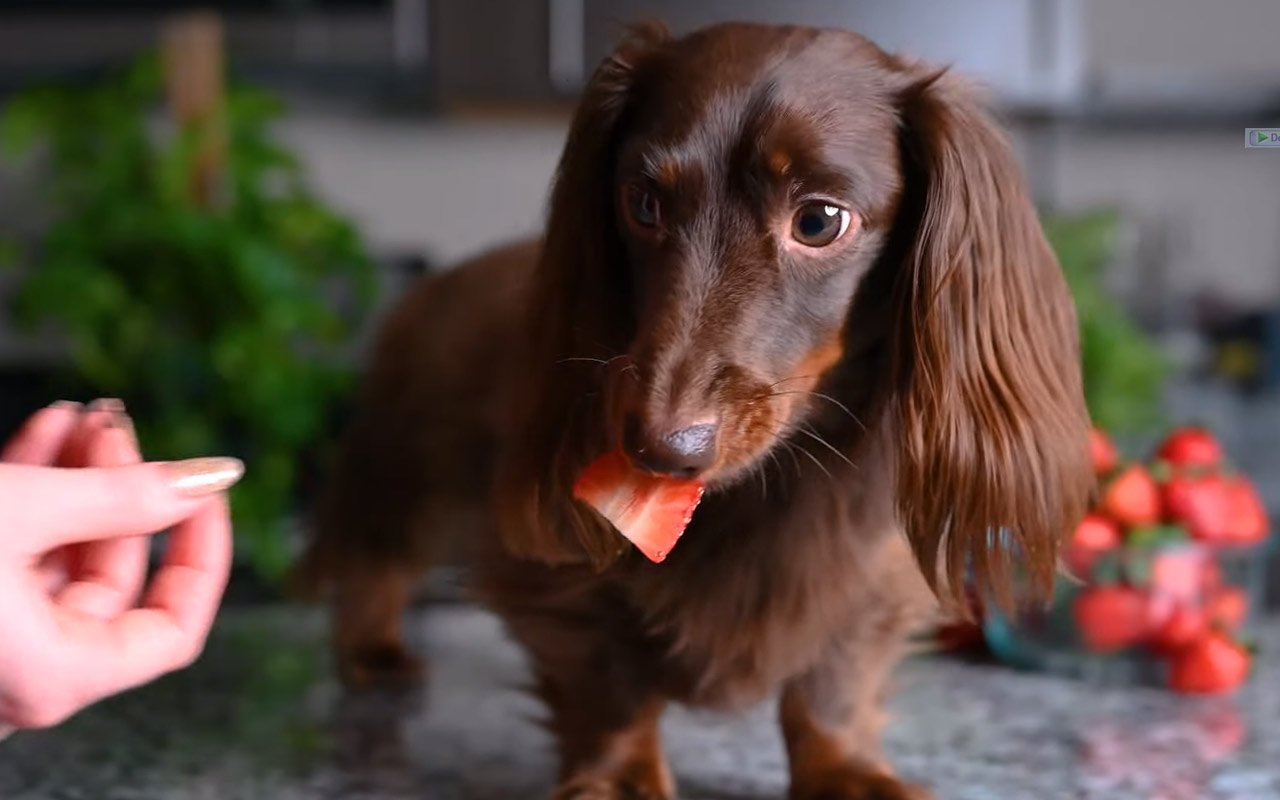 If you are wondering that can dogs eat strawberries, then Yes, dogs definately can eat strawberries, that's the short answer. But, before you give strawberries to your dog, here are some things to consider.
Strawberries contain healthy nutrients that can be good for dogs. However, as with all good things, it is best to enjoy them in moderation. Although they are not poisonous or toxic to dogs, strawberries can cause upset stomachs.
Ask your vet before giving your dog human food, even strawberries, to any dogs. Dogs with certain medical conditions might not be able to handle it.
Benefits of Strawberries for Dogs
Strawberries are low in calories, healthy, high in antioxidants, fiber, vitamin C, and healthy. Fresh fruit can help reduce aging, improve the immune system, and aid in weight management. Strawberries can whiten the teeth of your dog.
Strawberries are good for dogs. You can give strawberries to your dog as a snack. Limit the amount you give your dog. This guideline will help you ensure that your dog doesn't gain weight by limiting the number of strawberries you give him.
Strawberries are sweet and we love them. But sweet means sugar. However, because strawberries contain sugar and dogs do not need a lot of sugar, if you give your dog strawberries, you should only give them a little, and not continue for many days or months.
According to research, strawberries contain a number of nutrients that are good for both humans and dogs:
Vitamin C
Fiber
High water content
A teeth-whitening agent
Natural compounds found in strawberries (and other berries) act as antioxidants. They are beneficial for humans and other animals. However, it has not been proven that they can be beneficial for dogs.
How to safely feed Strawberries to dogs?
Now that you're aware that strawberries can be given to your dogs, how do you make sure it is safest?
Before you give human food to your dog, make sure to consult your vet. You should consult your veterinarian or nutritionist before giving strawberries to your dog.
If your dog is allowed to eat strawberries, ensure that they are receiving fresh organic berries.
Strawberries are small and soft so they can be choked easily. However, you might want to cut them up or mash them if your dog is smaller. For a treat, you can add them to your dog's food, reward them during training, or freeze them for an easy summer snack.
You can mix them with other healthy fruits to make a tasty smoothie or fruit salad. However, you should always check with your veterinarian before giving your dog any human food.
To make strawberries more digestible, wash them well and cut them into small pieces.
If you do decide to give strawberries to your dog, start slowly and monitor your dog closely for changes in behavior and digestive problems. If you notice any unusual behavior in your dog, please stop giving them strawberries and consult your veterinarian.
Other Fruity Treats for Dogs
According to veterinarians, treats should not exceed 10% of your dog's daily diet. You can give your dog safe, healthy fruits that may help keep them happy. Here are some more:
Bananas
Watermelon (remove seeds).
Apples (remove seeds and core).
Blueberries
Cantaloupe
Mango (peel the pit and remove it)