Are you looking for the best WooCommerce themes to use?
BuiltWith data indicates that approximately 6% of top-ranked websites in the world use the WooCommerce eCommerce platform by 2023. It's more than 4,000,000 sites.
However, that's not all. According to an infographic by Barn2, 94% of WordPress e-commerce websites are using the WooCommerce plugin.
WooCommerce has clearly proven its dominance over other WordPress plugins. WooCommerce, which is free and open-source software, is flexible, customizable, user-friendly, and easy to use for even the most novice of tech-savvy users. WooCommerce offers more than that.
WooCommerce, the most popular WordPress eCommerce plugin, is used to create an online shop. There are many themes that are specifically made for WooCommerce sites.
This article will discuss why you should add WordPress WooCommerce themes to your storefront. It also explains how to select the best one for your business.
We will also share our list with 41+ of the most popular WooCommerce themes, both premium and free, that are sure to get attention and generate leads.
Why Use WooCommerce-Compatible Themes?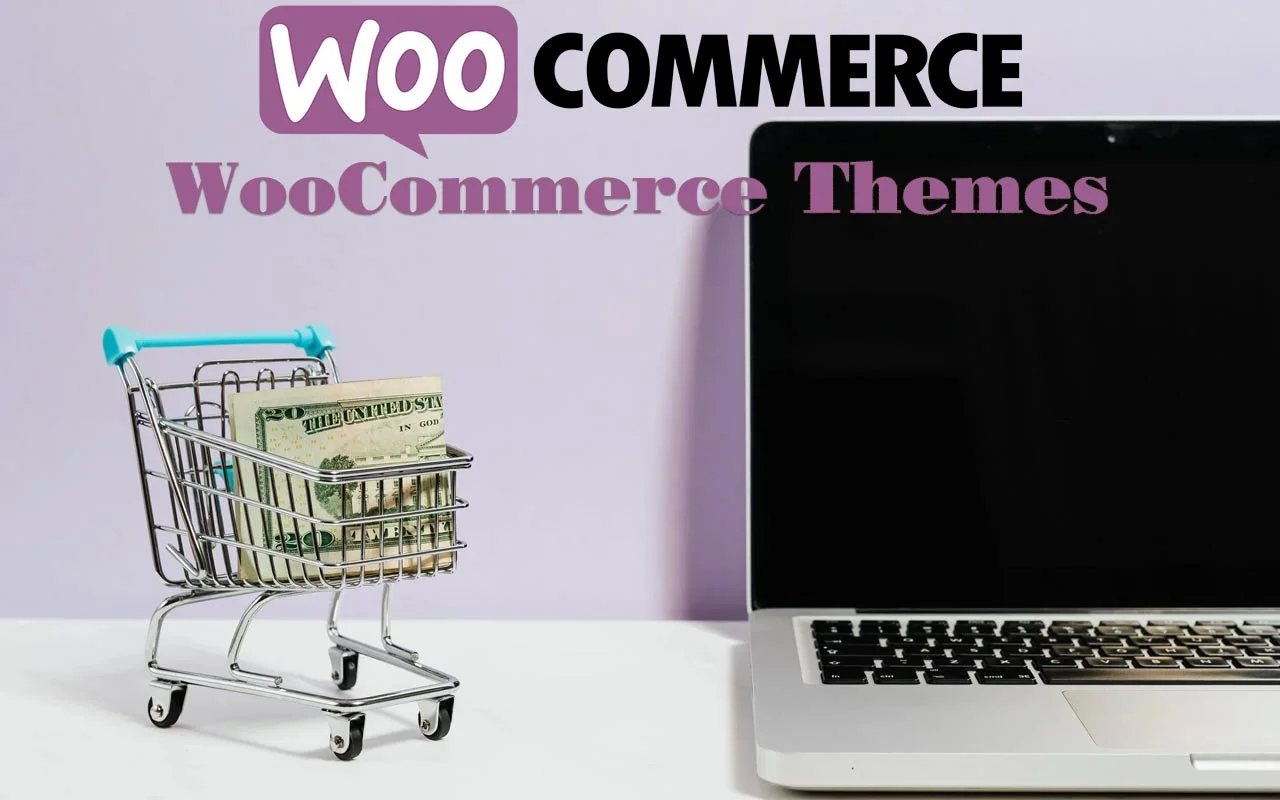 WordPress themes change the look of your site, including images, templates, and stylesheets. This can make it easier to use, and provide a better user experience.
WordPress WooCommerce themes provide an eCommerce-first approach for designing and building product pages, shopping baskets, and payment services.
WooCommerce's versatility and options will appeal to WordPress experts. WooCommerce's complexity may seem overwhelming to less tech-savvy users, but WPBuffs can help you edit, maintain, and update your WooCommerce site.
Aside from making your site look aesthetically pleasing, building your WordPress site with a WooCommerce-compatible theme comes with many other benefits:
WordPress DIY'ers can save on overhead by using WooCommerce, a free and open-source plugin. You'll still have to pay for domain hosting and premium plugins.
However, you can save money by choosing Free WooCommerce themes.
It's easy to set up: You don't need to be a programmer to add WooCommerce Themes. It will require some technical knowledge for maintenance.
Optimization: The most popular WooCommerce themes provide the foundation for optimizing a page for SEO and speed. This will not only make it easier to find your website, but it will also reduce bounce rates from slow loading times.
You know, maybe your theme has been optimized very well, but if your hosting is slow, it will also cause your website to load very slowly. So choose a good quality hosting, and have confirmed brands like Bluehost, Dreamhost, Hostgator…
Modifiable: With add-ons, you can modify and scale your WooCommerce WordPress theme to improve your product pages and shopping cart. You can include social media plugins and coupon banners.
WooCommerce themes offer a balanced mix of style, substance, and functionality that will make your website stand out and give you the tools to make your eCommerce store successful.
What to look out for in a WooCommerce WordPress template
It can be difficult to find WooCommerce WordPress themes that work for all websites. There are many themes that claim to be ideal for online stores, but they may not contain the essential features that you need to manage your store.
Multipurpose themes can also be easily adapted to eCommerce websites. Focusing only on themes that have "WooCommerce" as their names may lead to missing out on better options.
To spot a good WooCommerce WordPress theme, you need to pay attention to certain key features.
Integration with WooCommerce
It may seem obvious but it's crucial to choose a theme that works with your eCommerce plug-in.
Shop page layouts
WooCommerce lets you add product, cart, checkout pages to any website. Layouts for these pages will make an ideal theme for online shops.
There are many customization options
Make your online store personal and adapt it to meet your needs. A theme that supports page builders can be customized with advanced features.
Optimization of performance
Slow loading times can impact customer loyalty and bounce rates. It is important to keep page speed high with a lightweight theme.
You will have to decide what theme appeals to you.
How Can I Find the Best WooCommerce Theme?
Many WordPress themes can be used with the WooCommerce plugin. However, if you own an online business, you will need a theme that focuses primarily upon eCommerce-related options and features.
These are some tips to help you choose the best WooCommerce themes.
It's flexible and simple to use
While a WooCommerce theme might have many features, it should still be easy to use and flexible for beginners. Look for themes that include proper documentation to help you.
Use extensions/add-ons seamlessly
There are hundreds of premium and free WooCommerce extensions. The perfect eCommerce theme should integrate seamlessly with all extensions/addons.
SEO-friendly
WooCommerce themes that include SEO optimization are designed to help you increase traffic. Plus, eCommerce sites are more likely to get more traffic which means more sales.
Compatible with other WordPress plugins
WooCommerce is an independent plugin for WordPress. Your theme must work well with it. To add more features to your online shop, you will need to make sure that the theme you choose is compatible with other WooCommerce plugins.
Responsive design
Your website will be accessed by most of your visitors via their smartphones. Your theme should be mobile-responsive and work well on all screen sizes and devices.
Integration of page builder
It takes time to add thousands of products to your WooCommerce site. Drag and drop page builders can be used to quickly create product pages.
Speed optimization
Slow eCommerce websites are bad for online businesses. Choose a WooCommerce theme that is faster to load pages and has a lower performance.
Live notifications
I am happy to support you in setting up WooCommerce live sales notifications
Security Features
Your customers' security is paramount, and so should it be for you. Some WordPress eCommerce themes offer additional security features that go beyond those offered by your web host.
Secure eCommerce sites build trust between customers and you, which can only be good for your business.
Once you have a clear idea of the ideal WooCommerce themes, it is time to start looking at the myriad of options.
Or, you can browse our 41+ items list of the top WooCommerce themes that we have vetted and curated just for you.
The Top 41 WooCommerce Themes of 2023
You can find all the top WooCommerce themes here. You can browse our hand-picked selection of the top WooCommerce themes below to choose a theme for your online shop.
We used the checklist's key criteria to compile our list. No matter your budget, our choices include both premium and free WooCommerce themes. This will ensure that anyone can find what they are looking for regardless of niche.
We have divided our list into 3 main categories:
Top free WooCommerce themes
Top WooCommerce themes
The Best Divi WooCommerce Templates
The most comprehensive way to choose the best WooComerce themes for those who are lazy to read:

Botiga – The best free WooComerce theme

Flatsome – The best premium WooComerce theme

Divi Ecommerce – The best Divi Child Theme For WooComerce
Top Free WooCommerce Themes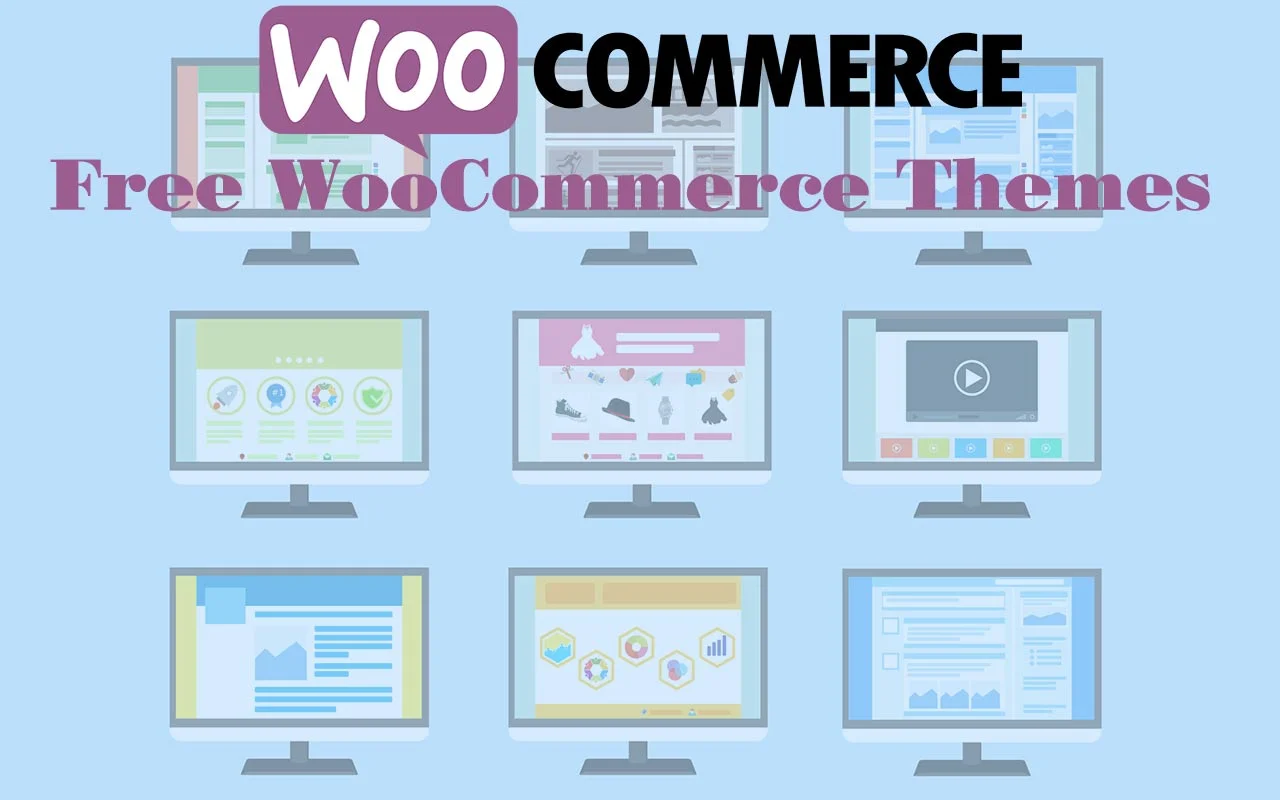 Launching an online shop is not easy. The process of setting up an online business can be time-consuming and expensive. You might consider looking into the best WooCommerce themes free of charge to speed up the process.
A free WordPress theme can help you keep your budget in check while you launch your site or brand. If it is compatible with WooCommerce you will have the access to the essential features that your store requires to succeed.
Are you not able to spend the money on a premium WooCommerce theme? You can check out our top free WooCommerce themes. You don't have to sacrifice performance or functionality by using any of these themes.
Astra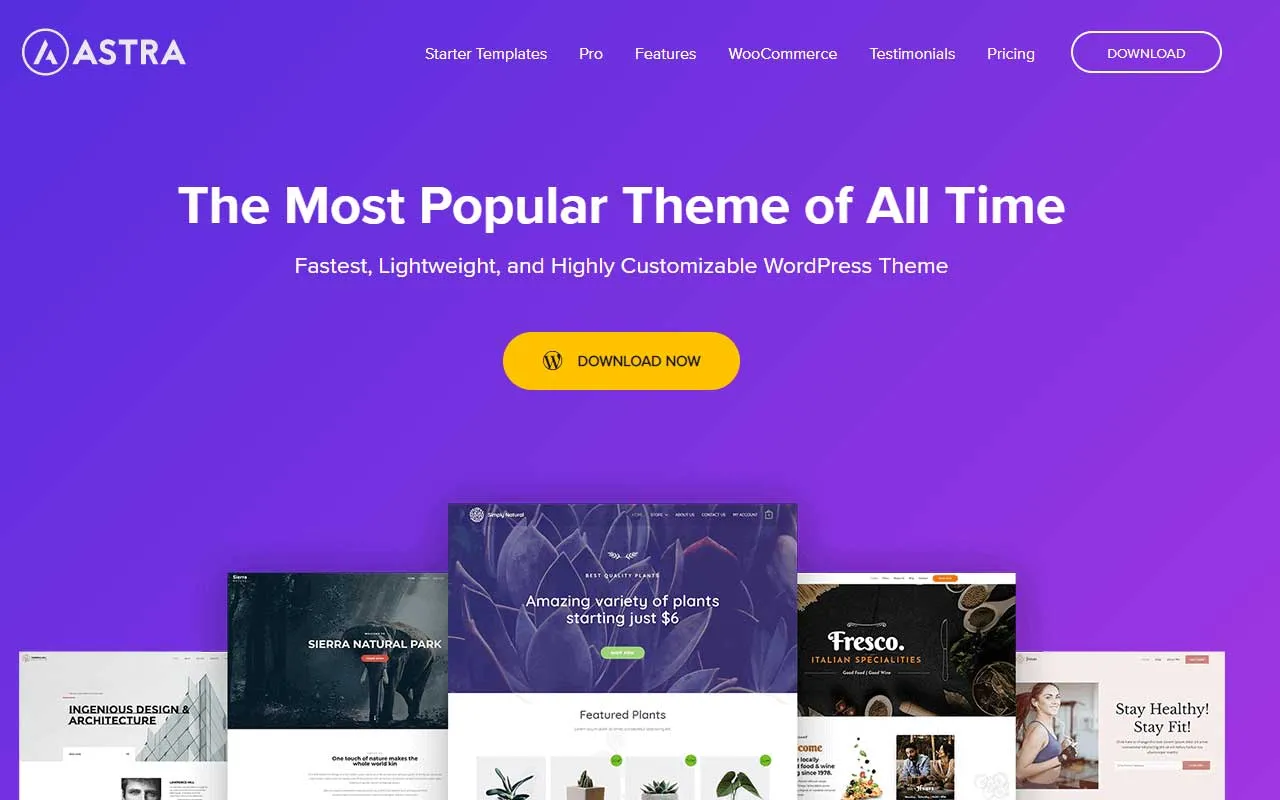 Price: Free
Download:  https://wordpress.org/themes/astra/
Astra excels when optimizing for speed. Imagine a half-second load time, responsive font sizes, Vanilla JavaScript, all within 50KB. You have more than 150 websites template that is ready to import and you can enhance them with Gutenberg and Elementor.
Astra is an extremely lightweight theme, but it has many features even without premium upgrades. Add social media widgets, select from over 700 Google Fonts, and customize multiple layouts including cart pages, product pages, and container settings.
Neve Shop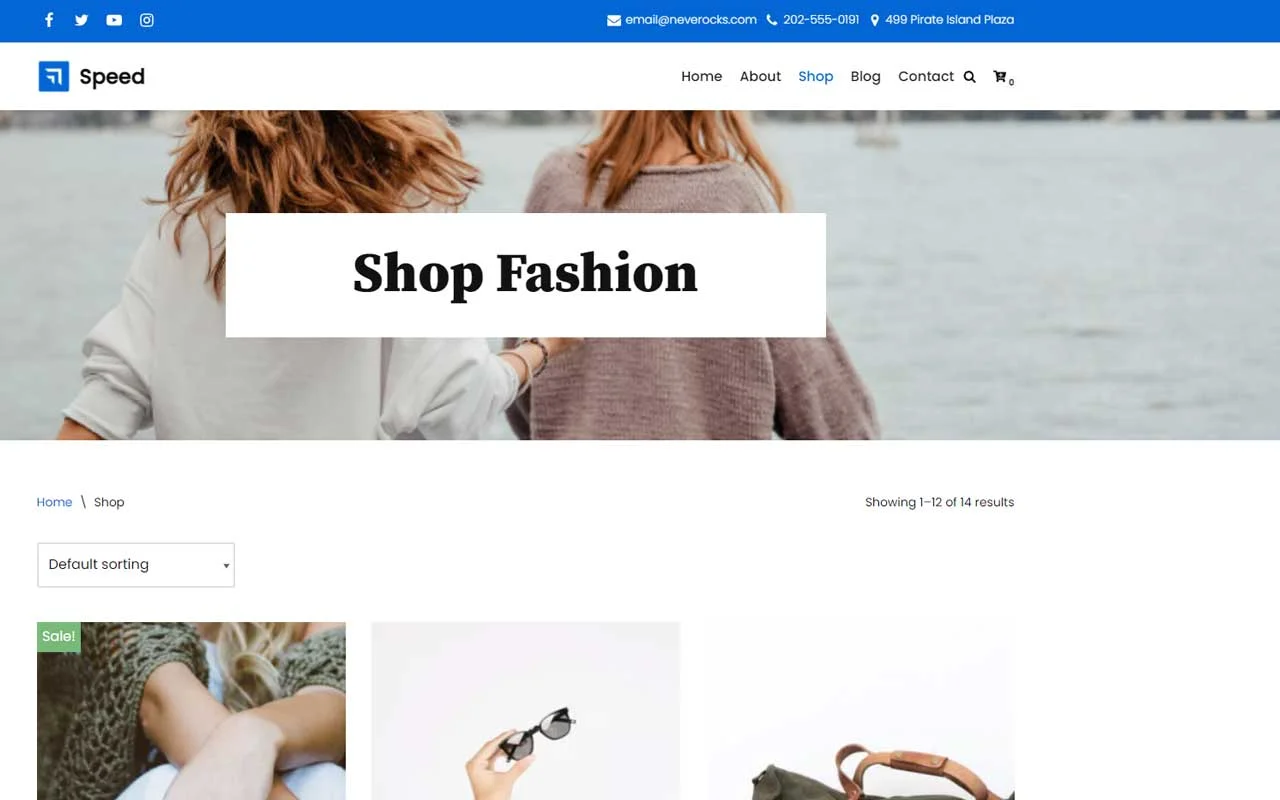 Price: Free
Download:  https://themeisle.com/themes/neve/#free
Neve Shop* by Themeisle* adopts a mobile-first strategy with its lightweight construction, AMP compatibility, and responsive adaptability. It boasts load times of less than one second and installation size of just 28KB. This Neve Shop is quite small and light.
Easy customization of templates is possible thanks to integration with Gutenberg and Elementor page builders. Neve Shop also has accessibility optimization and SEO-friendly marking up. Additionally, you can easily roll back an update with one 1-click.
OceanWP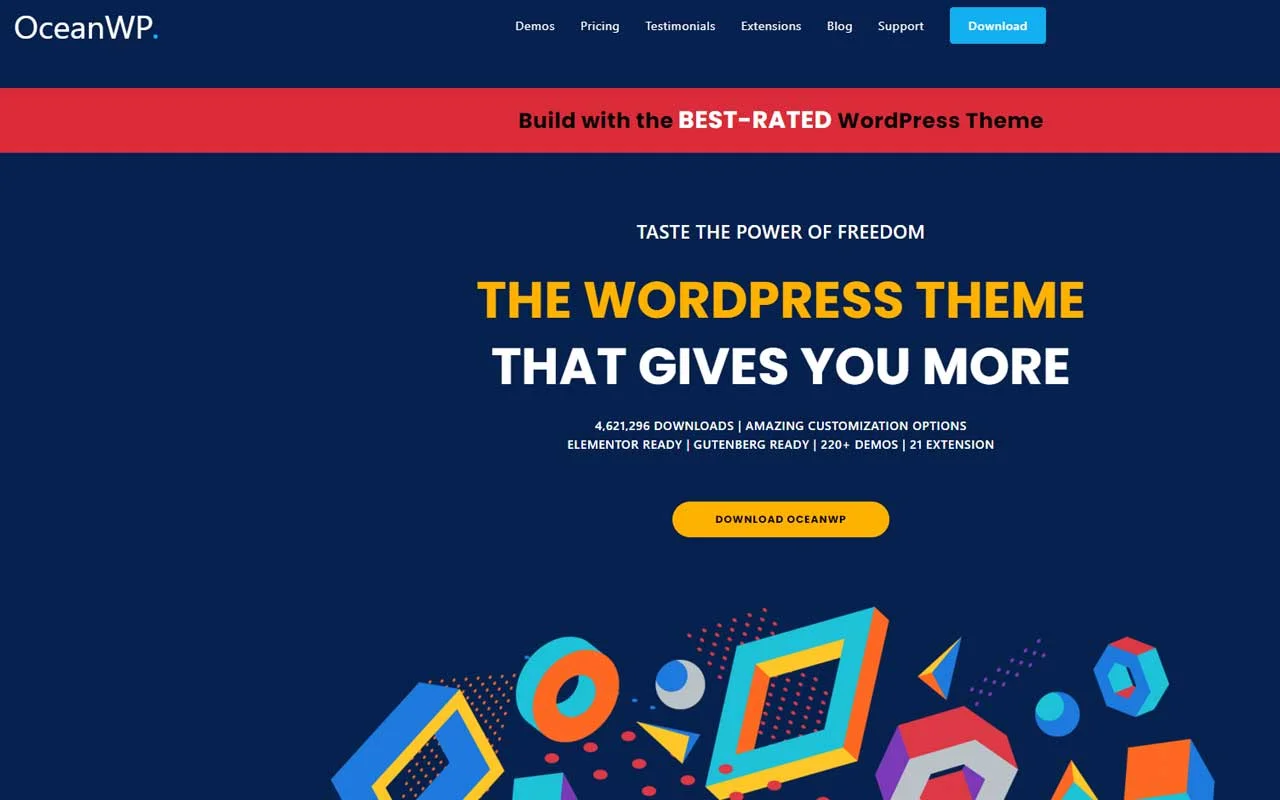 Price: Free
Download: https://oceanwp.org/
OceanWP has more than 3,000,000 downloads and counting. One reason? OceanWP makes it simple to create an eCommerce site. Just click one of its demo templates and you're done. Only select templates are available for premium plans.
OceanWP offers both veteran and novice site owners the ability to integrate WooCommerce and create responsive layouts. OceanWP is compatible with drag and drops page builders, as well as a wide range of premium plugins that can make your site unique.
Botiga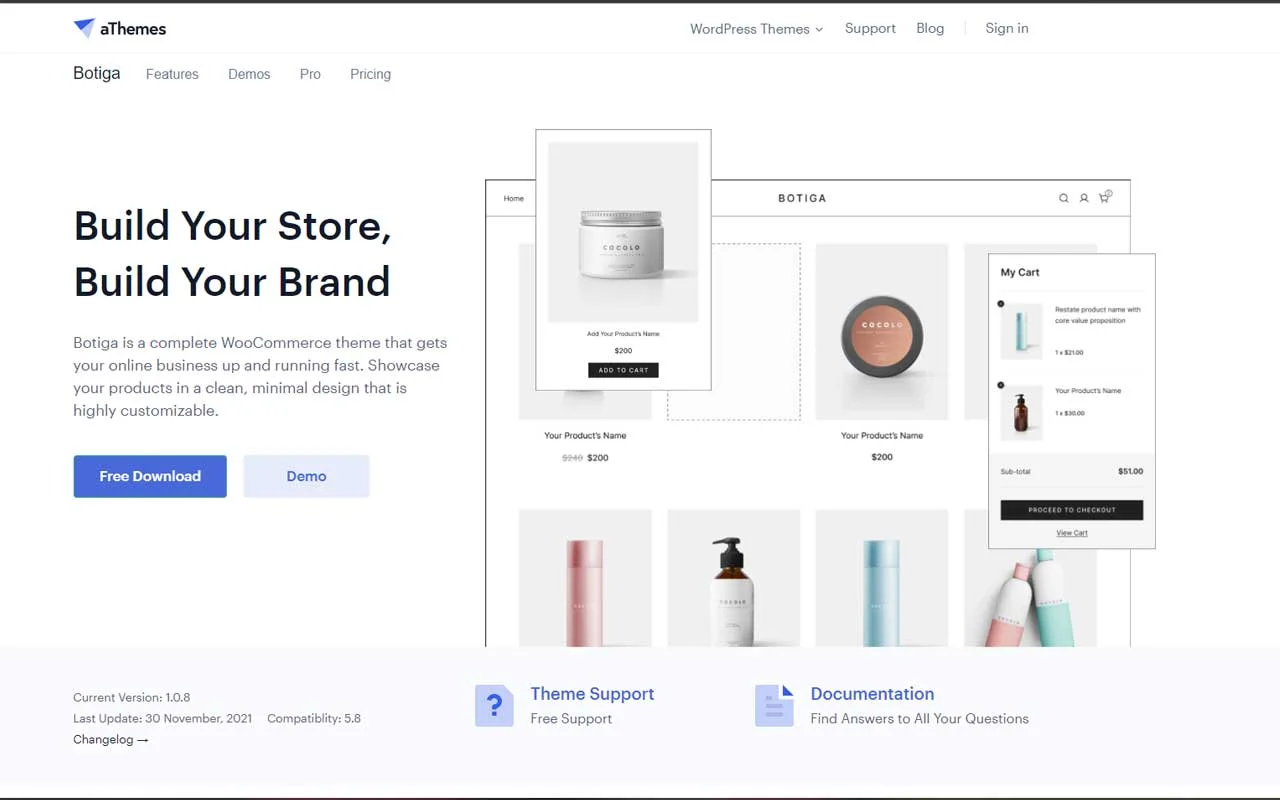 Price: Free
Download: https://athemes.com/theme/botiga/
Botiga is a minimalist yet elegant e-commerce theme. This theme can help you display your products in a clear and professional manner. This theme comes with a lot of customization options. It includes a selection of header and listing styles as well as product galleries. There are also six layouts for your blog archives.
It is easy to customize your site's cart and checkout layouts using the extensive range of options. Your site's UX can be enhanced by features such as product search and recommendations. Botiga is an easy-to-use and functional option that's both simple and user-friendly.
Storefront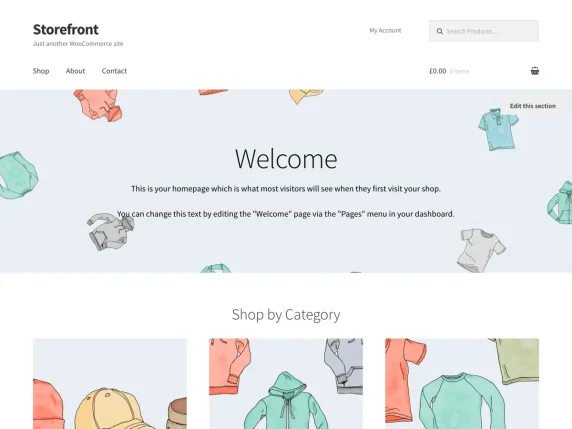 Price: Free
Download: https://wordpress.org/themes/storefront/
WooCommerce offers the Storefront theme as a free premium theme. This theme was created and maintained by WooCommece engineers. It supports WooCommerce integration and is updated regularly to ensure compatibility with WooCommerce.
The Storefront offers a simple, responsive interface that is easy to customize. This makes it great for those who want to quickly create a site. There are premium child themes that can be customized for different industries.
Woostify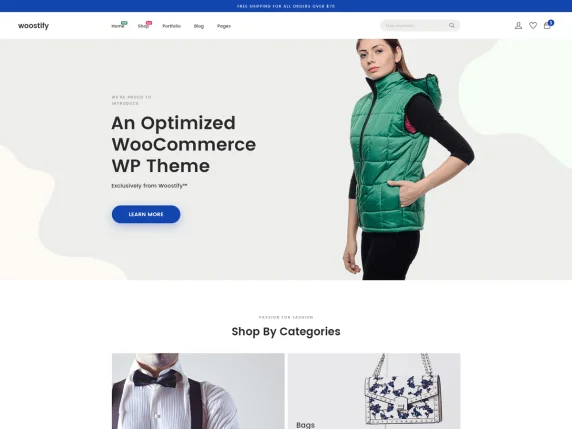 Price: Free
Download: https://wordpress.org/themes/woostify/
Woostify gives you the ability to personalize your e-commerce site. There are many layout options for product pages, multi-step checkouts, shopping carts, and you can choose from many styles. Woostify is multi-vendor compatible, has product wishlist plugins and multilingual support.
Woositify takes up less than 30KB to ensure fast page load times and page speed. As a completely WooCommerce-integrated theme, there's no need to worry about anything breaking in Woostify upon major WooCommerce updates.
Idyllic free
Price: FREE
Download: https://wordpress.org/themes/idyllic/
Idyllic Free is a minimalist theme from Theme Freesia that's fully compatible with WooCommerce. It can be used on a variety of browsers and devices to look great and load quickly.
Easy setup, especially when you choose to import a demo. To improve your e-commerce website, you can also add plugins, such as Polylang (polylingual assistance), Jetpack, Contact Form 7, and many more.
Hestia Lite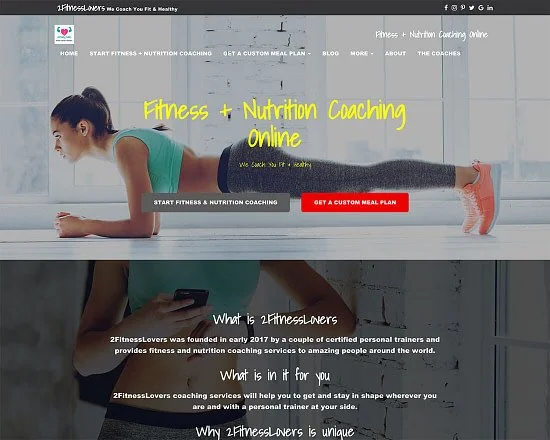 Price: Free
Download: https://wordpress.org/themes/hestia/
The Hestia Lite eCommerce start site for desktop and mobile.
According to WordPress Theme Directory, the Hestia Lite template is just as popular. For online retailers that are looking to improve their design skills, we have created the eCommerce starter site.
Hestia Lite integrates with many page builders and offers our custom Customizer options.
Zakra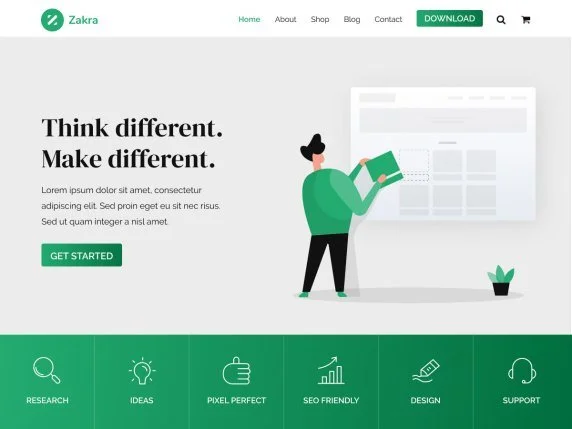 Price: Free
Download: https://wordpress.org/themes/zakra/
Mobile and desktop versions: The Zakra theme
Zakra is another multipurpose theme you can use to create online stores. This theme includes several eCommerce demos that will help you get started on your site's design.
Elementor can be integrated with it for simple customization. It doesn't have as many WooCommerce-related options as some of the other themes, but it is optimized for quick loading times.
Rife free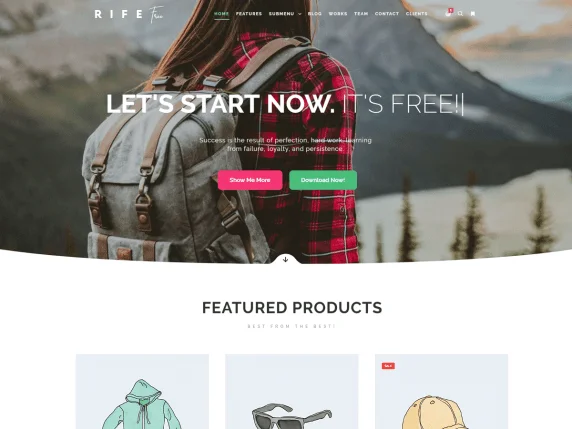 Price: Free
Download: https://wordpress.org/themes/rife-free/
Demo of Rife Free WooCommerce on mobile and desktop.
Rife Free is primarily designed for portfolio sites and photography sites. You can integrate WooCommerce and the image galleries will seamlessly transition to featured product listings once you have applied the WooCommerce demo.
This theme is compatible with Elementor. It also includes hundreds of unique Customizer options. This theme can be easily customized to reflect the brand identity of your online shop.
ShoppingCart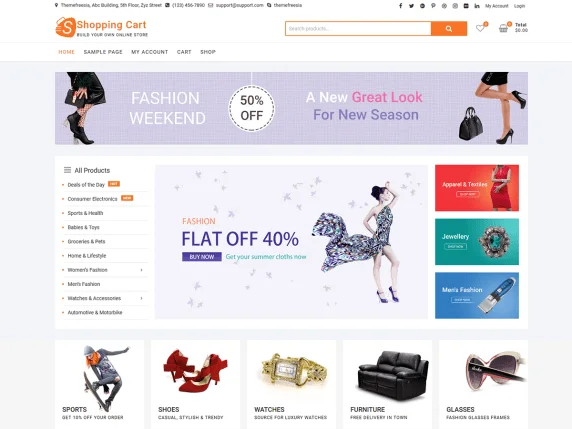 Price: Free
Download:  https://wordpress.org/themes/shoppingcart/
The Shopping Cart theme is available on mobile and desktop.
Multipurpose themes can be great for WooCommerce sites. But, it is possible to choose a theme specifically for online shopping.
ShoppingCart has many eCommerce widgets. You can also personalize the front page sections using Customizer. While page builder integration does not feature in ShoppingCart, it uses its own system with 'components' to allow easy customization.
Zigcy Lite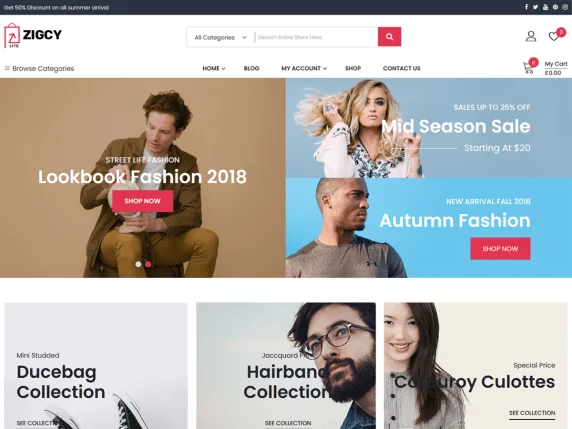 Price: Free
Download:  https://wordpress.org/themes/zigcy-lite/
Mobile and desktop versions both of the Zigcy Lite theme.
This Customizer-based WooCommerce WordPress theme offers a wide range of eCommerce features. Zigcy Lite allows deep integration with WooCommerce's settings and multiple shop page layouts.
You also get three demos to help you get going. Although it has slow performance, it's still quite decent.
Adventure Travelling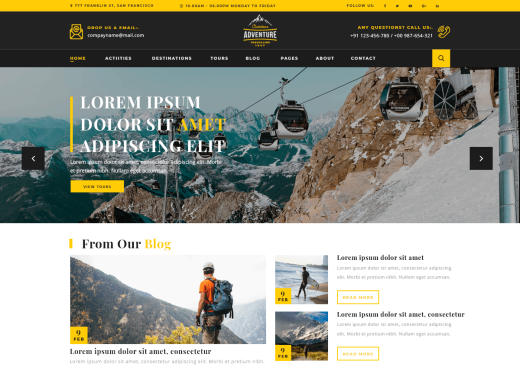 Price: Free
Download:  Adventure Travelling – WordPress theme | WordPress.org
This free WordPress theme for travel agencies is eye-catching, reliable, competent, and smoothly functioning.
The theme is intended for travel agencies, tourist destinations, tour guides, tour operators, tourist destination hotels, airline service providers, travel magazines, travel and adventure blogs, etc.
A website with this layout will satisfy everyone's desire for an elegant website in this field. Using its Bootstrap framework, you can create an efficient website without knowing any coding.
A major benefit of this framework is that it makes the site responsive to different sizes and layouts of screens. Designed to make your content stand out, it puts your content front and center.
With the free travel agency WordPress theme, you can easily take your customers to your area of expertise. Because of its lightweight code, it is lightning-fast, giving users a great experience.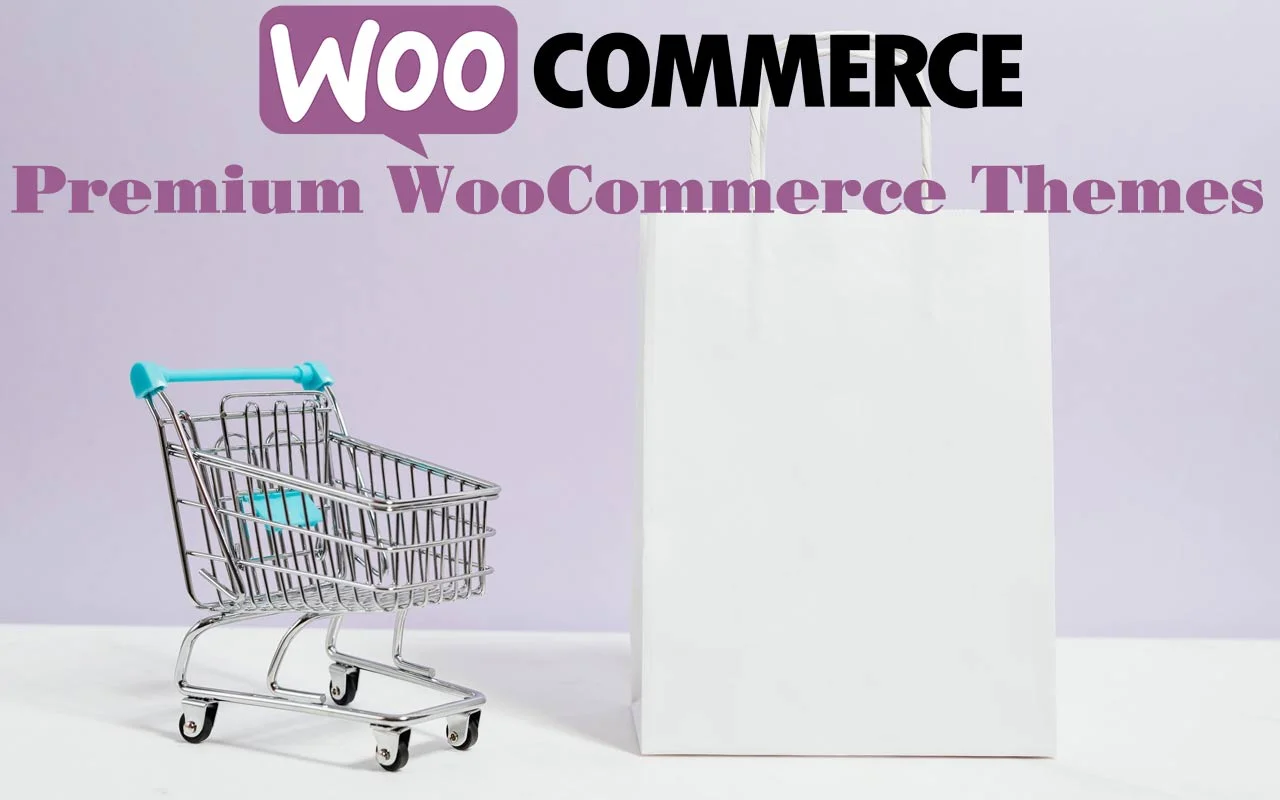 If you're looking to create a more feature-rich eCommerce site, check out our selections for premium WooCommerce themes.
This collection of premium WooCommerce WordPress themes will assist you in launching a professional e-commerce store.
WordPress will provide the platform for your website, while WooCommerce will take care of the e-commerce features. Your online store will be built with the most popular tools within their respective categories.
All you need to begin listing products online, collecting payments from your customers, and adding many more features to your shop is possible with the WooCommerce extensions.
Many themes include pre-built demos for e-commerce stores. This allows you to have many options when creating your WooCommerce WordPress online shop. These themes come with a powerful drag-and-drop page builder tool.
You should not have any difficulty editing and customizing demo content to make sure it matches your branding and showcases your products in the best possible way.
Some themes come with add-ons to the WooCommerce plugin. This allows you to add great features to your online store.
These add-ons can be premium WooCommerce extensions that will make your store even more functional, and also save you money.
You'll find the right e-commerce templates here, as many of the premium WordPress themes in this collection can be used in multiple ways.
You have the option to choose from more plugins, a greater selection of templates, and priority customer service, among other amenities.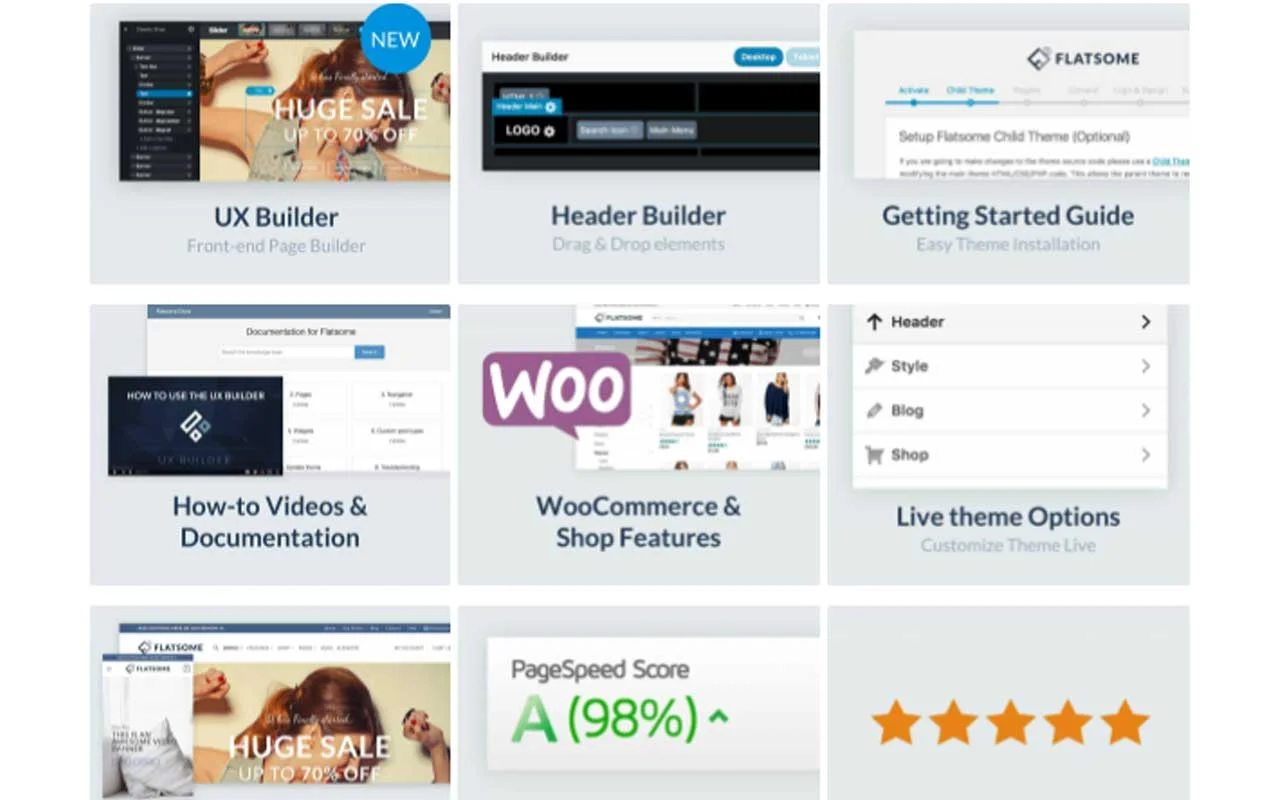 Developer: UX-themes
Price: $59
Flatsome is the #1 bestselling WooCommerce & Business Template on Themeforest.Net. Flatsome is an extremely easy-to-use theme for newbies and beginners with a drag-and-drop editor and is the fastest WordPress theme available today.
The multi-purpose WooCommerce theme, which is extremely performant, is ideal for any type of WordPress project.
Flatsome is the perfect theme to use for your website, shop, or client sites if your agency or freelancer. It comes with everything you need to quickly create responsive websites and provide an amazing user experience.
It has unlimited options and a revolutionary page builder that allows you to create any kind of responsive website without having to code.
Porto – Multipurpose & WooCommerce Theme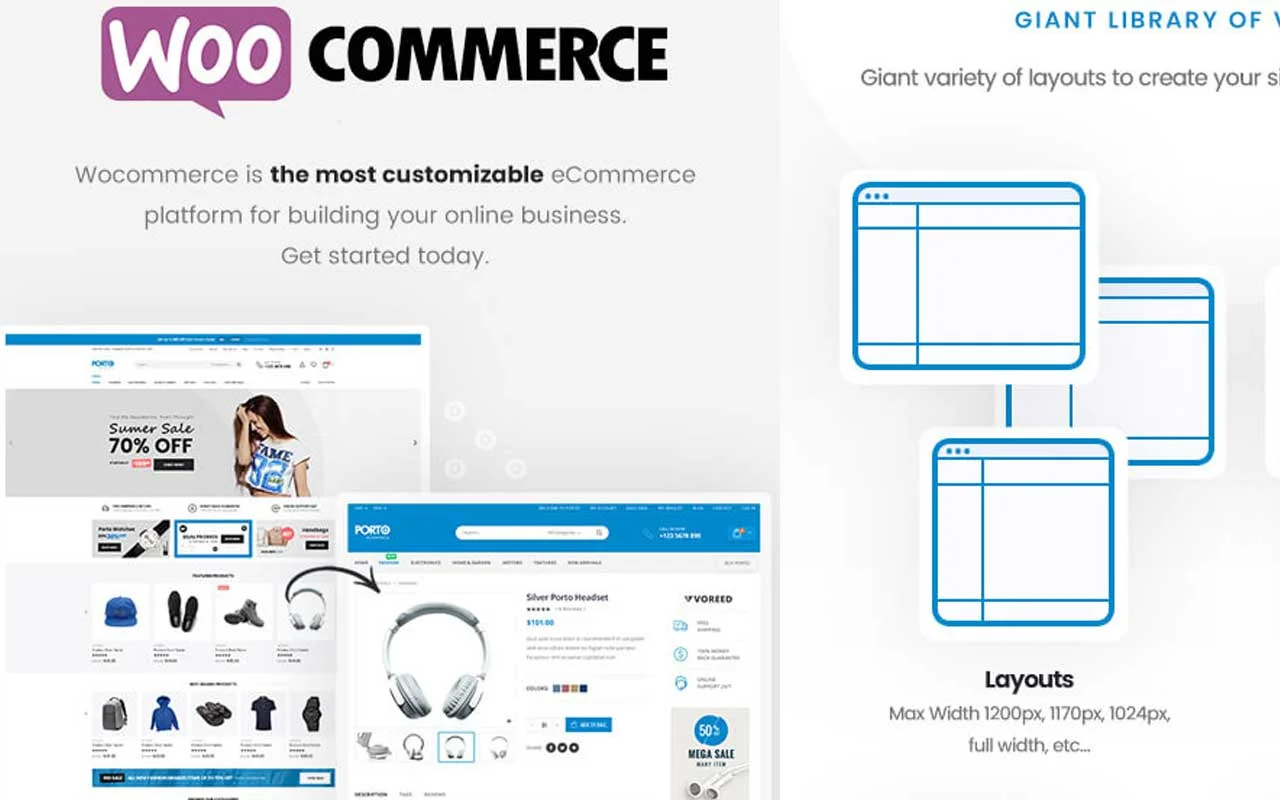 Woocommerce Theme by p.themes
Price: $59
Porto WordPress is the ultimate business & Woocommerce WordPress theme. This theme is ideal for all businesses and Woocommerce sites.
Porto is packed with powerful features and elements that will allow you to create any configuration you desire. Porto is a Woocommerce theme that offers more features than most multi-purpose themes.
Porto has exclusive skins and layouts. Porto delivers super-fast performance that is vital for your business and Woocommerce shop. You can see more Porto features by clicking the link below. Enjoy Porto Business & Woocommerce!
WoodMart is a multipurpose WooCommerce theme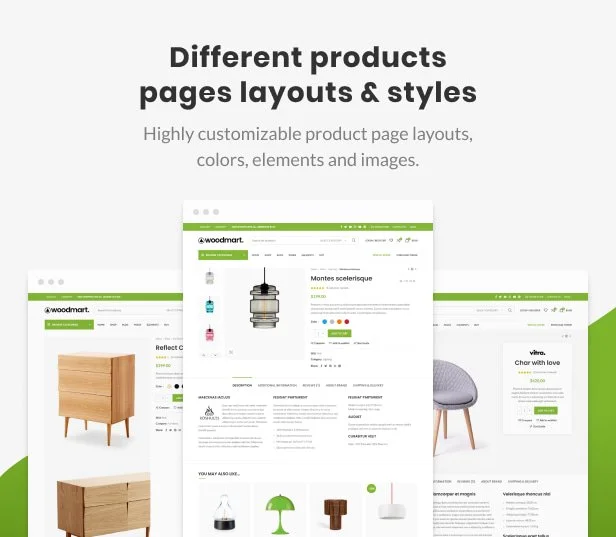 Developer: by xtemos
Price: $59
WoodMart, a premium theme for WooCommerce online store creation, provides an extremely fast user interface and offers the best possible user experience
WoodMart is a premium WordPress template that can be used to build WooCommerce online stores.
WoodMart's focus is on the user experience. The theme uses AJAX technology to provide a fast, seamless online shopping experience that doesn't require reloading pages.
Create any type of online shop you want and get started with passive revenue streams using 'WoodMart for WordPress.
WoodMart WooCommerce is a simple theme that can be used to create an online store. It doesn't need many plugins.
All the most important features are already included and there is no need to add any additional.
You will be able to save between 10-20 unnecessary plugins by having your wishlist, compare, and product swatches as well as AJAX filters and built-in slider. Their quick setup wizard will help you set up your online shop in just a few steps.
XStore – Multipurpose WooCommerce Theme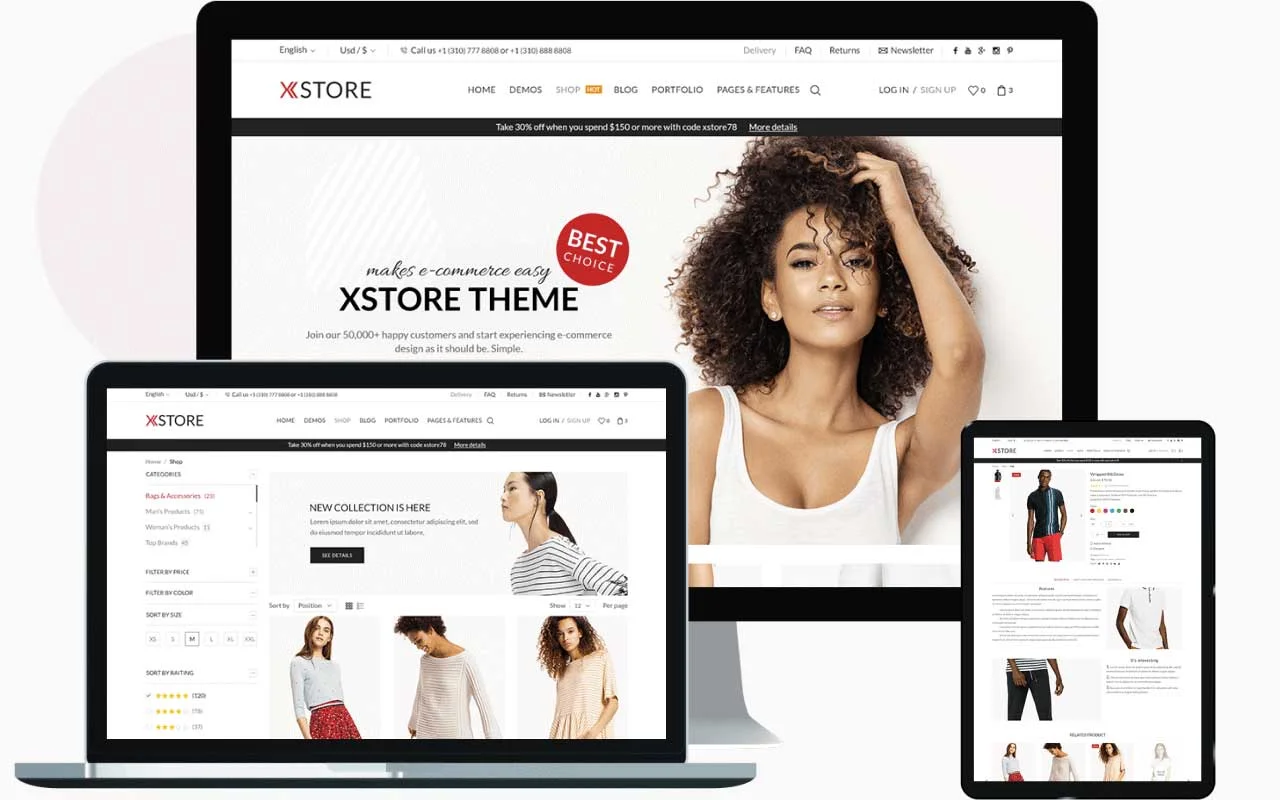 Developer: 8theme
Price: $39
XStore makes eCommerce easy.
This eCommerce WordPress WooCommerce theme has been carefully designed and contains the pages, tools, and settings needed to help you create a professional-looking and trustworthy online shop.
Easy import using the most intuitive installer demonstration for electronics, fashion furniture, niche store, and clothing.
XStore includes several widgets to help you enhance the customer's experience of your shop. The Theme Options can be used by anyone with basic knowledge and add value to a beautiful responsive WordPress WooCommerce theme.
Razzi – Multipurpose WooCommerce WordPress theme
Developer: by Drfuri
Price: $19
Razzi is a minimalist AJAX WooCommerce WordPress Theme powered by Elementor builder. It is ideal for digital stores, watches, jewelry, accessories, books, magazines, online shops, bookshops, high-tech stores, watch stores, women's stores, clothing, and furniture stores, as well as your cosmetics shop and luxury jewelry store.
Additionally, the theme can be integrated with WooCommerce. This includes many plugins including a mini cart and custom widgets. Unlimited color schemes. Sliders with smooth transition effects. A menu with multiple column styles. Advanced widgets.
Elessi WooCommerce AJAX WordPress theme – RTL support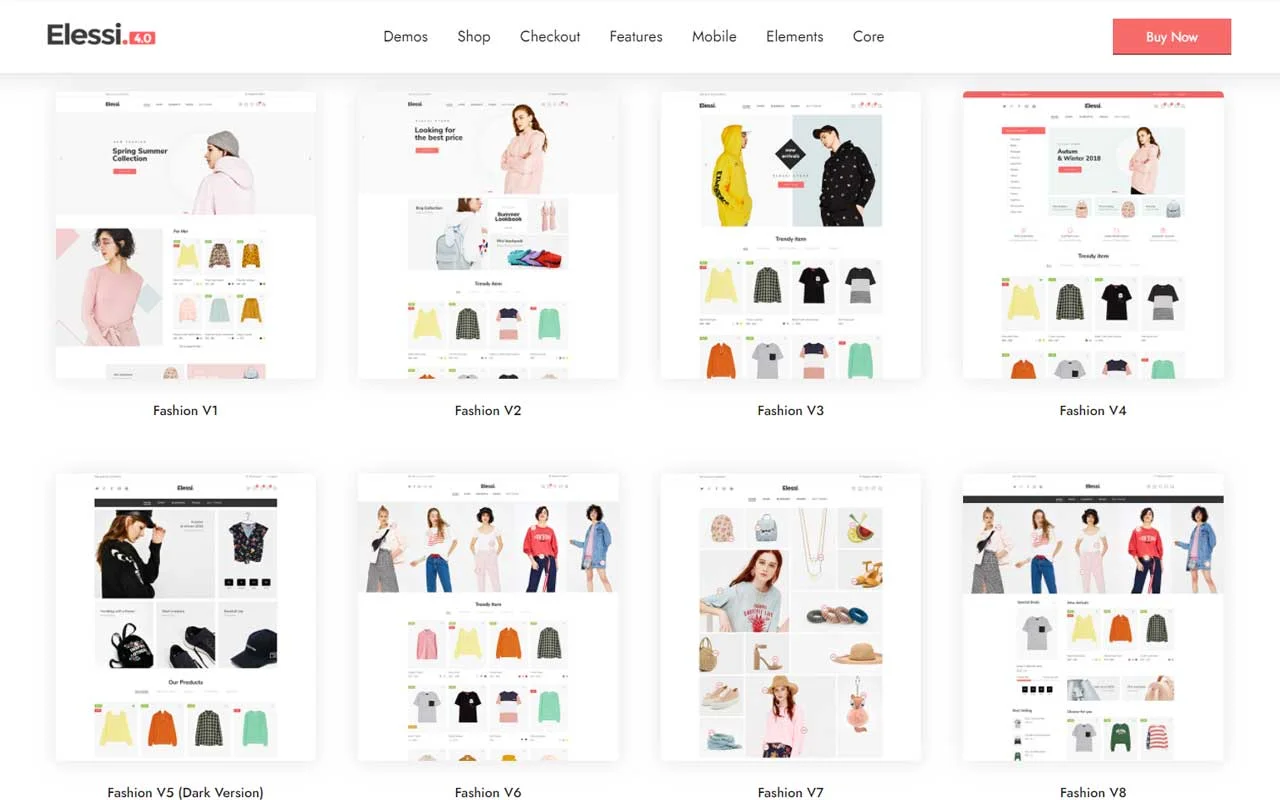 NasaTheme for Woocommerce
Price: $59
Elessi is a WooCommerce theme with many functions that are modern, clean, and easy to use. It's the perfect theme for your eCommerce project.
Elessi has been designed with customer experience in mind. It features unique product filtering, unique compare, multiple ajax of-canvas wishlist & cart sidebar, product quick view (off-canvas and popup), one-click installs, and much more.
Simple to use, amazing and powerful. Without any coding knowledge, you can build your website in minutes.
Option Framework allows you to easily customize Elessi. You can customize it using Option Framework's powerful theme options panel. This theme bundles WPBakery, a custom-tailored version that allows users to build different layouts quickly and easily.
Design and layout are completely customizable
WPBakery drag-and-drop page builder is bundled (Save $25
Many Custom WPBakery Elements available to use
Revolution Slider plugin. ( Save $25
Upload your Logo & Favicon
Translation ready
Integrated with Google Fonts
Font Awesome icons are integrated
Electro Electronics Store WooCommerce Template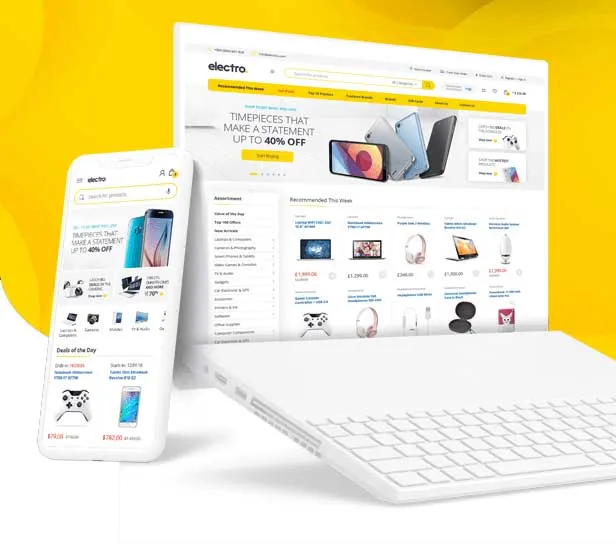 Developer: MadrasThemes
Price: $59
Electro is a flexible and robust WordPress Electronics Store WooCommerce theme. This theme will allow you to make the most of WooCommerce to power any online store.
This design is suitable for Electronics stores and vendor-based marketplaces. It's built and comes with all of the latest features on most eCommerce websites such as Amazon, and Flipkart.
This theme is ideal for anyone who wants a multi-vendor marketplace or store owner.
The Underscores framework is used as the basis for the theme. The page templates, WP Bakery Page Builder, or Elementor website builder can be used to create the home pages.
The code is flexible and lightweight. Developers will be able to add functionality via child themes or custom plugins.
It is fully integrated with WooCommerce core, as well as many popular extensions and page builders.
Elementor Website Builder
WPBakery Page Building for WordPress
Slider Revolution
YITH WooCommerce Wishlist
YITH WooCompare
Martfury WooCommerce Marketplace WordPress theme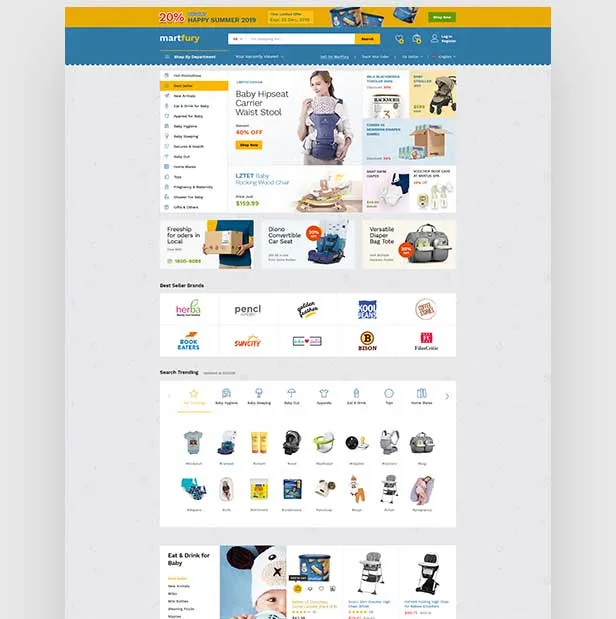 Developer: Drfuri
Price: $59
It's a powerful eCommerce feature
The theme was designed for WooCommerce. WooCommerce is the most popular eCommerce platform for WordPress. This allows you to sell anything online and shippable goods as well as virtual or digital files.
Rey – Fashion & Clothing, Furniture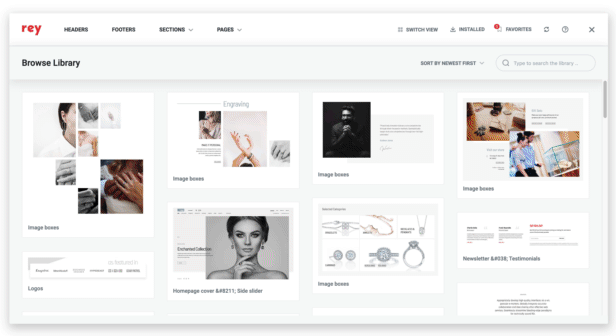 Developer: ThemeFuzz
Price: $69
Rey is an elegant WordPress theme that has lots of features and a stunning design. You can also use it as a foundation for any future projects. It was originally intended to be an eCommerce theme. However, that is only a small part of its capabilities. You can use it on any type of website.
Rey's features and flexibility are usually the opposite of lightweight. It basically bloats the theme. Its modularity allows you to load things as needed.
Concerning other people's work, many have bloated outdated themes that are becoming difficult to manage due to their tightly – coiled foundation. Rey's case is different. Its infrastructure will be modularly oriented, which makes it a solid foundation for all future and current projects.
Shoptimizer FAST WooCommerce theme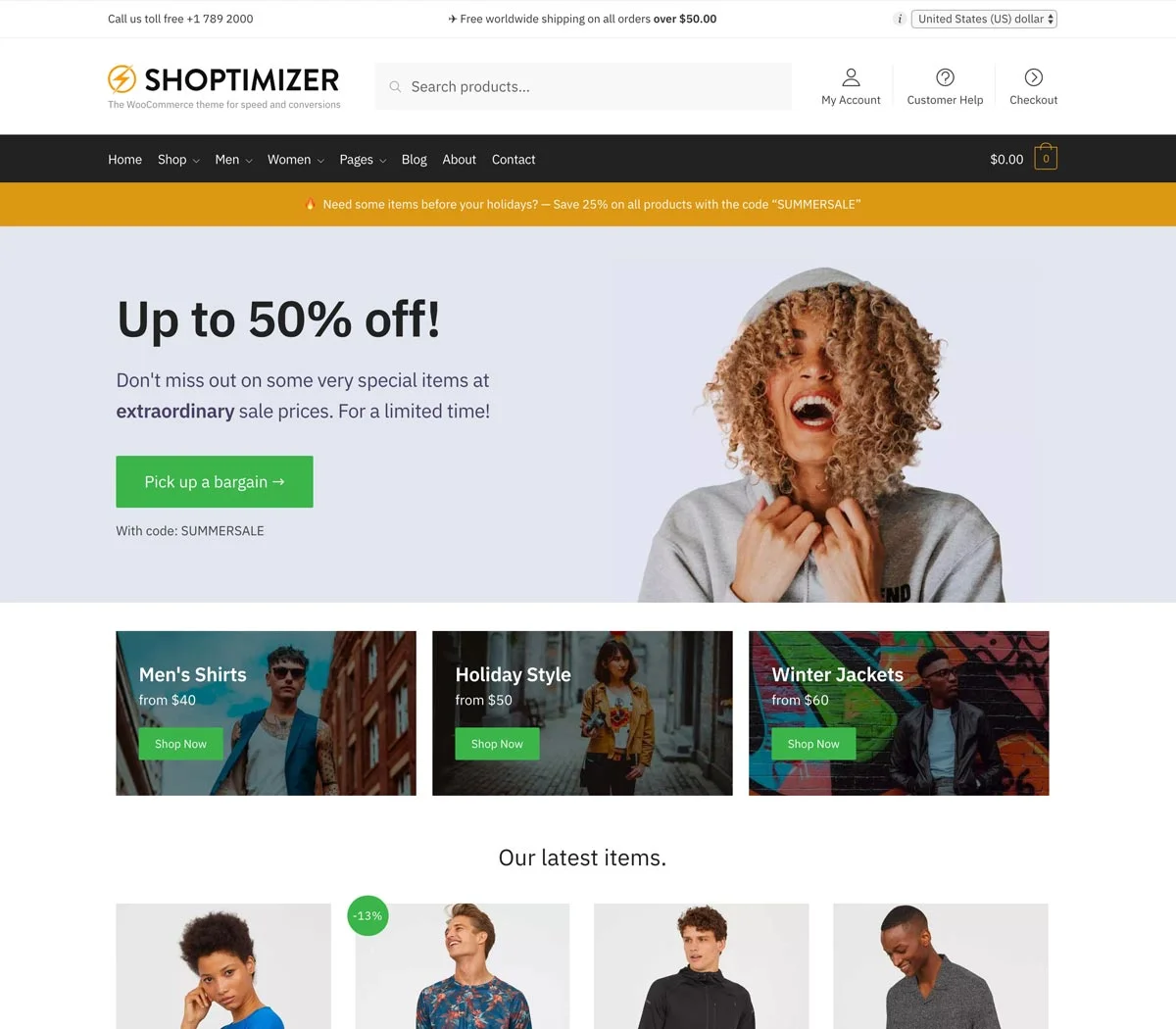 Developer: Commerce Gurus
Price: $49 / $99
Commerce Gurus offers Shoptimizer, which includes a wide range of features and performance without compromising.
Shoptimizer is the FASTEST WooCommerce theme that comes with a ton of features all designed to help you convert more users to customers.
Shoptimizer, a WooCommerce theme, is more responsive than many others. It boasts speed scores of over 90% according to GTMetrix and Lighthouse.
Shoptimizer also includes conversion. You can add offer bars, countdown timers, CTA heads, and many other features to encourage customers to purchase. Other noteworthy features include autocompleting search bars, mega menu support, optimization for screen readers, and optimization of the site for screen readers.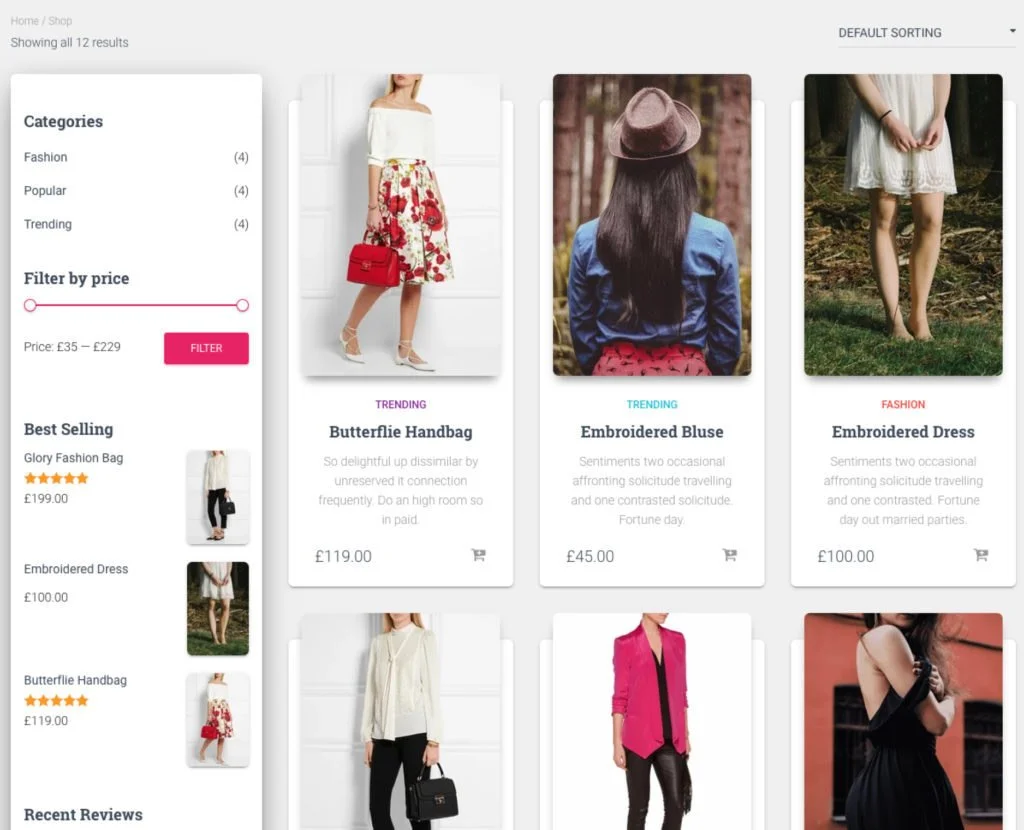 Developer:  ThemeIsle
Price:  $69
Hestia Pro by Themeisle is described as a multipurpose modern theme. Its WooCommerce compatibility is enhanced, making it ideal for e-commerce websites. You can also integrate it with Gutenberg, Elementor, and many other page builders to customize the site as you wish.
Its SEO-ready structure gives your e-commerce store an impressive Google presence. Potential shoppers will be able to find you easily. Additional plugins provide minification and language translations to make your site more user-friendly.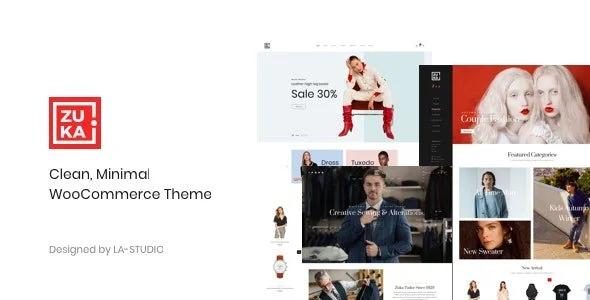 Developer:  LA-Studio
Price:  $55
Zuka is a sleek and modern WooCommerce theme. This theme would work well in a range of online retail industries from electronics to fashion. It is fully responsive and comes with 10 pre-made demo pages which you can import in just one click.
You can customize Zuka for your site by adding Google Maps integration and social icons. If anything does go wrong, we'll provide 24/7 professional support.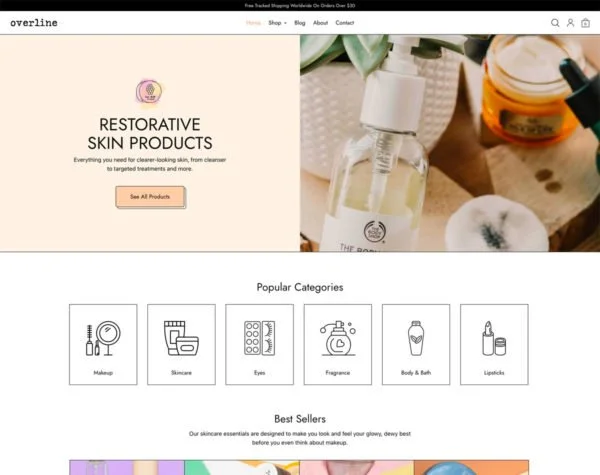 Developer:  Fuel Themes
Price: $79
Fuel Themes has created Overline, a WooCommerce theme for beauty brands. Gutenberg allows for easy customization of key components. Its responsive layout works on all devices but is specifically made for mobile browsing.
Overline's add-to-cart buttons and product search can indicate AJAX's presence. Overline's Retina-ready design makes your WordPress store stand out on any display, even those with the most sophisticated displays.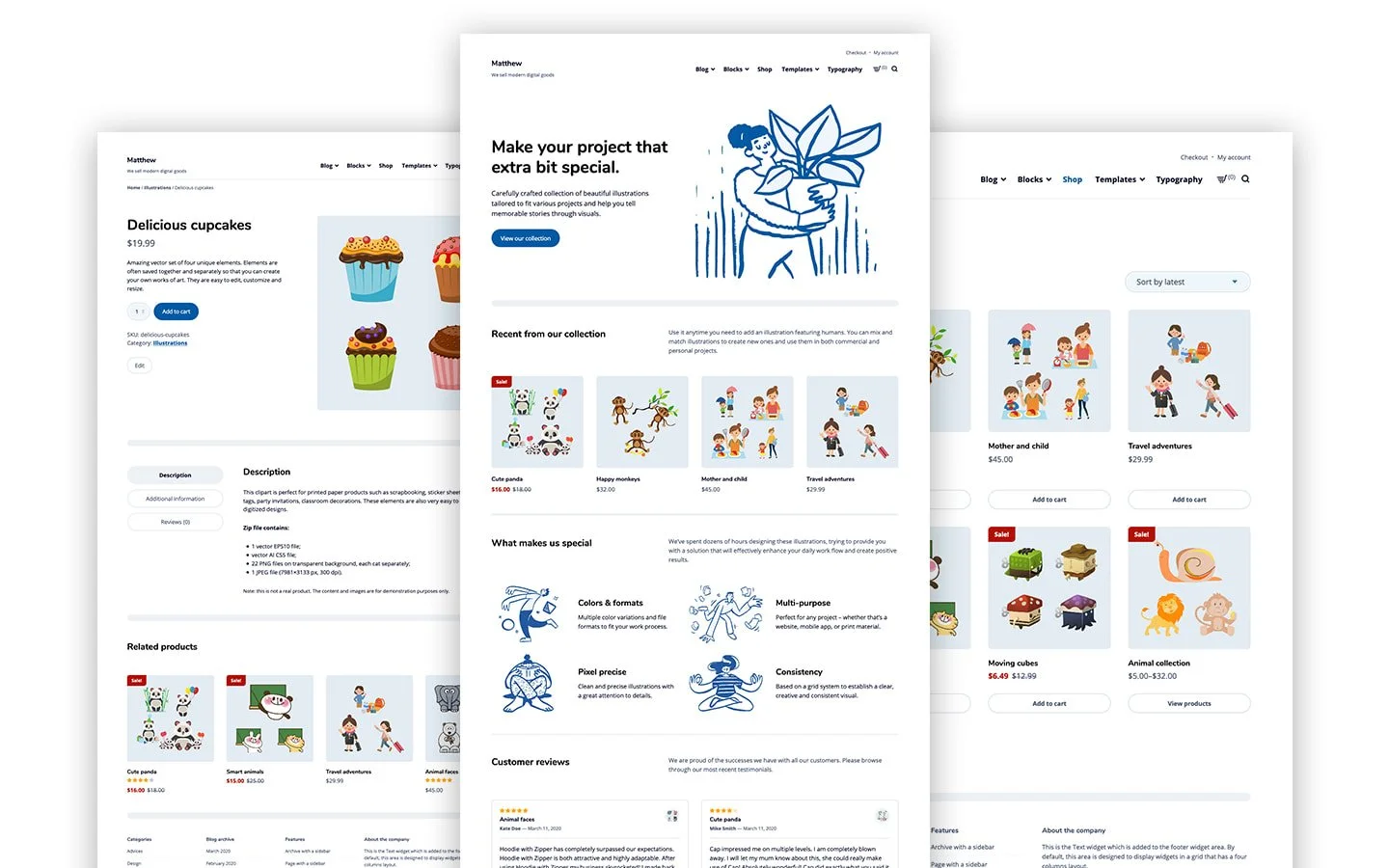 Developer: Themes Harbor
Price:  $129
Matthew from Themes Harbor WooCommerce theme is Gutenberg-powered. It has a minimalist design that optimizes performance and reduces load times. This theme can be used to sell physical goods or services.
Matthew offers a responsive layout, search engine-friendly code, and built-in tools for localization. Matthew allows you to customize it with fonts or color schemes that best match your brand.
Shoppe
Developer: Themify
Price:  $59
Shoppe from Themify comes with a variety of layout options, themes, and plugins. The Themify Creator makes customizing an e-commerce store easy. Drag and drop all the features you desire. You can check the live preview to ensure everything is exactly where it should be.
This WooCommerce theme is multi-purpose and includes many retail features such as AJAX shopping carts and product sharing buttons. You can add Themify plugins, such as an announcement bar or a store locator widget, to increase ongoing promotions and convert sales.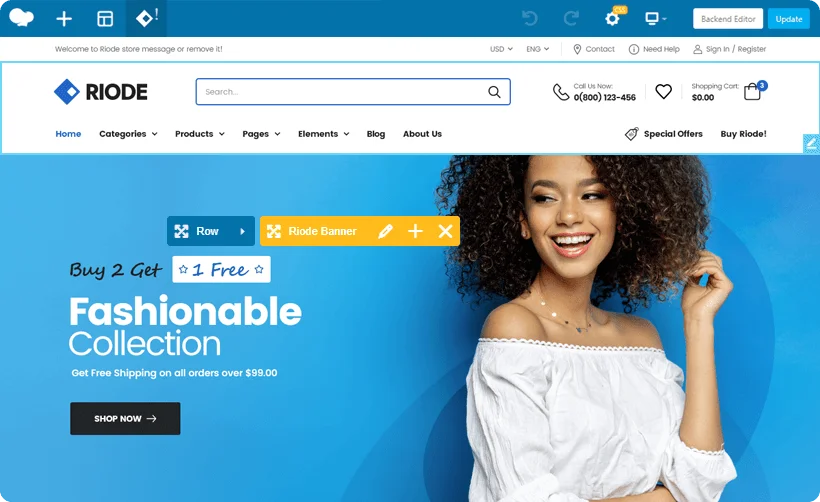 Developer: don-themes
Price: $59
Riode WooCommerce theme can be used for any eCommerce website. Riode is packed with powerful features and elements that allow you to customize your site as much as you like.
Riode is a multi-purpose theme that offers general eCommerce features. However, Riode has more WooCommerce features. Riode includes exclusive skins and layouts.
Riode delivers lightning-fast performance that is vital for WooCommerce shops. Check out the Riode demo site to learn more. Riode Business & WooCommerce themes are available!
The Best Divi WooCommerce Templates
Divi child themes or layouts are premade templates for Divi. They can be used to create Woocommerce websites without the need to design or code them.
The Child Themes are a fully customizable website template you can import into your new WordPress installation. On the "Child Themes page", you will find a list of Divi Woocommerce themes.
Layouts are available as either individual pages or packages of pages templates. They must be loaded manually on each page. On the "Divi Layouts" page you will find many Divi Woocommerce layouts.
Here is the list of 11 Best Divi WooCommerce Themes for eCommerce Sites
Artisan
Price $164.71
Artisan, a Divi eCommerce child theme, was made with food bloggers in mind. There are 6 layouts available for this Divi theme: homepage, about page, blog, and product pages.
You can showcase your products using the full-width gallery, slider, lightboxes, or lightbox styles. The help file also contains links to Photoshop layers and fonts.
Divi eCommerce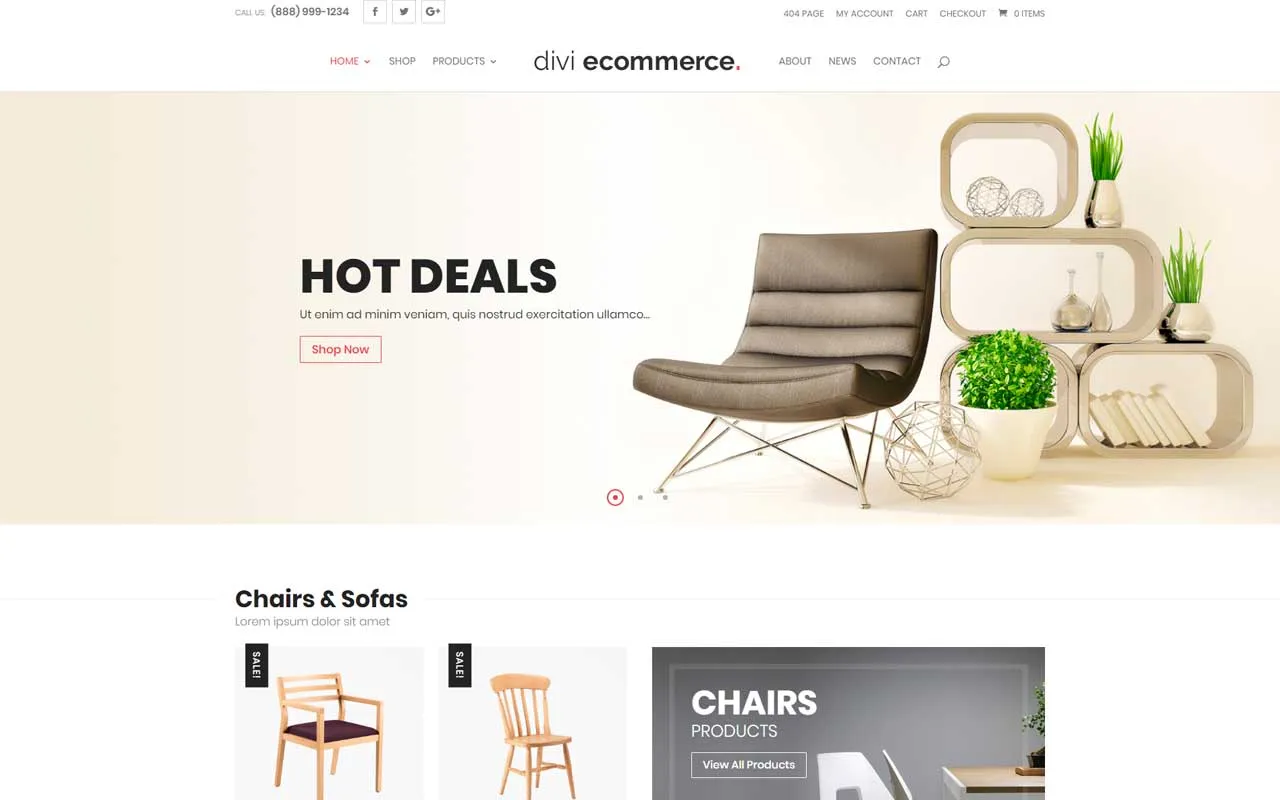 Price $59
Divi eCommerce was created specifically for online shops. It features two different home pages and shop pages. There are also three product pages.
The custom WooCommerce sidebar makes your products stand out. Styled product pages feature stacked tabs that allow for reviews and descriptions.
Royal Commerce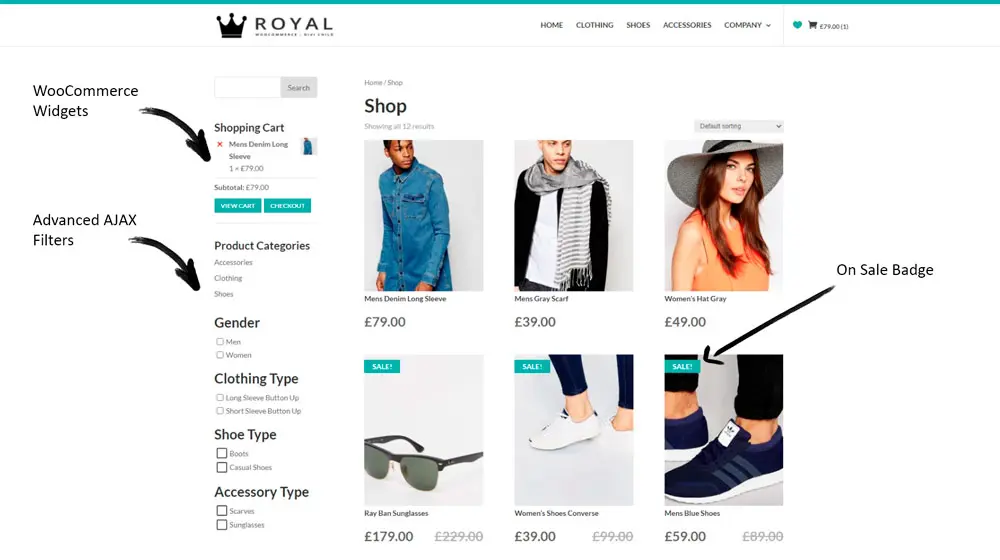 Price: $49+
Royal Commerce was created specifically for WooCommerce eCommerce websites. It offers features like Quick View, Product Sliders, Wishlists, Product Image Zoom, Ajax Product Filtering, and Sticky Shopping Cart.
You can see the cart totals and wishlist in the header by using the icons. Banners display Product Categories and Sales and Promos, Product Collections, and other relevant information.
Also included is the Divi Logo Swap plug-in. These features can all be toggled on or off. It features a simple design that focuses on the products.
Divi WooCommerce Store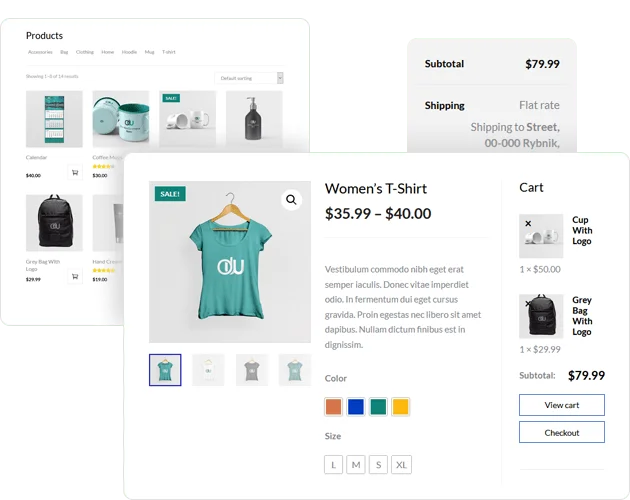 Price $39
The WooCommerce store was created with the Store in mind. It is focused on categories and has many styles. Display your products in the custom shop module.
Show what customers think about you in the custom testimonial module. Layouts include a homepage. Shop, blog. FAQ. Contact. Cart. Checkout. Divi product page layout. Divi shop layout.
The minimal design doesn't distract from your products and looks great.
Divi Handmade – eCommerce child theme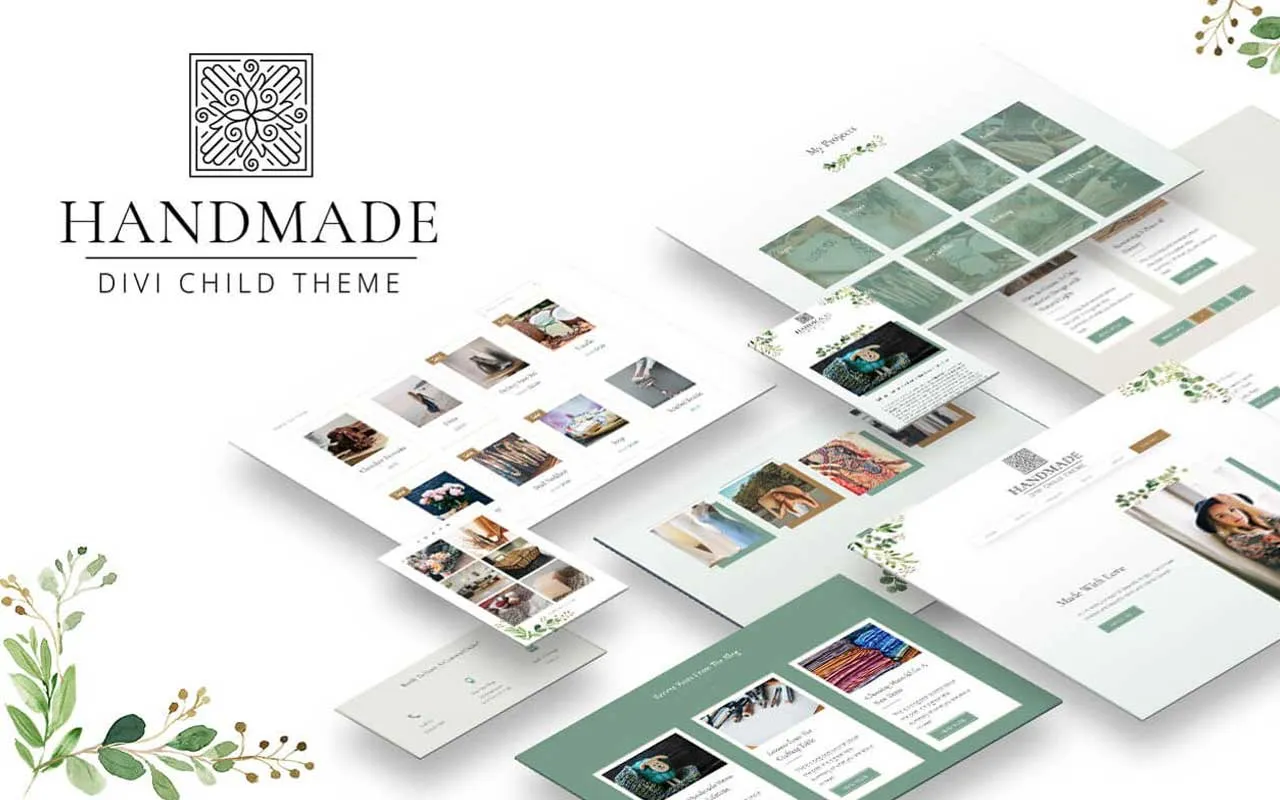 Price: $49
Developer: Pee Aye Creative
Divi Handmade Child Theme – A beautiful template for women who are crafters, sellers, or bloggers.
Divi Handmade, a premium WooCommerce Divi Child theme by Pee Aye Creative, is designed to create a creative arts & craft store using WooCommerce and Divi.
Fleur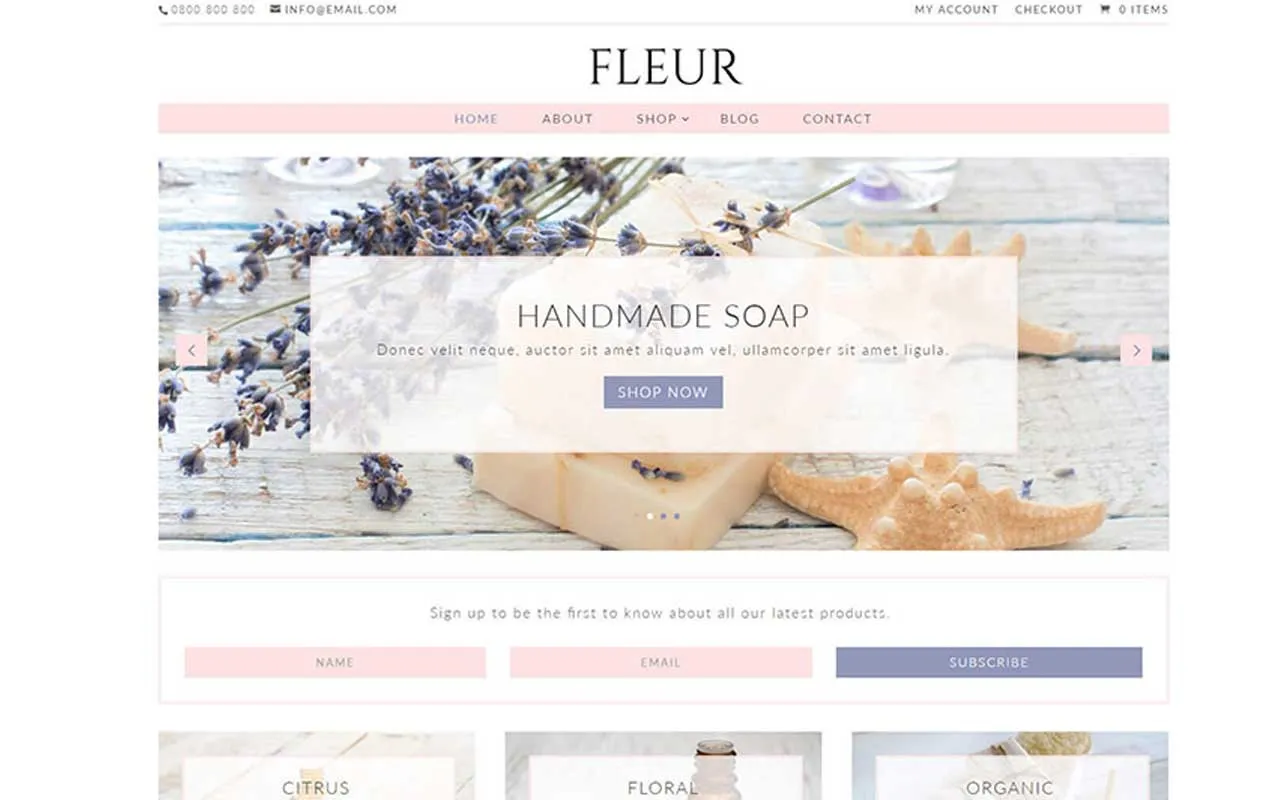 Price $120.00
Fleur was designed for crafters, women entrepreneurs, and bloggers. You can create many pages with it, such as blog, single post and category, search results, archive or account, product, basket, and checkout.
It also includes several premium plugins, such as Search, CPT. Taxonomy and Divi Layout Injector. You can showcase your products using the product carousel.
Also included are styling tips for Monarch and Bloom.
Go-On 2.0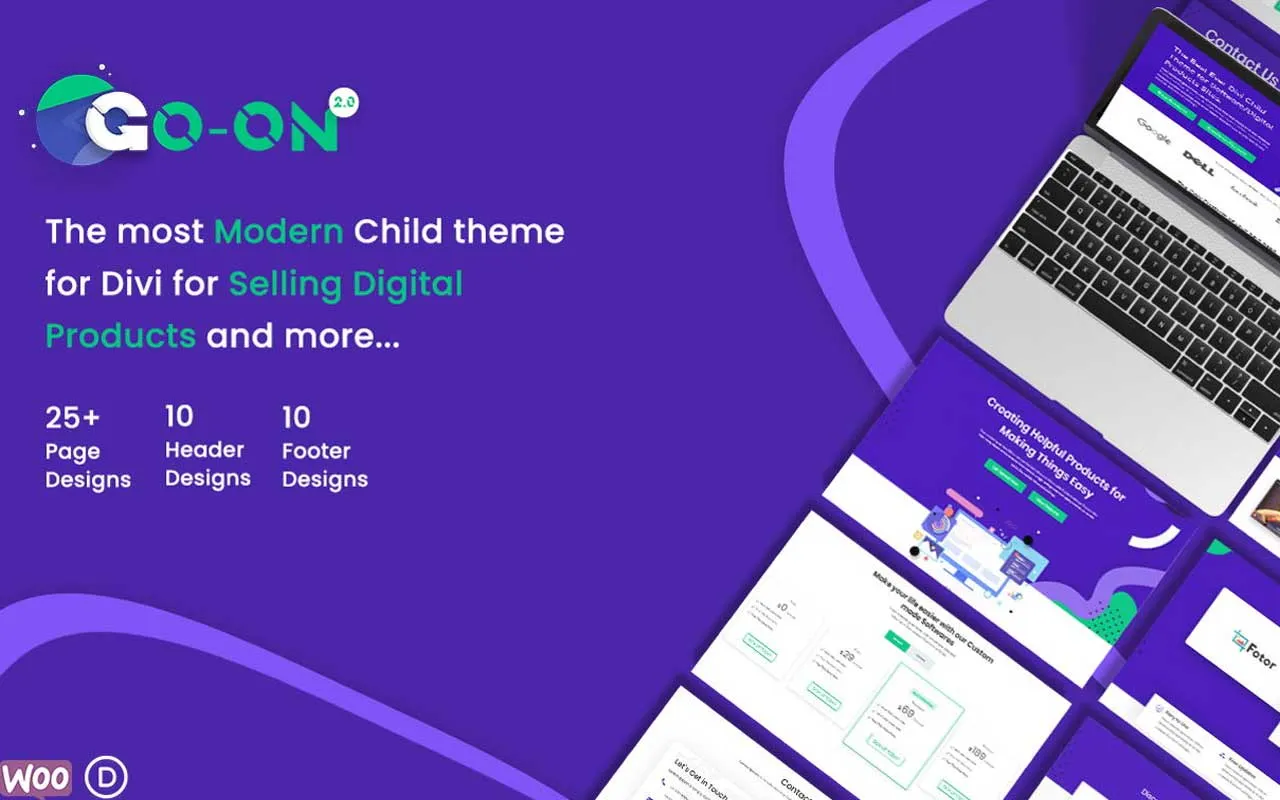 Price: $29
Developer: SamarJ
SamarJ has created Go-On 2.0, a Divi/Woocommerce premium child theme. It is ideal for selling digital products online.
Divi Go-On features;
WooCommerce plugin compatible
25+ premade page templates
Custom products page layouts
10 Divi header templates
10 Divi footer templates
Shortcodes are required to use layouts (saved as Library).
One-Click demo content installation
Custom CSS hover effects
Additional customizations can be made with the theme options
Divi Medical eCommerce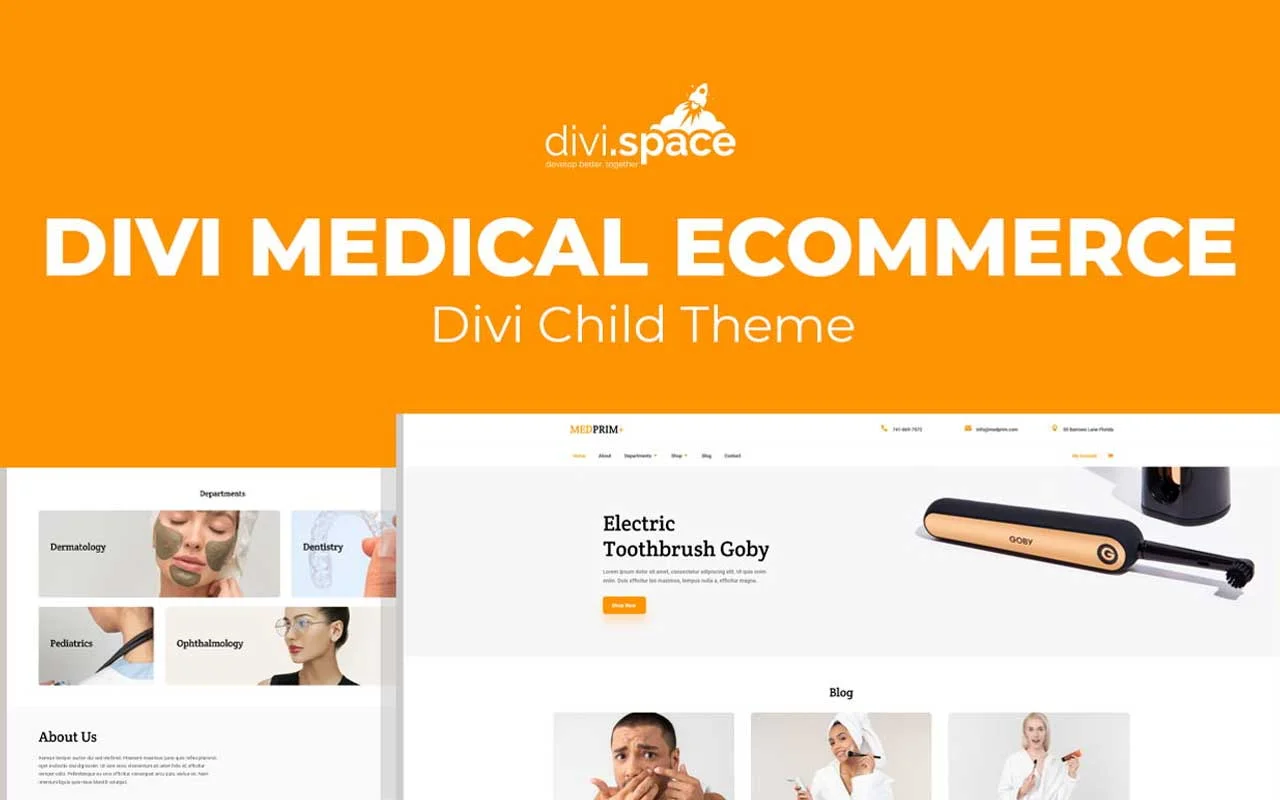 Price: $39
Divi Space developer
Divi Medical eCommerce, a premium Divi, and WooCommerce child theme are made by Divi Space. It can be used to sell your products online.
Divi Medical eCommerce features
Integration of WooCommerce
This package includes 11 premade Divi templates, including Home, About, and Departments Pages, Shop, Product Archive Page Page, Cart Page. Checkout, My Account. Blog, and Contact pages.
Includes breadcrumb navigation
Advanced navigation with paging for your blog
Custom 404-page design
One-click import demo
Blog Options for Left and Right Sidebars
Sidebar dynamic product page
5 Star Hotel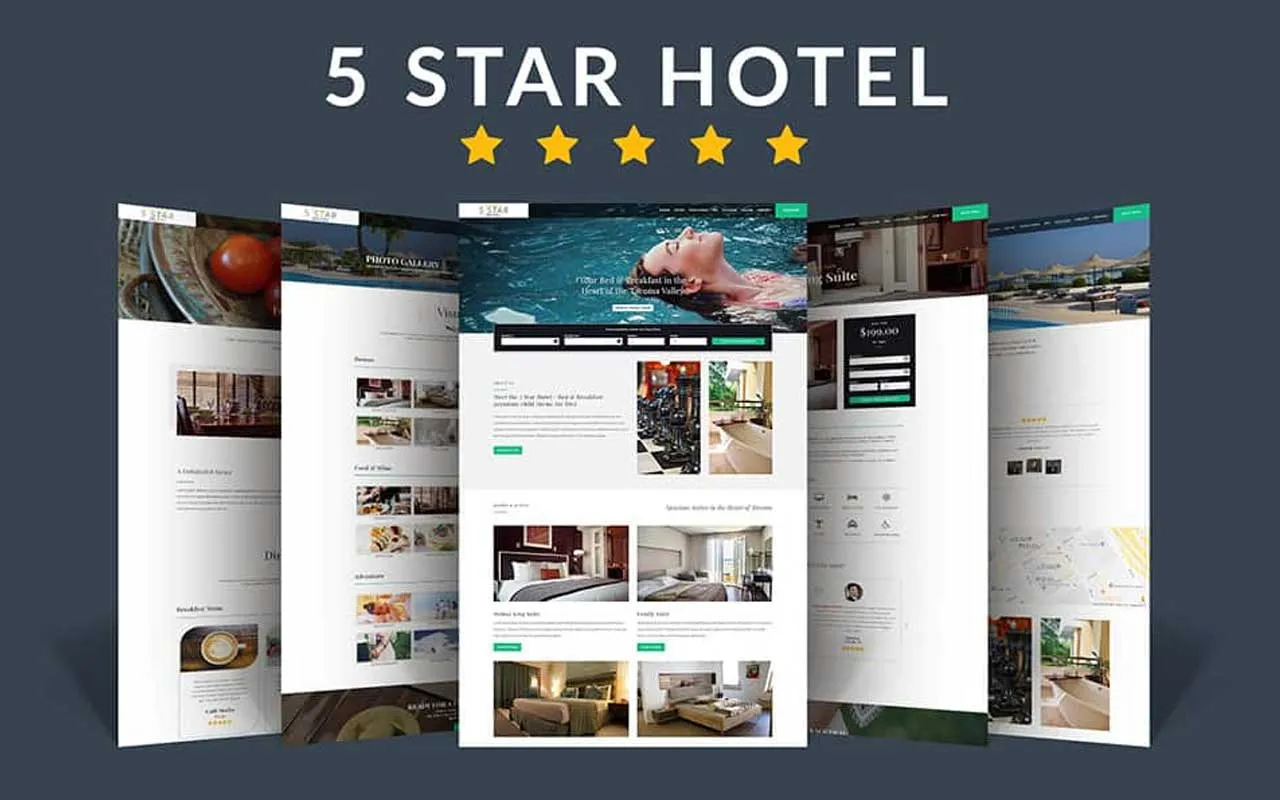 Price $79
5 Star Hotel was created to provide a complete solution for any type of location rental, including hotels and resorts as well as apartments, campsites, and AirBnBs.
It contains two pages that provide information about the home and pages for the rooms, locations, activities, spas, dining, contact details, packages, photo galleries, guest reviews, FAQs, and more.
There are over 60 images, as well as many premade elements.
Luxe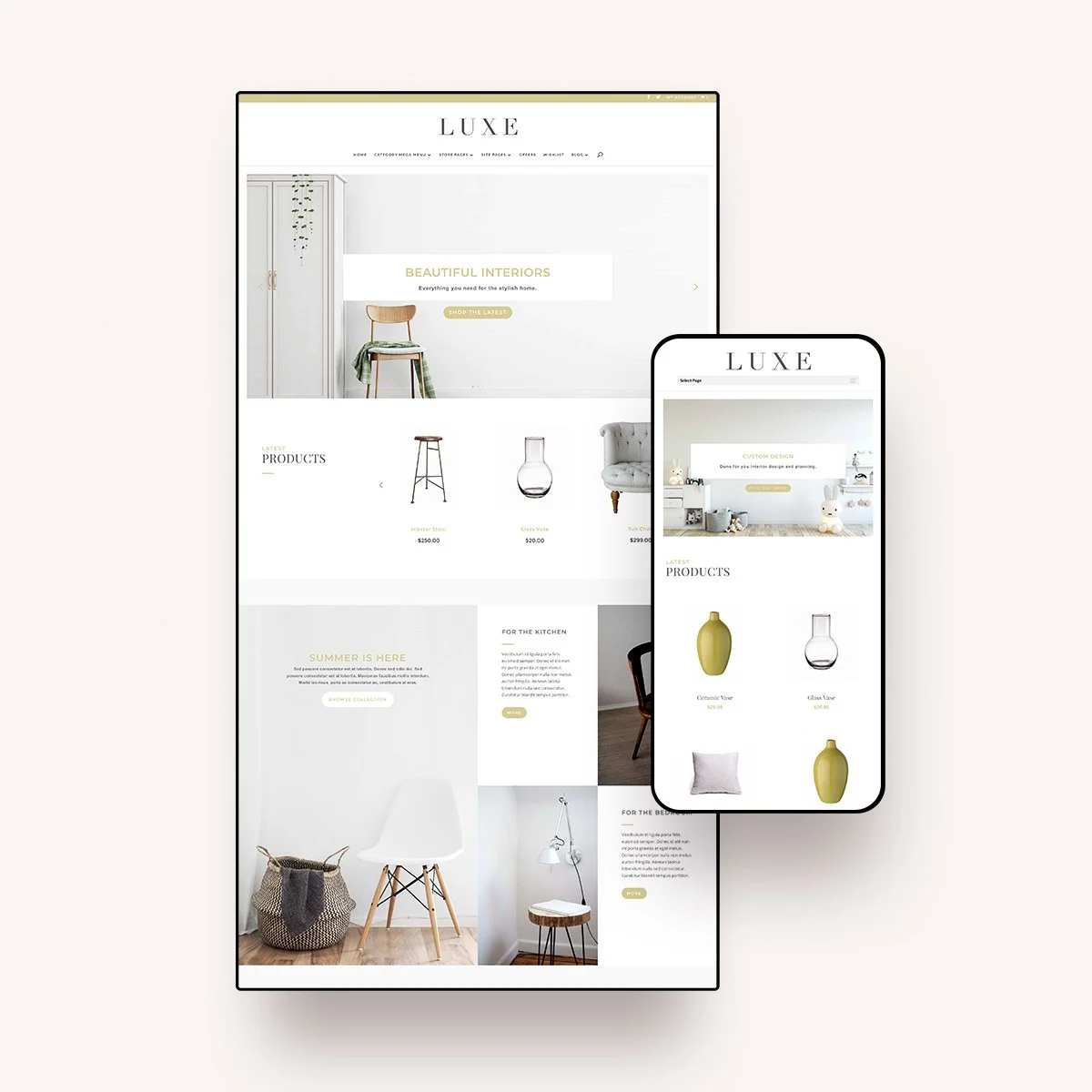 Price: $125
Developer: The Design Space
The Design Space has created Luxe as a premium theme. This theme is ideal for an online store. It is minimalistic and uses lots of white space.
You can add more WooCommerce styling to your site with 2 premium plugins.
Luxe features
20 pre-designed Divi pages layouts
7 WooCommerce store pages
WooCommerce category mega menu
Woo Layout Injector plugin for WooCommerce custom layouts (usually $28 per year).
Includes The Grid plugin (usually $29)
Includes YITH Wishlist with integrated styling
Layouts of pages for email sign up and thank you pages
You can install the demo website with just one click
Complete documentation and video tutorials on how to build an online shop using the theme
Summary
Each shop is different and therefore, there are many eCommerce WordPress themes that work well. Based on your products and niche, as well as personal preferences, choose the best one for you.
You can start by looking at my reviews and recommendations.
Here is a complete list:
Although you are trying to improve the customer experience, it is important that you consider yours.
A theme that is well-designed can make or destroy your eCommerce business. Be sure to evaluate each aspect before you commit.
Frequently Asked Questions
What's the most popular WordPress theme?
Divi.
Divi is known as the "most popular WordPress theme" and the "ultimate WordPress page builder". You can easily create stunning designs without any special coding.
Where to find the Best WooCommerce Templates?
Now that you're familiar with what to look out for, let us talk about how to select the right theme for your WooCommerce store. Although there is no one-size-fits-all, you are now ready to make the right decision for your company.
WooCommerce themes are available in two options: premium or free. If you have a limited budget, it is worth spending on a free WooCommerce template. The cost of a high-quality and customizable theme is between $30 and $200. It's a great price for the right features.
Many premium marketplaces and repositories offer WooCommerce themes for free.
Storefront is a WooCommerce theme that can help you get started on your project. It is a free theme that includes the most basic eCommerce features and can be easily customized with its simple settings.
A premium theme will offer you more support, customization, and security. Now, you are ready to choose the theme of your choice and get your site up and running.
Do you want to use any WordPress theme that integrates with WooCommerce?
WooCommerce is compatible with all themes. You can however add extra support for the plugin to make it work better with your theme.
Do I require a theme with WooCommerce to use?
WooCommerce is compatible with all WordPress themes. However, you can choose a theme that's specifically made for online shops to ensure design continuity between pages and posts. Look out for "WooCommerce Integration" in the list.