DreamHost has outstanding features at an affordable price. It also offers a host of tools that make it easy to create websites for beginners.
They were founded in Los Angeles, California in 1996. Since then they have hosted over 1.5 million websites (750k+ WordPress sites) and served over 400,000 customers.
DreamHost is one provider you'll find recommended almost everywhere. WordPress actually endorses them. But I'm not sure I'd take it seriously. SiteGround is listed as an option, but they also recommend Bluehost.
They are affordable and offer lots of features, including unlimited storage, bandwidth, and backups.
DreamHost Review Summary
Performance grade
A
Average load time
328 ms
Average response time
82 ms
Free domain
Yes
Free SSL
Yes
1-click WordPress
Yes
Support
Live Chat / Knowledge base

DREAMHOST PRICE Starting at $1.99/mo
Are they missing important features? What is DreamHost's performance? Is it worth purchasing their shared hosting plan?
In this DreamHost Review, I will address all these questions and more.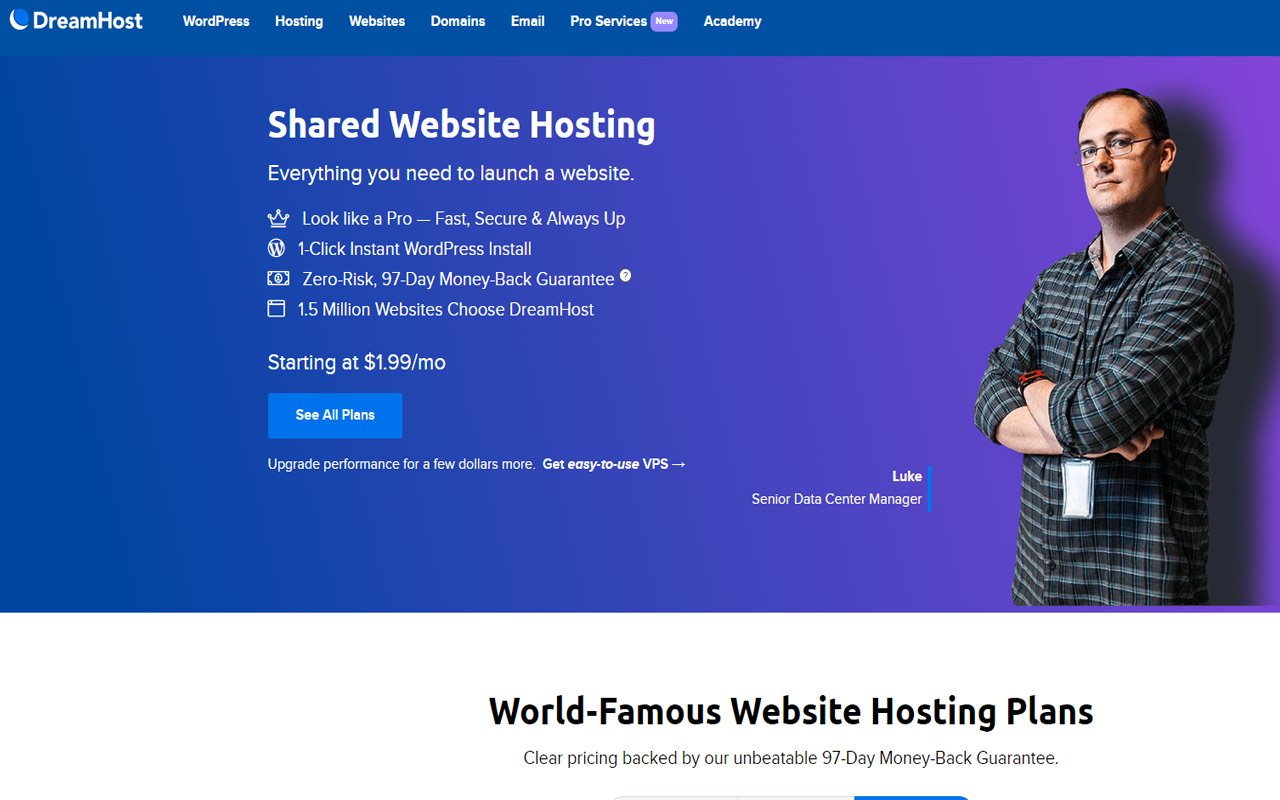 The most outstanding features of Dreamhost Shared Hosting compared to other hosting providers:
PCMag's "Editors' Choice" Winner 5 Years In a Row

100% Uptime Guarantee

Strong security features

Really Unlimited data transfers per month

Really Unlimited STORAGE with NO LIMIT on the number of inodes

97 Days money-back guarantee

GRAB DREAMHOST $1.99/mo COUPON
What Products Does DreamHost Offer?
DreamHost's offering goes beyond shared hosting. Let's take a look at other services available through DreamHost.
Domain name
DreamHost offers hosting packages as well as domain names. There are over 400 TLDs available (like.com,.org.net), as well as more exotic extensions like .club, or .guru.
You can also get country-specific TLDs like .es, .fr or .co.uk. Dreamhost offers a .com domain registration starting at $ 7.99 and renews at $17.99
Virtual Private Server (VPS)
DreamHost offers four Linux-based VPS web hosting plans that start at $15.00 per month or $13.75 per year with a 1-year commitment.
This is for businesses that require servers with greater power than shared hosting.
VPS hosting places your site on a server with fewer virtual roommates than shared hosting.
Your site will have more power to use because VPS hosting has fewer virtual roommates than shared hosting.
DreamHost VPS plans provide unlimited monthly data transfers, domains, and other perks.
However, the base storage and memory are quite limited. The Basic plan (whose prices can be seen above) has only 1GB RAM and 30GB solid-state drives.
However, the most expensive configuration ($120 per month or $110 per year with an annual contract), has 8GB of RAM and 220GB solid-state storage.
VPS plans are limited to the Ubuntu Linux operating system.
Virtual Private Servers (VPS) can be thought of as a shared hosting system that has been split into smaller servers. This allows you to configure it according to your requirements.
Because your website is hosted alone, it won't be shared with other clients. VPS hosting plans start at $10.00 per month and go up to $80.00/month at DreamHost.
Dedicated hosting
You need a dedicated server to ensure maximum web hosting power. You can have your website live on a dedicated server and leverage all of the system resources.
If your website is highly traffic-intensive and you need to keep it running, dedicated hosting might be the best option.
DreamHost offers many dedicated server options. The Standard 4 plan, which costs $149 per month (or $149 for an annual contract), includes 4GB of RAM as well as 1TB of storage.
There are also options like the $379 monthly Enhanced SSD64 plan which offers 64GB of RAM and 220GB of solid-state memory. Each dedicated DreamHost server plan includes unlimited data transfer.
DreamHost doesn't have Windows-based dedicated servers. This is why it's Linux only.
Cloud hosting
Cloud hosting allows you to distribute resources across multiple servers. Traditional hosting pulls resources from one server.
Cloud hosting allows websites the ability to quickly increase server resources when needed.
DreamHost offers three cloud-hosting tiers, a 512MB RAM Server Server, a 2GB Ram Server Server, and an eight GB RAM Server Server. They are available in Linux and BSD versions.
DreamHost offers great packages starting at $4.50/month for 512MB RAM and 80GB of storage.
You can also purchase additional CPU cores to get 8GB RAM and 80GB of storage.
Unlimited monthly data transfers are available at $48/month. DreamHost's high-performance specs make them the Editors' Choice in cloud hosting services.
You can think of this as a network of servers that hosts your website.
This solution is perfect for users who anticipate high traffic and need more resources (e.g. As you require them, RAM and CPU can be added.)
It can be difficult to calculate how much you will pay. The price depends on what resources are available (e.g. RAM or storage are what you require.)
WooCommerce Hosting Plans
WooCommerce + DreamPress make selling easy. WooCommerce Hosting Plans are quick, secure, and optimized for Woocommerce.
Dreamhost WordPress Web Hosting
DreamHost also offers WordPress hosting. It does so in three different categories: WordPress Basic (DreamPass), and VPS WordPress.
DreamPress is the standard choice for managed WordPress hosting.
This service gives your website white-glove treatment, by automatically updating the content management system software, performing daily backups, providing security and other features specific to WordPress.
WordPress Basic is an entry-level WordPress service that starts at $4.95 a month or $3.95 if you make a 3-year commitment.
This includes 50GB SSD storage, purchasable mail similar to Shared web hosting, unlimited monthly data transfers, unlimited email transfer, and a selection of free WordPress Themes and Free WooCommerce themes.
You can move up to the DreamPress option for $12.00 per month. It comes with 30GB SSD storage and unlimited email and data transfers.
There is also support for up 100k monthly visitors. DreamPress Plus ($24.00 per month) doubles storage, allows for more visitors to the site, and includes a content delivery network (CDN). This speeds up site loading.
The DreamPress Pro is the top-tier DreamPress Pro starting at $71.95 per month and offering 120GB SSD storage with a 1,000,000 visitor limit.
DreamPress allows you the freedom to install any plug-in you like. and however, limit you to installing a limited number of plugins that might impact your site performance.
DreamHost has recently added staging to its WordPress offerings. You can now test new site features on another instance of the site that will not affect your live pages.
Extreme Speed & Guaranteed Uptime
Powerful Caching, 1-Click Staging & On-Demand Backups
24/7 Expert WordPress & WooCommerce Support
They also offer WordPress-managed Hosting plans. This includes special WordPress packages for shared and VPS hosting.
You can opt-in for a Managed WordPress account if you want automatic updates, staging area access, and dedicated WordPress support.
Shared Affordable WordPress Hosting starts from $2.59/mo per month, VPS at $0.00, Managed WordPress at $16.95 for one site only.
Dreamhost Shared Hosting Packages are an excellent opportunity for those who are looking for highly-performing servers at affordable prices.
Dreamhost's shared hosting plan is ideal for bloggers and small business owners.
Dreamhost offers two types of Shared Hosting services: a Starter Pack or an Unlimited Pack.
Any plan includes a free domain, SSL certificate, and fast SSD storage. Email hosting is also included. Website builders are available for free.
Dreamhost helps amateur bloggers and entrepreneurs start their online ventures with an easy-to-use interface, WordPress setup in one click, and advanced Control Panel.
Dreamhost Shared Hosting is ideal for those who are just starting their website. They can also upgrade their plan as they grow.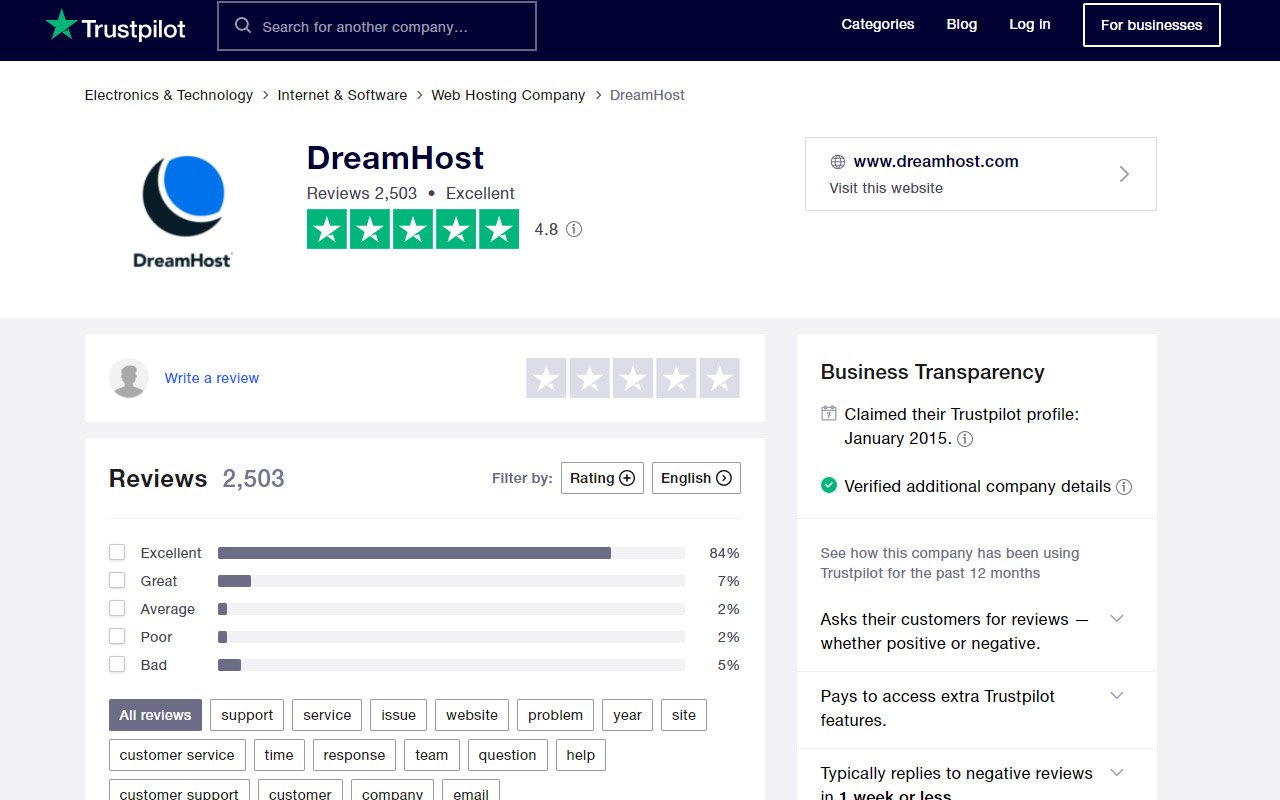 This DreamHost review focuses on their shared hosting plans. I will be referring to them from now.
DreamHost's shared hosting offers a lot for what you pay. Although this type of hosting is ideal for starting, it can be costly if you have a large project (e.g. You may need to upgrade if you have more than 50,000 users per month.)
If you don't have the budget to pay for web hosting, shared web hosting is a great choice. Hosting is shared is a great option.
Hosting at a low cost
This hosting tier doesn't have a lot of power. You should consider dedicated hosting, virtual private servers (VPS) if your site is expected to get a lot of visitors.
The "shared" portion of shared hosting refers to the fact that multiple websites can be hosted on the same server. Your server friends are your only friend.
DreamHost offers two types of shared hosting plans: Shared Starter and Unlimited Shared.
Shared Starter is available at $2.95 per month for a 1-year commitment or $2.59 per month with a 3-year commitment.
Shared Unlimited is available at $2.95 per month for a 1-year commitment or $3.95 per month with a 3-year commitment.
The Shared Starter plan provides unlimited monthly data storage and transfers, but not email.
That's right: no email. You will need to upgrade your Shared Unlimited plan in order to get an email. You can pay $10.95 per month or $4.95 for a year with no promo (or both).
Unlimited email hosting is included in the Shared Unlimited plan. The Shared Unlimited plan is considerably cheaper than the Starter plan (previously $7.95 per month). This makes it an even better option.
Quick Facts
Ease of Signup: Long and complicated sign-up process. Signup should be easier.
Free domain: For the first year on all annual hosting plans.
Money Back: 97-day money-back guarantee.
Payment Methods: Credit Card, PayPal, Check, Money Order, Checking Account
Hidden Fees and Clauses: No major ones. Site migration costs extra for CMS' that are other than WordPress.
Upsells: A few upsells.
Account Activation: Account activation is quick unless you have payment issues.
Control Panel and Dashboard: Custom DreamHost control panel.
Installation of Apps and CMSs (WordPress, Joomla, etc.): One-click installer for WordPress and other apps/CMSs.
DreamHost Pricing: Hosting Plans
Here's a quick overview of DreamHost's Shared Hosting plans with a price:
Features
Starter
Unlimited
Websites
1
Unlimited
Support

24-hour

Chat and ticket (email) *

24-hour

Chat and ticket (email) *

Storage
50 GB
Unlimited
Max. files (inodes)
Unlimited
Unlimited
Bandwidth
Unlimited
Unlimited
Databases
6
Unlimited
SSL certificate
Included
Included
Email accounts
$1.67 a month for 25 GB
Included
Daily backups
5 days database

14 days website

5 days database

14 days website

Monthly pricing
$7.99 a month
$13.99 a month
Annual price
$6.99 a month
$12.99 a month
3-year deals
$5.99 a month
$10.99 a month
More information
DreamHost.Com
Beyond these two options, DreamHost also offers three Managed WordPress Hosting plans.
DreamPress Plan
DreamPress Plus Plan
DreamPress Pro Plan
Pricing
$16.95/month
$24.95/month
$71.95/month
Websites
1
1
1
Bandwidth
Unmetered
Unmetered
Unmetered
Storage
30 GB
60 GB
120 GB
Email Accounts
Unlimited
Unlimited
Unlimited
Other Features
–
• Unlimited CDN
• Unlimited CDN
• Priority Support
DreamHost also offers VPS and dedicated servers.
DreamHost's pricing structure and plans are very transparent. This is something I appreciate greatly. There are only 2 shared plans, which include most of the essentials you will need. No aggressive or expensive upsells.
What plan will you need?
The Shared Starter plan can only be used to host one website.
You should be aware that email accounts are charged separately with this plan. They start at $1.67 per month more. This is fair, I think.
Databases (6) and 50GB storage are the only limitations. This is sufficient for most websites, small or medium.
Unlimited Hosting allows you to create and manage email using your domain name. The email interface for huyhoa.net can be seen in the image below. If you don't want to be professional and don't require an SMTP port, you can still use this email system.
The affordable Shared Unlimited package is required to host more than one site. This package includes unlimited storage and email accounts.
The basic plan already includes plenty of bandwidth and FTP accounts. There are no additional features.
WooCommerce users also have optimized pricing plans, which you can find here.
DreamHost Review: Pros & Cons
DreamHost is a cheap and reliable host that offers a lot. But how does it perform?
They're missing some advanced features.
Pros
Cons

Affordable DreamHost is a hosting provider that offers affordable services.
Performance – DreamHost performed well in our tests (uptime and speed). Although it wasn't the most reliable provider, it was among the top.
Unlimited All accounts include unlimited bandwidth and ample storage. There are no limitations on the number of inodes, unlike other Hosting Providers.
A modern-looking backend. Their backend is very contemporary. For those who are familiar with cPanel dashboards, it may take some time to learn.
No upsells or upgrades. So many competitors push to get you to buy add-ons that have aggressive pitches. DreamHost is refreshing.
97-day money-back guarantee: If you are not satisfied with their service after 97 days (yes, 97), they will refund you.

There are not many 1-click installations. They only offer automated installation for a handful of CMSs (e.g.WordPress).
Only US-location: There are no servers in the US. These might not be suitable for users from other countries (e.g.These may not be suitable for users from other regions (e.g. Europe or Asia).
There is no email account included in the starter plan. Email accounts can be purchased separately, but they are quite affordable.
There are some missing features. Some functions that can be used for larger projects seem to have been removed. You will need DreamPress hosting to get advanced backup solutions, built-in caching, and staging.
Support – It does not offer live chat 24/7, but only between 3:00 and 9:30 Pacific Time. You can access ticket support outside of these hours, but it is considerably slower.
When to Use DreamHost's Hosting?
DreamHost is a good choice for site owners. DreamHost offers both low prices as well as high-quality hosting, which is something very rare in today's world of web hosting.
Small projects, such as a dentist's site, personal blog, are best. DreamHost is the right choice for dentists, bloggers looking to get the best value for their money.
DreamHost's shared hosting is also a great option for larger sites. It offers enough speed, great support, and reliable uptime to satisfy both avid bloggers and site developers.
DreamHost supports any technology, even if it isn't PCI compliant. This is a huge advantage for eCommerce projects.
When Not to Use DreamHost's hosting?
However, there are some cases in which DreamHost is not recommended.
They don't have servers outside the US so if your audience isn't from North America it may not be the best option. Hostgator, SiteGround, or Stablehost could be better suited.
Developers and agencies who are tech-savvy may not be aware of advanced features such as staging areas, integrated cache systems, or pre-installed Git repositories.
SiteGround and DreamPress (by DreamHost), are the best options if you want these features.
Unlimited MySQL Databases
Subversion Repository (SVN)
Server Side Includes (SSI)
Support for PHP 7.1, 7.2, 7.3, and 8.x
DreamHost Control Panel
Full Unix Shell
Access to Raw Log Files
Crontab Access
Full CGI Access
Canned CGI Scripts
Reseller & Sub Accounts
Secure Shell (SSH) Access
IPv6 Support
Rails, Python, Perl Support
Unlimited SFTP Users
Although they have an unlimited policy (storage, bandwidth), there are some exceptions that may only affect a small percentage of users. They don't want anyone abusing their Unlimited Policy (e.g. file distribution sites).
The special thing about Dreamhost is that they do not limit the number of inodes. With many hosting providers that say unlimited storage and bandwidth but they limit the number of inodes (ie the number of files that can be hosted).
Here are some limitations on inodes of other hosting providers with Unlimited Storage plans:
Dreamhost is different, they DO NOT limit inodes. You can actually use unlimited storage. It's great, isn't it?
DreamHost Performance Tests
Are DreamHost's servers slow or do they experience constant service interruptions?
You should verify their performance before you decide to move your website's "well-being" to another hosting provider.
You won't have the time or energy to test 6 to 8 hosting providers in a matter of weeks. To simplify your life, I have recently benchmarked DreamHost's performance against its competitors below.
DreamHost Speed Test
Nobody wants their website to take too long to load. This can impact your user engagement metrics (e.g. This can impact your user engagement metrics (e.g., conversion rate) as well as your organic (search engines), rankings). A fast hosting provider is essential for your website's speedy loading.
| Provider | GTmetrix | Pingdom | Webpage test | PageSpeed Insights | Total |
| --- | --- | --- | --- | --- | --- |
| SiteGround | 0.70 | 0.70 | 1.76 | 2.90 | 1.53 |
| GreenGeeks | 0.80 | 1.43 | 1.77 | 2.18 | 1.57 |
| Namecheap | 0.98 | 1.37 | 1.95 | 2.03 | 1.63 |
| Hostinger | 0.93 | 2.01 | 1.68 | 1.59 | 1.59 |
| WP Engine | 0.99 | 1.98 | 1.42 | 2.3 | 1.67 |
| Cloudways | 0.78 | 1.27 | 1.91 | 2.79 | 1.75 |
| Kinsta | 0.77 | 2.09 | 2.13 | 1.87 | 1.76 |
| DreamHost | 1.17 | 1.75 | 2.44 | 1.87 | 1.82 |
| GoDaddy | 1.16 | 2.22 | 2.25 | 2.09 | 1.96 |
| IONOS | 1.26 | 2.05 | 1.77 | 2.73 | 1.93 |
| A2 Hosting | 0.93 | 1.45 | 3.69 | 1.87 | 2.00 |
| InMotion | 2.01 | 2.81 | 2.68 | 3.39 | 2.77 |
| iPage | 1.72 | 2.78 | 2.75 | 3.80 | 2.75 |
| HostGator | 2.37 | 5.01 | 1.69 | 1.72 | 2.82 |
| Bluehost | 1.70 | 4.4 | 2.40 | 2.79 | 2.88 |
DreamHost ranked 8th among 15 providers with an average speed of 1.82 seconds. SiteGround came in at 8th place with a loading speed of 1.82 seconds.
DreamHost's speed was something I was skeptical about, as they are not the most affordable and lack a few other features. As you can see, they performed very well during our tests.
If speed is important to you, DreamHost may be the right choice.
Is DreamHost's Uptime Good?
Hosting providers can experience constant interruptions, which can lead to downtime and reduced availability.
This can cause problems for hosting-dependent projects such as online stores and digital marketing agencies. Google and other search engines will not treat you favorably.
This is why I monitor the uptime of hosting providers. Let me share DreamHost's up time with you.
| Provider | 2019 Uptime | 2020 Uptime | 2021 Uptime | Starts at |
| --- | --- | --- | --- | --- |
| Kinsta | No data | 100% | 100% | $25/month |
| Cloudways | No data | 100% | 100% | $10/month |
| SiteGround | 100% | 99.96% | 100% | $14.99/month |
| Namecheap | No data | No data | 100% | $2.40/month |
| WP Engine | No data | 100% | 100% | $25/month |
| Bluehost | 99.78% | 99.76% | 99.89% | $9.99/month |
| HostGator | 99.91% | 99.91% | 99.95% | $8.95/month |
| A2 Hosting | 99.91% | 99.99% | 99.67% | $8.99/month |
| GreenGeeks | No data | 99.88% | 99.78% | $10.95/month |
| DreamHost | 100% | 99.99% | 100% | $6.99/month |
| GoDaddy | 99.88% | 98.9% | 98.99% | $8.99/month |
| InMotion | 99.96% | 99.67% | 99.97% | $17.99/month |
| IONOS | 99.99% | 99.87% | 99.95% | $4/month |
| Hostinger | 99.76% | 99.67% | 99.96% | $5.99/month |
| iPage | 99.85% | 99.37% | 99.81% | $8.99/month |
DreamHost's uptime performance is good. For the past 12 months, DreamHost has had 99.99% uptime. The table shows that other providers have achieved higher rates than DreamHost, but it isn't a bad result.
DreamHost Reviews: Do I Recommend It?
Yes, I do recommend DreamHost.
Personally, I have also used Dreamhost shared hosting from 2011 to the present and have been extended until 2024. I have used Dreamhost shared hosting for a few personal and a few business sites on small scale.

Over the past 10 years, there have been no major problems, maybe because I am a web developer and also have experience in using hosting, most of the small problems I can handle by myself.
This hosting provider is a great option for many. Many will find the benefits of this hosting provider appealing, such as fair prices, solid support, unlimited storage, bandwidth, and very generous policies.
They're a great option for WordPress users who are looking for great value for money. In fact, they were the most affordable WordPress hosting we tested.
DreamHost's performance is also excellent. This means that any project, even large, will be hosted safely at DreamHost.
DreamHost might not have the professional features you need, such as integrated caching, Git repositories pre-installed, and staging areas.
It's also not the best option if you have traffic from outside North America.
Try DreamHost for 97 days without any risk
DreamHost Alternatives
Okay, I must admit that DreamHost is a good choice to host most websites. Let me offer some alternatives to DreamHost for certain scenarios.
SiteGround, Stablehost Hosting, and DreamHost offer the best support.
If you are looking for Windows-based shared hosting, I recommend Hostgator Hosting and GoDaddy.
SiteGround has been a great host in my experience. SiteGround is a WordPress-friendly host that offers a full-featured hosting solution.
DreamHost is still available for you to try for free for 97 day
I hope this review answered all of your DreamHost questions. If you have any questions, please leave a comment. I will do my best to answer them.
Frequently Asked Questions
Can I Install WooCommerce on DreamHost?
Yes, WooCommerce can be installed on DreamHost shared hosting and VPS plans.
Are you ready to get started with DreamHost Click here to sign-up for DreamHost? Get 72% off your DreamHost plan This discount will automatically be applied.
Where are DreamHost servers located?
DreamHost servers can be found in the United States. They have data centers in Ashburn Virginia and Hillsboro Oregon. DreamHost headquarters is in Brea, California.
Which is better DreamHost vs SiteGround?
DreamHost and SiteGround were once similar. However, SiteGround recently improved their web hosting platform. They have increased their pricing 2x.
The comparison is no longer fair.
DreamHost would be better if you compare it to SiteGround on the basis of shared hosting prices.
SiteGround is more affordable if you compare DreamPress managed hosting to SiteGround.
Which is better Bluehost or DreamHost?
Both DreamHost and Bluehost offer similar features, and both are excellent hosting providers. Bluehost is the better option as they offer live chat support, which is great for beginners.
But Bluehost limits many of the server's functions. If you want strong hosting and only need support during business hours, perhaps Dreamhost will be a better choice. In short, Dreamhost's hosting quality is much better, but Bluehost's support is better than Dreamhost
Does DreamHost use cPanel?
DreamHost doesn't use cPanel. They have instead created their own control panel with all the management tools you will find in cPanel.
MySQL database management is easy. You can also access 1-click WordPress installers, modify PHP versions, and manage FTP & SSH access.
Is DreamHost a good host?
DreamHost is a great host for any kind of beginner WordPress website. They have great features and a solid platform. Also, they offer fast servers at a reasonable price.
They are comparable in quality and pricing to HostGator and GoDaddy.
Hostinger is the only web hosting company offering web hosting at a lower price than DreamHost.