Have you ever tasted cherry plum? Did you know that cherry plums are not cherries? There are many other interesting facts about cherry trees, flowers, and plums. Read this article to learn interesting facts about the tree and cherry plums.
Cherry plums, a unique and delicious fruit, have been very popular in recent years because of their wonderful taste and a host of nutritional benefits.
This unique fruit is not well-known. We are here to tell you all you need to know about it.
Cherry Plums: The History
Known scientifically as Prunus Cerasifera cherry plums, also known as myrobalan plumbs, were discovered first in Western Tehran and the mountains of Karaj in Iran. However, they are also found in areas of Southeastern Europe.
The domestic plum's ancestor has moved westward and is now found in many small areas across North America. They are also found in parts of Southeastern Australia, where they are considered to have mildly invasive characteristics.
Cherry plum flowers, in addition to being a healthy food source, have also been proven to have therapeutic properties. Dr. Edward Bach used cherry blossom flowers in the 1930s to help people suffering from "dark impulses" and fear of losing their minds.
Many people still swear by the benefits of using these flowers' essences as an herbal supplement.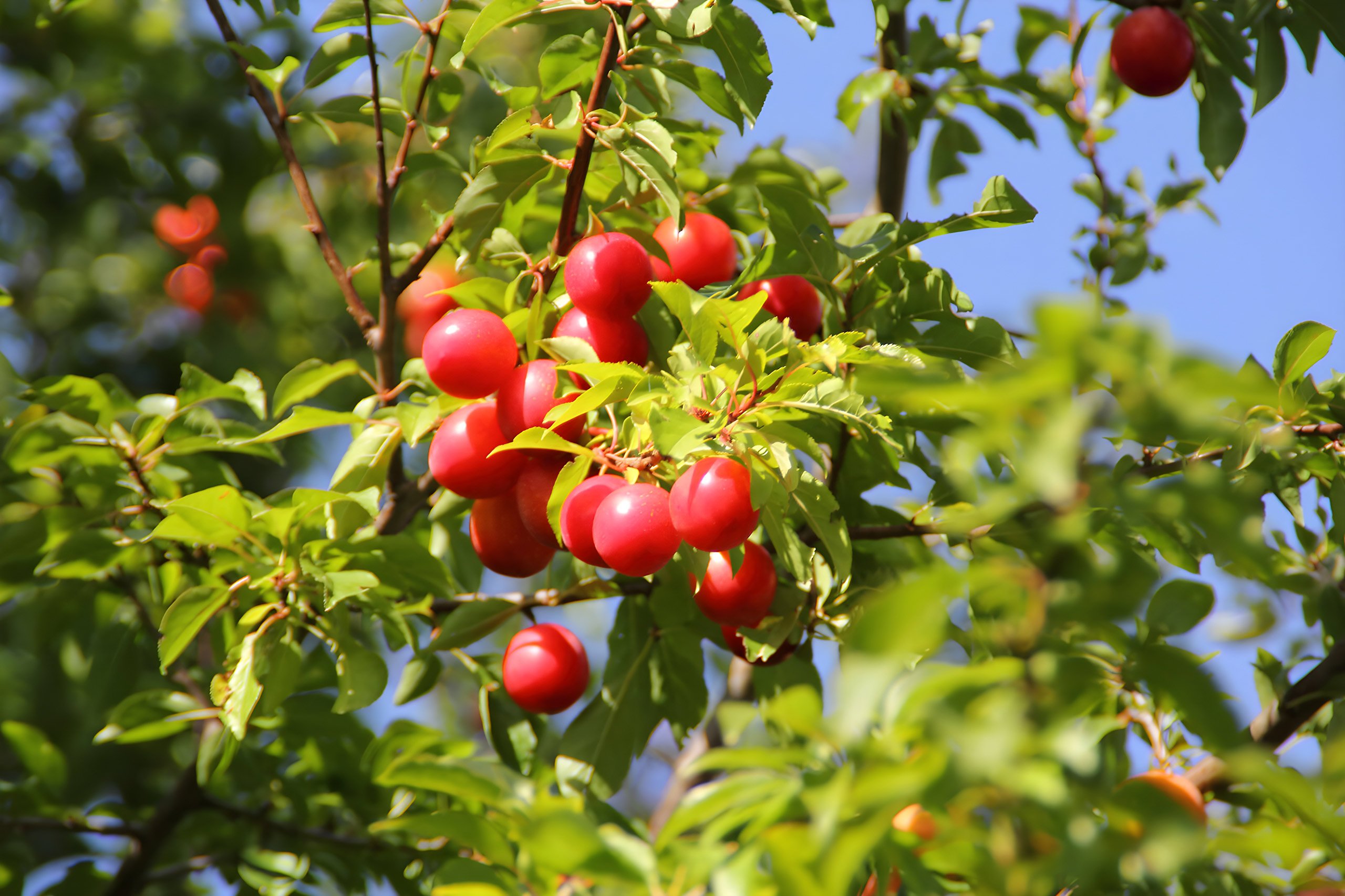 How do Cherry Plums grow?
Cherry plums can be found in large trees and shrubs. They tend to grow quickly, have a short life span of fewer than 20 years, and are very hardy.
They are often one of the first trees that bloom in spring and can start to bloom as early as February in Europe and the United Kingdom.
Cherry plums trees have distinctive vivid purple foliage and pale pink or yellow flowers that are known for their strong scent.
The cherry plum is perfectly round and very small, measuring in at about two to three centimeters in diameter.
These fruits can be ripened anywhere from early July through mid-September. They turn a bright cherry color with scattered light peach-colored spots.
After you have bitten through the thin skin, the cherry plum's golden interior will be revealed. It was enclosed in a small central pit.
Its surprising soft texture complements the bold flavors. There is a sweet aftertaste and an initial burst in sweetness that creates a delicious and balanced flavor.
Nutritional Value and Health Benefits
Cherry plums, despite their small size and high nutritional content, can be a healthy addition to any diet.
They are rich in vital nutrients like calcium, phosphate, and potassium. These nutrients are essential for maintaining a healthy nervous and metabolic system. Cherry plums have less sugar than other fruits and are rich in important organic acids.
They are a good source of iron and sodium, which are essential for blood production, hydration, muscle function, and hydration. Cherry plums can be used to help you lose weight. They are low in fat and will satisfy your hunger without adding calories.
The host of nutrients found in a cherry plum has many health benefits. They are great for fighting off harmful diseases and improving overall health.
Cherry plums are recommended by doctors as a way of encouraging growth in children young and old, as well as for promoting wellness in nursing mothers, pregnant women, and the elderly.
Cherry plums are rich in vitamin A and vitamin C. These powerful antioxidants can help promote healthy skin and slow down aging.
Vitamin C is also well-known for its ability to support the immune system, and prevent cell damage that could lead to cancer or neurodegenerative diseases, and it has been shown to be effective in preventing them.
High levels of potassium are also found in cherry plums, which are vital for strengthening your heart muscle and protecting you from developing heart disease.
Cherry plums can be used for nutrient deficiencies and other conditions due to a lack of essential vitamins, such as anemia, scurvy, or vitamin B deficiency. The high fiber content of cherry plums can promote digestion, stimulate intestinal activity and relieve certain stomach ailments.
Cherry plums have a high level of soluble fiber, which has been linked with improved cognitive function and healthy cholesterol. Cherry plums are low in sugar, which can be beneficial for people who have diabetes or obesity.
People have reported that cherry plum flowers can be used to treat certain kidney and liver diseases.
Dishes with unripe cherry plums have a good digestive effect. Due to its properties and increased acidity, there is no feeling of heaviness after a hearty meal.
By the way, green cherry plum has an amazing property – it significantly lowers blood pressure. If a person, in accordance with the characteristics of the body, the pressure is usually in the lower limits, then it is better not to rely on this fruit. In addition, with unripe fruits, you need to be careful with fruits that have increased acid in the stomach or are suffering from ulcers. Read more about cherry plum nutrition information here
The effect of cherry plum on diabetes
When choosing foods, diabetics should pay attention that the glycemic index should not exceed 70 units. For cherry plums, this number is up to 25 units, which can confirm with certainty that this fruit can be eaten by people with diabetes.
Doctors not only allow patients to include cherry plums in their daily diet but also specifically recommend them. This is because cherry plums are rich in vitamins and amino acids, which normalize the activity of metabolic substances and saturate the diabetic patient's body with all the necessary trace elements without risk of spikes in blood sugar.
With type X diabetes, the patient is usually overweight, and eating cherry plums regularly will help to lose a few extra pounds a month without harm to health.
The effect of cherry plum on pancreatitis
With pancreatitis, the list of allowed fruits and vegetables is extremely small. The whole point is that fiber has an extremely negative effect on the diseased and irritated pancreas.
Cherry plums can only be consumed after consulting the physician in charge of the patient and being acutely aware of the severity and course of the disease.
If the patient has bypassed the ban on the use of this fruit, it is necessary to observe a number of rules:
The allowable amount is one fruit per day.
It is strictly forbidden to use unripe and green cherry plums.
The fruit must be heat-treated in a double boiler or oven.
Cherry plum is a very healthy fruit, so a certain amount of vitamins and useful elements is preserved even after processing.
The effect of cherry plum on gastritis
Health experts say that cherry plums for people with gastritis will have the same effect as plums. You need to pay attention to only eating ripe, previously peeled fruits.
Unripe or overripe fruit is strictly prohibited due to the increased acid content, which adversely affects the irritated gastric mucosa. Do not abuse cherry plum, the daily rate should not exceed three pieces per day.
With gastritis, dishes are useful in the preparation, in which cherry plums are used.
This is argued by the fact that a diseased digestive tract helps in the assimilation and digestion of "heavy" food very well, which is its indisputable advantage over root vegetables. other fruit.
The effect of cherry plum on constipation
The cherry plum, like all other fruits of the Plum genus, has a mild laxative effect on the human intestinal tract. For chronic constipation, not only should fresh fruits be used in daily meals, but also should drink a decoction of the fruit and cherry plum leaves. It is very easy to prepare such a drink. For this you will need:
50g of cherry plums
10–20g cherry plum leaves
250ml of boiling water
Initially, you should use a cotton ball to gently rub the leaves in the palm of your hand. This is necessary so that the broth gets as many nutrients as possible. Separate the seeds from the fruit and cut them into small pieces.
Pour boiling water over the leaves and berries and incubate for about 4-5 hours. Filter the decoction to 80 ml x 3 times/day before meals.
The effect of cherry plum with Gout
With gout and rheumatism, the use of cherry plums, unfortunately instead of benefits, can be harmful to the body. Doctors recommend excluding it from the patient's diet.
Applications in cosmetology
Cherry plums are extremely popular in cosmetology and not only in the preparation of folk cosmetics but also in professional mass production.
From the seeds of the cherry plum fruit is obtained, used as a stand-alone in daily rituals for skincare, or as an auxiliary ingredient in masks and creams. It is also recommended to use this oil as a hair mask to condition and combat split ends.
Just apply the oil evenly along the entire length of your hair, excluding the root area, go to bed and wash your hair in the morning using the usual method. After the first treatment, you will be pleased with the softness, manageability, and bounce of your hair.
Another possible way to process the seeds in cosmetic brands is to grind and grind them, and then they are added to the scrub mix.
Such peels are very appreciated by consumers, as they gently exfoliate the keratinized granules, while at the same time not damaging the healthy epidermis.
Referring to the topic of folk remedies based on cherry plums, it should be noted that each woman chooses for herself the best way to preserve youth by means of experimentation and experimentation.
If this amazing plant grows in your garden, we recommend you check out some popular homemade recipes for yourself:
Fruit soap for washing
Prepare a decoction from cherry plum and its leaves, cool, strain, and pour into frozen molds. Add a few drops of vegetable oil to each block and send to the freezer.
Wash your face every morning with this ice water, it will narrow the pores and even out the skin tone, while the ascorbic acid helps to whiten the skin.
Cherry plum mask
It will require a few ripe berries and a half glass of purified water. Grind the cherry plums into a paste, take the water, add a tablespoon of olive oil and leave in the refrigerator for a day.
After alcohol, the mask is ready to use. Apply the mixture evenly on your face, after 20 minutes, wash it off with warm water. The skin will become smooth, youthful, and naturally bright. In addition, the mask is recommended for use on itchy skin.
Color dye for hair
To strengthen hair roots and prevent hair loss, boil cherry plums in water for a few minutes. Recommended ratio: 400 g of fruit per 1 liter of water. Finish each hair wash by rinsing with this boiling water.
After a few weeks of regular use, your hair will become noticeably stronger, manageable, and softer.
Harm and contraindications
Despite the plethora of vitamins and other health benefits, it, like any other product, has some contraindications:
In case of an allergic reaction to the cherry plum in general and its individual trace elements. People with vitamin C intolerance should carefully consume cherry plums and monitor their body's overall response.
Gout and rheumatic diseases.
Acute gastritis and diseases of the gastrointestinal tract – cherry plum should be used only after consulting a doctor.
Diarrhea tendencies.
Children under 12 years of age should not eat dried cherry plums in large quantities.
This leads to negative consequences such as heartburn and diarrhea.
Growing Information
Cherry plum trees are mostly grown for ornamental purposes. However, they can produce fruit in as little as two to four years if the right pollinators are present.
These trees can be grown in temperate or subtropical climates and reach a height of between 15 and 20 feet. At full maturity, they have a 20-foot canopy.
Cherry plums can survive drought, and they will thrive in dry areas or areas that have supplemental moisture. However, the conditions must not be too dry or too moist.
They thrive in acidic, loamy soils, but will tolerate clay and sandy soils if given partial shade.
Cherry plums are very sensitive to disease and pests, which is why they have a short life span. You can prevent birds and flies from eating your cherry plums by placing traps or covering them with netting.
Cherry Plum Recipes
It's time for you to start cooking now that you have learned all there is to know about these delicious fruits. There are many cherry plum recipe options, but these are our top favorites. They are as delicious and quick to make as they are delicious.
1. Cherry Plum Preserves
This vegan snack is a great addition to any breakfast or snack. It can be made in just minutes. First, clean the fruit of any dirt or stems. Next, fill a large thick-bottomed pot with 5 cups of cherry plums.
When the cherry plums are softened, cook them. Mix the fruit with a fork or a spoon to get rid of any seeds. Run the fruit through a food mill with the largest strainer to remove any skin or seeds.
Combine your fruit and 4 cups of sugar. Add the juice of 1 lemon. Adjust the recipe to suit the amount of fruit you have from the mill. Slowly bring the mixture to a boil, stirring often. Cook until the mixture starts to gel.
2. Cherry Plum Muffins
This recipe for delicious cherry plum muffins will make you fall in love. Preheat your oven to 350°F and line a 12-cavity muffin pan.
Mix the following ingredients in a large bowl. 1/4 cup chopped cherry plums, 1 1/2 cups flour, 1/4 cup ground ginger, 1/4 cup nutmeg, and 1/4 teaspoon salt. 1/2 teaspoon baking powder and 1/2 teaspoon baking soda.
Mix 1/4 cup granulated sugar with 1 egg in a bowl. Add 1/4 cup whole milk yogurt with 1/4 cup butter.
Mix the dry and wet ingredients together, then fold in four sliced cherry plums. Place in a muffin pan lined with parchment paper and top with additional sliced cherry plums. Bake for 20-25 minutes and then enjoy!
3. Cherry Plum Crisp
For the ultimate treat, this cherry plum crispy recipe goes well with whipped cream or ice cream. Spray an 8×8 baking pan with non-stick spray.
Mix the following ingredients in a large bowl.
Mix the following ingredients in a separate bowl: 1/2 cup old-fashioned oatmeal, 1/2 cup brown sugar, and 1/4 cup cold butter. 1/4 cup almond extract. 1/4 teaspoon ground cinnamon.
Spread the first mixture in a baking dish. Then, sprinkle the second mixture evenly over the top. Bake the mixture for 30 to 35 minutes, or until it turns a deep golden brown color. After that, turn the oven on to 400°F.
For an additional crunch, bake for five minutes more. Then, take it out and get it in the oven!
These are only three examples of hundreds of delicious recipes that cherry plums can be used in. You can make jam, pies, crumbles, and many other delicious treats with these amazing fruits. What are you waiting for? Cherry plums are now in vogue!
Cherry Plums Facts
Description/Taste
Cherry plums are small fruit, measuring in the range of 2 to 3 cm in diameter. They have an oval or round shape. The skin of the fruit is thin, shiny, and taut, with a layer of light speckling.
The flesh, which is a vibrant yellow-to-amber color, is semi-firm and succulent. It has a soft, snap-like texture with a soft, snap-like consistency. A thin, central pit is found below the flesh.
There is also a distinctive ring of pink-red color. Cherry plums are acidic when young. This contributes to a tart, refreshing, and fruity flavor with green apple-like and lemon-like nuances.
The flesh of plums that are left to mature on their trees will develop natural sugars and astringency. This creates a sweet, tart, tangy flavor, with spice-filled nuances.
Seasons/Availability
Cherry plums can be purchased in summer.
Current Facts
Prunus cerasifera is the botanical name for cherry plums. They are sweet-tart drupes and grow on deciduous Rosaceae trees. Cherry plums are native to Europe, Asia, and the world.
There are many varieties of Cherry plums. Cherry plum trees, also called Myrobalan plums, are ornamental and highly valued in home gardens.
They are known for their brightly colored fruit, showy flowers, and beautiful foliage. Cherry plums are not related to cherry trees, so they can be used as cooking fruits.
The flavor of each plum is dependent on its variety. Plums are often used in preserves and sweeteners to make savory-cooked dishes. Thundercloud, Nigra, and Atropurpurea are the most popular commercial Cherry plums.
There are hybrid cherry plums that can also be called "cherry plums" in California. These fruits, which are a cross between plums and sweet cherries, were developed in the 21st century.
They are also known as cherry plums, plum cherries, cherubs, and cherriums. Cherry plum hybrids can also be sold under different marketing names such as Pixie Sweet, Verry Cherry plums, Pluerry, Nadia, CherriYum, and Gold Nugget.
Cherry plum hybrids and Prunus cerasifera are two different types of fruit and are not related despite being similar in appearance.
Nutritional Value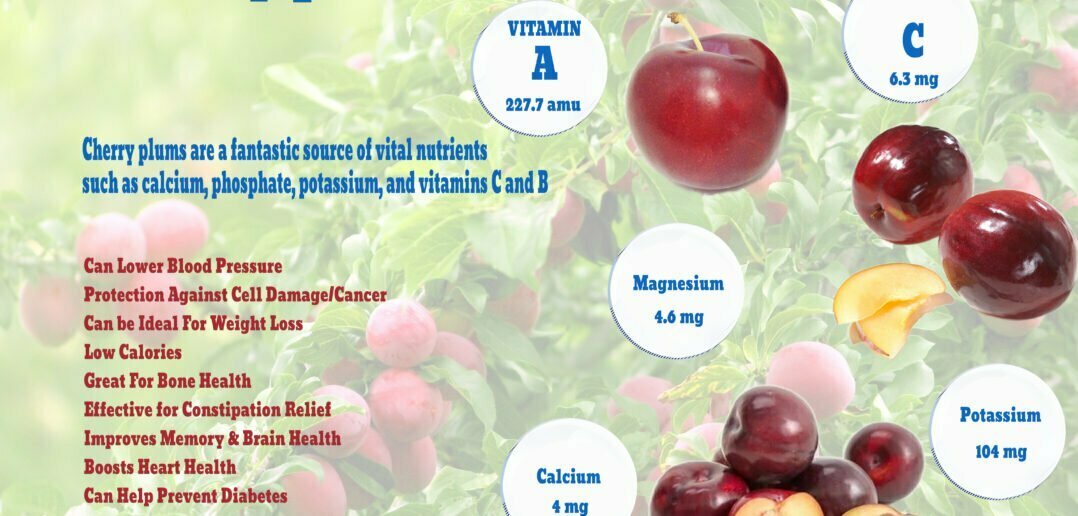 Cherry plums contain potassium, which helps to balance fluid levels and fiber that regulates the digestive tract.
These fruits contain vitamin A to support healthy organ function, vitamin C for strengthening the immune system, iron for the development of the protein hemoglobin, as well as other amounts of calcium, phosphate, and B complex vitamins that can impact metabolism and the nervous system health.
Applications
Cherry plums can also be eaten straight from the hand without needing to discard the central pit. However, many varieties have a tart and slightly sour taste that is suitable for fresh consumption.
To create a sweet, balanced flavor, the fruits are often combined with sugar or other sweeteners. Cherry plums can be used to make preserves, jams, and chutneys or dried and made into fruit leather.
For a dynamic flavor profile, the fruits can be baked in muffins, crisps, and crumbles, as well as cakes, pies, and blended into sorbet. Cherry plums can also be used in sweet dishes.
They can also be cooked in sauces and paired with savory dishes such as roasted meats or vegetables. Cherry plums go well with stone fruits like apricots and peaches, as well as nuts such as almonds and pecans.
They also pair well with spices such as ginger and cardamom. To ripen, Cherry plums must be kept whole and unwashed at room temperature. The fruits should be softened and stored in the refrigerator's crisper drawer until they are ready to eat.
Information about ethnic/cultural information
For their ornamental leaves and flowers, cherry plum trees are highly prized in Europe. They bloom in late winter or early spring and have pink and white colors. They can stay on the tree for a long time.
Cherry plum trees are a good indicator that spring is coming. The foliage is purple during blooming which adds to its visual appeal in home gardens. The Cherry plum is a beautiful ornamental fruit.
They are also eaten green in the Middle East and are dipped in salt to make a delicious snack. The main ingredient in the Georgian dish chakapuli stew is also Cherry plums.
Unripe Cherry plums are used to flavor the lamb stew. It can be made into a tart sauce called tkemali or tossed whole. This is one of Georgia's most loved dishes. Tkemali can be used to dip slices of unripe plums in roasted meats or eggs or as a sauce over potatoes.
Geography
Experts believe cherry plums are native to Western Asia, and Southeastern Europe. They have been wild-growing since ancient times. Experts believe that the fruits had been cultivated in mountainous areas near the cities of Karaj and Tabriz in Iran.
Cherry plums come in a variety of stages, including the unripe green and mature golden-red. They thrive in cool, temperate climates. Over time, they were traded and naturalized throughout Europe and the British Isles.
The North American Cherry plums were also introduced. They are grown for their ornamental and fruity nature. Cherry plums can be found in North America, Australia, and Asia on a small scale.
Cherry plums are available at farmer's markets and Asian grocers as well as specialty distributors and online retailers when they are in season.