Are you looking for information about white daylily? What types of white daylily are there? Read this article to know the Hemerocallis White Varieties that have the most beautiful flowers and closest white color.
Mike Huben is a Daylilies breeder who lives in cool coastal 6 in New England. His near-white Daylilies seem to surpass Stella De Oro in performance. This is considered a White daylily variety.
Mike Huben has introduced three varieties of near-white Daylily that are able to thrive continuously. That is:
Snowy Stella (Huben 07) 24" E Re 3.25", NearWhite Self, Dor Dip
Vanilla Stella (Huben 09) 18 "E Re 3", NearWhite Self, Dor Dip
White And Nerdy (Huben 12) 28" EM Re 4.5", Near White Self, Dor Dip
You can see all the Daylilies that Mike has bred and featured here
Huben is currently still in the process of evaluating the Encore d'Ivoire (Wetzel 08) 19" EE Re 3.75", Ivory Self, Dor Dip Ext
Of these, the plant that most closely resembles Stella De Oro in botanical habit is Vanilla Stella (Huben 09). The largest and whitest are White And Nerdy (Huben 12).
Huben says there is currently a Daylily variety being sold under the name Precious d'Oro, although it's not yet registered. Precious d'Oro is sold as near-white, but it's not nearly as white as any other.
Precious d'Oro has yet to grow back in Mike Huben's garden. Currently, Precious d'Oro is one of the most beautiful white daylily varieties, so sellers have pushed the price of this variety too high.
Fact:

After I planted a handful of species that florists call white daylily, but in reality, none of them are actually white. In the daylily world, they are called 'near white', which means they have a base color of cream, yellow, or peach/peach pink.

In fact, there is a variety of daylilies that is very close in color to white called Gentle Shepherd. This is the whitest daylily yet developed.
White daylily varieties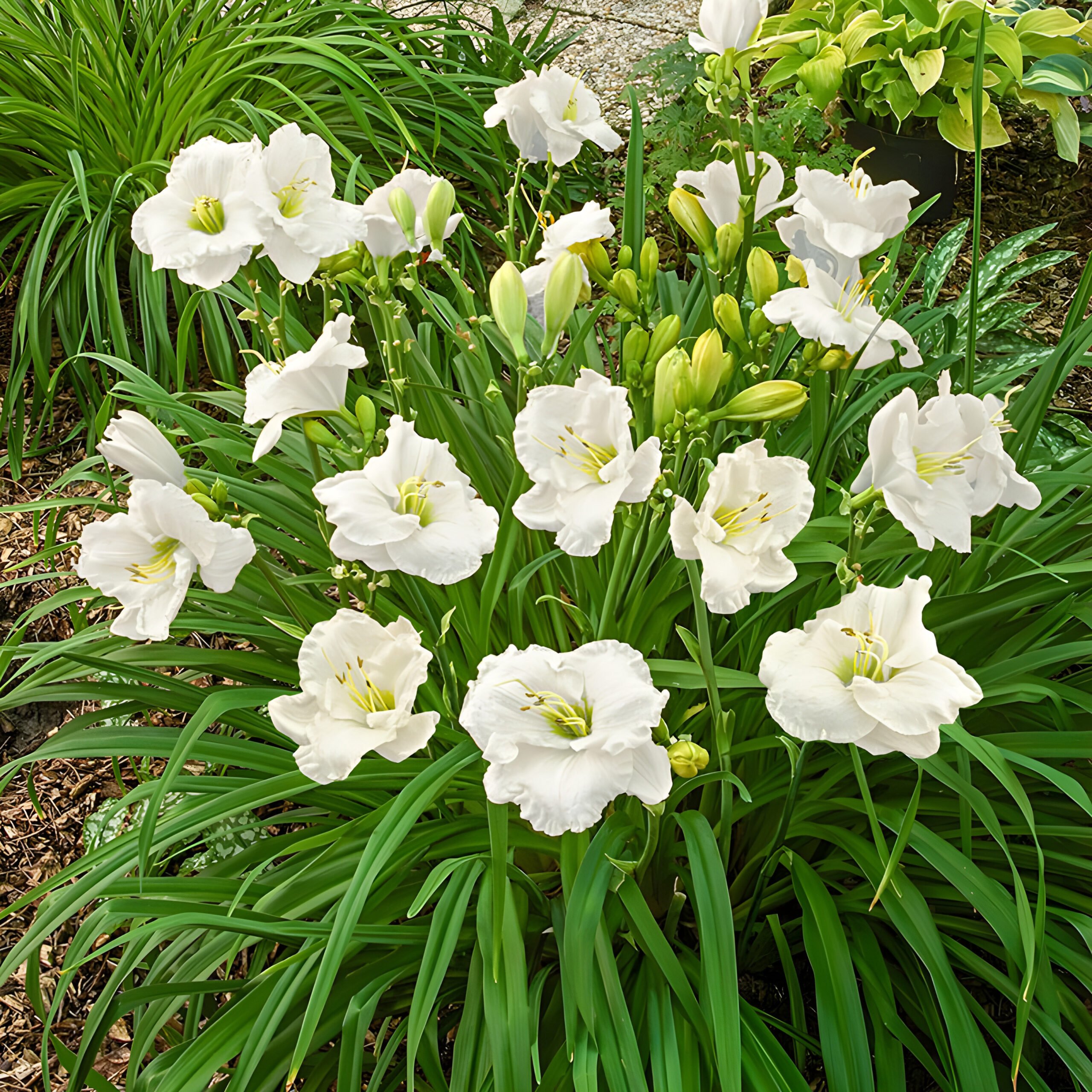 Daylily colors range from almost white to a deeply saturated satin red-purple. Golds and yellow daylilies are the predominant colors in the species and are originally hybrids.
These premium daylilies white varieties have been selected as highly performing plants with exceptional bloom performance, vibrantly colored flowers, complete winter hardiness, and a vigorous habit.
Here are the names of some types of Daylily with the closest white color. Please note that there are currently no varieties of Daylily with completely white color. The white Daylily varieties introduced below are the closest to white color.
Hemerocallis Gentle Shepherd
Common Name: Daylily
Type: Herbaceous perennial
Family: Asphodelaceae
Zone: 3 to 9
Height: 2.00 to 2.50 feet
Spread: 1.50 to 2.00 feet
Bloom Time: June to July
Bloom Description: White with yellow-green throat
Sun: Full sun to part shade
Water: Medium
Maintenance: Low
Flower: Showy
Tolerate: Rabbit, Erosion, Air Pollution
Gentle Shepherd is a diploid cultivar, which is known for being among the most beautiful white-flowering daylilies. Gentle Shepherd is considered the whitest daylily. It has 5.5 inches of pure white flowers with yellow-green throats. The flowers are borne on naked stems (scapes), which can reach 30 inches above a clump with dark-green, arching, blade-like leaves.
Each flower opens for one day. Blooms from early to mid-season. May rebloom. The Gentle Shepherd is an AHS Award-winning Daylily breed. Gentle Shepherd is chalky white with a large throat. Arguably the whitest daylily has not yet been developed.
Sunday Gloves Daylily
Height: 27.0 Inches
Spread: 18.0-24.0 Inches
Hardiness Zones: 3,4,5,6,7,8,9
Flower Color: White Shades / Near White
Foliage Color: Green shades
Sunlight: Full Sun (> 6 hrs. Direct Sun),  Part Shade (4-6 hrs. Direct Sun)
Water Requirements: Low Water Needs, Average Water Needs
Soil Quality: Poor Soil Quality, Average Soil Quality, Fertile Soil Quality
Soil Chemistry: Acidic Soil (pH < 7.0), Neutral Soil (pH = 7.0), Alkaline Soil (pH > 7.0)
Bloomtime: Midsummer, Rebloomer
Attracts Wings: Attracts Butterflies, Attracts Hummingbirds, Bee Friendly
Critter Resistant: Rabbit Resistant
Growth Rate: Medium
Garden Style: Patio Container, Eclectic
Other Features: Border Plant, Container, Easy To Grow, Fragrant Flowers, Mass Planting, Salt Tolerant
Origin: Not Native to North America
Sunday Gloves Daylily is a fragrant Daylily that blooms near white. It has ruffled edges, soft yellow centers, and very fragrant flowers. Sunday Gloves Daylily's near-white blossoms have a very fragrant scent.
They have loosely ruffled petals, pale yellow eyes, and a tiny celery green throat. Superior flower form and foliage. Easy to grow
The delicate, ruffled petals are ivory-white with a lime-green throat. Sunday Gloves bloom almost all summer and will bring elegance to any garden that has superior foliage and a vigorous growth pattern. Daylilies are a wonderful, easy-to-grow perennial.
They can be hardy and form beautiful clumps with strappy green leaves. Most cultivars' flowers last only for one day, which gives the plant its informal name. You can be assured that each stalk will have a new flower the next morning.
Plant in well-drained containers, along walkways, in perennial beds and borders, or in well-drained containers.
Joan Senior Daylily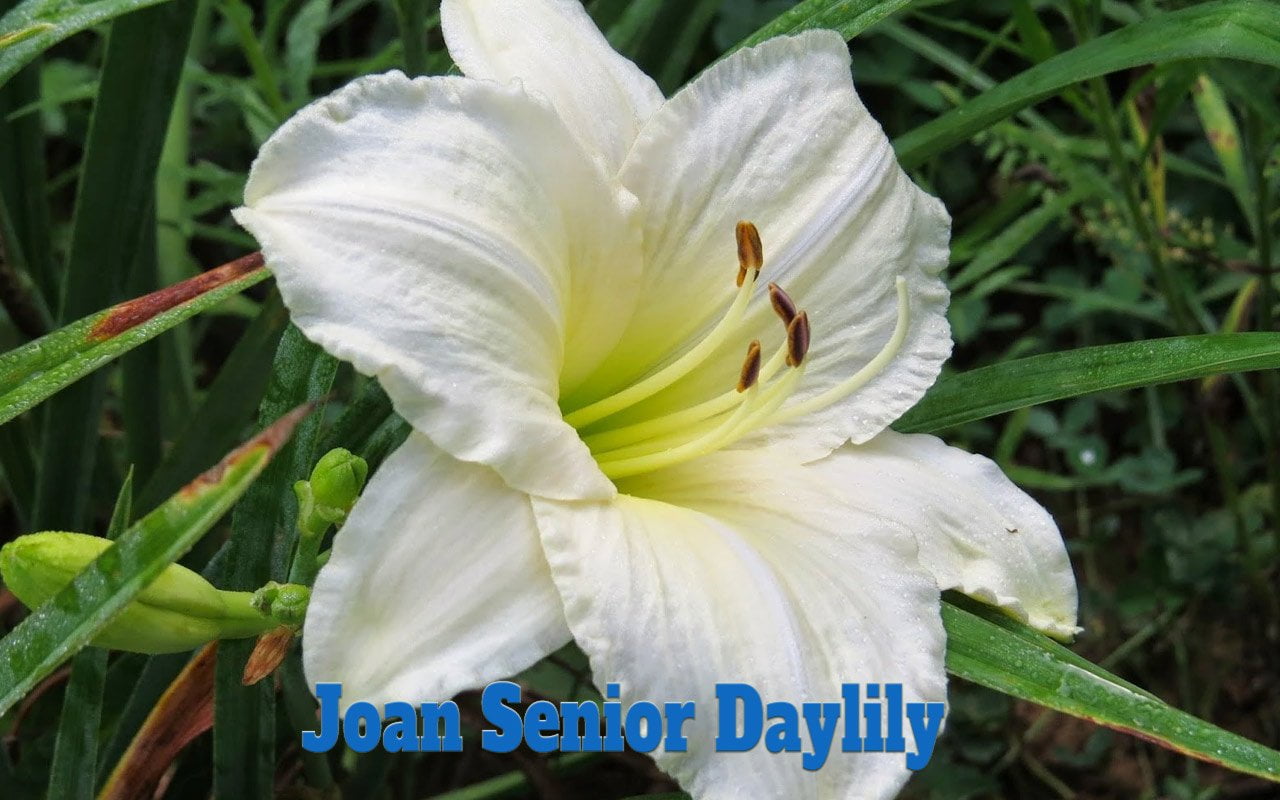 Joan Senior Daylily aka Hemerocallis 'Joan Senior' – is a type of Reblooming Daylily.
Hemerocallis "Joan Senior", one of the most loved near whites, is an elegant mid-season Daylily that produces a large number of creamy white flowers. It measures 6 inches in height.
Joan Senior Daylily's flowers are 15 cm in diameter and have softly ruffled, recurved leaves. Each flower can last at most 16 hours (extended flowers), but not more than 24 hours (hence the common name "Daylily").
The petals open in the morning and then wither during the night. A new one may be placed on the same scape (flower stalk) the next day. This evergreen diploid Daylily has won multiple awards.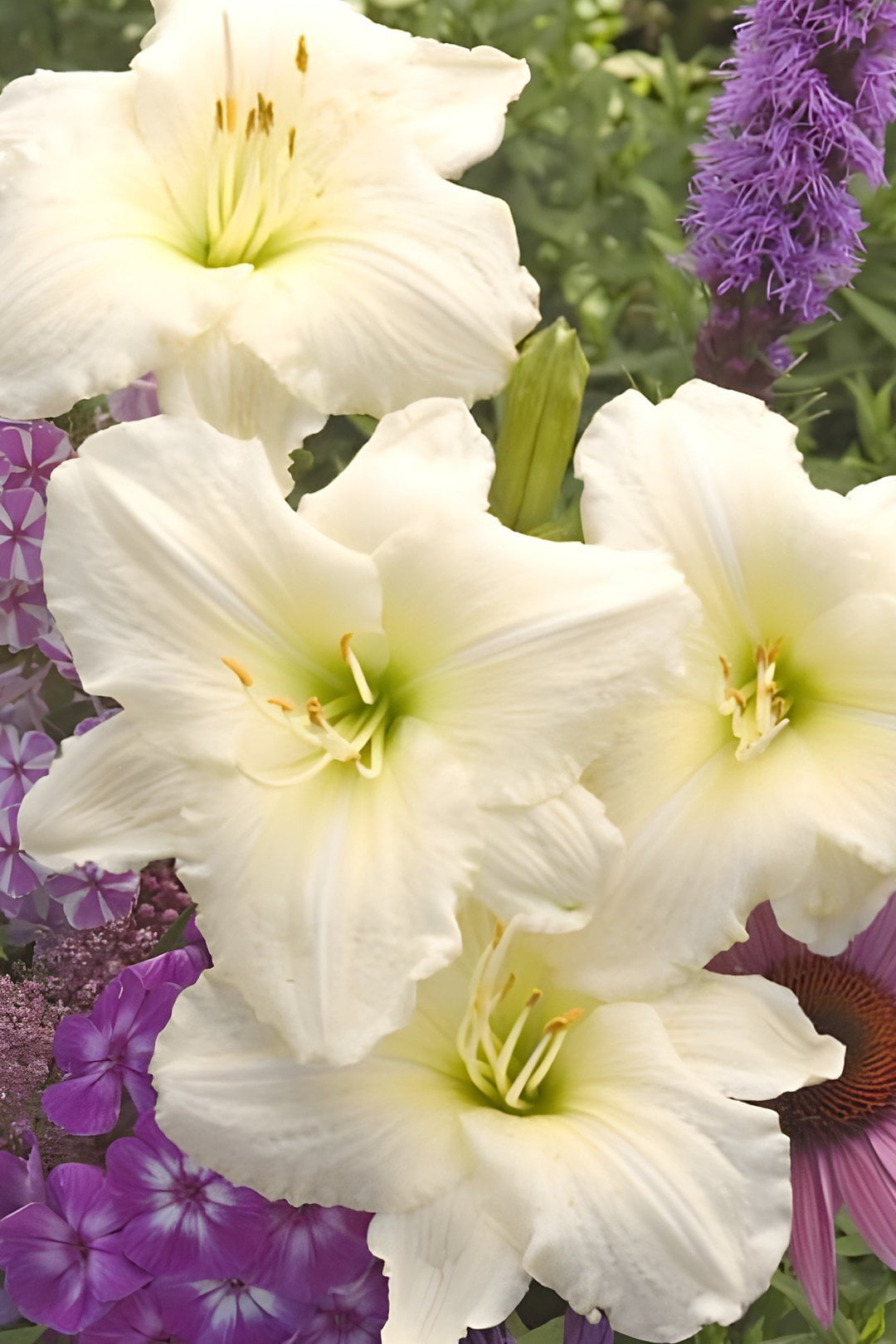 This Daylily is often referred to as the "perfect perennial" because of its many qualities, including showy flowers, drought tolerance, heat stress immunity, and the ability to grow in all hardiness zones.
This clump-forming perennial blooms from early to middle summer and can grow up to 25 inches. The plant is 62 cm tall and spreads slowly by rhizomes to 18-24 inches. (45-60 cm). Mixing this Daylily with other varieties will prolong the blooms of their beautiful color in your garden. Hemerocallis is a Eurasian native, and there are over 60,000 registered cultivars. So you have plenty to choose from!
It is a great choice for shrub borders and perennial gardens or groundcovers on slopes or within containers close to the patio.
This Daylily thrives in full sun to part sun, in average, moist soils that are well-drained. It is virtually pest-free. It can be grown in many soil types, but fertile Loam is the best. It can tolerate heat or summer humidity, but it needs to be well watered to keep its leaves looking good!
Daylilies attract butterflies and hummingbirds.
Daylilies are best planted in the early autumn or late spring.
To improve the appearance and encourage rebloom, take out any seedpods or spent blooms after flowering. Once all flowers have been removed from a scape, trim it to the ground. Daylilies will die in the fall, so remove any dead leaves.
It was bred by Edwin C. Brown, in 1986. It won multiple awards, including the Honorable mention (1981) and the Award of Merit (1984).
Daylily Great White
Hybridizer: Stamile
Year of Registration or Introduction: 1996
Foliage Type: Evergreen
Scape height: 28 inches
Bloom size: 6.25 inches
Bloom time: Early midseason
Plant Traits: Extended Bloom, Rebloom, Early Morning Opener (EMO)
Rust Resistance: Shows Susceptibility
Rust Resistance Decimal Score: 3.8
Fertility: Pod Fertile, Pollen Fertile
Bloom Traits: Self
Bloom Form: Single
Color description: ivory cream self with green throat
AHS Awards: Honorable Mention: 2003
Plant Habit: Herb/Forb
Life cycle: Perennial
Sun Requirements: Full Sun to Partial Shade
Minimum cold hardiness: Zone 5a -28.9 °C (-20 °F) to -26.1 °C (-15 °F)
Flowers: Showy, Fragrant
Propagation: Seeds: Will did not come true from seed
Propagation: Other methods: Division
Ploidy: Tetraploid
Parentage: Glacier Bay x Whisper White
Child plants: 131 child plants
Daylily Great White- Ivory white flowers that are large, full, broad, and flat. The edges are deeply ruffled, and the gold is gathered around them. The scapes can reach 35 buds with well-branched branches. Branching in 5-6 ways without crowding.
Extended Bloom. Rebloomer. Early Morning Opener. Early/mid-season ivory cream self with green throat flowers. The perennial is clump-forming and produces spikes of flowers that last no more than 24 hours. The 3 petals and sepals of the flowers are surrounded by a midrib, which can be of the same color or of a different color.
Cool It Reblooming Daylily
Botanical Name: Hemerocallis 'Cool It'
Form: Perennial
Hardiness: Zone 3-9
Flowering Time: Midseason and again in late summer to early fall
Light Requirements: Full Sun, Partial Shade
Flower Color: White flowers with green throats
Flower Form: 6″ single, trumpet-shaped flower with ruffled edges
Foliage Type: Semi-evergreen grass-like foliage
Growth Rate: Medium
Height/Habit: 26 – 30 inches
Spread: 24 – 30 inches
Planting Instructions: Top of plant should be even with soil level and 24-30″ apart
Soil Requirements: Well-drained
Will Tolerate: Acidic Soil, Clay Soil, Loamy Soil, Sandy Soil
Pruning: Cut back spent flower stems after flowering.
Cool It Reblooming Daylily with scientific name is Hemerocallis 'Cool It'.
This beauty can be found wherever you want it to be. Cool It is a beautiful creamy white variety that bears fragrant flowers with ruffled edges in midsummer and bright green throats later in the year. It is perfect for adding style to containers or giving sunrooms a lift. It is reusable every year. Butterflies love it, too! Drought-tolerant plants. Hemerocallis
Cool It Daylily has a creamy white color with ruffled edges and green throats. It also emits a delightful aroma that is great for containers and borders!
Frequently Asked Questions
Are there any white daylilies?
No, there are currently no varieties of daylily that are white. Daylily colors can range from orange to yellow and almost white. The whitest daylily is currently Gentle Shepherd
What are those white flowers called?
Galanthus- Also called snowdrops, these flowers look like three droplets of white falling from a stem. Because they are only available in one color, snowdrops are very unique. The sweet honey scent of their creamy white petals is evident. The symbol of purity and home are the snowdrops